In what has been dubbed the "year of the big", the 2018 draft is shaping up to be another outstanding one with the first half of the lottery consisting of potential all stars having a chance to become franchise level talents.
The NBA has taken measures to quell the tanking epidemic that has swept through the league the past few years. A new "tank busting" strategy has been implemented, with an revamped format of the draft lottery, extending it from 3 to 4 winning teams and further evening the odds among the teams with the worst records. While the idea makes sense in theory, some drafts like this year's and last year's consist of classes with a handful of similarly talented, high level players at the top, meaning that if you tank and end up 4th or 5th, you're still in excellent position to add a great prospect.
Despite the unfortunate loss of Michael Porter Jr., this year's college basketball season has gotten off to an exciting start, with a one of a kind tournament in Portland, Oregon, the PK80 event, honoring Nike founder Phil Knight. Without further ado, here are some prospects that have made an impression, good and bad over the first few weeks of the season.
Rising
Marvin Bagley 6-11 PF Duke Freshman
Bagley was a manchild at the PK80, dominating the paint with his combination of size, athleticism and coordination, and rescuing Duke, converting easy baskets and big plays on both ends when the team's back was against the wall. Duke trailed Florida by 17 with 10 minutes left in the game, having also climbed back from a big 18-4 deficit at the beginning of the game.
For a player that is supposed to still be in high school, Bagley reclassified in order to graduate early, one has to marvel at how he's able to physically impose his will and dominate at the college level. But it's not only his physical gifts that have impressed scouts, as he has played with great determination and energy on both ends of the floor.
He is clearly a high level competitor and that bodes well for his ability to continue to improve and develop in the areas of his game that need work. At this point he is able to dominate simply by getting a lot of dunks and easy baskets as he's too strong and athletic for most college post players to keep away from the rim. But he still isn't a great shooter and his post foot work and game can improve considerably.
Bagley made a big statement on Sunday against Florida, willing Duke to victory along with his fellow freshmen, in particular Gary Trent Jr. who also came up with big plays down the stretch to complete the comeback and run their record to 8-0. Duke, in the process made no doubt about who the team to beat was in college basketball this year.
Bagley has been considered the top talent in his class since the 7th grade. And he's quickly proven that college basketball isn't much of a challenge for him. He's making it look easy. Leading Duke to a national title and maintaining his current level of excellence could solidify him as the top pick in the 2018 draft.
Collin Sexton 6-2 190 PG Alabama Fr.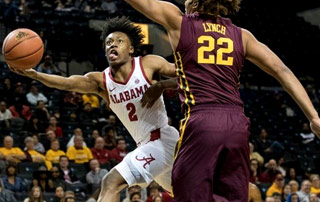 In what can only be described as one of the all time great single game performances, Collin Sexton carried the Crimson Tide from an 11 point deficit with 10 minutes and 50 seconds left to a near miraculous win, closing the lead to just three at 83-80 with a minute and a half left, all with just THREE players on the floor. His 17 points while the Alabama team was forced to play 3-on-5 is one of the unique basketball stories of the past decade.
Sexton still has to become a more complete point guard as he's a score first guard who attacks the basket and scores on pull ups and getting to rim. He's incredibly quick and has the ability to drive and kick. Learning how to slow things down and play disciplined in the half court will further increase his value.
Sexton's 3-on-5 performance certainly raised eyebrows among scouts, who already had noted him as a clutch performer from his overseas play for Team USA, winning gold at the 2016 FIBA U17 World Championship in Zaragoza, Spain. Sexton is currently fourth in the nation in scoring at 25.2 per game and second to only Trae Young among Power 5 conference players.
Deandre Ayton 7-0 260 C Arizona Fr.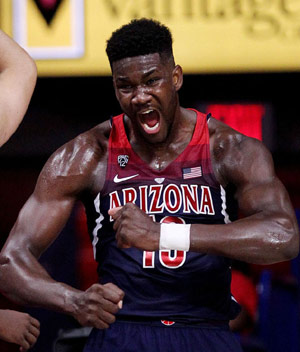 Despite playing for an underachieving Arizona team that dropped three straight games at the Battle 4 Atlantis Tournament, Ayton has been as good as advertised, putting up standout scoring and rebounding numbers. It wasn't quite the homecoming Ayton envisioned, playing near his hometown of Nassau, Bahamas, with the losses, but Ayton played well individually.
One of the things about Ayton that scouts find so intriguing is the bigman's ability to face the basket and knock down outside shots. He's just 3-13 from three (23%) on the year, but shows very good form and has proven in practice he can hit outside shots with consistency. It will just take some time and experience for him to learn how and when to get quality looks off, and become consistent from three.
He is averaging 20 pts and 12 rebs over his first six games, very impressive numbers for a freshman. His shot blocking hasn't been quite as good as it should be at just 1.3 per game, but expect that to improve as the season continues. He should be averaging around 3 per game with his current average of 30 minutes of playing time.
Ayton has a chiseled, pro body which is very impressive for a kid that turned 19 just a few months ago. He's 260 lbs and actually looks lean and should be able to carry an additional 20 lbs (or more) without losing any explosiveness or mobility.
Marvin Bagley may have taken over the top spot, for the time being, on many NBA scout's draft boards after his mesmerizing performance in Portland at the PK80. But, Ayton figures to make a push of his own at some point this season. Bagley benefits by being on a team that has established itself as the odds on favorite to win the National Title. Ayton, however, having superior size and outside shooting will certainly help his cause.
Trae Young 6-2 180 PG Oklahoma Fr.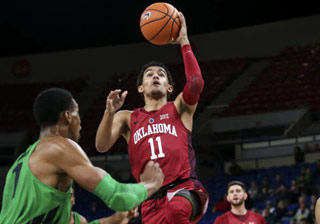 His 43 point effort at the PK80 in what was essentially a home game for the Oregon Ducks showed that he's quickly become one of the nation's top point guards, and players for that matter. He toyed with the Ducks, seemingly putting points on the board at will and raining in threes. He even pulled some MJ moves out of his bag of tricks, utilizing Jordan's trademark pivot-fadeaway jumpshot to perfection and then gave the shoulder shrug that became the centerpiece of the "Be Like Mike" Gatorade commercials.
Young has proven the naysayers wrong throughout high school and now college as he has a body type that makes it easy to dismiss him. But Young is a tremendous competitor and has an amazing work ethic and has really polished his shot and skill level. Despite being just 6-2 and a below the rim player, he's very shifty with the ball and does a good job of getting looks against bigger and stronger defenders.
How prolific are Trae Young's numbers? Through six games, Young is second in the nation in scoring at 28.2 ppg (first among power 5 teams) and fourth in assists at 8.6 per game.
He still has work to do to solidify himself as a surefire one-and-done first rounder, but scouts are beginning to warm up to the idea. Smallish points like Tyus Jones and Tyler Ennis have struggled mightily to make it in the league. Jones obviously benefited by guiding Duke to a National Title, and Ennis had length over Young. However, Young has speed and shooting ability over both.
Kevin Knox 6-9 215 SF/PF Kentucky Fr.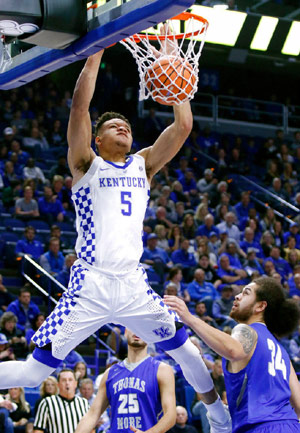 After starting the year off with two duds, Knox has really excelled, stringing together a number of quality performances. He's established himself as not only UK's top talent, but their go-to scorer, showing the ability to hit the 3 ball with consistency as well as create looks for himself.
Knox has scored in double digits in every game and before his most recent 25 point effort against UIC, he had made a three pointer in each of his first six games. He's leading the young Wildcats in minutes, 35.1 mpg, scoring at 16.1 ppg, and is third in rebounding at 5.7 per game.
Knox has the ability to face up and take opponents off the dribble as well as catch and shoot or pull up for shots on the perimeter. His versatility at 6-9 makes him very intriguing as he can guard either forward position and creates match up problems with his offensive repertoire.
The Wildcats will have some stiff competition to win the SEC this year as Florida proved a Final Four caliber team at the PK80 and Texas A&M has looked very strong as well in the early season. UK will need maturation from their freshmen, particularly their point guards in order to compete with Florida and Texas A&M. With a standout offensive talent like Knox, Kentucky can't be overlooked.
Brandon McCoy 7-0 250 C UNLV Fr.
Another San Diego center product from the same high school class of 2017, McCoy has been every bit as prolific as DeAndre Ayton through his first six games of the season. McCoy is averaging very similar numbers with 20.2 ppg and 13 rpg. His level of competition hasn't been as robust, however his Runnin' Rebels team is undefeated at 6-0 and he's been a big reason why.
His best game of the year so far came against a gutsy Utah Utes team as McCoy led the Rebels to a blowout victory with 26 points and 17 boards, and was a perfect 8-8 from the line.
McCoy has been a model of consistency, putting up at least 15 points in every contest and at least 8 boards. If he can continue to put these kind of numbers up all season, there's no reason to think he can't be a lottery pick.
Bruno Fernando 6-10 245 PF/C Maryland Fr.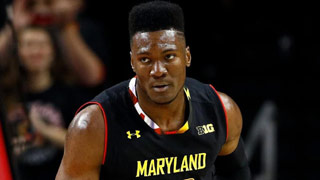 Continuing with the trend of freshmen bigmen, Fernando has been an absolute revelation for Maryland. He's an explosive athlete who runs the floor like a deer and shows a natural willingness to play physical and seek contact for rebounds. He attacks the rim with reckless abandon, making recurrent assaults on the rim with vicious dunks. Fernando is originally from Angola, having come over to play prep ball at Monteverde and IMG Academy. He was a little overlooked in high school, being rated as a top 50-70 prospect by most recruiting services.
Fernando, who turned 19 in mid August is just scratching the surface of his abilities. He shows unusual hand eye coordination, and has excellent touch on his shot. He still needs time to learn how to get shots off within the flow of games, but his 68% ft shooting (19-28) through his first 8 games is an excellent sign. He's averaging 10.6 ppg and 5.1 rpg and does a good job of staying within his comfort zone offensively.
He makes a lot of ally oop dunks, but also shows some innate footwork in the post, using spin moves and finishing with touch. He has an effective hook shot that he converts with regularity. His 2.4 blocked shots in just 18.8 minutes per game is another positive sign. With a massive wingspan, he has the ability to be a difference maker on the defensive end if he continues to improve and become disciplined and can stay out of foul trouble.
We may be jumping the gun with him as a one-and-done late first rounder, but having seen his development from the 2014 U17 World Championships in Dubai, he's a kid with great potential, reminiscent of Clint Capela at the same age, who with the right development could become something special.
Falling
Michael Porter 6-10 220 SF Missouri Fr.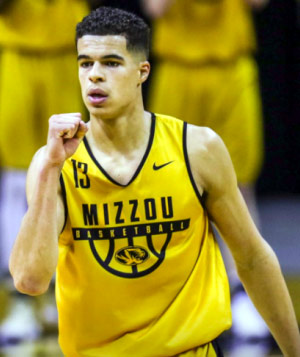 Porter's combination of size, athleticism and shooting ability make him a super intriguing prospect as he's a prototypical stretch four in today's NBA game with his ability to play either forward position and become an elite scorer. He's not only a tremendous prospect, but comes from an ideal basketball background with a strong support system and a father that played professional, a la Steph Curry, Klay Thompson, Ben Simmons, etc.
The injury that has cost him his freshman season, has cost college and draft fans the treat of seeing him play and develop on the college level. The hope is that the surgery on his back will allow him to make a full recovery and return to the elite level player that had scouts raving about him after seeing him in practice a month before the season.
Mitchell Robinson 7-1 225 C USA Fr.
Robinson's oddball decisions to first commit to Western Kentucky, and then de-commit and then once again commit, only to decide to sit out the year create red flags with regard to his maturity and advisement. He's a talented kid, with high level run-jump athleticism and shot blocking ability. At this point he's extremely raw offensively with a strange shooting form and not much of a post game. But he made a strong push and many considered him on the path to becoming a possible one and done lottery pick towards the end of his high school career.
His ability to be a rim protector is what he can hang his hat on currently, and the potential that he could develop some offensive skills. The hope is that he will be able to bulk up and continue to improve his post game. The fact that he is missing a year of development and not playing clouds his draft stock, and some teams will likely decide he's not worth the risk, while for other teams in the late first round, he offers a chance to roll the dice.
Lamar Peters 6-1 190 PG Mississippi St. So.
Peters has not lived up to the expectations that we had for him going into the season. He was projected as a lottery pick on our 2018 mock, but has been a disappointment. His three point shot has abandoned him thus far (2-19) and he was suspended for two games for violating team rules.
He has looked good running the team, displaying the type of quickness and shiftiness that makes him very difficult to guard. However his maturity and discipline both on and off the floor must improve.
There's still time for him to turn his season around and prove that his play during the summer at the adidas Nations event was no fluke. But he is certainly trending down after a disappointing first few weeks of the 2017-18 season.
Troy Brown 6-7 215 SG Oregon Fr.
It's probably unfair to call Brown a disappointment or single him out as there is usually an adjustment period for freshmen. Brown is a tremendous kid, with a great personality and has a bright future.
However, he is currently looking more like a player that will need 2-3 years of college, as opposed to the one-and-done that he has been projected as. His overall numbers are solid at 11.7 ppg on 46% shooting, 87% ft, and 7.1 rebounds per game.
Where he needs some work is improving upon his 30% 3 point shooting and negative assist to turnover ratio. In high school he played more on the ball, so learning how to catch and shoot and move without the ball will be crucial in his development as a pure 2-guard.