RJ Barrett 6'6 195 SG – Montverde Academy 2018 (Duke)
Barrett was the event's main attraction, scoring both in the half court and transition. He brought down the house with a number of above the rim finishes. He elevates well for blocks and rebounds, impacting the game in more ways than scoring. As usual, he drew a lot of fouls. Neither of Montverde's games were close, so the possessions held less value as the games progressed. With Barrett playing most of the game, he had tunnel vision at times, predetermining his moves and too often making it predictable when he was going to shoot. But it usually didn't matter. His jump shooting is very hit or miss. Sometimes he looks smooth when letting it fly and other times, he hesitates, and it doesn't come close to the mark. He shot 3-5 from downtown in the first game, followed up with 1-7. Barrett would finish with 26 points, ten rebounds, and two blocks against Trinity Episcopal, and 33 points and two blocks against Westside.
Jalen Lecque 6'4 180 PG/SG – Christ School 2019
Lecque's a tremendous athlete but his shot is all over the place as he missed a few free throws (9-14). He can shift gears, changing speed and drives past his man at will. After beating the first line of defense, he challenges big men at the rim to draw fouls or finish with hang time. His court vision is good, and he hits cutters or finds the open shooter on the perimeter. He knows how to bait the help defense and where his next pass is going. Christ School wasn't as well rounded as McEachern and took a loss in their only game of the event with Lecque scoring 27 points and grabbing 11 rebounds.
Jaylen Hoard 6'8 205 SF – Wesleyan Christian Academy 2018 (Wake Forest)
Hoard had two solid games. He's a natural wing but plays as a versatile five-man for Wesleyan Christian. His offense was driving out of the post and working the baseline. He elevates well on rebounds and defends any position at this level. I would like to see his aggressiveness improve as he lacks the edge to grab 50/50 balls. He picked up some phantom fouls against Norcross that seemed to throw him off and prevented him from getting into a rhythm. He struggled from the free throw line and needs to keep the ball high after rebounds and in traffic, as it got poked away a few times. Wesleyan Christian would split in their two games, beating Gainesville and losing to Norcross. Hoard finished with 14 points and ten rebounds, and 17 points and ten rebounds respectively.
Kobe Langley 6'0 155 PG – Wesleyan Christian Academy 2019 (Virginia Tech)
Langley was too quick for the defense and got where he wanted with the ball. He slashed to the rim on occasions and pulled up in the defender's face to knock down contested jumpers at other times. He was a defensive pest, consistently playing intense on the ball. His athleticism allows him to play bigger than his size, finishing with a few dunks and even help side blocks. Langley was one of the most exciting players in the event, along with his brother Keyshaun. He finished with 18 points and three steals against Gainesville and posted with ten points, seven rebounds, and five assists in the loss to Norcross.
Trendon Watford 6'9 225 SF/PF – Mountain Brook 2019
Watford lived at the free throw line. He's too strong at this level for other guards to defend and has good size at 6'9. Despite his "heavy feet", he's able to beat big men to the rim and changes direction well with his drive to get them out of position, drawing fouls. Watford scored inside and out against Norcross to end the game with 36 points (9-12) and 11 rebounds. In his second game against Langston Hughes he posted 21 points, 13 rebounds, and three steals in the win.
Brandon Boston 6'5 165 SG – Norcross 2020
Boston has a low release point on his shot but yields positive results, shooting 5-8 from three over the two games. He's naturally creative with the ball and reacts quickly. He sees the floor and makes the extra pass. He's making an impact as one of the more talented high school sophomores, gifted with long arms and good athleticism. Boston scored 12 points against Mountain Brook and 15 against Wesleyan Christian.
Andrew Nembhard 6'4 185 PG – Montverde Academy 2018 (Florida)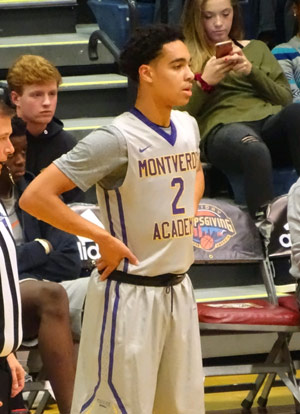 The future Gator doesn't shy away from his shot anymore. It's coming out smoother and he's pulling up from midrange without hesitation. He's so valuable because he impacts the game without scoring, by setting the pace of the game and floor leadership. I've seen him in a few different settings and he's always able to play his game. He doesn't overdribble, pick it up too early, or leave his feet to get caught in the air. Every drive or pass is with a purpose, knowing where the play is going even if his initial idea gets cut off. He's a good pick and roll ball handler. He has a rare combination of playing nonchalant but with the right aggression. I'm not sure if there's another player in high school that understands their own game like Nembhard does. He was big in both of Montverde's wins, only scoring a total of 11 points in the two games but recorded 13 assists against Westside.
Michael Devoe 6'3 175 PG – Montverde Academy 2018 (Georgia Tech)
Devoe had the hot hand and was an efficient scorer averaging 23 points on 75% shooting, and 7-11 (63.6%) from three. He also distributed the ball well with nine assists to only two turnovers over the two games. He's a good athlete with good quickness and instincts, also playing well on and off the ball. Devoe was committed on the defensive end and averaged 4.5 steals in the two games.
Makhi Mitchell 6'9 230 PF/C – Montverde Academy 2019 (Maryland)
Mitchell has grown man size and strength, not to mention athleticism too, with a good combination of power and finesse. He has soft touch with either hand and used glass when appropriate. However, his range is limited, air balling free throws on more than one occasion, shooting 1-6 from the line over the weekend. He's mobile, alert, and teamed well with Montverde's other big man, Filip Petrusev. Mitchell scored 11 and 18 points while efficient with 5-6 and 9-11 shooting respectively. Defensively, he served as an anchor and averaged 2.5 blocks over the two games.
Armando Bacot 6'9 225 PF – Trinity Episcopal 2019
In the game against Montverde, Bacot picked up two quick fouls in the first two minutes and never got into a good rhythm. He can drive out of the high post and gets great lift around the rim, throwing down jams in traffic on occasions. He has plenty of lower body strength and is very mobile, but his shooting needs to improve if he wants to round out his face up game. His footwork and handling double teams isn't where it needs to be yet, sometimes travelling while other times forcing up a contested shot with a few defenders on him. Trinity Episcopal didn't have the horses to run the with Montverde and Bacot finished with ten points, eight rebounds, and five turnovers. He followed up with a much better game against Trinity Christian with 34 points, nine rebounds, and three blocks.
Isaac Okoro 6'5 205 SF – McEachern 2019
Okoro has good length and is an effortless athlete. He slashed to the basket and finished with multiple jams. He's a talented prospect with his only setback appearing to be his lack of a jump shot. He has good tools as a versatile defender and has room to move up the boards. His 28 points and seven rebounds helped McEachern come away with the win.
Ashton Hagans 6'3 185 PG – Newton
Watching Hagans warm up, his jump shot looked smooth and much improved. In the games though, he still seemed hesitant to let it fly. He stayed consistently aggressive and is a competitor. He gambles and reaches a lot on defense, while he comes away with steals, he ends up behind the action at times as well. He picks up full court and it's nice to see a high-level player not "too cool" to get after it defensively. While he records a high assist count, he's also turnover prone. Hagans impacts the game in all categories and led Newton to win both games. He posted a triple-double against Columbia with 14 points, 12 rebounds, 14 assists, two blocks, three steals, and six turnovers. He also finished with 27 points (13-14 free throws), ten rebounds, eight assists, three steals, and five turnovers against Pebblebrook.
Khavon Moore 6'8 190 SF – Westside 2018
Moore's versatility was on display, but Westside couldn't keep up with Montverde losing 103-55. Not naturally his position, Moore ran the point, his handle is a bit loose, but he slashed well. He made a few shots from outside, but he has a way to go as a consistent shooter. His offensive technique doesn't match his tools yet but there's potential in his game. Moore ended with 25 points, eight rebounds, five assists, two blocks, two steals, and six turnovers.
EJ Montgomery 6'9 215 PF – Wheeler 2018
Montgomery was very efficient. He stayed close to the basket and consistently utilized his mismatch. He finished with 35 points while shooting 16-20 from the floor and grabbed 13 rebounds to beat Buford. His jump hook can add consistency and he needs to pass out of the post or make a move quicker before the help comes. He moved his feet, rotating and switching against everyone on defense. Overall, he had a very strong performance and I like the progress he's made.
Marcus Watson 6'5 210 SF – Buford 2019
Watson is a strong and a powerful athlete. He started connecting on his three-point shooting in the second half, but it wasn't enough to beat Wheeler. At this stage, he relies on his superior athletic gifts, so improving his skill level and perimeter game will be the next step. He did show ability to score from everywhere on the floor and finished with 28 points in the loss to Wheeler.
Joey Baker 6'8 200 SF – Trinity Christian 2019 (Duke)
Baker scored 20 points but fouled out in the third quarter, which allowed Trinity Episcopal to make a comeback and ultimately get the win. He played within the flow of the game and knocked down a few shots. He moved well off the ball and shot 10-12 from the free throw line. He didn't make a big impact outside of scoring but his size on the perimeter gives him good value.