"Situational Analysis" is a series of articles that seeks to examine the circumstances that most often influence an NBA prospect's success. Each player will be scored on a scale from 1-10 in four different categories: NBA-specific skill(s), fatal flaw(s), collegiate/overseas/pre-NBA environment, and ideal NBA ecosystem.
RJ Barrett is an 18-year-old forward from Toronto, Ontario, Canada who averaged 22.6 points, 7.6 rebounds, and 4.3 assists during his freshman season at Duke University. He is expected to be selected with either the No. 2 or No. 3 overall pick. NBADraft.net currently has him projected at No. 3.
NBA-Specific Skills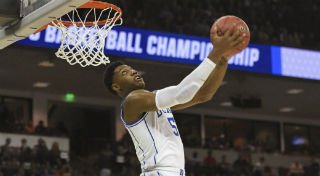 It's unlikely that R.J. Barrett's style was conjured directly from Daryl Morey's subconscious, but it can't be ruled out.
Barrett is the most "modern NBA" player available in this year's draft. From his build to his shot profile to his Harden-esque ability to draw fouls, Barrett's game is the logical extension of the Sloan-ification of the NBA.
Put Barrett at the top of the arc in a spread pick-and-roll attack and watch him cook. Even if he isn't a team's lead creator, Barrett could be a lethal secondary ball-handler who can make a variety of productive plays on or off the ball.
At 6-7, Barrett is tall/long enough to shoot and pass at angles smaller guards can't see. His most advanced skill, by far, is how he generates and plays through contact. It takes even the best professional players years to effectively discombobulate defenders into fouls. At only 18, Barrett's off-kilter contact-heavy game is nearly a decade ahead of his age.
Barrett is a natural scorer who can get buckets at all levels. His percentages may dip the further away from the rim he gets, but his form remains consistent and repeatable. He loves taking big shots and thrives with the ball in his hands in crunch time. He has been groomed for NBA stardom for quite a while now. In the right spot, it's easy to envision him as one of the league's most productive and versatile offensive weapons.
On a scale from 1-10, Barrett's deep bag of offensive tricks rates at a 9.
Fatal Flaws
For all the quality shots Barrett can create for himself and others, he often struggled to turn them into actual made baskets.
Two numbers stick out like a sore thumb: 30.8 and 66.5. These are this 3-point and free-throw percentages, respectively. Few players had a bigger gap between "expected points" and "actual points" than Barrett. He took an average of six 3s and six free throws per game – great! He made an average of two and four – not great.
This is the big question scouts will need to try to answer. Are Barrett's subpar shooting percentages – particularly in the second half of Duke's season – a result of cramped spacing, fatigue, a cold streak, or something more fundamental in Barrett's shooting stroke?
Barrett also tends to play with blinders on – particularly in crunch time. He often forces things when the simpler play might be a better option. He can get a bit sloppy with his handle and turn the ball over when he makes up his mind that he's taking it to the rack. Barrett leans a little too heavy into "hero ball," which won't work at the pro level.
On a scale from 1-10, Barrett's streaky shooting rates at an 8.5.
Pre-NBA Setting
It's impossible to overstate Barrett's high school dominance. His reputation preceded him before he made the move from Canada to Florida, but I'm not sure even the most optimistic outlook on his game could have measured up to the reality of his prep career.
Barrett won every major individual award after his senior season and earned the top spot in every national ranking service – even ahead of eventual teammate Zion Williamson. At the time, Zion had the dunks, but scouts believed Barrett had the superior overall skillset.
When he decided to head to Duke with Zion and Cam Reddish to form the prep equivalent of Voltron, it was assumed Barrett would continue racking up titles and awards en route toward the No. 1 overall pick. Most players would be thrilled to put up the kind of numbers Barrett did as a freshman, but he was unable to live up to these outlandish expectations. Many fans and scouts viewed his lone college season as a disappointment.
Everyone on last year's Duke squad fell victim to the same circumstances – too many stars, not enough touches, not enough spacing, etc. Barrett spent his entire life as the clear No. 1 option, but fans and pundits alike wanted to see him take a back seat to Zion in crunch time. This led to an odd crisis, as Barrett's offensive efficiency took a nosedive, while his usage remained high.
Would Barrett have challenged Zion in the National Player of the Year vote had he played in a situation where he was the clear top playmaker surrounded by shooters and cutters who could create the kind of space where Barrett's slash-and-kick game would thrive? Or would his streaky shooting follow him regardless of the situation? Did Barrett peak in high school, or will he excel in an NBA where the rules/style seem ideally situated for his skillset?
His time with the Blue Devils didn't help answer any these questions.
On a scale from 1-10, Barrett's high school career rates at a 10, while his collegiate season checks in at a 6.5.
Ideal NBA Ecosystem
I'm a Barrett believer. More so than Zion, Barrett is the player I would point to as the reason to eliminate the absurd wait-a-year rule. It's likely that Barrett would have been selected ahead of Deandre Ayton, Marvin Bagley, and Luka Doncic in last year's draft. His unpaid internship unquestionably hurt his draft stock.
The main question teams picking in the top-three need to ask: Are Barrett's subpar collegiate shooting numbers simply a blip, or are the indicative of a larger problem?
If Barrett's shooting numbers normalize due to increased spacing and smarter offensive strategies, he has All-NBA potential. However, if he can't break out of the low-30s from behind the arc and drastically improve his foul shooting, he could end up being a taller, less efficient Monta Ellis.
Barrett's initial NBA experience will likely be dictated by James Dolan – a terrifying thought. If the New York Knicks elect to keep the No. 3 pick, Barrett is presumably the selection. He could either be surrounded by a couple of the best players of all-time, or he could suit up alongside Kevin Knox, Frank Ntilikina, and the rest of last year's tanktastic crew. If the Knicks trade the pick to New Orleans or wherever, Barrett will have ample opportunities to earn playmaking reps right away.
Maybe the Knicks/unidentified-trade-partner pass on Barrett, in which case the LeBrakers will be there waiting at No. 4. Or perhaps the Lakers trade that pick. Who knows.
Barrett's modern game will translate to any team. But more so than any other elite prospect, his situation is a complete unknown. He could end up playing alongside Hall-of-Famers or journeymen, contenders or tankers, or anything in between.
On a scale from 1-10, Barrett's situational flexibility rates at a 9, for no other reason than he has no choice but to adapt.