The Crossroads Elite Invitational provides young talent to make names for themselves early into their high school career, or even before it starts. The camp has only been going on for a few years and has already put two players in the NBA in Michael Porter and Kevin Knox, with more to come.
Alpha Chibambe 6'4 SF – 2022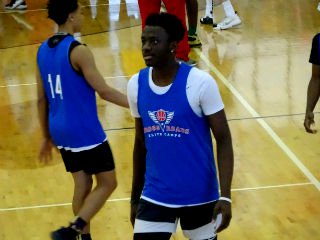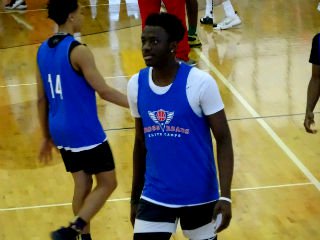 Chibambe was the best athlete in the camp and has an impressive physical profile. He's a high-flyer with good body control, showing an array of jams in half-court as well as transition. He showed a nice jump shot from three to put points up from anywhere. His ball handling was solid but once he improves in that area and creates more for himself, he's going to incredibly tough to contain. Chibambe provides defensive tools as well and defended well on the ball.
Brandon Miller 6'8 175 SF – 2022
Miller has nice size, playing inside and out. He put the ball on the floor and got to the rim. He also showed some three-point shooting as a threat to score from anywhere. Miller was versatile defensively as well, blocking shots and switching onto every position. He did a good job of letting it come to him without forcing his impact on the game.
Felix Okpara 6'10 C – 2022
Okpara showed a very good motor, consistently running the floor and displaying his athleticism as a finisher. He played well defensively, as a shot blocker with good timing and quickly rotating as a help defender. He's raw and can improve with the ball but he still impacted when he was on the floor. He shines more as a defender right now but Okpara has good potential on both ends.
Jalen Washington 6'8 190 SF – 2022
Washington took a few rebounds coast to coast to finish for himself or dump off to a teammate in position to score. He probably tried to do too much as a ball handler at times but he's well-coordinated and have to wonder if he will grow another inch or two. He hit a three off the dribble in the face of the defense, flashing what could come as he matures and develops. He scored inside and out, as a handful in the paint as well as some face up touch. Washington's improved since this camp last year but hasn't even scratched the surface when thinking about his long-term development.
Tichyque Musaka 6'10 PF – 2022
Musaka ran the floor well and dunked everything around the rim. He was very alert and ready for Reggie Bass' passes. He has thin legs, but his base held it's own in the post. Although he scored all his points in the paint, he shows a workable jump shot. Defensively, he was the best shot blocker in the camp and did a great job of not fouling while contesting.
Javon Johnson 6'2 PG – 2022
Johnson showed a lot of creativity as a passer and finisher. He was a very shifty ball handler and made his teammates better, leading well in transition. His shooting was on point, but he didn't hunt for his opportunities to score, letting it come to him when appropriate. Johnson's offensive variety made him stand out among the others.
Reggie Bass 6'4 165 SG – 2022
Bass love to get to the middle of the floor and operate, whipping no look lead passes to cutters or kicking to open shooters when the defense would collapse. Unlike most young players, he demonstrated his passing and court vision in the half-court. He tries some pretty wild layups that he wasn't always able to finish but he hit a share of difficult shots at the rim. He can improve his jump shooting; he doesn't start his shot until he's at the top of his jump, causing him to shoot on the way down, against his body motion.
Antonio Lisenbee 6'6 165 SF/PF – 2022
Lisenbee didn't show much offense outside of running and dunking but he's a good athlete and consistently played hard. He was very good on the boards and secured his area. His game can use some expansion, but he was very effective catching and finishing off rim runs. Lisenbee flashed touch in the paint to go along with his above the rim jams.
Dravyn Gibbs Lawhorn 5'11 PG – 2023
Gibbs-Lawhorn caught everyone by surprise when he threw down a dunk in traffic to end one of the games. In addition to his hops, he hit shots from the perimeter and handled the ball well, sometimes isolating his man while other times using screens. He was too quick for the defense and uses hesitations well. He made some nice passes and has a nice feel for a player who recently finished middle school. Gibbs-Lawhorn was a perimeter shooting threat to round out his offensive game and was tremendous all weekend.
Jalen Hooks 6'6 160 PF – 2023
It's early in Hooks' stage of development and he provides intriguing tools. He can step out and shoot as well as score inside. He can speed up his shot as he tends to hold it in his shooting pocket a bit too long. He has the defensive versatility to match his offense as well. He finished well in the paint thanks to his size and athleticism. Hooks is impressive for his age and looks to only get better from here.