With the NBA draft happening in just over a week, it's time to go in depth with the top prospects at each position, beginning with the floor generals. Here are the top 10 point guards heading into the draft.
1. Ja Morant, Murray State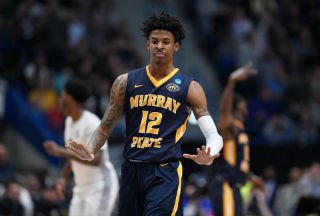 The top point guard in the draft this year. Ja had a dominant year for Murray State in which he averaged 24.5 points, almost 6 rebounds, and 10 assists per game. Morant shot almost 50% from the field and 36% from the three-point line. He also did something that top overall picks prior to DeAndre Ayton (Ben Simmons and Markell Fultz) were not able to do, and that's lead his team to an NCAA appearance. He puntuated that by leading Murray State to an upset win over Marquette and drew rave reviews from former Duke point guard and current Marquette coach Steve Wojciechowski. Displaying his awareness of what he can and cannot do on the basketball court. He has shown great ability to be a playmaker, while also being able to pick his spots to score. He is projected to be a ball dominant point guard at the next level who can run a team's offense. His floor vision is second to none in college basketball. He's able to spot the open man no matter where they're at. He'll need to work on his ability to drive to the, in the NBA teams will defend his strong left. While his defense isn't his strongest suit, the right coach will be able to get him committed to playing that end of the floor. If not, opposing point guards in the Western Conference will make life miserable for him. In the NBA draft this year Ja is not going to make it past #2. If Zion wasn't in this draft, Ja would probably be the clear-cut number 1 pick, and there's a real chance he ends up the best player from this draft as Zion has immense upside, but there are no sure things. Memphis has made it clear that they are looking for their replacement for Mike Conley and it's clear that Ja is their guy.
2. Coby White, North Carolina
A bit of a surprise at 2, as interweb group think has Garland as the clearsecond best point guard. But there is something to be said for proving yourself over an entire season at the college level, and developing as a point guard even for a year in college is essential. White is a natural born scorer with the ability to score at all 3 levels. He's great at hunting his shot in the lane as well as behind the three-point arc. His end to end speed is truly elite and his strength and quick first step will make him a nightmare to cover out on the perimeter. His 6'5 size should help to make him an effective point guard in the NBA, since he will have a size advantage over a lot of opposing point guards he faces. He should look to add some muscle to his frame in order to deal with the stronger shooting guards that may be assigned to defend him. He's versatile enough that he can score by creating his own shot or playing off the ball in catch and shoot situations. A lot of teams will be able to fit him into their offense. His defense is solid as he's shown the ability to keep his man in front of him, while displaying active hands. He's shown the ability to get his teammates involved, having averaged just over 4 assists per game this past season. He must work on his efficiency however, 42% won't cut it in the analytical era of the NBA today. He must improve his shot selection and decisions with the basketball. He has the potential to be a 20+ per game scorer in the NBA.
3. Darius Garland, Vanderbilt
Garland seems to have benefitted greatly by NOT playing this year. Five games is a very small sample size and while he shined in his scoring and playmaking, he proved to be extremely turnover prone in those games. A great scorer with a knack for getting his buckets off the dribble. He has some of the best handles of the 2019 NBA draft. He suffered a knee injury and only played five games this past season and couldn't prove himself against college competition over a whole season. He's shown the ability to score in isolation situations using his great handles and pull up game. He's a deadly shooter from the three-point line, he shot just under 48% this past season before he went with the injury. He has great quickness that makes it difficult for defenders to stay in front of him. He uses his handles to create passing angles to get the ball to his teammates. His lack of height could be a problem in the NBA, though his 6'5 wingspan helps. In the NBA, he may need to be hidden on weaker offensive players. He is a willing defender, but the lack of strength could be difficult to overcome on the defenive end. Standing at 6'2, and weighing 175 lbs, he will be prone to being bullied by opposing guards. His scoring ability and potential makes him a top 5 possibility, but there is a real bust factor considering his lack of college experience. He averaged over 16 points a game while shooting over 53% from the field.
4. Ty Jerome, Virginia
At 6'5, he has great height for a point guard. He has elite decision-making skills and vision that allow him to be a great floor general. His polished handles also assisted in his mastery as a playmaker for the Virginia Cavaliers. His assists increased every season while his turnovers remained low. He is an efficient shooter from behind the arc, shooting just under 40% every season. He understands his physical limitations and is great at finishing in the lane with floaters using deft touch. He's also good at finishing around the rim with either hand. On the defensive end is where Jerome shines. He's good on and off the ball, using his size to wear out opposing point guards. He's great at using his court awareness and anticipation to beat the offensive player to the spot. He's also a natural team defender, and uses his ability to read plays to help teammates when they are beat.
5. Carsen Edwards, Purdue
Edwards is an undersized scoring machine. What he lacks in size, he makes up for in heart. He is determined to put the ball in the hoop. He's been able to create his own shot despite his small stature, and there's a chance he will find some success doing that at the next level. He can shoot from deep and go to the rim, able to finish strong at the cup. His above average vertical allows him to get creative with his finishes at the rim. His multiple games this season with 6 three pointers made shows his ability to hit from long range. He'll need to work on his ability as a passer, since that's not his main calling card. He'll need to work on his shot selection to improve his efficiency after shooting under 40% from the field last season. While his height will make him a liability at times, he does have a surprising wingspan (6'5) and his scoring counters his liabilities. hiH inability to truly play the point guard position and make those around him better limits him to some degree, however.
6. Ky Bowman, Boston College
Bowman has a legit first step that he uses to blow by opposing defenders. He has a solid vertical, making him more able to finish at the rim. In the open court, he is fast with the ball in his hands. He is such a good athlete, that he was originally recruited by Alabama to be a defensive back. On the offensive end of the floor, he can score in a variety of ways. He's great at attacking the rim off the dribble, while also making tough shots. He loves to hit step back jumpers or hit 3s in defender's faces. His crossover dribble is very quick and effective. He is an efficient 3-point shooter, hitting in the high 30%. However, like Edwards he isn't a true point, but more of a shooting guard. He's not a great passer, and he turns the ball over too often. His greatest weakness is his off the ball defense. He tended to watch the basketball and give up backdoor cuts when BC wasn't in their zone defense. He must also improve on his shot selection.
7. Jaylen Hands, UCLA
Flashy but inconsistent point with a good deal of upside, particularly if he lands in the right situation. He is a strong, athletic slasher capable of throwing down highlight dunks. He's an explosive athlete who is not only a great vertical leaper, but also has elite lateral quickness. He's shown great ability to drive and kick to open teammates. His ball handling with either hand is pretty good, he's able to shake defenders and use his athleticism to separate from them. He's shown the ability to be a good floor spacer from beyond the arc. He shot over 37% from beyond the arc in his two college seasons. He has great floor vision and the ability to hit the open man, having averaged just over 6 assists this past season. While his slender frame can cause him to be overpowered by opposing point guards, his athleticism will allow him to give it to them just as much. He is prone to being over-aggressiveness at times, which can cause him to dribble into traffic creating turnovers.
8 Jalen Lecque, High School
Lecque is probably heading for a wake up call as his decision to enter and remain in this year's draft is extremely questionable. He may be stuck in the G-league for a number of seasons, and his confidence will be tested. While he's got one of the most impressive highlight tapes of any prospect, the reality is he did not affect games on the high school level consitently. He appeared to play each game to make those two or three highlight plays, instead of playing for the right reasons, helping his team to win and improving his skill set. On the positive side, he is a freakish athlete, as he showed with his 43 inch vertical at the combine. He also did say the right things in Chicago at the combine interviews regarding what he needs to do to improve, but there's an enormous gap between where he is and where he, probably thinks he is, and needs to get to in order to be able to contribute to an NBA team. He's limiting his options by turning pro while being so far away at the point guard position. And the likely scenario is that he will fail miserably and have to start over with a second or third team, or even league, before things click and he is able to figure things out and become a true NBA level contributor and decision maker. There wasn't a player more in need of college than Lecque, and unfortunately he took bad advise and stayed in the draft.
9. Shamorie Ponds, St John's
Shamorie Ponds is a natural born scorer of the basketball. Using his handles, he's excellent at getting to the rim. He has great touch which allows him to score in a variety of ways at the basket. He's shown improved playmaking abilities; his assists have improved every year he's been in college. He also is great in the passing lanes; he has averaged over 2 steals per game every season he's been in college. While his points went down from his sophomore year to his junior year, his efficiency increased, and he cut down on his turnovers. He has a great nose for the ball, allowing him to grab rebounds amongst players taller than he is. He must improve both his IQ on the offensive and defensive ends of the court.
10. Tremont Waters, LSU
Tremont Waters is one of the gutsiest players in the draft. He an undersized point guard with a knack for finishing in the paint. He can finish with either hand around the basket. He's very good at getting by his defenders off the dribble, which is his preferred way of attacking. He's a good passer, having averaged just under six assists in his two years at LSU. He's not a great three-point shooter, which might hurt his chances the NBA. While he was a standout defender in college, his size will make defending a real challenge at the next level. He's good at stripping the ball from ballhandlers, which helps. He's a good passer, especially in transition and a fearless type of player in the mold of Jose Juan Barea.
*Joshua Obiesse, a 6'6 combo guard out of Germany was a suprise to remain in the draft. He now ranks 7th on our point guard list and will be featured in our upcoming Top 10 European prospects feature. 6'3 Arturs Zagars out of Latvia would have been the top international point guard, but he opted to return and become eligible in a future draft.
Honorable Mention:
Jalen Adams 6-2 195 PG/SG UConn Sr., Jordan Bone 6-3 180 PG Tennessee Jr., Barry Brown 6-3 195 PG/SG Kansas State Sr., Chris Clemons 5-9 180 PG Campbell Sr., Jordan Davis 6-2 185 PG Northern Colorado Sr., Yago Dos Santos 5-10 160 PG Paulistano 1999, Jon Elmore 6-3 190 PG Marshall Sr., Jared Harper 5-11 170 PG Auburn Jr., Frank Howard 6-5 205 SG Syracuse Sr., Makai Mason 6-1 185 PG Baylor Sr., William McDowell-White 6-5 185 PG Baunach 1998, Joshua Obiesie 6-6 195 PG/SG s. Oliver Wurzburg 2000 Josh Perkins 6-3 190 PG Gonzaga Sr., Lamar Peters 6-1 190 PG Mississippi St. Jr., Shamorie Ponds 6-1 180 PG St. Johns Jr., Justin Robinson 5-8 160 PG Monmouth Sr., D'Marcus Simonds 6-3 195 PG/SG Georgia St. Jr., Tremont Waters 5-11 175 PG LSU So.