The White Team came out with the victory. Rallying behind Emmitt Williams' record breaking scoring output and some of the nation's best floor generals running the point, they earned the double-digit win. One stat that stands out is of their 52 rebounds, 25 came on the offensive end, with all positions contributing to the offensive glass.
Emmitt Williams 6'6 215 PF – LSU
Williams brought great energy off the bench to score 44 points on a Bill Walton-esque 22-23 (95.7%) shooting in 23 minutes. Although he showed an improved shot in practice, he didn't attempt a shot outside the paint. A lot of catch and finishes while rarely taking a dribble. Almost all coming from emphatic uncontested dunks; including a windmill, a pass to himself off the backboard, a windmill from a pass to himself off the backboard, and one last jam in the final seconds. His 44 points broke LeBron James' previous record of 34 that has stood since 2003. He consistently ran the floor and played hard as he's done throughout his high school career. Along with his scoring, Williams grabbed seven rebounds (four offensive) and blocked three shots in his MVP performance.
Cole Swider 6'8 203 SF – Villanova
Swider didn't have a quick start but stayed aggressive to finish with 17 points. Although his outside shot wasn't working for him, he continued to let it fly with confidence to connect on one of his six attempts. He didn't try to do too much with the ball and most of his points came from strong takes to the basket. Swider has good size and athleticism to play on the wing and will look to bring more success to the National Champs, Villanova.
Quentin Grimes 6'4 200 SG – Kansas
Whether it was scoring or facilitating, Grimes was in rhythm throughout the entire game with a great feel of how and when to make the right play. He saw the floor well and was highly unselfish with nine assists to only two turnovers. He recorded a team high four steals and his 15 points came in the right opportunities as he let it come to him. He moved well off the ball, using his athleticism on a tip in, alley oops, and a back-door jam. Grimes also crashed the offensive glass well with four of his five boards coming on that end.
Jalen Smith 6'9 195 PF – Maryland
Smith couldn't get any of his threes to fall but he's shown over the past few weeks he doesn't lack for shooting range. Most of his points came from cleaning up around the basket, staying alert, and being at the right place at the right time. He had an alley oop pass find its way into the basket that was intended for Romeo Langford, finishing with 14 points and nine rebounds (five offensive). Smith stood out defensively with three emphatic blocks, including two on one play.
Cameron Reddish 6'7 203 SG/SF – Duke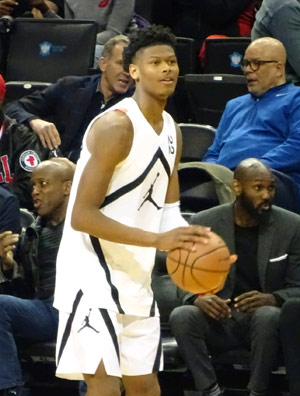 Reddish scored the first five points of the game, starting with a quick three then a finesse drive for an easy two. He looked smooth on some of his shots but tends to throw up a few sloppy attempts as well. He had a nice step back on Nassir Little to hit the three, then got blocked and missed the rim on his next two iso plays. His ballhandling has improved since the summer and his natural ability is undeniable. If he can consistently rev up his motor and knock down the three-ball, he could begin to realize his immense potential. Reddish finished with 19 points on 8-18 shooting (3-11 from three), seven rebounds, four assists with no turnovers, and two steals.
Romeo Langford 6'6 195 SG – Undecided
Langford didn't bring much outside of scoring with 14 points in 16 minutes before getting poked in the eye and leaving for the rest of the game. He hit a difficult left-handed layup while putting high arch off the glass to put it out of Bol Bol's extended hand. Langford knocked down two three-pointers, finished with a few jams, and grabbed five rebounds in the win.
Andrew Nembhard 6'4 190 PG – Florida
Nembhard always looked to push the ball up the floor, making outlet passes to hit teammates in stride. He dished out six assists but also had four turnovers. He finished with nine points, and although he doesn't have a hitch in his shot anymore, he didn't make any of his threes and his misses are still hitting the front rim. He had a strong take for an and-one and smooth midrange pullup. Nembhard plays at a great pace, keeps it simple, and is among the top points in the class. He intercepted a few passes to record three steals and grabbed nine rebounds with four coming on the offensive end.
Tre Jones 6-2 182 PG – Duke
Jones finished with nine points while shooting 4-6 from the floor. He never forces his scoring, with his value as a floor general and will be surrounded with plenty of scoring options next year at Duke. He finished with eight assists to four turnovers, often attacking the middle to kick to the open shooter. Jones also recorded three steals.
Ayo Dosunmu 6'4 160 PG – Illinois
Dosunmu failed to convert on most of his shots, looking a bit out of rhythm going 2-7 from the floor. He scored on a eurostep layup on the break and would follow up with another fast break layup later in the game. He didn't grab any rebounds but finished with five points and five assists.