The Black Team battled but came up short. While they had the better shooters, they didn't shoot well from outside going 6-28 (21.4%) from three. They didn't get a lot of scoring from the guards but had the versatile forwards and drew twice as many fouls as the White Team with 27. Here's a breakdown of the Black Team.
Nassir Little 6'7 215 SF – North Carolina
Little followed up his McDonald's All-American Game MVP performance to earn Co-MVP for the Black Team with 24 points and six rebounds. Although he didn't make his first few shots, he never gets discouraged and stays aggressive. He finished with multiple big dunks and has improved his shooting and offensive game over the past few years to score in a variety of ways. He went at it with Cameron Reddish on a string of plays; after getting crossed on a step back, he would block him on the next play, then force him into a bad three-point attempt in the three consecutive one on one plays. When Little took it at Reddish, he drew fouls on the next two consecutive plays, then hit a left-handed jump hook and left-handed floater on two plays to follow. He closed the game out by dunking a pass off the backboard from Javonte Smart and followed that up with a tip slam the next play. Little's had an active few weeks in the All-American games, proving he's among the elite. Unfortunately, he was not added to the Hoop Summit Roster however.
Bol Bol 7'2 220 C – Oregon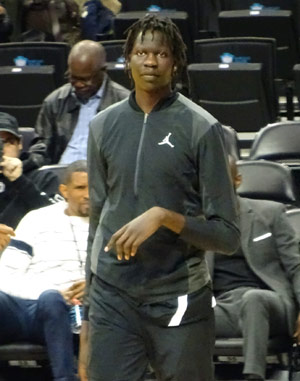 Bol scored 22 points on a very accurate 8-of-9 shooting (88.9%). He didn't make any threes but showed off his shooting ability making all six free throws and a long two in the corner. He also put the ball on the floor using long strides to cover a lot of ground, getting into the paint to lay it in. He's so tall and long he can quickly put dunks in the basket without taking time to gather as he showed throughout the game. Bol grabbed nine rebounds and showed his value on the defensive end blocking two shots, including a Jalen Smith jump hook while barely leaving his feet.
Coby White 6'4 170 PG/SG – North Carolina
White showed a few more dunks than we usually see from him. He scored 21 points on 20 shots (9-20 and 1-8 from three), shooting like there was no tomorrow. He had tunnel vision for the basket and forced a lot of layups. He had active hands on defense with four steals leading to fast break opportunities. White also grabbed five rebounds and finished with three assists to three turnovers.
Tyler Herro 6'5 193 SG – Kentucky
Herro didn't need any space to get his shot off. He's one of the best shooters in the class, scoring off the dribble and a killer from midrange. While he dribbled a lot, he didn't overdribble, setting up others as a lead guard and finished with five assists. Herro ended with 13 points, five rebounds, and three steals.
Jaylen Hoard 6'8 195 SF – Wake Forest
Hoard stood out despite playing just 15 minutes. He was aggressive and didn't second guess himself getting into the paint and playing through contact. He had a nice tip slam early to get on the score board, he continued his scoring mentality showing versatility and variety in his offensive game. Hoard seemed to make something happen every time he touched the ball, scoring 13 points and grabbing four rebounds.
Darius Bazley 6'8 195 PF – G League
Bazley's versatility was on full display, grabbing defensive rebounds to ignite the offense. He's developing as a playmaker, showing progress in that area, flashing court vision throughout the game. He scored at the rim with a few simple dunks and didn't settle for too many jump shots. He seems to be figuring out how to be more efficient and when to let the game come to him. Bazley crashed the offensive glass with six of his nine on that end to go with his 12 points.
Javonte Smart 6'4 190 PG/SG – LSU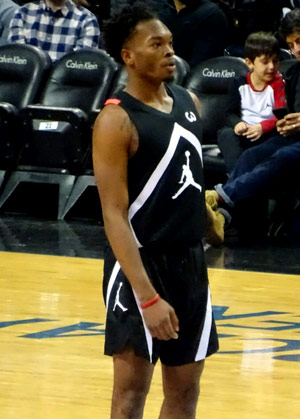 Smart scored 15 points, crossing up the defense and shooting in their face from three. He found his spot at the top of the key and stepped out to the NBA line on one play. He shot with confidence and found his rhythm off the dribble. He played off the ball most of the game but provides combo guard skills with three assists. Smart also finished with three steals on the defensive end.
Shareef O'Neal 6'8 205 PF – UCLA
O'Neal struggled a bit with eight points on nine shots (3-9). He looked to attack when he got the ball but mishandled a lot of passes, looking out of rhythm. He lacks offensive technique but does show flashes of perimeter skills and outside shooting touch, although he did air ball a free throw. O'Neal never failed to go after the boards on the offensive end where four of his five rebounds came.
Darius Garland 6'2 175 PG – Vanderbilt
Garland only scored six points with a steal for a fast break layup, also utilizing his eurostep on another play to get into the lane and score. He passed after penetrating on most plays recording five assists but also had four turnovers.
Will Richardson 6'4 170 PG – Oregon
Richardson wasn't very effective but did show good dribble drive ability. He scored his only two points on a nice floater. He didn't seem to be able to get into the flow shooting 1-4. Richardson also recorded two rebounds and two assists.