"Situational Analysis" is a series of articles that seeks to examine the circumstances that most often influence an NBA prospect's success. Each player will be scored on a scale from 1-10 in four different categories: NBA-specific skill(s), fatal flaw(s), collegiate/overseas/pre-NBA environment, and ideal NBA ecosystem.
Deandre Ayton is a 19-year-old center from the Bahamas who averaged 20.1 points and 11.6 rebounds during his freshman season at the University of Arizona, where he earned Pac-12 Player of the Year honors. He officially declared for the draft on March 15. He is expected to be selected no lower than third overall and as high as No. 1, where NBADraft.net currently has him positioned to go.
NBA-Specific Skills
Ayton was put on Earth to play professional basketball. Individuals with his combination of size, coordination, athleticism, attitude and skill come along once every handful of years. Head coach Sean Miller said he is the first player he's ever seen touch the top of the backboard.
There is no such thing as a "sure thing" in the NBA draft — injuries, off-court issues, renegade shooting coaches, and various other curveballs can cross a prospect's path. There are, however, what I call the "99-percenters" — players who would need to endure a series of freak occurrences in order to fall short of NBA stardom. Ayton falls into this rarified stratosphere.
Scouting for NBA talent is often a stressful, complicated profession full of guesswork and hunches and attempts to see into the future. Ayton? He isn't complicated. People watching basketball for the first time could successfully scout Ayton.
Watch him run. Scouts like to use the phrase "he runs like a guard" when describing a fleet-footed big man. Ayton doesn't run like a guard, however. He's still big — enormous, in fact — when he's running, but there is a lightness to his step. He changes ends without hesitation. He pivots, sprints, slides.
Watch him shoot. He has excellent touch around the hoop, and that touch extends to the college 3-point line (12 of 35 on the season). With work, he'll extend that range to the NBA line. Few expect him to develop into a 42-percent 3-point shooter, but 36-percent isn't out of the question — more than enough to stretch the floor.
Watch his hands. He gathers everything within his reach — a big part of what makes him such an excellent rebounder. He can snag lousy entry passes and turn them into dunks.
Ayton is the total package on the offensive end of the floor. On a scale from 1 (Zaza Pachulia's "flop on your kneecaps" move) to 10 (that Anthony Davis run after DeMarcus Cousins injured his Achilles), Ayton's NBA-ready offensive skills are a 9.
Fatal Flaws
Sixty-six blocked shots? Twenty steals? That's it?!?
Excuses are going to be made about Ayton's defense as draft day approaches — some of them legitimate, others not. The Pro-Ayton camp will say that he played out of position much of the season in lineups that would have been regressive even in 1989 (true) and that it's impossible to pinpoint one person as the sole reason for a team's substandard defense (also true).
Ayton's detractors will point to much of what we discussed in the first half of this piece. How can a player this imposing and gifted be this bad defensively?
At the collegiate level, Ayton should pick up 4-5 blocks per game almost by accident. He should be deflecting/challenging shots at absurd rates, while instilling fear in those who dared test him at the rim. He did not.
Miller prides himself as a defensive-minded coach. That definitely did not apply this season, as the Wildcats ranked No. 158 in defensive efficiency and made the University at Buffalo look like the Harden/Paul Rockets during the squad's shocking-but-not-that-shocking first-round tournament exit.
Ayton's ceiling as a franchise player rests on his ability to transform himself into a formidable defensive presence. Glass half full? His instincts/effort catch up with his athleticism once he receives NBA-level coaching. Glass half empty? Instincts are incredibly difficult to teach.
On a scale from 1 (Rudy Gobert) to 10 (those first three Karl Anthony-Towns years when he just had no idea how to defend) Ayton's defensive liability rating currently rests at an 8. This number needs to be way lower.
Pre-NBA Setting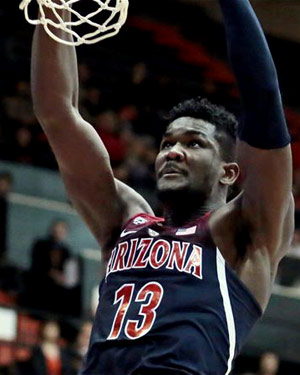 Um, yikes. Well, at least the weather was nice.
It was obviously not what Ayton and his family expected when he signed his letter of intent. First, the team's assistant coach and top recruiter Emanuel "Book" Richardson gets wrapped up in a federal bribery investigation. Next, ESPN reports that his head coach was allegedly caught on a wiretap openly discussing a payment plan for Ayton — a claim both Miller and Ayton vehemently deny.
These allegations are going to follow Ayton throughout the pre-draft process, even though nobody, particularly ESPN, has any proof whatsoever about, well, anything.
(Sidenote: If anyone reading this is genuinely upset at the very notion of college athletes receiving money, while these coaches/athletic directors/conference commissioners rake in unfathomable amounts of cash from apparel companies and advertising revenue, please take a moment to reassess your entire worldview. The adults will be over here talking about basketball.)
Beyond the chaos surrounding the Wildcats' program, Ayton had to deal with playing alongside Dusan Ristic — a wonderful college basketball player in his own right, but an impossible pairing for extended minutes.
Had Ayton had the paint all to himself, we would have seen him wreak even more havoc. The Wildcats, however, didn't have the personnel or the mentality to surround Ayton with ideal floor spacing. There were simply too many instances of Ayton and Ristic jostling for the same six-foot territory on the block. They worked out a nice high-low chemistry during conference play, but it was borne out of necessity — not out of how basketball is played in 2018. Can someone please convince Sean Miller to attend next year's Sloan conference?
Arizona's guards didn't help matters, either. Allonzo Trier never met a shot he didn't like. Rawle Alkins is hard-nosed, but often out of control. Parker Jackson-Cartwright is 5-7. Miller didn't trust any of the guards or wings on his bench (for good reason).
The Ayton/Ristic pairing was even worse defensively. All too often, Ayton found himself chasing lanky tweeners around the perimeter instead of camping near the rim (part of why his block rate was so subpar).
He likely won't have to deal with any of this nonsense as a professional. Besides, in the NBA, everyone gets paid! It's wild — almost as if it's the players who generate interest in the sport.
On a scale from 1 (Emmanuel Mudiay's experiences at SMU/China) to 10 (Gordon Hayward going from a lightly recruited 3-star guard to nearly hitting the greatest shot in college basketball history as a sophomore playing under Brad Stevens), Ayton's pre-NBA setting is a 3.
Ideal NBA Ecosystem
Ayton needs to spend the majority of his rookie contract playing as the pivot man in a four-out offense that pushes the pace and rewards the trailing big man. He needs a swift kick in the butt, too, if his bad defensive habits follow him to the NBA.
Mike Budenholzer would be a terrific fit as a head coach. Ayton would be the right player for the Hawks' full-scale rebuild, and Coach Bud would play analytically sound basketball that would put Ayton in the best positions to succeed.
Ayton possesses the kind of rare ability/size that fits anywhere. Just not Sacramento.
On a scale from 1 (whatever is going on with Markelle Fultz in 2017-18) to 10 (Donovan Mitchell landing in Utah and immediately becoming the face of the franchise), Ayton's situational independence is an 8.