New York Knicks
Needs: Shooting, facilitating, rebounding
Picks: 3, 55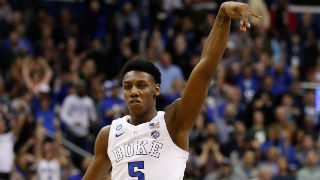 The Knicks are coming off a season in which they had the worst record in the entire league, and boy was it an ugly campaign. They were the least efficient team in terms of shooting, were dead last in assists, and the bottom third of the league in rebounding. Those are three components of basketball that are kind of important to not stink at. Luckily for the Knicks, they are in a position to offer up two max contracts during free agency and will also add the third pick in the draft. Trading away Kristaps Porzingis was a move that hurt them in the short term, but helped put them in position to target both Kevin Durant and Kyrie Irving once free agency starts. It's actually nearly unfathomable to consider the Knicks striking out in free agency this year. Sure, they might not get Irving and Durant. They might not even get either one of them. But the Knicks should likely land at least one major player in free agency and even if that's the extent of major free agent upgrades for them, adding somebody like RJ Barrett will help considerably. In addition, young players on their roster such as Kevin Knox, Mitchell Robinson, Alonzo Trier, and Dennis Smith Jr. are sure to improve for next season, putting the Knicks in position to potentially be the most improved team in the league next season.
Boston Celtics
Needs: Point guard, a penetrator
Picks: 14, 20, 22, 51
The Celtics took a chance in trading for Kyrie Irving, hoping that he would put them over the top. Despite that move, the Celtics finished the season behind Milwaukee, Toronto, and Philadelphia. Now it looks as though Kyrie is primed to leave Beantown. Assuming that comes to fruition, Boston will need a point guard to replace him. Terry Rozier is convinced he's good enough to be a starter in the league and has had stretches in which he was really good, but Boston could very well look to upgrade that position. The other major need for Boston (and one they could fill if they get the right point guard replacement) is somebody that can probe a defense and create looks for themselves and others. Because of the way the roster is constructed, the Celtics find themselves shooting fewer free throws than their opponents most nights. The Celtics likely won't be super active during free agency, but they could make some trades to fill needs, and they will be very busy on draft night. The team owns three first round picks and could target a number of different players with those picks. Rui Hachimura and Brandon Clarke of Gonzaga, Tyler Herro, PJ Washington, and Keldon Johnson of Kentucky, and France's Sekou Doumbouyo are all options that could be on the board for Boston with their first round picks. In terms of point guards they might target, Tennessee's Jordan Bone could be an option as could Carsen Edwards of Purdue.

Brooklyn Nets
Needs: A star free agent
Picks: 27, 31
The Nets made a big splash recently when they traded away the 17th pick in order to get Allan Crabbe's deal off their books. By doing so, they've picked up Taurean Prince, and more importantly, the ability to offer a second max salary deal in free agency. By making the trade, they've put themselves in position to improve a team that was already a playoff team last season. Last season D'Angelo Russell ascended to all-star status. Now, imagine the Nets going from having him as their best player and franchise centerpiece to D-Lo being the third best player on that roster, and all they had to give up was Crabbe. Expect them to target all of the big names in free agency, and it's quite likely that they land two major players. If they add a guard like Kemba Walker or Kyrie Irving you could also see them look to trade Specner Dinwiddie or Caris Levert for another impact player. There could even be a scenario in which they are able to package those two players with some other assets and make a run at Anthony Davis. In the draft, they could target players such as LSU's Naz Reid, Luka Samanic from Croatia, Daniel Gafford of Arkansas, or UCLA's Moses Brown.The Nets look ready to take a major step forward for a second straight year.
Philadelphia 76ers
Needs: Shooting
Picks: 24, 33, 34, 44, 54
Philadelphia has its franchise cornerstones in place in Ben Simmons and Joel Embiid. Last season they had Tobias Harris and Jimmy Butler surrounding those pieces, but there's no guarantee that the Sixers look the same at the start of next season. Butler is entering the last year of his deal if he exercises his player option for next season and Harris is a free agent. The Sixers could opt to bring them back and build the team around that core. However, the roster as currently constructed isn't without its flaws. The major one is the lack of shooting at the moment. It wasn't an issue last season, but JJ Redick is a free agent and Harris being a free agent will limit the amount of shooters on the court at one time for them as Simmons is a complete non-shooter at this point in his career. So more than anything, it will be important for Philly to surround Simmons and Embiid not only with solid role players, but with players that can create space for those two players to operate. The Sixers really are not far off from being true title contenders, but they still have work to do this offseason to complete the process. The first step will be the draft, and they don't have a high pick, the 24, 33, and 34 picks all have some promise and could net them some role players with upside. Players the 76ers might target include Indiana's Romeo Langford, Kevin Porter of Southern Cal, Terrance Mann of Florida State, and UCF's Tacko Fall.
Toronto Raptors
Needs: Kawhi Leonard to return
Picks: 59
The Raptors, as everybody is aware, are on the brink of winning the NBA Finals this season. The moves to acquire Kawhi Leonard and Marc Gasol paid major dividends this past season, and Toronto wants to keep it going. Gasol is at the end of his career, although with a game that isn't predicated on athleticism, he still has a few good years left in him and Toronto should look to keep him around. However, Kawhi is, obviously, far more important to the Raptors' long term success. If they are able to lock him up, they could find themselves challenging for a spot in the Finals every year Kawhi is in town. If they were to lose him, it could result in a rebuild for the team after next season when Kyle Lowry and Serge Ibaka come off the books. However, Toronto hopes it doesn't come to that because they've shown a ton of fight and skill in the Finals and they'd love to return again next season.