Here are some other NBA prospects that stood out at the draft combine in Chicago.
Terence Davis, Mississippi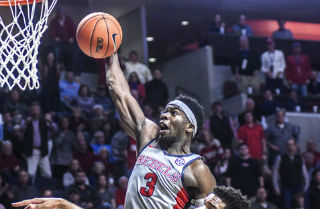 Making the most of his opportunity to play in the main combine after showing out at the G-League Elite Mini Camp, Davis came through with two solid performances during the combine. With good athleticism and an ability to really make an impact in transition, Davis has some traits that have seen him skyrocket up some mock drafts. While Davis still is a tad undersized to play off the ball, he shows an adept ability to defend multiple spots on the perimeter thanks to his strength and he also has solid instincts as an off-ball defender. If Davis can show he can handle the ball well (even in transition off a rebound) then he could find himself firmly in the second round after a great week in Chicago.
Game 1 — 11 points (5-9 FG, 1-3 3PT), five rebounds
Game 2 — 19 points (7-12 FG, 3-7 3PT), three rebounds, two blocks
Jalen Lecque, High School
One of the draft's more fascinating players thanks to his high school-to-pro journey, Lecque is going to be a long-term upside take for any team who makes a move on him. Although his play was erratic during the combine, Lecque's supreme athleticism at guard showed through on vertical testing as he registered a 43-inch max vertical leap to go along with a 35-inch standing vertical leap. Lecque also said the right things in media interviews in how his focus early in his career was to help defensively and in other ways until his inconsistent jumper starts to improve. It's impossible to say if Lecque has the feel to play point guard, or if his jumper will get better, but you can't teach some of the tools he's working with. Lecque's upside as a defender, perimeter rebounder and pure athlete is hard to overlook.
Game 1 — 4 points (2-4 FG, 0-1 3PT), four rebounds, two assists
Isaiah Roby, Nebraska
Staying in the draft is the intriguing Nebraska combo forward with some interesting upside. While Roby scored and rebounded at a solid clip at the combine, his ability to block or alter shots with his 7'1" wingspan is intriguing for his multi-positional defensive upside. But while the blocked shots and length help, Roby still has to get tougher to acclimate to the highest level. He'll be asked to make plays near the rim given his size and length and Roby can get outmuscled inside too often at certain times. Working in Roby's favor is a workable jumper and lateral ability to be a positive switch defender at the highest level. It's looking like Roby should find himself as a second-round pick if he continues this path.
Game 1 — 10 points (4-9 FG, 1-2 3PT), five rebounds, two blocks
Game 2 — 15 points (7-15, 0-4 3PT), six rebounds, two steals
Zach Norvell Jr., Gonzaga
One of the streakiest scorers in the draft was outstanding during the second game as Zorvell showed his tremendous scoring pop with a number of different moves. Comfortable moving away from the ball and totally fine with shooting off the dribble going left or right, the left-hander creates his own look with clean releases and unique scoring moves. The rest of Norvell's value comes from his IQ, which enables him to make plays all over the floor despite not being an elite run-and-jump athlete. Although he didn't show it often at the combine, Norvell can also make some plays as a passer as his offensive gifts are why he's so intriguing at the next level.
Game 1 — 8 points (3-9 FG, 2-8 3PT)
Game 2 — 18 points (7-11 FG, 3-7 3PT), two assists
Darius Bazley, High School
Skipping the season to focus on draft workouts and go through an off-court internship, Bazley showed why he was considered a consensus five-star prospect out of high school. Although Bazley is still raw in terms of his feel for the game and how he fits, he still brings a high degree of upside thanks to his frame and scoring acumen. In transition, Bazley can be a terror in the open floor when he's decisive as he's long and wirey with some slippery moves to the rim. Lost at times defensively, Bazley will be fascinating to see play once he is actually coached and given a purpose on a team in Summer League because he showed at the combine that he's someone worth taking a pick on.
Game 1 — 7 points (3-5 FG, 1-2 3PT), five rebounds
Game 2 — 11 points (5-8 FG), two rebounds, two assists, two blocks