The Pangos All-American Camp annually features many of the top high school basketball players in the country. Playing in front of NBA scouts, future stars in the Class of 2020, 2021 and 2022 took center stage at Cerritos College for a three-day event that had a lot of future pro talent take the floor. Here's a look at seven players who stood out at the camp based on production and upside. These aren't necessarily the seven best future prospects to come from the weekend, but the players who put it all together for a great weekend.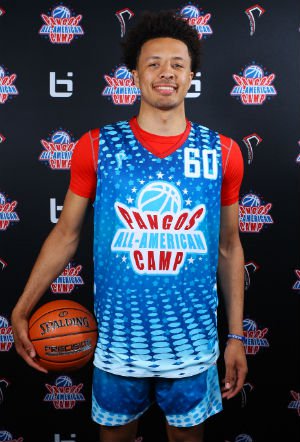 Cade Cunningham — The camp's co-MVP (with Evan Mobley) continued a blistering spring in which he's making a strong case for No. 1 overall player in the Class of 2020. The tall point guard was in complete control for most of Pangos as he mixed in hunting his own shots with getting easy looks for teammates. Cunningham has a cerebral approach to the game where he's constantly making adjustments based on how he is shooting and what the defense is giving him. It results in him contributing in every facet of a game despite potentially having an off-shooting performance. A high-floor player with a lot of upside with the ball in his hands, Cunningham has been tremendous over the past several months.
Paolo Banchero — This Class of 2021 big man is pushing for top big man in his class honors as the Seattle-area native was stellar at Pangos. Already armed with a diverse offensive skill set, Banchero has good feet and hands that enables him to shoot from all three levels. A confident shooter out to the college three-point range (and maybe deeper), Banchero delivers an easy ball with a natural release. A good passer thanks to a background as a quarterback in his younger years, Banchero is also never rushed with the ball in his hands as he doesn't get flustered by pressure or double teams. The 6-foot-10 Banchero also showed a lot of moves operating from the elbows as he's comfortable attacking the rim with one or two dribbles and using euro steps and other moves to free up space.
Ian Martinez — A recent Utah commit who just pledged last week, this California native is seeing his stock rise in the Class of 2020. A high-flying 6-foot-3 guard who easily lifts off the floor off of one leg, Martinez skies for big-time dunks and rebounds in traffic as he's fearless attacking the basket. Quick laterally, Martinez can be a menace defensively as he's aggressive in trap situations, forcing turnovers with his hands and creating easy offense for himself. While Martinez is still working on being more consistent with his perimeter jumper, it's a workable shot that should manage to become pretty reliable with more work. Not many guards in the 2020 class have as much vertical athleticism as it will be interesting to see if Martinez can add muscle to his wirey frame.
Daishen Nix — Impressive earlier this spring at the USA Basketball mini-camp during Final Four weekend, the 6-foot-4 Nix has good size for the lead guard position to go along with great feel and IQ. Although Nix isn't a burner and doesn't have the greatest lift off the floor, he makes up for it in other ways as he always plays under control. Adept at finding players in transition ahead of him on the floor, Nix makes shots easy for his teammates as he's a natural at cross-court passes and post feeds. Nix also sports a tough perimeter jumper as his size enables him to shoot over some smaller lead guards. Defensively, Nix has quick hands and a good feel for when to help as he uses his IQ to make plays in passing lanes for deflections. Although Nix isn't a mega-athlete like some of his five-star 2020 peers, he has a good enough feel for the game and the size to make it to the highest level.
Isa Silva — This 6-foot-3 point guard from the Class of 2021 opened a lot of eyes over the past several weeks with his fun brand of ball. With some tendencies similar to Ty Jerome and Fred Van Vleet, Silva is unfazed by facing anyone as he is able to perform at a high level despite maybe not passing a classic look test. A creative passer with excellent vision, Silva can make some risky passes to cutters and shooters. But most of the time, the pass gets through, and more importantly, the threat of the pass looms large with opposing defenders. Also capable as a knockdown three-point shooter, Silva has solid size for a lead guard as he can create separation with the stepback. Silva will have to tone down some of his wilder passes and flashy plays, but he clearly has a love for the game and a high skill level to match. Other players seem to really enjoy playing with him as well.
Terrence Clarke — One of the top prospects from the Class of 2021, the 6-foot-6 Clarke continues to show that he's becoming a well-rounded perimeter threat. Known more as a wing scorer for now, Clarke also has excellent vision and passing ability as he threw some tough passes on look-ahead plays or in the half court. Also improving with his perimeter jumper, Clarke nailed three-pointers going to his left and right off the dribble as he appears much more comfortable shooting off the bounce than he did several months back. Already known for his body control, athleticism and ability to attack the rack, Clarke is beginning to become a well-oiled machine on the offensive end as he keeps improving each time out. Defensively, Clarke is aggressive while defending the ball and his length and athleticism allows him to switch and defend multiple players. Thanks to his multi-positional ability, Clarke is viewed as a top-five prospect in his class at this point in time.
Dain Dainja — This wide-bodied Class of 2020 prospect continues to gain acclaim thanks to his productive brand of ball. Pushing 6-foot-8 with solid ball skills, Dainja is an offensive talent who can score from multiple levels and is tough to defend one-on-one thanks to his wide frame and good footwork. With good hands and soft touch, Dainja also shows some range out to the three-point line as he's not afraid to let it fly. A double-double threat thanks to his prowess on the glass, Dainja can initiate a break off a defensive rebound and pushes from time-to-time. Although not an elite athlete, Dainja is comfortable winning the ground game and plays to his strengths. The four-star prospect is a big-time college prospect with some pro upside if he continues to improve his body.