As fans of the NBA Draft, March Madness is an incredibly exciting time. From buzzer beaters, Cinderella's, upsets and of course, the future of the NBA on display. And it always brings up the question, how much should the NCAA Tournament affect one's stock?
Well, there is no simple answer this question, as it should be on a case-by-case basis. Though I think it is safe to say, one needs to include a large portion of a player's previous season and overall skillset for context. Believing only what you are seeing in March is what you are going to get going forward can lead to lapses in judgment.
One thing that constantly seems to be brought up is that players can separate themselves from the pack by starring in March. One place where this does not necessarily seem to be the case is at the very top of the NBA Draft. Look at the past 25 years, you will see one NCAA championship (Anthony Davis) and it is difficult to say whether any of them gained their status as top dog by NCAA Tournament play.
So, will this year break the cycle? With Markelle Fultz seemingly in the driver's seat for the top spot, could a huge NCAA tourney push a player like Lonzo Ball or Josh Jackson above him? Should it?
Obviously performing well in clutch situations is a strong attribute. But for some players being, or not being on that stage wasn't completely in their hands.
So how much a player's stock should be or actually is affected by their tourney performance depends who you ask. Obviously these players' skillset and complete body of work come first. A strong tourney performance could be what makes the difference when torn between two prospects. Here is a look at who helped or hurt their cause after the first weekend.
Stock Up
Josh Jackson 6-8 205 SG/SF Kansas Fr.
Jackson has been nothing short of sensational through the first two rounds of the tournament.
There have been some questions surrounding some of Jackson's recent off-court incidents, which led to a suspension in KU's surprising conference tournament loss to TCU. As far as his return for the NCAA tournament is concerned, Jackson had two fantastic showings, capped off with scoring 23 points in Kansas' 90-70 win over Michigan St. He showed some great footwork on some step backs and was his usual hyper athletic, slashing self.
The key with Jackson has always been whether he would develop the jump shot necessary to be a primary or secondary option in the NBA and this season has been a mixed bag. After starting the season off cold from long range, he has raised his outside number to a stellar 38.6% 3PT, though he makes only one per game. Other indicators, including his 56.7% FT shooting, as well as his shaky mid-range and shooting off the dribble, mean the jury is really still out as to whether we can expect him to be a big shooting threat.
What his two tournament games have shown us is that he plays at a very high effort level and makes some eye popping plays at both ends of the floor. His ball skills, lateral quickness and vision at his size and athleticism give him superstar potential. He was already a relative top 5 lock barring any off court issues, and he is looking like he may solidify himself in the top 3 with a shot to be the top overall pick, considering Kansas' real shot to win the title.
Lonzo Ball 6-6 190 PG UCLA Fr.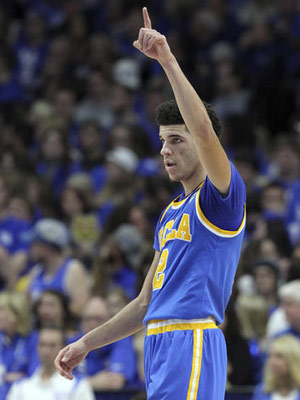 Ball deserves a lot of recognition for going 13-17 (76.5%) FG and 6-10 (60%) 3PT in his pair of NCAA Tournament wins. Lonzo was shooting daggers and dissecting defenses to a tee in the Bruins 79-67 win over Cincinnati, while also finishing a couple of nice drives at the basket. His handle is definitely not otherworldly, but his passing and feel for the game is absolutely undeniable.
The rematch with Kentucky will be a great opportunity to see once again how he fares against NBA level athleticism, as he struggled mightily in their first meeting during the first half and generally creating offense for himself. Defensively, his ability to at times switch on to wings and his instinctive reads have been evident, though he also has had trouble with quick players when guarding the ball.
His form is notably unorthodox as it is slightly low and across his body, but he has shot lights out from long range and even shows promise off the dribble, when he has space. His team is obviously quite talented, though he seems to provide a quiet leadership and his confidence truly shines through. His ability to make those around him better is what separates him from the other prospects in this year's draft.
Questions about his ability to create for himself and get shots in the midrange might scare a team from taking him first overall, but he has a special, all-around game that have many believing he will carry his winning ways onto the NBA.
Miles Bridges 6-7 230 SF/PF Michigan St. Fr.
The young Spartans season was quite up and down, though all in all, it saw a lot of great individual play from its marquee freshman. Bridges teamed up with fellow first year players Nick Ward and Josh Langford to blitz Miami in the first round, followed by an impressive duel against Josh Jackson. His lack of length is not ideal given that he is best suited as a mismatch at the 4 spot, but he has been an adept passer, defensive rebounder while bringing strength and explosive athleticism.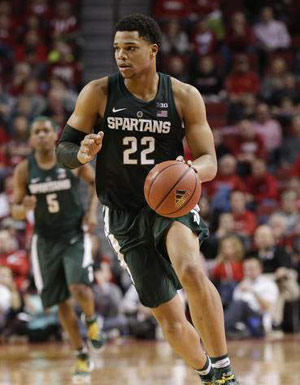 Bridges shot surprisingly well from the outside, making 38.9% 3PT on two made threes per game, but it is still a big question about whether his shooting will fully translate. He did not shoot well from short and mid range, struggled quite a bit off of the dribble and shot a mediocre 68.5% FT. He blocked shots at a surprising rate and was a match-up nightmare at the 4, though one wonders how well he will be able to defend the perimeter, or adjust to defending bigger, longer players every night.
His tournament play still highlights the positives Bridges brings to the table as far as using his body and explosive ability to finish at the hoop, while flashing some dexterity in attacking the rim and ability from the outside. His passing and ball skills, to go along with his impressive strength, will have teams coveting him as a potential mismatch that may overshadow some of his concerns defending in today's NBA.
Moritz Wagner 6-11 240 PF Michigan So.
Michigan has pulled off a wild March run and one could focus on just how well Derrick Walton and DJ Wilson have played as well, but Wagner's game against Louisville was a hugely impressive offensive performance. The big man from Germany showed an ability to stretch the floor, attack closeouts and has been great in the pick-and-roll. He had 26 points on 11-14 FG, showing some pretty unique athleticism and agility at his size.
Wagner showed great improvement as a sophomore while he and Wilson have become two deadly offensive players that can stretch the floor. It still seems like the best course for Wagner would be to work on a few aspects of his game before taking the leap to the pros. His rebounding has not been good and while he has a solid steal percentage, he can certainly improve his defensive awareness as well. He lacks ideal speed and athleticism and will need to continue to develop as a shooter in order to make up for this. What the tournament showed is that there is a possible NBA upside for Wagner and he is someone to keep an eye on.
Caleb Swanigan 6-8 250 PF/C Purdue So.
"Biggie" Swanigan came back to Purdue after a solid freshman year to become the Big Ten Player of the Year and national player of the year finalist. He was one of the nation's premiere rebounders and was an absolute inside/outside force on offense. He truly is only around 6'8, though he has transformed his body and while his run/jump athleticism is still not a strength, there has been definite improvement in his mobility. His ability around the basket is evident and has been made all the more potent by his passing out of the post.
It seems that Swanigan will probably be best at center and while he does lack ideal size, his 7'3 wingspan and 250 plus pounds both make that a possibility. The Iowa State game gave some insight into his struggles to defend quicker, more athletic players off of the bounce and how he will certainly struggle in space in the NBA. Swanigan still brings a very translatable skill in his rebounding, along with his ability to make good reads as a passer and his soft touch. It is not ideal for your big man to be weak defensively, though he provides a unique skillset that could work quite well in the right scenario.
Sindarius Thornwell 6-5 215 SG South Carolina Sr.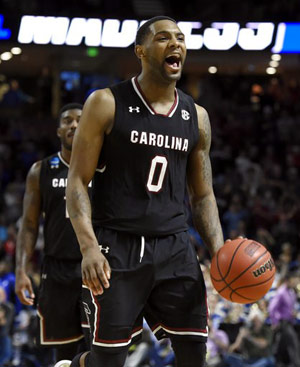 Thornwell has capped off a solid college career with a fantastic senior season, leading the nation in Box Plus-Minus, which is an advanced statistic that is taken seriously among the analytics community. Simply put, on both ends of the floor, Thornwell has provided a very positive impact. His averages after two tournament games are 26.5 ppg, 8.5 rpg and 3.5 apg, so he loaded up the stat sheet on offense, while being a leader of a defense that staggered two high scoring opponents.
Thornwell led the SEC in scoring at 21.4 ppg and was also first in free throws made, attempted, steal percentage and player efficiency rating. South Carolina's success has been a team effort, though Thornwell has been a driving force with his work on both ends of the floor. Even in the years before this, he always had displayed some solid court vision, and this year he finally shot at an above average efficiency. He has long been on our radar as a draft prospect and it looks like he is firmly in the NBA's crosshairs.
Wesley Iwundu 6-7 205 SG/SF Kansas St. Sr.
Iwundu is a long wing with ball skills plentiful enough to make him an initiator on a fairly consistent basis during his last two years of college. With a reported 7-foot wingspan and some solid agility, he improved greatly as a jump shooter, something that had held him back before this season. While his sample size was still small and there are no guarantees this will translate to NBA range, one certainly can see that he has tools to work with. He had a very strong showing in his play-in game against Wake Forest and played well through foul trouble against Cincinnati. He had shown flashes throughout his time in college and his senior year seems to have payed off in a big way.
Deonte Burton 6-6 250 PF/SF Iowa St. Sr.
Burton was a major player in one of the most exciting games of the second round, when he led an Iowa State comeback from down 19 points to a 73-71 lead with 3:11. They did eventually lose the game 80-76, but Burton showed some intriguing athleticism, long-range shooting and had an absolutely breathtaking chase down block on Caleb Swanigan.
He truly is a 6'5 power forward, though he has some length and explosive athleticism that make him a force to be reckoned with. He had really strong steal and block rates, has been a decent outside shooter since he came to Iowa State and his strength is absolutely evident. He plays with fantastic energy and even with his lack of size, this may get him a role, with his play in the tournament certainly helping people visualize how that could happen.
Kadeem Allen 6-3 205 SG Arizona Sr.
After redshirting at Arizona after arriving as the 2014 JUCO National Player of the Year, Allen has been an important role player on both sides of the ball. He has been their go-to defensive guard, handled the offense at times and small, yet solid doses of shooting. He really seems to make winning plays, displays solid athleticism and his defensive effort could end up getting him some looks. His play in both of the Wildcat's tournament games show that he fits well into a team concept and is willing to work and sacrifice for his team to succeed.
Chimezie Metu 6-10 225 PF/C USC Jr.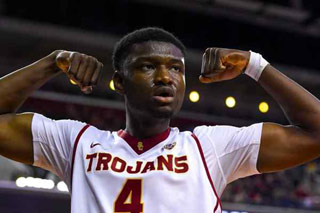 Metu is a bouncy athlete at 6'10 and made huge strides during his sophomore season, as he was accordingly named Pac-12 Most Improved Player. In his three NCAA Tournament games, he averaged 19 ppg and 7 rpg, and he was crucial to the upset victory over SMU. He saved his best game for last as he was able to put up 28 points against a very good Baylor frontcourt, falling just short in a 82-78 loss. His shooting has improved, though maybe not to the point where you call him a stretch player just yet. He also can have lapses in awareness at times, specifically on defense. As far as his play in the tournament is concerned, he flashed upside and helped his draft position moving forward.
Bonzie Colson 6-5 230 PF Notre Dame Jr.
Notre Dame may have gone out with a tough loss to West Virginia, but Colson once again had a fantastic performance, scoring 27 points on 10-15 FG. With the NBA going with smaller, quicker rotations, Colson has some ability that truly works. For one, he has a 7-foot wingspan, which makes up for some of his lack of size. He also is not overly mistake prone and as he averaged a double-double, it points to his ability as a rebounder. This tends to be a translatable skill, and he also showed some positive signs in terms of his shooting. His lack of size will likely make it tough to draft him too high, but he is surely on the radar for some teams.
Devin Robinson 6-8 200 SF/PF Florida Jr.
Robinson's junior year numbers do not jump off of the page, but he was quite good in each of Florida's wins in the tournament. He has a smooth release on his jump shot and is a bouncy athlete as well. He averaged 19 ppg and 9 rpg, using his size to his advantage while also making a couple three pointers in each game. At 6'8 with a 7'0.5 wingspan, Robinson has nice size for the wing, though he lacks some lateral quickness and strength. The shooting does seem to be there, though his lack of vision also seems to leave some doubt as to where he would best fit on the floor. He certainly seems to be showing his ability as a slasher and shooter at the right time with a great start to the tournament.
Trevon Bluiett 6-5 215 SG Xavier Jr.
Bluiett takes over half of his 13 field goals per game from three-point range, and he can be an absolute assassin at times. Luckily for Xavier, both of their upset victories were games where Bluiett was decidedly on fire. He went 8-15 (53.3%) 3PT in wins over Maryland and Florida State respectively. He is good at scoring off-screens, off the dribble and even provides some ability in isolation. Scoring is absolutely his calling card and when he is on, he is really tough to stop. His deep range has been fully on display and with good size and strength at the guard position, his leading Xavier to the Sweet 16 has surely not gone unnoticed.
Tyler Dorsey 6-4 195 SG Oregon So.
There are a couple of stats to show just how incredible Tyler Dorsey has been during the NCAA Tournament. One is that he is the first Pac-12 player to shoot 90% FG while scoring over 25 points in a game since Bill Walton did in the 1973 NCAA Tournament final, and he is shooting 10-12 (83.3%) FG on contested shots, highest percentage currently in the tournament (thank you ESPN Stats and Info). When you average 25.5 ppg on 18-23 (78.2%) FG and 6-9 (66.7%) 3PT, it is absolutely worth noting. There are concerns over his lack of his size as a shooting guard and he really has not shown that he can run a team, but he has been on fire and Rhode Island definitely faced the brunt of that. Ever since a forgettable final Pac-12 regular season game, Dorsey has had five games over 20 points in a row and seems to be shooting through whatever is in front of him.
Stock Down
Luke Kennard 6-5 200 SG Duke So.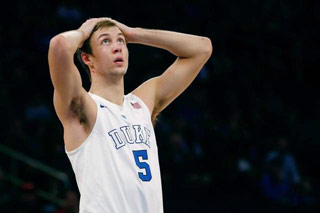 There is no question that Kennard was one of the elite shooters and scorers in college basketball this year, with shooting splits of 49/43.8/85.6 on 19.5 ppg. He was relied upon greatly for a young Duke team and overtook pre-season All-American Grayson Allen to garner his own All-American accolades. Unfortunately for Kennard, the tournament displayed some of the concerns of just how he will fit at the NBA level. He was suffocated by the athletic, long South Carolina defense, struggling to get his own shot. He was 4-18 (22.2%) in his tournament games and while he still had a tremendous year that has put him in discussion for the 1st round, it leaves some doubt into just how well he translates and what teams can expect if they draft him.
Justin Patton 7-0 230 C Creighton Fr.
After redshirting last year, top recruit Patton proved to be more than worth the wait, as he averaged 12.9 ppg (67.6% FG) and 6.2 rpg in only 25.3 mpg, proving instrumental in the Blue Jays return to the NCAA Tournament. His lone game did prove rather forgettable, as he finished with 8 points (3-12 FG) and 7 rebounds, fouling out in just 21 minutes. Patton excelled this year on dips to the basket and in transition, showing off a nice combination of size, length and athleticism. His awareness is still in its raw stages and he can lose focus defensively, while also struggling with decision-making. It still looks like he is going to be worthy of a gamble in the 1st round, but his tournament performance just leads to the realization that teams will really have to fully scrutinize Patton's game.
Josh Hart 6-5 215 SG Villanova Sr.
Hart was a consensus All-American and was Villanova's leading scorer during last year's NCAA Tournament run, and he was not necessarily bad during his brief outing this year. There were just a few little things to notice at the end of a close loss to Wisconsin, one being that he tried to get by on his brute strength and it just did not work out. This will be something he will struggle with in the NBA. He has ball skills, shooting ability and scoring acumen that will have teams in the late first round interested, it just was worth noting that he suffered from a lack of explosive ability that may cause him issues in the league.
VJ Beachem 6-8 200 SF Notre Dame Sr.
Seen as a possible "3-and-D" candidate with good size at the wing, Beachem's shot betrayed him in the tournament. He shot 3-23 (13%) FG, 1-13 (7.7%) 3PT, plus leaving some legitimate concerns as to just how well he defends smaller, quicker players. Beachem was one of the stars of Notre Dame's Elite 8 run last year, and while his senior season was not bad, it was not nearly as efficient as the previous year. With limited ball skills and vision, it does not look like he really did himself any favors in his quest for draft position.
Joel Berry 6-0 195 PG North Carolina Jr.
Yet another 2016 NCAA Tournament star who had a rough first weekend. Berry was 3-21 (14.3%) FG while trying to shake off an injury. Berry has built upon a strong sophomore season while showing an increased outside shooting acumen, however he has struggled around the hoop and it leaves people wondering just how well he can translate once he leaves North Carolina. He is our lone player who has a chance to turn things around on the "Stock Down" list, though it will be an uphill climb in terms of his 2017 Draft chances.
Melo Trimble 6-2 190 PG Maryland Jr.
Trimble has been a leader of three NCAA Tournament teams since he stepped on campus, as he has a confidence to his game and he does display some ability to get to the basket. He is also a streaky shooter, shaky decision maker and his lack of length gives him problems on both ends. Playing almost the entire game against Xavier, Trimble scored 13 points on only 5-15 FG, including 1-9 (11.1%) 3PT. He finished the season at just 31.7% 3PT and his assist-to-turnover ratio is a giant red flag in terms of his next level prospects as a lead guard.
Charles Cooke 6-5 195 SG Dayton Sr.
Cooke has a nice looking jump shot, some decent size and has shown an ability to get to the foul line that made him an intriguing senior prospect. He improved as a playmaker for others and shot just under 40% from long range on the year. His lone tournament game against an under seeded Wichita State team did not help his cause, however, as he shot 1-10 FG finishing with 6 points in 30 minutes. Cooke seems like a likely Portsmouth candidate and he has some hope to make a case for himself, though his shooting inside the arc leaves something to be desired and there is uncertainty around what his next level role might be.
Follow Michael on Twitter @NBADraftMikeyV. For any comments or questions feel free to e-mail him at [email protected].