"Situational Analysis" is a series of articles that seeks to examine the circumstances that most often influence an NBA prospect's success. Each player will be scored on a scale from 1-10 in four different categories: NBA-specific skill(s), fatal flaw(s), collegiate/overseas/pre-NBA environment, and ideal NBA ecosystem.
Matisse Thybulle is a 22-year-old wing from Scottsdale, Arizona, who averaged 9.1 points, 3.1 rebounds, 2.2 blocks, and 3.5 steals (No. 1 in college basketball) during his senior season at the University of Washington. He is expected to be drafted anywhere between the middle of the first round and the top of the second. NBADraft.net currently has him projected at No. 29.

NBA-Specific Skills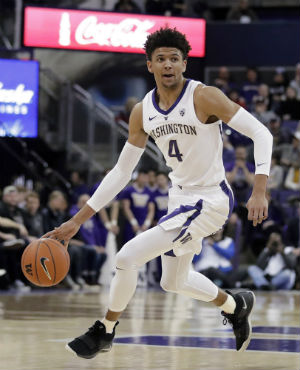 Thybulle is a fascinatingly unorthodox draft prospect, as he is the rare wing player who can anchor an entire defensive philosophy.
It's typically shot-blocking centers in the Rudy Gobert mold who serve as foundational defensive pieces, but Thybulle – the back-to-back Pac-12 Defensive Player of the Year – is anything but typical. Washington completely rebuilt its defense into a zone-based effort that featured Thybulle alternating between a roaming free safety and an attacking middle linebacker, depending on where his instincts took him on a given play.
His 126 steals – a Pac-12 conference record – came in every way imaginable. He jumps passing lanes without sacrificing positioning and rips lazy dribbles with a Kawhi-esque intensity.
You know the phrase "plays bigger than his size"? It needs to be renamed in honor of Thybulle (i.e. "This guy is a real Thybulle"). Even though he stands only 6-5, he finished second in the Pac-12 in blocked shots and projects as a legitimate rim protector at the next level, due to his 7-foot wingspan and 41-inch vertical leap.
Thybulle's defensive prowess isn't limited to scheme. He can lock up any position in front of him. He can pick up point guards full court. He can stonewall post brutes attempting to back him down.
If his offensive game emerges, Thybulle could earn enough playing time to qualify for a spot on an All-NBA defensive time by the end of his rookie contract.
On a scale from 1-10, Thybulle's defensive upside rates at a 9.5. He could be one of the only non-centers to move into the Defensive Player of the Year conversation.
Fatal Flaws
Thybulle's defensive prowess will never reach its full potential if he can't knock down shots.
Teams can't win at a meaningful level playing 4-on-5 offensively, and Thybulle's shooting statistics have dropped three straight seasons. As a sophomore, Thybulle showed real promise as a spot-up 3-point shooter (40.5 percent on more than four attempts per game), but he converted on only 30.5 percent of his 3s as a senior.
His 85-percent mark from the foul line is very encouraging, but Thybulle's offensive limitations could undercut his overall impact. While he is a smart, opportunistic cutter, he doesn't project as a playmaker or passing hub. He will need to take and make enough open jumpers to keep defenses honest and open up adequate floor spacing. Otherwise, he will struggle to stay on the floor during high-leverage moments.
At 22, he has less upside remaining versus comparable prospects, and it's fair to question whether his collegiate defensive dominance was partially related to his added experience.
On a scale from 1-10, concerns surrounding Thybulle's shooting rates at an 8.5.
Pre-NBA Setting
Thybulle arrived at the University of Washington as a mildly recruited 3- to 4-star prospect alongside future NBA draftees Marquese Chriss and Dejonte Murray. He earned playing time right away due to his defensive ability. Trust in Thybulle never waned, even as the Huskies transitioned from Lorenzo Romar to former Syracuse assistant Mike Hopkins.
If anything, Hopkins further empowered Thybulle as his defensive captain. Hopkins brought his Jim Boeheim-influenced zone principles to Washington and adjusted them to highlight Thybulle's best attributes.
Thybulle would have been a defensive menace on any team, but it's hard to say whether he would have posted these jaw-dropping defensive statistics in a different system. It's nearly impossible to average a combined six blocks and steals per contest, particularly from the wing position. Anthony Davis, as a point of comparison, averaged 6.1 blocks/steals (4.7/1.4) his freshman year at Kentucky.
On a scale from 1-10, Thybulle's opportunity to establish himself as a top-tier defensive stopper at Washington rates at a 9.
Ideal NBA Ecosystem
Every team could use a wing defender on Thybulle's level, but only a handful of them have the coaching infrastructure and track record to maximize with players who share Thybulle's scouting report.
The San Antonio Spurs jump to mind. From Bruce Bowen to Kawhi Leonard to countless wings in between, the Spurs have molded many players such as Thybulle into high-level championship contributors.
Asking to turn Thybulle into Leonard is an extremely tall task, but if a franchise can coax even average offensive production out of Thybulle, his defensive impact will be significant.
Many of the win-now squads near the back end of the first round should take a long, hard look at Thybulle. The aforementioned Spurs, along with Portland, Milwaukee, Utah, Golden State, and Brooklyn, have the top-level coaching staffs and playoff trajectory that make sense for Thybulle.
On a scale from 1-10, Thybulle's need for the right fit rates at a 9.