Rising

Sekou Doumbouya (00′, 6-9, SF/PF, France, Limoges)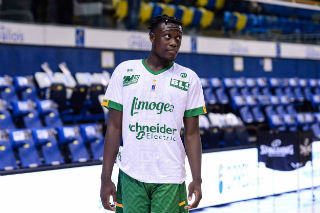 He started slowly and an injury slowed him down even more. But, as season progressed, Sekou Doumbouya has been constantly improving. Playing both forward positions and gaining plenty of playing time, he has learned from his mistakes for a competitive club. Doumbouya looks more and more like an NBA prospect. He might not become a Top-5 or Top-10 pick like everyone envisioned when they first laid eyes on him (although you never know what will happen in the Draft) and he will need time and patience to become the best version of himself. But the upside is there.
Goga Bitadze (99′, 6-11, C, Georgia, KK Buducnost)
He was a non show in the ABA League Finals between Buducnost and Crvena Zvezda, but this won't change the narrative about him. Goga Bitadze was a beast all season long in the ABA League and EuroLeague and his stock sky rockated this year. The Georgian prospect is as ready as anyone in his class. He improved considerably this season, he expanded his range and showed improvement in Pick and Roll coverages. A few bad games can't change what he has earned.
Adam Mokoka (98′, 6-5, SG, France, Mega Bemax)
Having a generally good season, last month wasn't really productive for Adam Mokoka. The French prospect had his ups and downs, which is explainable considering the fact that leads his team in playing time and has been asked to be a force on both ends of the floor. All in all, Mokoka has certainly improved this season in the areas he had problems (decision making, consistency) while proving once again that he is one of the best athletes of this class. He still has long way to go, his flaws are still there, but he has 3-and-D potential, which makes him intriguing.
Arturs Zagars (00′, 6-3, PG, Joventut)
Considered by many as the best point guard of his generation in Europe, Zagars saw an injury at the beginning of the season steal his thunder. His decision to declare for the NBA Draft came as a surpise and there is still the opportunity for him to withdraw his name. Apparently though he feels good enough about his chances to get drafted, so he will test the waters. Zagars is a fearless guard, a Pick and Roll maestro and a player who can score off the dribble. Having spent most of the season though on the sidelines and playing mostly for Joventut's second team in Leb Gold (2nd Spanish Division) he wasn't fully able to show scouts what he can do. With that said, if he keeps his name in the draft he can be a draft and stash candidate.
Deividas Sirvydis (00′, 6-8, SF, Lithuania, BC Rytas)
One of the youngest players of the class, Deividas Sirvydis had a nice complimentary role for a good club. The Lithuianian prospect is known mostly for his shooting and had the chance to show scouts a glimpse of things to come, in a role similar to the one he will probably have in the future until adds bulk to his body. The lefty guard/forward isn't really explosive and his body needs work, but the fact that he held his ground at a high level as a teenager is definitely working in his favor. For now it's not certain if he will keep his name in the draft, but if he does then he will probably get drafted.
Gytis Masiulis (98′, 6-9 , PF, Lithuania, Neptunas)
Going on loan from Zalgiris to Neptunas was the best thing that happened to Masiulis. The Lithuanian power forward has been terrific all season, holding his ground against more experienced players, while constantly improving. His atheticism has improved and he moves smoothly on the court. What has made him intriguing though and put him on the NBA radar for good is that he has expanded his game, having improved considerably as a shooter, with his range going all the way to the 3-point line. The truth is that the last couple of years Masiulis had shown flashes as a shooter and the fact that he was able to show his improvement at the senior level has raised his stock. He definitely has work to do to add some muscle to his body to sustain the physicality at the next level, but that's definitely manageable.
Neutral
Luka Samanic (00′, 6-11, PF, Croatia, Petrol Olimpjia)
The roller coaster season continues to be the issue for the Croatian prospect. Things haven't gone well for Samanic, who started the season from the bench,as he gradually earned some playing time and then became a starter. The past month has been the same for him. He struggled to find his rhythm despite numerous opportunities. Playing against grown men as a teenager is no easy thing, especially for a power forward and Samanic found out the hard way. What's more worrisome is his 3-point percentage for the season (28.9%), which is not a good sign for a player considered a Stretch-4. Still, Samanic's upside can't be ignored, and the same applies for the fact that he is just 19 years old, playing for the first time at senior level. Will this be enough for him to get drafted high enough if he keeps his name? That's the real question at this point.
Yovel Zoosman (98′, 6-6, SF, Israel, Maccabi Tel Aviv)
The highly competitive forward had an up and down season and last month was no different. His role has been steady lately, but his production comes and goes. Zoosman has been on the NBA radar for some time thanks to his versatility and passionate approach to the game. If he manages to become a consistent 3-point shooter, he can become a legitimate role player in the future.
Abdoulaye N'Doye (98′, 6-7, PG/SG, France, Cholet)
The French prospect had an inconsistent month, but he still found ways to be useful for a team full of guards. Defensive versatility has always been the calling card for Ndoye, who can guard every perimeter position. What has really risen his stock though is the fact that he is shooting 41.1% from the European 3-point line in almost 2.5 attempts per game. Things would definitely look better for him if he could create his own shot and put pressure on the defense (he shoots just 1.1 free throws per game), or if he could shoot at a hgher clip from the line (just 53% this season), but you can't have everything. At the end of the day Ndoye is player with lockdown defender potential and it remains to be seen if this will be good enough for him to get drafted.
Amine Noua (97′, 6-8, PF, France, ASVEL)
Playing for a team aiming for the title, Amine Noua had the chance to mature while having a role similar to what he is expected to have at the higher level. The Frech forward had more good moments than bad and has progressed this year. He has improved considerably and shows signs of maturity, looking always ready to help his team. If he manages to find a way to become a consistent shooter from deep, his upside might be higher than most people think.
Paul Eboua (00′, 6-7, SF/PF, Italy, Roseto Starks)
Blessed with an amazing body, length and athleticism, Paul Eboua has been on the NBA radar the last couple of years. He is as raw as any player in his class, but his upside is enormous thanks to his physical profile and that's the main reason everyone has an eye on him. This season has been, understandably, full of ups and downs for him. Playing in Italian 2nd Division, Eboua showed some flashes of his potential, especially on the defensive end of the floor, while he remained limited on the offensive end, playing away of the ball. With that said, Eboua is probably the most intriguing prospect of his class, but it remains to be seen if he will have enough hype to decide to keep his name in the draft or if he will withdraw and come back next year with more games under his belt.
Vanja Marinkovic (97′, 6-7, SG, Serbia, Partizan)
Vanja Marinkovic was always a shooter who had problems doing anything else on the court. This season he is shooting at just 34% from deep and still has problems doing anything else on the offensive end, with his decision making, passing and playmaking ability still being just average. This is his last season of eligiblity and things were not looking too great. And then, the ABA Liga playoffs came and Marinkovic looked like a legimate prospect again, having two great games and one good game against Serbian powerhouse, Crvena Zvezda. Partizan didn't make it and was eliminated from the playoffs, but Marinkovic reminded everyone that when he is on a roll he can do some serious damage. His stock has taken a lot of hits the last couple of years, but there is still hope for him.
Borisa Simanic (98′. 7-0, PF, Serbia, Crvena Zvezda)
Borisa Simanic has been considered an underachiever the last couple of years. This season though he showed some flashes of the player that everyone thought he would be when they watched him for the first time whe he was 16 years old. Playing for a prestigious club like Crvena Zvezda, Simanic saw plenty of playing time – mostly in the ABA League – and had some good moments. He even played some meaningful minutes in ABA League Finals, where he had the chance to showcase his athleticism, versatility and shooting range. The Serbian prospect has a lot to work on and has one more year of eligibility, so he might withdraw his name. But he is definitely on the NBA radar again.

Falling
Karim Jallow (97′, 6-6, SG/SF, Germany, MHP Riesen Ludwigsburg)
Incosistent playing time has lead to inconsistent performances for the German prospect. Karim Jallow continues to have his ups and downs for a team that is fighting for a playoff spot. Jallow's athleticism and 3-and-D potential always intrigued scouts, who have watched him this season having some glimpses of potential as a shooter (39.8% from European 3-point range but in just 1.3 attempts per game), but at the same time they have watched him shooting with an abysmal 58.1% from the free throw line. Jallow is auto eligible and for now is considered a second rounder to undrafted, depending on how much teams like him.
Laurynas Birutis (97′, 7-1, C, Lithuania, Zalgiris)
After an up and down season – with more ups on Lithuanian League thanks to an increase in playing time and more downs in competitive EuroLeague because he has been out of the rotation in favor of more experienced players – Birutis had an injury in February that will keep him out until the end of the season. The truth is that the Lithuanian prospect – who is autoeligible this year – didn't really have the chance to show what he can do at the highest level this season. So, basically, he will have to be judged based on his performances in the Lithuanian League from one year ago, when he was named MVP of the regular season.
Louis Olinde (98′, 6-9, SF/PF, Germany, Brose Bamberg)
The clock is ticking for the German prospect, who thus far has failed to take the next step in his development. Having a back up role for a team full of veterans with title aspirations, Olinde had consistency issues. His great size and length combined with his above average athleticism and 3-and-D potential are all there. But it's his passive approach of the game that causes him problems. He lacks confidence, he is too hesitant to make decisions on the offensive end of the floor and he looks like he just doesn't want to step in anyone's territory. Olinde has the talent and the upside of an NBA role player, but he could never reach his ceiling if he continues playing like this. He must find a way to be more aggressive before it's too late. He is not 18 years old anymore.
Marcel Ponitka (97′, 6-4, PG/SG, Poland, Arka Gdynia)
The fact that Ponitka hasn't been able to demonstrate his abilities playing in a mediocre level Polish League isn't encouraging. The last couple of weeks have been tough for the Polish guard, who has struggled to find consistent playing time as a back up guard. Ponitka, who is autoeligible, has shown improvement as a shooter this season – which has been his flaw for years – and his athleticism and fearless approach of the game work on his favour, but he has to show a lot more if he wants to get drafted.
Elijah Clarance (98′, 6-4, SG, Sweden, Fraport Skyliners)
Eliaj Clarance's decesion to leave college and become a profesional made him autoeligible for this season's NBA Draft. The all around guard/forward played mostly for Fraport Skyliners' second team in the German Second Division, where he was able to show once again his ability to fill the boxscore. The fact though that he wasn't able to find playing time in the First Division and he remains an incosistent shooter aren't working on this favour. He still remains an energy guy who will always give 100% and that's his calling card. It remains to be seen whether this will be enough for him to get drafted.