The Nike EYBL started in Atlanta, introducing new rules such as defensive three in the key, FIBA 3pt line, etc. Loaded with talent on each court for three days, here are some of the standouts.
Greg Brown 6'8 190 SF/PF – Texas Titans 2020
Brown excels on rim runs and tip slams as he's always been an elite athlete but he's developing his all-around game. He showed a smoother jumper and better ballhandling, creating for himself a bit and hitting shots off the dribble. He covers a lot of ground with his strides and has a wide area around the basket where he can finish plays. Brown scored 17 points per game with great efficiency at 71.4% FG%, along with 8.8 rebounds per game (3.3 offensive) helping the Texas Titans to win all four games.
Cade Cunningham 6'7 215 SF/PF – Texas Titans 2020
Cunningham was fantastic; great size with a strong build and a high-level athlete, scoring and making plays for others all weekend. He had a good balance of being an aggressive scorer and letting it come to him. He shot 36.4% from three and got to the basket driving to his right and left to finish above the rim. He ran the point a heavy amount of time and has noticeably improved in that area with a third best 6.2 assists per game. Also contributing as a rebounder with 5.8 per game. He's always thrived as a scorer and averaged 25.5 points per game while shooting 62.1%. One area he can improve next session is his 64% free throw shooting, but he got to the line at a good rate, shooting 6.3 per game.
RJ Hampton 6'5 175 PG – Drive Nation 2019
Drive Nation lost all four of their games, but Hampton showed out. He creates with his crossover and was excellent off the dribble; running the pick and roll, changing his speed/direction to get into the lane to squeeze in tight spaces, and drove baseline to kick to the open man numerous times. He played well in both transition and the half court, driving and getting to the rim fearlessly no matter the tempo of the game. He's currently second in scoring at 28.8 points per game and draws fouls at a tremendous rate, shooting a league most 12.3 free throws per game. He knocked down a few threes but that's an area that has room for improvement, shooting 26.9% 3PT%.
Terrence Clarke 6'7 185 SG – Expressions Elite 2021
Clarke's improved over the year and he's Expressions' go to scorer. His three-ball is more consistent and he's knocking them down off step backs, averaging 19 points per game while shooting 49.1% FG% and 44.4% 3PT%. With a nice motor and high-level athleticism, he attacked the basket off the dribble and finished with numerous dunks. His ballhandling, ability to create, and passing (4.3 assists) were effective as well. Clarke and Expressions Elite went 2-2 in Atlanta.
Moussa Cisse 6'11 210 C – Expressions Elite 2021
Cisse's production has increased since last year. He's still raw, scoring on rim running and cleaning up around the basket. His post-game is still in infancy, traveling at times and can improve his touch in the paint as well as free throw stroke (30% FT%). He utilizes his length and athleticism for dunks on offense and shot blocking as a defender, popping off the ground quick and getting chase downs on a few occasions, sitting third at 2.7 blocks per game. Cisse's averaging 9.2 points at 53.1% FG% and 8.2 rebounds per game, with a league best 4.5 on offense.
Jalen Green 6'5 175 SG – Oakland Soldiers 2020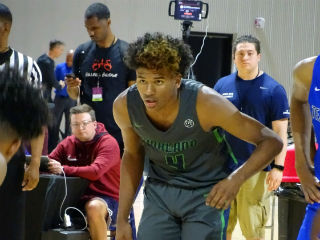 Many were expecting more from Green but there's an adjustment with it being his first year on the EYBL. He put up 16.5 points per game on 46.7% FG%, scoring at the rim and pullups from midrange. He's well known as a top athlete and he can create for himself but seems more comfortable driving to his right, when he shifts to his left, the ball comes just a bit high, but he got his shot off against tight defense either way. His long ball wasn't connecting at a high rate, 27.8% 3PT% but got to the foul line and shot 5.8 free throws per game with a reliable 82.6% FT%. Green didn't stand out as a rebounder with three per game or passer with 1.8 assists per game but will be ready for Session 2 in Indianapolis.
Ziaire Williams 6'7 170 SF – Oakland Soldiers 2020
Williams was reliable, efficient, and impressive for the 2-2 Oakland Soldiers. He knew how to fill it up in bunches and was the Soldiers' go to scorer during the comeback attempt against Team Durant. He's versatile on both ends and showed he can score from anywhere on the floor, putting up 25 points per game on 51.7% FG% and 47.1% 3PT%, also making 30 of his 32 free throw attempts (eight attempts per game at 93.8% FT%). He was able to defend and switch onto every position as well as take a rebound to the other end of the floor, he was also effective off the ball, spacing/spotting up on the perimeter and establishing in the post when appropriate. Williams also contributed with 6.2 rebounds per game (2.3 offensive) and 3.8 assists per game.
Jalen Johnson 6'8 215 SG/SF – Phenom University 2020
Johnson was impressive with his size and ability to see the court. He's great in transition with his passing as a leader and athleticism as a finisher. He also distributes well in the half court, making lead passes to cutters and crosscourt to open shooters when the defense is out of position. Scoring and rebounding are positive areas for Johnson as well at 16.3 points per game while shooting 47.2% FG% and seven rebounds per game. A glaring area for improvement is jump shooting, only 25% 3PT% and 63.2% FT%, and he's already scoring threat. Johnson's versatility and IQ separates him from others in the class. He averaged 5.3 assists per game, including nine alone in the win against PSA Cardinals. Phenom University went 3-1 in Atlanta.
Patrick Baldwin 6'9 200 SF/PF – Phenom University 2021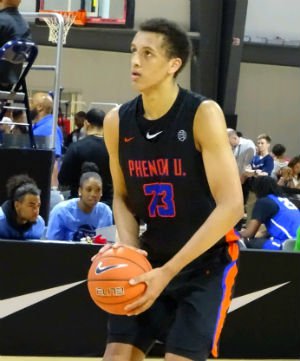 Baldwin brings good size and although he didn't shoot well overall (30% 3PT%), he provides a sound jump shot. He doesn't create much for himself and isn't an explosive athlete, but he plays well off the ball and can post up smaller players. He plays within himself and stays squared up ready to shoot on the move. For who some consider the top player in 2021, Baldwin underwhelmed a bit with 9.7 points per game on 32.3% FG% and only shooting five free throws over three games.
Josh Christopher 6'4 205 SG – Vegas Elite 2020
Christopher had a great weekend but was very high-volume, scoring 23.5 points per game on 17.5 shots per game (42.9% FG%). He was great at drawing fouls, going hard to the rim fearlessly and shooting 9.8 free throws per game at 82.1% FT%, although he misses a lot of shots because he's seeking a foul, even on jump shots. He was unstoppable as a scorer, creating and selling his crossover to get into the paint whenever he wanted but he's not a perimeter shooting threat yet at only 10.9% 3PT% (2-19 over four games). He took games over with his offensive and finished with above the rim dunks on multiple plays. He was solid on the defensive end but got beat sometimes when he switched onto a quicker guard. Christopher showed competitiveness and will put up points against anyone, leading Vegas Elite to a 3-1 record. Christopher also contributed with six rebounds, six assists, and 2.8 steals per game.
Julian Strawther 6'7 215 SF – Vegas Elite 2020 (Gonzaga)
Strawther provided 16.8 points per game, with good change of speed and ability to get to the rim. He has a smooth game and nice footwork with the ball, maneuvering around defense to get to the rim. He's not very explosive, generally finishing below the rim. He must improve as a shooter, currently at 15% 3PT% and 52.6% FT% but rebounds well with 7.8 and two offensively per game.
Jaden Hardy 6'4 185 SG – Vegas Elite 2021
Hardy's one of the top scorers in 2021 with deep shooting range and a scoring mentality. He can fill it up in bunches and although he hasn't had ideal success from the foul line at only 65.4%, he draws fouls at a good rate at 6.5 attempts per game. His outside shooting, however, has been on at 48.1% 3PT% on 6.8 shots per game. He's currently averaging 18 points per game while shooting 48.8% FG% and is a big piece to possibly the EYBL's best scoring backcourt.
Scottie Barnes 6'8 215 SF – Nightrydas Elite 2020
Despite averaging 5.5 assists per game, Barnes played out of ideal position running the point in Atlanta. He telegraphed some passes and the team doesn't get any pick and roll action; he's also not battling underneath as much. In today's game, he's got good potential as a small ball big with his passing, mobility, and athleticism but his shooting has a way to go. He's also versatile on the defensive end. Nightrydas is loaded with talented versatile big men with Barnes, Isaiah Todd, and Moussa Diabate but they all tend to roam the court, flashing talent but not consistently getting easy baskets. You can sense the frustration in the losses as they're as talented as any team, sitting at 2-2. Barnes is averaging 12.5 points per game while shooting 55.6% FG%, 55.6% FT%, eight rebounds (2.5 offensive), and 1.2 steals per game.
Isaiah Todd 6'10 210 C – Nightrydas Elite 2020
Todd can play inside and out, shooting 38.5% 3PT% and getting to the rim off the dribble to finish over the top. His mobility and size allow him to guard multiple positions. He scored in the half court and utilized his athleticism to finish in transition. He's been consistently aggressive but has worn his frustration on some fouls that he needs to keep control of. Todd's averaging 14.5 points per game on 42.5% FG%, 58.3% FT%, and eight rebounds (2.8 offensive) per game.
Sharife Cooper 6'0 165 PG – AOT Running Rebels 2020
Cooper lacks ideal size and isn't explosive, even on his takes to the rim and pullups off the dribble he doesn't get much elevation but he's very skilled, creating for himself and teammates. He plays very under control, getting where he wants with the ball and finishes very well at the rim with either hand, showing no hesitation going to his left even in heavy traffic. He handles pressure very well and draws a lot of attention from the defense; also drawing a tremendous amount of fouls, shooting 11.3 free throws per game and making 80% from the line. Last year's EYBL Offensive Player of the Year is only shooting 25% 3PT% but is leading the league in scoring with 31.2 points per game while shooting 51.2% FG%. Cooper didn't miss a beat with Brandon Boston picking up three fouls in the first three minutes against Georgia Stars, dropping 37 points in the game. Cooper's also grabbing five rebounds and passing out seven assists per game as AOT leaves Atlanta 1-3.
Chris Livingston 6'5 180 SG – We All Can Go 16U 2022
Livingston's a good athlete, attacking the rim when he sees an opening and he isn't shy to rise above the defense. He showed nice outside shooting with ability to shoot off the dribble and doesn't need much space to get his shot off. He beat the first line of defense well with his dribble and adjusted to the help side big man while not shying away from contact. Livingston defended well too, guarding multiple positions and elevating to block shots.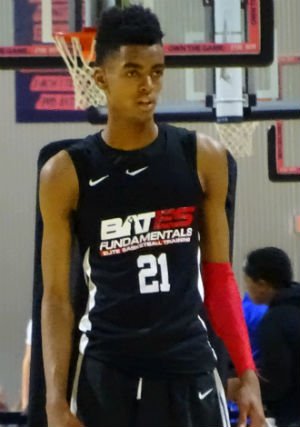 Jalen Duren 6'9 235 PF – Team Final 16U 2022
Duren is a beast with a big body and explosive athleticism to catch oops others can't contest, grab rebounds, and block shots. He gets off the ground quick and effortless, completely ignoring the defender between him and the basket. For someone so young with superior size/strength, he's skilled around the basket with finesse touch and hitting shots at different angles while using the glass at times.
Emoni Bates 6'8 180 SF/PF – Bates Fundamentals 15U 2022
Most five-star freshman are either gifted with raw tools and talent without the skills/polish to match or very skilled but have nearly peaked athletically/physically at an early age, but Bates is a combination of elite gifts and skillset. He can score in a variety of ways; hitting step back threes on routine, using crossovers and spins to get to the rim in traffic, and finishes well in transition. He can create baskets from scratch but knows how to score in the flow of the offense, not taking ill-advised shots. It's well-documented that he's a hard worker and big-time competitor. Bates has been known in the grassroots community for a few years now and we won't quit hearing his name any time soon.