Part One: Pangos All-American Camp: Top Prospects
Jonathan Kuminga, 6-9 SF/PF, Class of 2020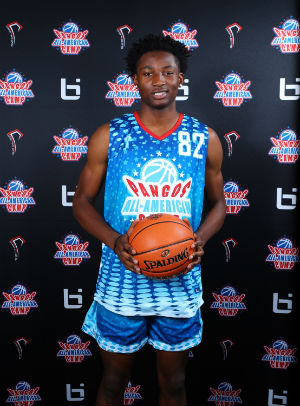 A fluid athlete and much improved scorer, Kuminga is a physically developed three-level scorer with an improved handle; native of the Congo; improved his handle significantly over the last year. His ever-improving physique enables Kuminga to finish easily through contact, but he is a sub-par free-throw shooter. His shooting form has improved, but his shot selection is still a work in progress. Although he has become a more aggressive scorer, he still retained his court vision and is a plus passer for the position. Kuminga has a limited low post game, yet doesn't mind getting physical inside. Although now capable of functioning in any kind of offense, an up-tempo one fits him best. He used to be more focused on the offensive glass, but is still an above-average defensive rebounder. Defensively, with his combination of a 6'11" wingspan, excellent lateral quickness, and overall strength, he's a versatile plus defender. He used to be much more engaged on the defensive end, but also has drastically cut down on getting into foul trouble by being less overly aggressive. Kuminga is a quality shot-blocker for a wing, particularly from the weak side. He still has a tendency to over-think on offense, which results in unnecessary turnovers, but his overall feel has improved. Although certainly not a finished product, no elite level player has improved as much over the past year.
Evan Mobley 6'11 PF Class of 2020
Often regarded as the premier big man in the class of 2020, Evan Mobley fits the prototype of the modern NBA big who can stretch the floor well enough to create space for his team on the offensive end. Mobley, whose older brother and father are at USC, is excellent on the defensive glass, despite still having a relatively thin frame. Mobley is also a plus shot-blocker. He's got good overall court vision, but needs to become a more willing passer. As he gets stronger, I expect him to be able to embrace physicality and become more of a factor on the offensive glass. While his three-point shot has improved, it needs to become much more consistent, in order for teams to respect his shot. His free-throw shooting must improve as well.
Moses Moody, 6-6 SF, Class of 2020
The 6'4" guard from Arkansas showed many of the best aspects of his game at Pangos. The Montverde Academy rising senior was consistently aggressive, attacking the basket and putting defenders on their heels. A relatively streaky three-point shooter, Moody's three-point shot was on. His shot is much more effective in a one-to-two dribble pull-up than when he pounds the ball. Moody is an effective offensive rebounder for a shooting guard. An honor roll student, Moses is also a plus passer for shooting guard as well, while dramatically reducing his former penchant for turnovers. Defensively, he uses his overall athleticism, effort level, and anticipation, both as a shot blocker and to generate steals as a ball hawk and through jumping the passing lanes. He needs to remain this consistently aggressive, while refining his three-point shot and tightening of handle. Moody is a very effective mid-range shooter, particularly off of the catch. He has the reputation of being a hard worker and coachable.
Micah Peavy, 6-5 SG, Class of 2020
Peavy, a Texas native, is almost exclusively a mid-range-and-in wing. He brings some of the best traits of fellow Texan Cade Cunningham. Peavy is an excellent rebounder on both ends for a wing. He's also a very good secondary distributor, who avoids ill-advised or risky passes. Defensively, he uses his wingspan and anticipation to clog the passing lanes. Peavy is effective at attacking the basket and has improved his ability to finish through contact, but he needs to be a better free throw shooter. His three-point shot needs major refinement in order for him to maximize his potential. His perimeter shot is the swing skill, which will unlock just how good he can be. Peavy has legitimate NBA potential.
Josh Christopher, 6-4 SG Class of 2020
A hyper-competitive 6'4" guard, Christopher is wired to score. Christopher aggressively attacks the rim, putting defenders on their heels, finishing through contact while also solid at the free throw line. His court vision and willingness to pass has improved significantly, but still needs to cut down on unnecessarily risky passes. Defensively, he's less engaged, like many of his peers on this end, but he's a solid ball hawk, who is able to generate steals and deflections with his anticipation and lateral quickness. His three-point shot, which has a quick release, is his biggest skill weakness, but can be improved most quickly through a better sense of shot selection. Christopher, whose oldest brother Patrick played at California, is very good on the defensive glass, where he looks to ignite the break, due to flourishing in transition. Christopher has average size for the position, but is a plus athlete. One of the premier scorers in his class, he could benefit from a floater and a better mid-range pull-up.
Moussa Cisse, 6-11 Guinea, Class of 2020
The 6'11" Guinea native is an elite level shot-blocker. A fluid athlete, Cisse is also an exceptional rebounder on both ends, but particularly the offensive glass. Cisse still struggles as a perimeter shooter, but can, on a rare occasion, knock down a trail three-pointer. Cisse is comfortable in high-low situations as a passer, has a very physically developed physique and can finish through contact, but struggles at the foul line. Cisse is still very turnover and foul prone, but has made gradual improvements in these areas over the past year, as his feel has improved. Cisse has become much more vocal on the court as his English has improved. His long-term ceiling will be dictated by his ability to improve his perimeter shot.
Isaiah Todd 6-10 PF, Class of 2020
The 6'10" stretch big originally from Baltimore rebounds well on both ends. Todd is still most effective in the low post, but has transitioned into much more of a stretch five, who is enough of a three-point threat that he must be guarded. While he's developed some perimeter skills, he's still too turnover prone. He is able to finish through contact, but is a weak free throw shooter. Defensively, he's most impactful as a shot-blocker, particularly from the weak side. He needs to refine his perimeter skill set, remain engaged for longer stretches, get a better sense of a shot selection, and get tougher in order to reach his maximum potential.