Despite a few of the European headliners deciding not to play in FIBA's U19 World Championship in Crete, there were still a lot of International players that managed to make some noise. Here are 10 players that stood out (plus notes on a number of others):
AJ Lawson (2000, 6-6, SG/PG, Canada)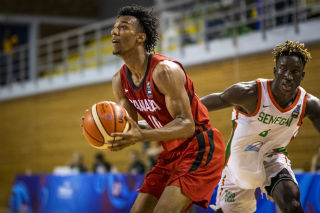 After a solid freshman season with South Carolina, A.J Lawson was the leader of Canada in FIBA's U19 World Championship. The athletic Canadian prosect had his ups and downs, but in general had a good tournament, averaging 16.7 points, 3.9 rebounds and 3.4 assists per game. The combo guard has a nice (although slim) body, solid athleticism and an ability to knock down shots from just about everywhere from the floor. At the same time, he is a streaky shooter for now and at times he looked kind of hesitant on his drives to the basket, often seeming to avoid contact. Despite all that, he definitely looks like a NBA prospect, who could be in the mix as a first rounder in 2020.
Filip Petrusev (2000, 6-11, C, Serbia)
Filip Petrusev is one of the smoothest bigs of his generation in Europe. The Gonzaga prospect played for a loaded – but underperforming – Serbian team alongside players who looked hungry for shots. Still, that didn't prevent him from posting 19.3 points, 10.1 rebounds, 2.6 assists, 1.6 steals and 2 blocks in just 25.7 minutes per game! Petrusev had some dominant moments. His footwork with his back to the basket, ability to make a short roll and pass after giving a screen in Pick and Roll situations and touch around the basket make him intriguing, mainly because these skillset belongs to a kid with a nice body frame and impressive mobility for his size. Petrusev has his flaws, since his intensity comes and goes on defense, his lateral quickness needs work and he doesn't take over as much as one would expect, but that doesn't change the fact that he has great potential.
Amar Sylla (2001, 6-9, PF, Senegal)
Sylla was forced to play out of position as a small forward due to froncourt depth in Senegal and that hurt his game, but he still was able to show his interesting skillset (long, athletic, great on the open court, with defensive potential). Sylla is an extremely fluid and long athlete who appears to have potential as a combo forward, but for now his skillset is strictly as a four. Took a back seat to Ballo in terms of production, but made his presence felt nonetheless. He averaged 12.6 points and 8.7 boards in 34 minutes per game. He shot just 47% from the line and 10% from 3, so his shot obviously is in need of work. Regardless, he's clearly one of the top ong term prospects, who will have a chance to be a first rounder in 2020 if he continues to develop.
Joel Ayayi (2000, 6-4, SG, France)
After a redshirt season with Gonzaga, Ayayi looked like a man on a mission in the U19 tournament. With France playing without the trio of Theo Maleon, Killian Hayes and Malcolm Cazalon, the French guard took advantage of the opportunity and showed his potential, averaging 20.9 points, 5.6 rebouns, 3.4 assists and 2.1 steals per game in just 26.3 minutes, earning All Tournament honors. Ayayi was in attack mode. He outpowered his opponents, he drove ferociously to the basket and scored in bunches, while playing very good defense. That doesn't mean though that he didn't have his shortcomings. His shooting remains… iffy, (just 29.7% from 3-point line and 65.6 % from FT line) and his decision making needs work. But he definitely improved his stock and everyone will want to watch him playing for Gonzaga next season.
Oumar Ballo (2002, 6-10, C, Mali)
Another Gonzaga player. Oumar Ballo has made a name for himself thanks to his past performances in FIBA's tournaments. After missing the first 2 games due to visa issues, Ballo took everyone by storm upon arrival in Crete, leading his team all the way to the final, averaging 17.6 points, 11.8 rebounds, 1.6 assists and 3.8 blocks per game in 31.5 minutes. Ballo is a beast. Blessed with a big body and impressive wignspan (measured at 7-6), he bullied his opponents in the post, but at the same time he has a nice footwork with his back to the basket. There are some concerns regarding his fit at the next level, because he is not that athletic and has below average lateral quickness, which causes him problems guarding the Pick and Roll. Also it has to be noted that he had some conditioning problems. Some of those problems though will probably be solved when he plays in Gonzaga's system.
Biram Faye (2000, 6-10, PF/SF, Senegal)
He wasn't as highly advertised as Amar Sylla, but Biram Faye looked more ready than Real Madrid's prospect, although it has to be noted that Sylla played out of position (as a small forward). What's really encouraging for Faye is that he looked like he's really improved over the past couple of months. Faye is no longer just a banger in the post. He showed potential as a shooter, shooting six 3-pointers per game (at just 31%, but still…) with nice shooting mechanics, while at the same time he showed his mobility, rebounding instincts and defensive potential. Faye still has a ways to go and has to improve his basketball I.Q and feel for the game, while adding some post moves in his repertoire, but he was one of the players that showed real promise in Crete.
Leandro Bolmaro (2000, 6-7, SG/SF, Argentina)
The Argentinian prospect took everyone by storm in his debut against Russia. And then, 18 minutes into the game, he sprained his ankle. After missing the second half against Russia and the next game (against Philippines) he had lost his mojo. With his ankle bothering him, he didn't have the same energy and mobility and it was obvious, but he still made a case for himself. One word to best desribe Bolmaro is "creative". Playing the game on his own pace, Bolmaro can create his shot in half court, run some Pick and Roll as a secondary playmaker, make some flashy passes and his an occasional Spot Up 3. He is more of a smooth athlete than an explosive one, he lacks elite length and he is an incosistent shooter for now. But the talent is there.
Fousseyni Drame (2000, 6-7, SF, Mali)
Drame was arguably the breakout star of the event, going from a little known player to one of the clear NBA prospects. He played much better than his reputation as a 2-star recruit and was a huge surprise for the silver medal winning Mali team. Averaging 12 and 8, he opened scout's eyes. He shows a lot of long term potential, in particular due to his ability and potential as a lock down defender. Apparently he has been hiding in plain sight playing at Our Savior in New York, he appears to be a huge steal for St. Peters where he will be a freshman in the fall.
Ibou Dianko Badji (2002, 7-1, C, Senegal)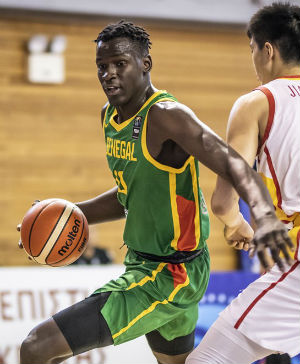 No player passed the eye test more so than Ibou Dianko Badji. At 7-1 with a ridiculous 7-8 wingspan and great athleticism at 17 years old, Badji is as intimidating as a player can be. Combine all these with his almost elite athleticism and anyone can understand why scouts are… drooling when they watch him for the first time, even forgiving him that he is as raw as he can be. Badji had an understandably incosistent tournament. His highs were impressive and his lows worrisome. He has amazing defensive potential as a rim protector due to his great mobility, athleticism and timing and he can be effective doing just the basics on offense, playing the Pick and Roll and score after crashing offensive boards. His feel of the game is low for now and lacks fundamentals, looking lost at times. But being just 17 years old and have this kind of body makes everything easier.
Dalibor Ilic (2000, 6-9, SF/PF, Serbia)
Playing both forward positions, Dalibor Ilic was one of the most intriguing prospects of this tournament, averaging a solid double-double (10.9 points and 11 rebounds in 26.3 minutes per game) along with 3.3 assists per game. That might not sound like much, but considering the fact that Ilic played alongside two bigs with good rebounding skills (Petrusev and Marko Pecarski) it shows a lot. A glance at Ilic is more than enough to understand why there has been so much hype around him. He has prototypical size for a combo forward, long arms and great body, combined with great coordination and solid athleticism. Ilic has an interesting skillset, looking like a future point forward who fits modern no position basketball. He lacks elite athleticism and lateral quickness but these aren't his real flaws. His real problem is that his offensive game is limited around the basket with a basic post game, with him scoring most of his points in transition, since he is by all measure a bad shooter (he failed to score even one 3-pointer in the tournament). If he finds a way to improve as a shooter, things will get really interesting.
Others:
Rokas Jokubaitis (2000, 6-4, PG, Lithuania)
Sometimes it's all about timing. Rokas Jokubaitis had a well round tournament, averaging 11.3 points, 3.1 rebounds, 5.6 assists and 1.6 steals in 26 minutes per game, looking improved in every area of the game. What was more important though was that he stepped up his game when his team needed him the most: In the knock out phase, where he destroyed a physical Australia team in the round of 16 and heavy favorite Serbia team in the quarterfinals, improving his stock. The lefty guard has great size and length for his position. He is poised, with a high basketball I.Q and great court vision, and playes the Pick and Roll beautifully, while he has improved as a shooter. At the same time though, his lacking of elite athleticism and inability to create his own shot in ISO situations was exploited against an athletic USA team in the semifinals, causing some concern about how his game could translate at the next level.
Arturs Kurucs (2000, 6-3, PG/SG, Latvia)
Playing without prodigy point guard Arturs Zagars by his side, Kurucs had to do just about everything for a mediocre Latvian team. With so many responsibilities and little help from his teammates, the Latvian prospect had a average tournament. Still, he was able to show why he has been considered one of Latvia's top prospects. Kurucs has a great feel for the game and can shoot with the best of them, with his shot off the dribble being probably his biggest weapon. He is not strong enough to finish plays around the rim and has problems against long, strong defenders, but that doesn't stop him from driving to the basket. The main problem for Kurucs is that he is more of a shooting guard than a point guard, but he doesn't have the necessary size or length to play as a shooting guard at the next level. His assist/turnover ratio (4.1 assists for 4 turnovers per game in Crete) didn't do him any favors. If he finds a way to develop as a point guard though, he could be an interesting prospect.
Notes from Crete
Marko Pecarski (2000, 6-10, PF/C, Serbia) was the leading scorer of the tournament, averaging 22.1 points and 8.6 rebounds per game, but somehow he looked stagnant. The Serbian prospect possesses probably great footwork and is productive, but he still has the same shortcoming, being a limited athlete and defender, things that can hurt him at the next level, looking basically the same player he was two years ago.
Karim Mane (2000, 6-6, PG/SG, Canada) had his ups and downs – especially shooting the ball, but impressed with his physical profile, with NBA body, length and athleticism.
Samson Froling (2000, 6-11, PF/C, Australia) looks like he might have hit a plateau, but he still had his moments, averaging 11.4 points, 7.7 rebounds and 3.3 assists per game, while shooting with 42.9% from 3-point line, showing potential as a playmaking Stretch-Big.
Karlton Dimanche (2000, 6-5, PG. France) put an all around showing once again. He is a floor general with great defensive instincts, but his incosistent jump shot (just 1/5 3-point shots in 192 minutes) hurt his stock.
Kai Sotto (2002, 7-1, PF/C, Philippines) Attempted to live up to the hype surrounding him with solid results. Sotto has an interesting skillset. He is left handed but an ambidextrous finisher around the basket, with great shooting range and solid footwork, but he lacks athleticism and has a really thin frame.
Julian Strawther (2002, 6-7, SF, Puerto Rico) was the second leading scorer of the tournament despite being two years younger than most of his opponents. The Gonzaga commit has an interesting skillset and showed potential as an instant offense scorer.
Nikita Mikhailovskii (2000, 6-7, SF, Russia) was mostly disappointing. The Russian prospect was incosistent, he didn't shoot the ball well and his motor was come and going, but that didn't stop him from posting a triple-double against Greece in the Group Stage. Mikhailovskii had a lot of hype around him and his incosistent showing hurt his stock. He will have to be really good next season to turn this around.
Haowen Guo (2000, 6-7, SG/SF, China) was forced to do everything for China. He had some great moments, including a crazy triple-double (34 points, 11 rebounds, 11 assists and 15 turnovers!) against Puerto Rico, showing ability to create his own shot, but he must improve his body.
Nikos Rogkavopoulos (2001, 6-8, SG/SF, Greece) was one of the few bright spots for a bad Greek team, having some great moments on the offensive end thanks to his good looking jump shot and ability to catch fire at any time, but he still needs to improve his body and learn to read the game better.