Cleveland Cavaliers
Needs: Scoring, shot blocking
Picks: 5, 26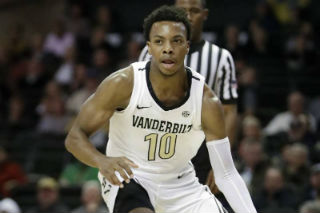 Cleveland is currently in a position in which there isn't much they can do right now to actually improve the quality of the product they put on the court. Instead, they are looking toward next offseason already. They have a lot of large, unpleasant contracts on the books this upcoming season, but only four players under contract for the 2020-2021 season. Of those four, one is Kevin Love, who they very well could look to trade to clear cap space, Larry Nance (who could also get moved), and two young players (Collin Sexton and Ante Zizic). You can most likely add in the 5th pick from this year's draft, and that leaves the Cavs in a position to get better, but not for another season. Speaking of the 5th pick, the Cavs will likely target Virginia's DeAndre Hunter, UNC's Coby White, or Texas Tech's Jarrett Culver. If Darius Garland of Vanderbilt doesn't get selected 4th, they would likely consider him as well. They also have the 26th pick, and assuming they end up keeping that pick, they will likely take the best available player. Among the players in that range are Washington's Matisse Thybulle, Kentucky's Keldon Johnson, and USC's Kevin Porter. Cavs fans will have to sit through another brutal season, but if the Cavs do well in this year's draft and play their cards right this season, the team could be in position to rebound after next season concludes.
Chicago Bulls
Needs: Three point shooting, rebounding, shot blocking, center, ball handling
Picks: 7, 38
Chicago comes into this offseason with a lot of holes to fill. They'll have some cap space to address some of these issues, but the trade for Otto Porter takes a chunk of potential cap space they could have had. With that being said, their forward spots are set moving forward with Porter and Lauri Markkanen giving the roster some shooting and scoring punch. Zach LaVine gives them a combo guard to fill one guard spot. That means the Bulls need to concentrate on filling one guard spot (ideally with a sharp shooting point guard) and center. The Bulls aren't in a position to challenge in the next season or two, so it's important that their acquisitions this offseason fit in with the timeline of their young roster. Wendell Carter, last year's 7th overall pick, can provide solid minutes for them, but may be better suited to coming off the bench than starting at center long term. With this year's #7 pick the Bulls may target Garland, White, and Jarrett Culver. If they land one of those guards, they can put off finding a center until later on in the draft at 38 and rely on Carter at that spot for the upcoming season. Their second round pick could still net them a center like UCF's Tacko Fall, UCLA's Moses Brown, or if they decide not to pick a guard at #7, they could select Jordan Bone of Tennessee at 38. The Bulls would be wise to at least make a run at players such as Nikola Vucevic and DeMarcus Cousins in free agency. They're both in their late twenties, so that gives them a handful of years for the Bulls' young core to mature into contenders.
Indiana Pacers
Needs: Rebounding, Oladipo to come back healthy
Picks: 18, 50
Regardless of what happens for the Pacers this offseason, the biggest addition to this roster for next season would be a full strength Victor Oladipo. Outside of that, they need some help rebounding the ball, as they were 24th in the league in that category last season. Domantas Sabonis was good in that category, recording 9.3 per game, while Myles Turner turned in 7.2 per game with very good shot blocking numbers. So either the team needs to find a rebounding specialist off the bench, or they need to get rebounding from other positions. The Pacers will have just under 50 million dollars to spend on the free agent market. While it's unlikely that they will end up giving a max deal to somebody, expect to see them spread their money out to multiple free agents (including resigning some of their own free agents) to build a deep team and build off of the momentum from last year's regular season. In the draft, look for the Pacers to target Kentucky's PJ Washington, the Republic of Georgia's Goga Bitadze, Gonzaga's Brandon Clarke, or Georgia's Nicolas Claxton. If they can become a better rebounding team, the Pacers could reasonably expect to start a playoff series at home next season. They fizzled late last season due to injury, but even a slight improvement could take them to another level.
Detroit Pistons
Needs: Three point shooting, shot blocking
Picks: 15, 45
The Pistons have their power forward and center positions set up in Blake Griffin and Andre Drummond, but they need to build a team around them. The two glaring weaknesses are three point shooting (23rd in the league by percentage despite taking the 6th most shots from deep) and shot blocking (second to last in the league in the category). Without cap space, the Pistons don't figure to be major players on the free agent market, but they do have the draft to help improve their lineup, along with the mid-level exception. Finding a shooter on the wing should be their top priority. Then, finding a shot blocker to come off the bench to spell either Griffin and/or Drummond for stretches should be a secondary goal for them. In the draft, their targets could include Nickeil Alexander-Walker of Virginia Tech, Sekou Doumbouya of France, or PJ Washington of Kentucky. If they can land one of those players in the first round, they'd then be able to look at players such as Tennessee's Jordan Bone, Oregon's Louis King, Auburn's Chuma Okeke, or West Virginia's Sagaba Konate as value picks in the second round and hope that they can develop.
Milwaukee Bucks
Needs: Resign Brook Lopez and Malcolm Brogdon
Picks: 30
The Bucks ended up losing to the Toronto Raptors in the Conference Finals, but they ascended to elite team status last year as Giannis Antetokounmpo took his game to an MVP level. With that being said, it would be foolish to write them off after coming up short of their goal this past season. Brook Lopez and Malcolm Brogdon were integral parts of the team that had the best record in the league last year. Most other players from that roster are expected to be back with the exception of Nikola Mirotic (who Milwaukee most likely would like to have back as well). For that reason, it's really important that this franchise gives it another go with the players that got them to the Conference Finals. There's already talk about what Giannis will do when he reaches free agency in two more seasons, and the pressure to win is on in Milwaukee. They don't have the salary cap space to make big upgrades, and the draft only offers them the 30th overall pick. For that reason, improvement will have to come from within the organization for the most part. In the draft, look for them to target a big man such as LSU's Naz Reid, UCLA's Moses Brown, UCF's Tacko Fall, or Auburn's Chuma Okeke. Also, don't be surprised if they add a veteran looking to get a ring late in his career on a cheap deal.