"Situational Analysis" is a series of articles that seeks to examine the circumstances that most often influence an NBA prospect's success. Each player will be scored on a scale from 1-10 in four different categories: NBA-specific skill(s), fatal flaw(s), collegiate/overseas/pre-NBA environment, and ideal NBA ecosystem.
Cameron Reddish is a 19-year-old forward from Philadelphia who averaged 13.5 points and 3.7 rebounds during his freshman season at Duke University. He is expected to be a lottery selection who could be taken anywhere between No. 3 and No. 14. NBADraft.net currently has him No. 10.
NBA-Specific Skills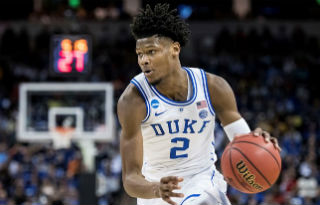 Reddish possesses every single physical attribute one would want in an NBA forward. It's almost as if he was created on NBA2K with all the restrictions turned off.
At 6-8, 220 pounds with a 7-1 wingspan and a surprising combination of strength and agility, Reddish doesn't have to do much more than put on a uniform and lace up a pair of sneakers in order to draw comparisons to Paul George or a young Carmelo Anthony.
Reddish is a natural scorer. He can get his points from any level on the floor – at the rim, at the line, off the dribble, spotting up. He's best described as a streaky outside shooter, but he has shown the ability to knock down NBA-line 3-pointers. He has soft hands, nice touch, and nimble feet.
His physical attributes also theoretically translate on the defensive end, where Reddish optimists see a versatile wing quick enough to slide his feet in front of guards and strong enough to hang with bruising roll men.
On the right night, Reddish looks like a multiple All-Star. If scouts only saw him play against Florida State on Jan. 12 (a game where Zion Williamson sat out much of the second half), they might try to convince their bosses to take Reddish first overall. Reddish took over the game, scoring efficiently from a variety of positions on the floor while knocking down the eventual game winner.
On a scale from 1-10, Reddish's physical profile is a 9.
Fatal Flaws
Does Cameron Reddish give a damn?
For every Florida State game where Reddish looked unstoppable, there were three more where Reddish was essentially invisible. For all of his physical gifts, intensity is not yet among them.
Far too often, Reddish seems content to jog between 3-point lines, work up a sweat, and let his height/wingspan keep him rated highly on various mock drafts.
The numbers don't make a very convincing case for Reddish, either – 35.6 percent shooting, 33.3 percent from the college 3 on 7.4 attempts (Antoine Walker would blush at that number), 21 blocked shots in 36 games, multiple single-digit scoring performances.
If Reddish can't dial up the intensity on a game-by-game basis in college, do we expect him to do so in an 82-game season against 450 adults?
On a scale from 1-10, concerns surrounding Reddish's competitiveness sit at a 9.
Pre-NBA Setting
Reddish arrived at Duke as one of the nation's elite high school prospects. He was named Mr. Basketball in Pennsylvania and participated in every high-profile All-Star game/tournament.
When Reddish teamed up with Zion Williamson and RJ Barrett, it was widely assumed that Duke would stomp its way to a national title on talent alone. In hindsight, it might have benefitted Reddish to explore other one-year collegiate options.
The common refrain we'll hear in regard to each of Duke's top-tier prospects: "Zion/Barrett/Reddish didn't enjoy the floor spacing that they'll experience at the NBA level, which will allow their games to truly flourish."
Well, yes and no.
Reddish is partially to blame for that lack of floor spacing, with his mediocre 3-point shooting on a high volume of attempts. Yet Reddish might have seen his individual game progress at an accelerated rate had he attended another college where he would have had the ball in his hands more often.
A Reddish defender might say his struggles at Duke had to do with the inconsistent nature of his touches and the team's need for him to defer to Zion/Barrett. A Reddish pessimist might say it's up to the player to assert himself in whatever situation he finds himself in. After all, it's not as if Reddish is going to be the primary scorer/creator on an NBA team during his rookie contract.
More than any other prospect in this year's draft, it might have provided additional clarity to Reddish's NBA outlook had he played in a situation where he was more of an offensive focal point. Duke's roster construction did him no favors, but Reddish is not blameless.
On a scale from 1-10, Reddish's freshman season at Duke rates at a 4. He left everyone wanting more.
Ideal NBA Ecosystem
Reddish needs to find a situation that lights a fire under his butt. Everything else is there for him to achieve NBA success.
It's players like Reddish who keep NBA general managers up at night. The promise of what these players could be often overshadows the player's actual production level. Upside is intoxicating. Just ask everyone who's scouted Jeff Green, Harrison Barnes, Tim Thomas, Rudy Gay … the list goes on. Sometimes, these players figure it out and carve out spots as high-level role players. More often than not, they're content to drift.
Let's be clear – "light a fire" doesn't necessarily mean Reddish needs that Jim Boylen "drill sergeant" approach. That's outdated and often counterproductive. "Light a fire" can be as simple as finding the right teammate/veteran/assistant coach who clicks with him on a personal level and unlocks the potential that's already there.
The worst fit? The Lakers. He doesn't need to be on a team where he's constantly thrown in trade rumors.
The best fit? The Miami Heat. They have a proven track record of lighting proper fires.
On a scale from 1-10, Reddish's need for the right fit rates at a 10.