"Situational Analysis" is a series of articles that seeks to examine the circumstances that most often influence an NBA prospect's success. Each player will be scored on a scale from 1-10 in four different categories: NBA-specific skill(s), fatal flaw(s), collegiate/overseas/pre-NBA environment, and ideal NBA ecosystem.
Wendell Carter is a 19-year-old center from Atlanta, Georgia who averaged 13.5 points, 9.1 rebounds and 2.1 blocks for the Duke Blue Devils. Young declared for the NBA Draft on April 16 and is expected to be selected in the mid-to-late lottery. NBADraft.net currently has him projected to go No. 9.

NBA-Specific Skills
Wendell Carter is a very large human who is exceptionally comfortable with a basketball in his hands. In a different era, this combination would have put him in the conversation for the No. 1 overall pick and 10-plus All-Star teams.
The question with Carter — and prospects like him — are whether his skills translate to the modern pace-and-space game. Fortunately for Carter, his all-around skill level puts him in rarified air among players in the 6-foot-10 range.
Carter is perhaps the draft's most polished back-to-the-basket scorer, with the ability to finish softly with either hand and draw fouls with his collection of drop-steps, shoulder-turns, up-and-unders and duck-ins. He really gets after it on the glass — not an easy feat with his teammate, Marvin Bagley, posting huge rebounding numbers, as well. He can shoot it reliably out to the college 3-point line, giving him potential as a high-level pick-and-pop partner.
Carter's biggest selling point is how hard it will be to account for him in a switch-heavy defensive philosophy. Few forwards and even fewer guards will be able to hang with him on a switch down low.
But unlike other traditional post scorers in the Al Jefferson mode, Carter can run the floor and operate in space. He's quicker than his wide body would lead you to believe, and he hustles to beat his man in transition. He may have seemed a half-step slow playing next to speed demon Bagley, but that's because everyone seems slow next to Bagley. Carter can move.
Defensively, Carter holds his position and his 7-foot-3 wingspan allows him to challenge at the rim. He managed to block two shots per game in 27 minutes of action.
Carter is also an underrated passer out of the block and should be able to spot cutters and spot-up shooters at the next level. Best-case scenario, Carter can become an Al Horford-style hub who makes all the right plays, sets the hardest screens, and keeps the offense flowing.
On a scale from 1 (Dragan Bender and Marquese Chriss running a high-low action) to 10 (Marc Gasol/Al Horford), Carter's all-around skill level as a big man rates at an 8.5.
Fatal Flaws
Carter's entire future will depend on the answer to this question: Can he stay on the floor against the best teams when the games really matter?
Look around the league — particularly during the playoffs. How many offense-first centers do we see closing games? You can count them on one hand, and you don't even need all your fingers.
The most successful teams in today's NBA generate offense from their guards/forwards, with their centers primarily providing rim protection, screening and cutting. Teams are gravitating more toward the Rudy Gobert/Clint Capela model (as long as their foul shooting is respectable) and away from the Karl-Anthony Towns model. Post brutes such as Jahlil Okafor and Enes Kanter can get their numbers, but just ask Billy Donovan about what happens in the playoffs.
Carter will need to prove that he can continue to protect the rim at an NBA level, but he will be at a slight disadvantage at 6-foot-10 and good-not-great explosion. His wingspan helps, but it isn't in that freakish Gobert/Bamba category.
Also, Carter's deceptive quickness helps him against other centers, but will it be enough if he's stuck on an island against Curry/Lillard types on a switch? Will teams just pick-and-roll him on every possession until Carter's coach is forced to bench him? How will Carter's endurance hold up, night after night, switching on screens and rotating back toward the rim?
I'm optimistic about Carter's chances to develop into a high-level NBA center, but even high-level centers struggle to stay on the floor in big-time games. Just ask Jonas Valanciunas. On a scale from 1 (Okafor) to 10 (Anthony Davis), Carter's ability to stay on the floor as a center in today's NBA rests at a 6.
Pre-NBA Setting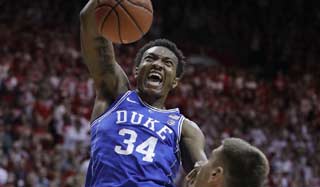 After one of the most successful high school careers anyone could imagine — on the court and in the classroom — Carter and his 3.8 GPA had a choice between Duke or Harvard. According to a terrific profile in The Undefeated, Carter gave Harvard serious consideration before deciding that Duke and coach Mike Krzyzewski would provide the correct infrastructure to help him chase his NBA dream.
Regardless of where he was going to attend school, it wasn't going to be for long. Carter displayed flashes of brilliance with the Blue Devils on a squad full of NBA talent — the aforementioned Bagley, Gary Trent, Grayson Allen and Trevon Duval could each hear their names called on draft night.
Bagley and Carter teamed up for a devastating one-two interior punch that few schools could match, but they also stole a few rebounds/scoring chances from each other. Ultimately, it only benefits great players to play with other great players, particularly those who complemented each other as nicely as Bagley and Carter. It is clear Carter isn't the type of player who quits on a game because he isn't "getting his touches."
On a scale from 1 (Ben Simmons at LSU) to 10 (Gordon Hayward going from a lightly recruited 3-star guard to nearly hitting the greatest shot in college basketball history as a sophomore playing under Brad Stevens), Carter's pre-NBA life experience rates at a 9. He is going to be a success in whatever path he chooses.
Ideal NBA Ecosystem
Fit is important for Carter's continued growth, particularly with more and more coaches moving away from traditional pivot men and post scoring.
Finding a place for Carter to succeed is easy. At the very least, he can get buckets against second units while he learns how to play NBA defense. But finding a place for Carter to truly shine will take a little more finesse.
He makes for a fascinating pairing with Kristaps Porzingis in New York, given KP's shooting/ball-handling ability. He also makes sense for similar reasons in Chicago alongside Lauri Markkanen. Of course, these teams may also seek to maximize spacing by playing these lanky shooters at the 5, but a player with Carter's size and hoops IQ would help offset the physical toll these players would endure as full-time centers.
However, if Carter does reach his Horford-ian potential, he could end up being the steal of the draft.
On a scale from 1 (basically anyone unfortunate enough to be selected by the Sacramento Kings over the last handful of years) to 10 (Donovan Mitchell landing in Utah and immediately becoming the face of the franchise), Carter's need to find the right fit lands at an 8.