The CrossRoads Elite Invitational had some talented rising freshmen and sophomores who will make a name for themselves over the next few years of high school.
Favour Aire 6'10 – 2022
Aire looked like one of the best prospects at the camp. Although raw, he's athletic and got off the ground with little effort. Offensively, he can't put it on the floor much yet and doesn't have great touch in the paint at this point, but he doesn't hesitate to shoot in the post with his left hand and has a nice looking free throw stroke. He took up a lot of space on the defensive end and blocked a fair amount of shots but got beat when closing out on the perimeter and left his feet on every shot fake.
JR Konieczny 6'6 SG – 2021
Konieczny passes well at his size and stays alert. He pushed the ball after rebounds and showed effectivity in the open floor and half court making passes with either hand. He plays instinctive with ability to read and react with the ball, gelling with his team with ease. Long term, he may not have the most upside or be a high-level athlete, but he was one of the more skilled players at the camp with his ability to shoot and offensive contribution.
Stefon McLeod 6'3 SG – 2021
McLeod was one of the most athletic players at the camp and although he can improve his body control on offense, he can translate his athleticism into the game with no problem. He had multiple blocks off the backboard using his quick jump without having to gather much. He played hard and was often the first player back on defense. He hit some shots from midrange but isn't much of a perimeter threat and his offensive game is still developing.
Daylen Berry 6'3 149 SG – 2021
Berry positions himself well and knows where to be on offense. He's smooth and let it come to him, which isn't something you see from a lot of players in a camp setting. He shot very well with proper mechanics, no wasted motion, and was ready to fire before he caught the ball. Berry provided good ball skills and made the right plays at the right time.
DJ Hughes 6'7 200 PF – 2021
Hughes is mobile with a strong body. He likes to bang and play through contact, finishing shots at different angles off the glass with soft touch. He played good defense in the low post and blocked a few shots when defending the much bigger Favour Aire. He did a good job rebounding on both ends and earned a share of second chance points. Hughes was a contributor for Lawrence North during his freshman year and looks to increase his production over the next three years.
Oluwasegun Durosinmi 6'9 220 C – 2021
Durosinmi was an athletic man-child and the most physically mature player in the event. He didn't do much outside of catching and dunking but with his athleticism and size, he has potential worth tracking. Durosinmi made a defensive presence, blocking and altering shots that came his way.
Jalen Washington 6'6 – 2022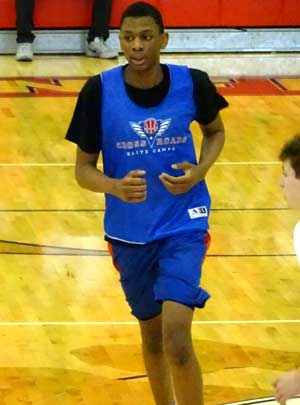 Washington's going to be interesting to track over the next few years as he's still growing and looks to be early in his maturation from a physical standpoint. He's naturally versatile, showing a face up game, good touch on shot within comfortable range, and looked to post up when he had the mismatch. His footwork is raw, but he has the tools to work with. Washington has good athleticism and looked to finish with a dunk on aggressive drives.
Kobe Bufkin 6'3 PG/SG – 2021
Bufkin showed some variety to his offense, creating off the dribble while shifting gears to get where he wanted. The offense flowed smooth in his hands with his ability to make reads and lead passes as well as driving and kicking to the open man when the help defense came too close. He shot well from outside and had the athleticism to match the rest of his game
Khristian Lander 6'0 150 PG – 2021
Lander looked like the best guard in the camp. He reads the floor and passes well, showing a good understanding of avoiding traps/double teams and doesn't overdribble. He seemed to shoot better in the games than he did in the drills. He got hot and lit it up from outside at times and scored in bunches, but also impacts the game without scoring at appropriate times. The left-handed guard showed good quickness and creativity to get to the rim with his dribble.
Paul McMillan 6'1 150 PG – 2022
McMillan got to the rim off the dribble at a high rate. He has natural ability to slow the game down and attacked gaps with his ballhandling and ability to finish with either hand. In addition to breaking down the defense, he sees the floor well and showcased some passing ability. He's a perimeter threat as a shooter but does an even better job getting into midrange to use his pull up.
Larry Hughes Jr 6'1 SG – 2022
Hughes hit a lot of big shots late in the all-star games with good arc and mechanics from deep off both the catch
and dribble. He didn't usually get all the way to the rim on drives, as he likes to get to the middle and use his floater. He moves well off the ball and knows how to get open. Like his father, he defended well on the ball to show some potential as a two-way prospect.
Kamari Lands 6'4 170 SF – 2022
Lands is fluid and athletic for his size at such a young age. He's versatile, scoring inside and out with a jump shot and ability to get all the way to the rim. He's effective off the dribble, whether it's shooting or driving, he's dangerous once he puts the ball down with shift and change of speed. He has a lot of defensive potential with his length and the way he moves with ease. Lands is a natural talent as the game seems easy for him and we should get used to hearing his name.