Jalen Green 6'5 175 SG – Team WhyNot 2020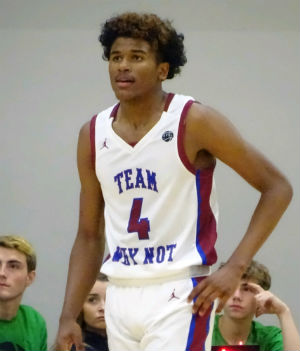 Green played in three games with his new team, averaging 23.3 on 54.3% FG%. He's got a nice pullup from midrange and can get to the rim to throw it down over the top or finish with finesse when needed. He's a gifted scorer but can work on his three-point shooting, only 25% over the weekend and he can also go left more as he favors going to his right. Green stands out in the open floor as an effortless athlete and thrives at getting to the foul line, shooting 6.7 free throws per game while connecting on 85%. Green glides on the court and is very light on his feet as a defender, averaging 1.3 steals per game in session 2.
N'Faly Dante 6'11 240 C – MOKAN Elite 2020
After hurting his knee and seeing limited action in Atlanta, Dante came to play in session 2. He ran the floor and dunked everything within reach of the basket, which is a wide area for Dante. He mishandled some passes and has to work on taking care of the ball in the post, but he showed some touch within close. He does a good job of not forcing up bad shots, especially after offensive rebounds, kicking out to an open shooter or to a guard to restart the offense. He hit a pullup jumper from midrange, but his game hasn't progressed much outside the paint, which is something the NBA desires in today's game. Dante defended very well and constantly communicated as he protected the paint. Over session 2, he averaged 16.5 points while only missing five shots in four games (29-34, 85.3% FG%), nine rebounds, 1.5 steals, and 2.8 blocks per game with MOKAN winning all four games.
Earl Timberlake 6'5 210 SF – Team Durant 2020
Timberlake's strong, tenacious, and doesn't let anyone outplay him. He consistently attacks the basket, dunking at the rim or using his body to power through to finish with a left-handed layup. He needs to keep working on his jumper, as he only shot 26.1% 3PT% but did show ability to shoot off the dribble. He's a very good rebounder for his size with 11 over the four games. He brings it every game and didn't disappoint against Team WhyNot with 25 points and 16 rebounds. Timberlake averaged 16.5 points per game as Team Durant went 1-3 in Indianapolis.
Addison Patterson 6'6 190 SG/SF – Team WhyNot 2020
Patterson brought his usual scoring presence in isolation, playing physical and seeking out contact while utilizing his size against mismatches. He averaged 19 points per game, getting to the rim and flushing dunks in traffic. He hit a few threes but that's an area of improvement for him as well as turnovers with 3.8 per game. Patterson's aggressive play is a big piece to WhyNot's scoring punch and they finished the weekend going 2-2.
Patrick Baldwin 6'9 200 SF – Phenom University 2021
Baldwin turned up his game from session 1, scoring 26.5 points per game while shooting 67.2% FG% and 51.7% 3PT%. His stroke was on point with a quick release and no wasted motion. He uses his size well to post up smaller guards and can hit the fadeaway in the post. Baldwin's offensive production and efficiency was big in Phenom University's undefeated weekend.
Jalen Johnson 6'8 215 SG/SF – Phenom University 2020

Johnson was great in the game I saw him play against Team CP3 with 29 points (13-17 FG), 12 rebounds, and seven assists to no turnovers. His court vision and passing ability at his size is tremendous. Many young playmakers rely on transition, but Johnson makes impressive passes in the half court. He's a very good athlete and had numerous left-handed finishes when getting to the rim. His biggest knock is his jump shooting, as he shoots it on the way down causing it to fall short. He missed all ten three-point attempts in Indianapolis and is only shooting 13.6% 3PT% (3-22) on the year. Johnson averaged 14.8 points, ten rebounds, and 7.5 assists to 3.3 turnovers per game over the four games in session 2 to go 4-0.
Paolo Banchero 6'9 230 PF – Seattle Rotary Style 2021
With the hyped game of Emoni Bates and Bronny James playing on another court, I was one of the few that got to see Banchero's triple-double against BABC with 20 points, 15 rebounds, ten assists, and three blocks. Banchero's skillset and maturity is impressive for his age. He operated well from midrange, making passes and scoring from himself. He has good footwork and has good shot selection as you never catch him shot hunting or forcing to get his points. He has good form on his shot but only shot 3-9 from three and 4-16 on the year. He's also athletic and impacts the game in more ways than scoring. Seattle Rotary went 2-2 with Banchero averaging 23.5 points (51.5% FG%), 11 rebounds, five assists to 1.8 turnovers, and two blocks per game.
Michael Foster 6'9 220 PF – Mac Irvin Fire 2021
Mac Irvin Fire won all four games in Indianapolis, with Foster contributing with 15 points per game. He's tough to handle in the paint and can step outside to shoot occasionally. He has good size and athleticism; he uses long strides to finish anything within reach with a dunk but also uses finesse touch at times. With potential to score inside and out, Foster intrigues finishing up his sophomore year. He was also a handful on the boards with 9.3 per game.
Jonathan Kuminga 6'8 210 SF/PF – Renaissance 2021
Kuminga impresses with his strong body and athleticism. His three-point shooting hasn't been consistent; shooting 5-10 in game 1, then 1-9 in game 2, ultimately shooting 8-32 (25%) over the four games. His shooting has progressed over the year but still has a ways to go, but when it ultimately does improve, he will be even more dynamic offensively. He's been an incredibly high-volume shooter taking 19.8 shots per game. And has been very good as a slasher and finisher with either hand, sitting at the top of his class athletically. His skill set is catching up to his natural ability, not only in creating more for himself but in playmaking for others as well. Renaissance went 2-2 with Kuminga averaging 22.8 points, 6.5 rebounds, and 4.5 assists to three turnovers per game.