This year's crop of combine participants lacked the usual group of top prospects, but the 2019 group also had some familiar faces of those who tested the waters last season, and are back after another year of college ball. Here are some of the winners, and losers of the measurements portion of the combine.
2019 NBA Draft Combine Measurements
Winners
[Player:Nassir Little], North Carolina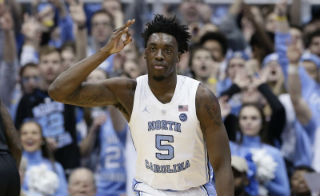 Coming in to North Carolina as a highly touted recruit, Nassir Little's freshman campaign left a lot to be desired in terms of both team role and production. Coming to Chicago to the combine was a good decision for Little who reminded teams why he was once held in such high regard. Weighing in at a lean 224 pound (5.9% body fat) and sporting a 7'1.25" wingspan, gives him really nice size for an NBA three. His 8'8.5" standing reach and massive hands (10" width) are just icing on the cake. No wait, that's what he did in the athletic testing portion.
Moses Brown, UCLA
After nearly averaging a double double in his freshman campaign at UCLA, Moses Brown declared for the draft and showcased his truly elite size and length. At 7'1.25" barefoot and 7'2.5" in shoes, he's actually taller than Bol Bol, and at 237 pounds, he has a nice starting point for an NBA team to add some quality muscle to his frame. Brown also measured a 7.4.5" wingspan and 9'5" standing reach which leave little doubt his rebounding and shot blocking prowess will translate to the NBA. Some more skill oriented parts of his game still need a lot of polish, but he's an excellent physical specimen for a rim protecting center in today's NBA.
Cameron Reddish, Duke
Another highly touted freshman, who struggled a bit this season, was Cam Reddish who played third fiddle to Zion Williamson and R.J. Barrett at Duke this season. While certainly a talented player, he just never really found his groove with the Blue Devils, but the combine was an excellent reminder why he was looked at so highly in the past. At 6'8" in shoes, and brining to the table a 7′.25" wingspan and 8'9.5" standing reach, Reddish is an excellent size for a wing at the next level. He also showed up in great shape at 207 pounds with only a 4.7% body fat percentile.
Mfiondu Kabengele, Florida State
After a much improved sophomore season, Mfiondu Kabengele showed up at the combine and measured out at a really impressive size for an NBA power forward. At 6'10.5" in shoes, and weighing in at a chiseled 256 pounds (only 5.1% body fat) Kabengele has an amazing frame to bring his defensive prowess from the ACC to the NBA. His length is top notch as well. With a 7'3" wingspan and a 9'1.5" standing reach, Mfiondu looks very appealing as a defensive big man in the NBA.

Losers
Tyler Herro, Kentucky
At 6'6" in shoes, Tyler Herro is plenty tall to play a shooting guard in the NBA. The problem is that Herro measured a 6'3.25" wingspan and an 8'4.5" standing reach, which are both sub par for a player with his height. The good news is that Herro's defense isn't exactly what is drawing scouts his way, but anytime a player's wingspan is shorter than his height that's a pretty big negative.
Kyle Guy, Virginia
Guy has proved himself one of the best college shooters over the past three seasons, but his NBA projection just took a ding as he measured out much shorter than expected. At 6'2.5" in shoes, he's already on the short end for an NBA shooting guard, but tipping the scales at only 168 pounds would also make him one of the lightest players in the league. Sure, his wingspan is better than expected, but it didn't translate to a more impressive standing reach ( 7'11.5")
Bol Bol, Oregon
It's hard to call one of the longest players of the last 10 years a loser in combine measurements, but Bol Bol not only failed to address his biggest concern…he regressed. We all know school measurements should be taken with a grain of salt, but being listed at 235 on Oregon's roster paired with a 226 pound weigh in at the USA Minicamp in 2017 make Bol's 208 weight a bit of a head scratcher. Bol's length is elite, but showing up 20-25 pounds lighter than expected isn't going to help his cause.
Other Notables
This year's Zhou Qi award ( The guy we know was going to be huge, and guess what? He is!) goes Tacko Fall, and from henceforth this shall be the Tacko Fall award! Tacko shattered combine records and raised eyebrows as one of the largest men to ever attend the event. At 7'7" in shoes, reaching 8'2.5" from fingertip to fingertip and getting 2.5" over the rim from a standing position, again, this is now the Tacko Fall award.
Romeo Langford pulled a strange move by showing up and measuring his height, reach and wingspan, but refusing to step on the scales.
This year's Terry Crews award winner (Lowest Body Fat%) goes to Syracue's Oshae Brissett with a "Is that even humanly possible?" 2.9%.
This year's Kawhi Leonard award winner was not a surprise….Tacko Fall. Fall's massive hands measured 10.5" in length and 10.5" in width giving him the biggest overall hands. However, Neemias Quieta did post a longer hand width at 11" but Fall still gets the win due to a much long hand length.
Brandon Clarke tore it up in the athletic testing, but merely matched his height in shoes with his wingspan. That also lead to a sub par 8'6" standing reach, which leaves something to be desired for a power forward.
Naz Reid posted great measurements, but sported a far from chiseled 14% body fat percentage. The Bayou is known for their amazing food, perhaps a change of scenery will help his waisteline.