1. Zion Williamson, Duke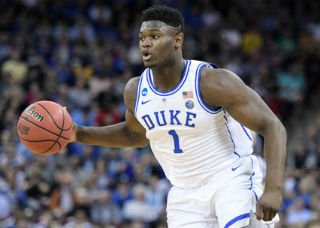 Williamson's physical tools are as unique as any prospect to come out of college basketball maybe ever, which includes LeBron James. He is a small mammoth at 6-foot-7 and 285 pounds with a 6-foot-10 wingspan and a vertical leap well over 40 inches that translated into frequent highlight reel dunks throughout his lone season at Duke. But it's not only the explosiveness, but the breath taking body control and balance that makes him so special. His anticipation and ability to raise his intensity level makes it very difficult for opponents to match up with him. The ACC Player of the Year posted a gaudy stat line of 2.6 points, 8.9 rebounds, 2.1 assists, 2.1 steals and 1.8 blocks per game while shooting an otherworldly 68 percent from the field. His 40.8 PER also shattered the record for the highest mark of the last decade in college basketball. His outrageous efficiency was in large part due to being leaps and bounds more physically gifted than the rest of his competition. While the gap in sheer athleticism between him and the field will narrow in the NBA, even then few will match his physical profile. His athletic superiority more than make up for him being slightly undersized for a modern NBA power forward and he boasts the ball skills to play small forward too. Williamson's biggest area for improvement at this stage is his jump shot, but he still connected on 34 percent of his 3-point attempts and will only continue to improve with time and repetition. He should immediately be one of the most disruptive defensive players in the league with legitimate NBA Defensive Player of the Year potential going forward. Further, Williamson may be the most immediately marketable player to enter the league since James. Zion should immediately boost a New Orleans market that ranked just 25th in the NBA last season in average home attendance. Williamson should additionally set a near-record shoe deal for a rookie and have one of the highest selling jerseys in the NBA immediately. He is a home run addition for the Pelicans. Now can GM David Griffin do something his predecesors were unable to and build a winner around a megastar, and keep him in New Orleans for the long haul?
2. Rui Hachimura, Gonzaga
Hachimura has great tools at 6-foot-8 and 240 pounds with a 7-foot-2 wingspan. He is a fluid athlete and has a very quick first step for a player his size, which allows him to get to the basket. He has a smooth looking perimeter jumper with a soft touch, nice arc and potential to expand to the NBA 3-point line. He does have a slight hitch at the top of his release but there is still plenty to work with. Hachimura offers some defensive potential with his combination of strength and length, although his off the ball awareness on that end of the floor needs to continue to develop. His motor on defense is also questionable at times even though he did improve defensively this past year at Gonzaga. The First-Team All-American is a likely lottery pick.
3. Nicolas Claxton, Georgia
Claxton is very raw but his combination of skills is too fascinating from a modern NBA perspective to pass up at the end of the first round. He's 6-foot-11 but moves like a player much smaller than that in the way that he can guard away from the basket. As an interior rim protector, his 2.5 blocks per game led the SEC. He is a good rebounder on both ends of the floor too. Offensively, he has more skills with ball in hand than you'd think, as first-year Georgia coach Tom Crean occasionally let him bring the ball up the court and initiate sets. The biggest question is his jump shot. He has showcased some ability to step away and take shots, particularly after the season as he's obviously put in work to improve it, but he has only made them at a 30.2 percent clip over 86 attempts in his two years at Georgia. Despite being raw, Claxton is likely to go in the 18-25 range on draft night.
4. PJ Washington, Kentucky
Washington is a solidly built and strong power forward who is very skilled offensively in multiple facets. He is extremely long (7'3 wingspan) and has excellent instincts on the offensive end. He can score in the post, using his strength to bully opponents. He is particularly adept at getting to his jump hook over his left shoulder, which he makes at a high rate. He also has solid leaping ability, allowing him to make plays above the rim. He has an advanced mid-range game and is a lights-out shooter from the elbow and all around the key. He has a very steady sophomore season, cementing a position in the mid-first round. His range has also expanded this season, as he shot 42.3 percent from 3-point range. His mechanics are excellent and he has a high release point. Washington's passing ability stands out for a power forward and he can initiate the offense from the high post and shows advanced court vision for a big man. Washington has an strong understanding of the game and shows great polish and refinement for such a young player. At 6'6.5 barefoot, he is slightly undersized for the power forward position and may struggle to generate offense against bigger NBA fours. He was also injury prone in high school, though that did not follow him to the college level. Washington will have to expand his perimeter game and continue to become a more consistent shooter and ball handler, but he is still a likely lottery to late teen selection.
5. Brandon Clarke, Gonzaga
Clarke would probably go higher in the draft if not for being 23 years old already. Combine that with the fact that he is just 207 lbs, with weeks to workout and improve his body weight before the combine, and that he only has a 6'9 wingspan and there are some causes for concern for teams. He should be able to contribute right away but there are questions about how much growth is left in his game. His 37.2 PER and +18.9 Box Plus/Minus would've been the highest in college basketball since those stats started being calculated in the 2010-11 season if it weren't for Williamson. The main selling point for Clarke as a prospect is his athleticism and defense. His 34-inch standing and 40.5-inch maximum vertical leaps were the highest of any big measured at this year's combine. Clarke is a tenacious and versatile defender who can protect the rim and switch onto guards too. He makes up for his lack of length with terrific instincts and athleticism. His effort level and agility help him stay in front of smaller players on the perimeter, and he's fantastic at recovering and blocking shots from behind if he gets beat off the dribble. Offensively, Clarke is more of a finisher than he is a playmaker. His athleticism helps him here as well, as he can elevate to catch lobs and make acrobatic finishes in traffic. He is not a jump shooter right now, but there is some reason to believe that he can develop there. His mechanics aren't perfect, but they are vastly improved since his college career began.
6. Chuma Okeke, Auburn
Most NBA teams had Okeke marked down as a potential late first round pick after a terrific season at Auburn where he played high-level defense, knocked down shots, and was the glue for an eventual Final Four team. However, a torn ACL suffered against North Carolina in the Sweet 16 knocked him down most boards. Someone will take a chance on Okeke though with his 6-foot-8 frame and 7-foot wingspan. He shot 39 percent from 3-point range in two seasons at Auburn and averaged 1.2 blocks per game this past season. With the ACL injury he will likely fall to the second round, but Okeke has value with his ability to stretch the floor and protect the rim in today's game. He seen as a possibility in the 23 to 38 range.
7. Eric Paschall, Villanova
Not a typical power forward as he lacks height and a true post game. But his skill set figures to work well in today's game as a small ball, power forward. He's fairly nimble allowing him to face up and knock down mid-range and even outside shots as well as attacking close outs using the dribble. He's got a lot of experience, making him more appealing to teams in the late first round looking for immediate help. He shot 35% from three, and did so on twice the volume from a season ago, making nearly 2 per game. His FT shooting dipped some from last year, from 81% to 75%, but he's proven to be a steady shooter throughout his college career who should improve through repetition and hard work at the next level. He's also been a champion, having helped Villanova cut down the nets in 2018, and was patient, sticking around and improving his skill set. He could be rewarded by being a first round pick on draft night.
8. Darius Bazley, High School
Bazley decided to sit out the year and train which likely was bad advice as he missed a year of competition and development. The same strategy did not work out so well for Mitchell Robinson, who fell from a projected lottery pick to the second round. Bazley was seen more as a late first rounder coming out of high school , his range is likely very similar to where Mitchell Robinson ended up being selected, 36th. Bazley is a bouncy, fluid athlete with some offensive potential. He runs the floor extremely well and has a 7′ wingspan. He needs weight and time, but there is certainly some intrigue with his upside. He has an outside chance to grab a late first round spot if a team wants to roll the dice on him. But most likely he ends up falling into the 30s or 40s on draft night.
9. Grant Williams, Tennessee
Williams would be way to short at 6-foot-7 with short arms (6-foot-9.75) to be a traditional power forward, but with the game trending toward increasingly smaller lineups, Williams offers a valuable skillset in today's game. With the way the NBA is going, getting a guy who is 6-foot-7 with the ability to play smart help defense as well as avoid defensive mismatches by guarding bigger than his height is super valuable today. Offensively, Williams is an improving shooter with good touch from within 15 feet with potential to expand out to the NBA 3-point line. What is most overlooked about Williams' skillset, is his ability as a screen setter, then popping him or short-rolling him into the 17-foot range and allowing him to make plays with his excellent vision when the defense collapses. If he can keep improving his jump shot, Williams can be an excellent role player and complementary piece to star players. Right now though, NBA teams see Williams as more of a second round pick because they're unsure if his athleticism will translate after he was able to overpower defenders at the college level, mostly posting up. However, his basketball IQ is outstanding and he should be able to contribute immediately despite his lack of size.
10. Luka Samanic, Croatia
Samanic has all the physical tools to be successful in the modern NBA game thanks to his size, sweet shooting stroke, play-making ability and athleticism. He'll have to get a lot stronger and learn to guard in the post but he's got all the tools to be successful, if he become more dedicated. He was a bit of an underachiever over the past few seaons, and though he turned it on late, there are still some question marks regarding whether he has the passion and toughness to play at the NBA level. He needs to become more consistent behind the arc, but his free throw percentage above 80 percent suggests that can improve over time. Samanic has a chance go off the board at the end of the first round, with his ability to be stashed, but could just as easily fall into the early to mid-second round.
Honorable Mention:
Bennie Boatwright 6-10 230 PF USC Sr., Jordan Caroline 6-7 235 PF Nevada Sr., Mike Daum 6-9 245 PF South Dakota St. Sr., Ethan Happ 6-9 235 PF Wisconsin Sr., Jaylen Hoard 6-8 215 SF/PF Wake Forest Fr., Aric Holman 6-10 225 PF Mississippi St. Sr., Dedric Lawson 6-8 235 PF Kansas Jr., Luke Maye 6-8 240 PF North Carolina Sr., Jalen McDaniels 6-9 190 SF/PF San Diego St. So. Juwan Morgan 6-8 230 PF Indiana Sr., Jordan Murphy 6-6 250 PF Minnesota Sr., David Okeke 6-8 200 SF/PF Auxilium Torino 1998, Dylan Osetkowski 6-9 250 PF Texas Sr., Alen Smailagic 6-10 215 PF/C Santa Cruz Warriors 2000, Simi Shittu 6-10 230 PF Vanderbilt Fr., Reid Travis 6-8 240 PF Kentucky Sr., Paul White 6-9 230 PF Oregon Sr., Kenny Wooten 6-9 230 PF/C Oregon So.