1. Bruno Fernando, Maryland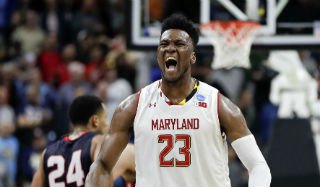 Fernando was one of the most improved players in college basketball from his freshman to sophomore year. He is an outstanding athlete and uses his broad shoulders to get good position on the block. Fernando is also quick for his size and has excellent foot work in the low post. With his mobility and 7-foot-3.25 wingspan, he can switch out on guards and projects as an excellent pick and roll defender. He is an excellent fit defensively in today's small ball NBA. His size, length and speed make him a dangerous threat running the floor in transition and his excellent hands make him a lethal lob target. Fernando is an outstanding rebounder on both ends of the floor and plays with a great motor in this department. Fernando additionally is a tremendous rim protector and could eventually develop into an All-NBA Defensive Team level player. Offensively, he can be a little hesitant which allows guards to get in and swipe before he makes his move, making him a bit turnover prone. But he shows some ability to faece up and create offense, which gives his scoring ability optimism. He will need to expand his range in order to develop into a more complete two-way player. For some strange reason he's being slept on unconscionably by the draft media, but make no mistake he's a center with not only starter potential, but All Star potential.
2. Mfiondu Kabengele, Florida St.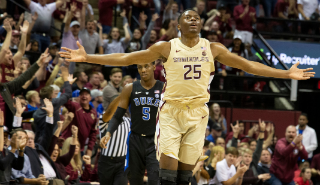 Kabengele, along with Bol Bol, is arguably the best shooting big man in this year's class with an mid-range jumper and the ability to knock down open 3s. At 6-foot-10 with a 7-foot-3 wingspan, he has smooth mechanics and can get his shot off at any time. He has a solid frame at 250 pounds with adequate strength to finish through contact. He has no issue guarding most big men and will not be backed down in the post area. He is also quick for his size and can hold his own against guards when he is forced to switch off on screens. He still needs to work on his defensive awareness, but he has all the tools to be a solid defender at the next level. He also needs to improve his ball-handling and passing ability to become a better all-around offensive player, as well as develop a stronger post game to complement his jumper. On top of all the on court superlatives, Kabengele enhanced his standing with tremendous interviews in Chicago according to a number of sources.
3. Jaxson Hayes, Texas
Hayes is the latest prize in a long recent lineage of coveted Texas big men. At 6-foot-11 Hayes is still very raw, having not started a high school game until his senior year, and he is still growing into his body at 19 years old. Hayes is exceptionally coordinated for his size, running the floor like a guard, and he has very large and strong hands. Despite being raw defensively, his length and mobility make him a potentially elite shot blocker at the next level. Hayes has good instincts on the offensive glass and looks comfortable putting the ball on the floor in transition. He is a risky selection because of his below average defensive awareness, tendency to get in foul trouble and major weakness as a defensive rebounder at this stage. Everything for Hayes right now is based on raw potential.
4. Goga Bitadze, Republic of Georgia
Bitadze is a skilled offensive player with the ability to stretch the floor. He has solid mechanics with potential to keep expanding his range. He is also a very good passer for his size and is a threat in the post with his blend of touch and coordination. He is an excellent finisher at the rim who can score with both hands and has a nice floater to his arsenal. Bitadze has good defensive awareness for his age and a high motor that will project to the next level. His lack of athleticism will limit his ceiling and his perimeter defense suffers at times as a result. He also needs to work on staying out of foul trouble and become a more consistent shooter.
5. Bol Bol, Oregon
Bol is incredibly intriguing prospect with his combination of 7-foot-2 size, 7-foot-8 wingspan and unique perimeter shooting. He is one of the best shooters overall in the class and has the ability to take defenders off the dribble with his advanced ball-handling skills. Despite a low release point, his size allows him to shoot over defenders with ease. He has uncommon body control for his size and can lead a fastbreak comfortably. He has the tools to be an impact defender as well, but he must add muscle to his slender frame and improve his below average defensive awareness. Furthermore, Bol missed nearly the entire season with a foot injury, which is a major red flag given the ominous history of 7-footers with foot problems early in their careers. The thought being, if Bol is already having health issues, then he will likely continue to have them throughout his career. He got a bit of a bad reputation in high school for not being dedicated and focused at all times. He's got lottery talent, but some have questioned whether he cares more about his off court than actually playing the game. He is a very high-risk, high-reward prospect, who probably finds a spot in the late teens to 20s on draft night.
6. Daniel Gafford, Arkansas
Gafford began the season in the lottery according to some projections. At 6-foot-11 with a 7-foot-2 wingspan, and with above average explosiveness, he has elite finishing ability and is an excellent rim protector on defense. He has solid hands and runs the floor like a guard, making him a dangerous threat in transition. He has a chance to develop into a rim running ally oop specialist in the mold of a Clint Capella-lite. Gafford at times showed maturity as a vocal leader for Arkansas in his sophomore season. His perimeter defense still needs plenty of work and he must expand his shooting range and improve his free throw shooting. His inabaility to improve on the offensive end in his sophomore year has hurt his draft stock some, and he could slide into the second round on draft night, where he would be a potential sleeper.
7. Naz Reid, LSU
Another highly rated player coming into the season that failed to live up to expectations and is looking at a potential slide into the second round. Reid is an efficient scorer and has shown his shooting touch can make him into an effective player on the perimeter. He has some intriguing potential as a stretch forward at the next level with his sixe at 6-10, 240 lbs. One of the most intriguing parts of his game is his ball handling. With his size, he is capable of putting the ball down skillfully when he attacks the basket. His ball handling combined with his size and strength allows him to create space he needs to score. His frame gives him the opportunity to become a dominant and sneaky offensive rebounder with elite timing and innate abilities. His motor and his personality is also excellent and will translate. However, his motor can be a blessing and a curse. Sometimes his emotions can get the best of him and can slow down his game. His lack of lateral quickness and his average explosiveness will sometimes be a disadvantage for him, especially at the next level. He can sometimes play out of control and be a bit turnover prone.
8. Moses Brown, UCLA
Brown has good size for an NBA center at 7-foot-1 and 245 pounds and he moves very well for his size. He does a good job using his body to clear space and be a factor on the glass. He has solid hands and is a good finisher at the rim. Brown is an excellent shot blocker already and should be a factor on the defensive end at the next level with improved defensive awareness. He needs to continue to get stronger and more explosive. Brown is also a very poor free throw shooter, which will need to improve to avoid being a liability on offense in the NBA. He probably jumped the gun by keeping his name in and will have to fend for himself in the pro ranks, instead of having the luxury of developing against college players for another season.
9. Jontay Porter, Missouri
Porter has an excellent basketball IQ for a young player. He moves well without the ball and is an excellent passer out of the post. Porter has shown the ability to knock down perimeter shots off the pick and pop and even sometimes off the dribble. The main concern with Porter is how he will recover from tearing his ACL for the second time. Even before the injury though, Porter was flatfooted and had underwhelming athleticism. His second jump is very poor and he will likely struggle to defend in today's NBA. Porter is also overly reliant on his left hand, which will make it harder for him to be effective as an offensive player at the next level.
10. Tacko Fall, Central Florida
Fall has surprising mobility for a giant. He had a very solid performance, limiting Zion Williamson's effectiveness to some degree in their close loss to the Blue Devils. The NBA game has moved away from guys like Tacko, but with Boban Marjanovic having some success at the NBA level, it opens the door for teams to give Tacko a chance. He's a bright individual and has worked hard to improve his body and stamina. His ability to knock down mid-range shots has also shown steady improvement. The key will be whether he can react to plays at NBA speed. It will be a huge adjustment for him, and it's quite possible the game just moves too quickly for him. But he is a fun addition to a team and could find a niche as a rim protector.
Honorable Mention:
Kyle Alexander 6-10 220 C Tennessee Sr., Laurynas Birutis 7-1 215 C Zalgiris Kaunas 1997, Marques Bolden 6-11 250 C Duke Jr., Jessie Govan 6-10 270 C Georgetown Sr., Donta Hall 6-9 230 C Alabama Sr., Dewan Hernandez, Miami, Christ Koumadje 7-4 265 C Florida St. Sr., Sagaba Konate 6-8 250 PF/C West Virginia Jr., Trayvon Reed 7-2 240 C Texas Southern Sr., Chris Silva 6-9 225 C South Carolina Sr., James Thompson 6-10 240 C Eastern Michigan Sr., Jeremiah Tilmon 6-10 250 PF/C Missouri So., Nick Ward 6-8 245 PF/C Michigan St. Jr.