6-foot-5, French point guard, Frank Ntilikina, first performed in front on NBA scouts at the 2014 Jordan Brand International game in Brooklyn at the Barclays Center. His ability to play the point guard position combined with his freakish wingspan rose a lot of eye brows and since then he has progresed well as a floor general and scorer. He is considered by scouts as one of the best prospects of the next generation in Europe and one of the great hopes for French basketball. We got the chance to catch up with him recently to learn more about what makes him tick.
NBADraft.net: At what point did you become interested in basketball and when did it become apparent you could possibly make a living out of it?
Frank Ntilikina: I became interested in basketball at the age of 3. My family loved to play basketball, when my brothers brought me out they put a ball in my hand and I automatically felt the love for the game. I first really thought about making a living of basketball when I was 13.
NBADraft.net: For those who have not had the chance to see you play yet, how do you describe your game?
Frank Ntilikina: I am a point guard able to play as well at the 2 spot, with athletic abilities. I think I am a versatile player who feel the game and have a basketball IQ to read situations, who can create for my teammates and for myself. I can shoot the ball, I love to play on P&R, can play in transition, and drive to the basket. I love to defend and don't like to let opponents score on me.
NBADraft.net: You have a big wingspan. Have you been measured recently? Height, weight, wingspan?
Frank Ntilikina: My height is 1.94 meters (6-foot-4 1/2) , my weight is 82 kg (180 lbs), and my wingspan is 2.13 meters (7-feet).
NBADraft.net: How has your season gone so far this year?
Frank Ntilikina: I had a busy summer with the Basketball Without Borders in Gran Canaria (Gran Canary Islands), the U18 Euro championship and the FIBA All Star game. I had the opportunity to be on a PROA team roster for the preseason and play some minutes. I am practicing daily with the pro team, getting some experience and using the opportunity to train against high level senior players. I had the chance to get some minutes in Euroleague and PROA as well. Last year we won the Espoir league, but this year is pretty different as we have a really young team and we are trying to find some consistancy. This season is also tough as I still have to go to school in order to graduate at the end of the year, practice daily, travel and play with the Pro Team and also play in the Espoir League.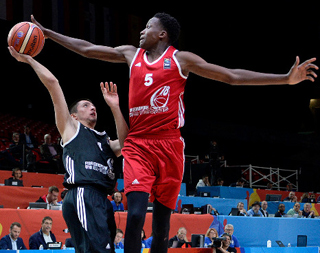 NBADraft.net: What aspects of your game are you currently working on most to improve?
Frank Ntilikina: I always try to work on all the aspects of the game but for now I focus more on my aggressiveness in the game, attacking the rim, and of course improving my physical abilities.
NBADraft.net: Do you have an all time favorite NBA player? Which players do you look up to or try to emulate?
Frank Ntilikina: I like to watch a lot of players so the list is very long. Right now I like to watch Stephen Curry and Russell Westbrook. Curry for the great things he does with ball and Wesbrook impressses me with the energy and agressiveness that he brings to the game.
NBADraft.net: Over the Summer you played in the U18 European championships. Talk a little about the talent you had on the French team, and what you took away from that experience.
Frank Ntilikina: Yes it was great to be able one more time to represent the country. All my teammates were great. Like Jonathan Jeanne and Stephane Gombauld who makes the game easier for a point guard, or Bathiste Tchouaffe who impressed me with the way he plays. But all the guys were great. It was incredible to play with them.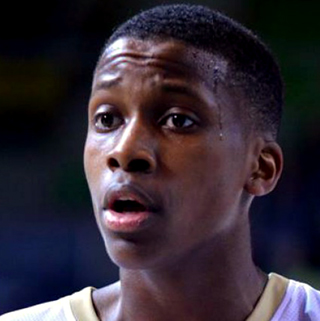 NBADraft.net: Which would be a bigger honor, leading France to an Olympic Gold Medal or leading an NBA team to a championship?
Frank Ntilikina: Both
NBADraft.net: Word is that you will stay in Europe before declaring for the NBA draft. But if you were to pick a college, where would be your first choice?
Frank Ntilikina: Unfortunately I dont have enough time in my schedule to watch college games but for sure teams like Duke, Kentucky or UCLA are incredible programs.
NBADraft.net: You will be eligible to declare for the 2017 draft, is that something you are already making plans for?
Frank Ntilikina: I think about it sometimes but not too much. The most important thing is always being focused on the court, what I have to learn and do in order to improve.
NBADraft.net: You played at the Jordan Classic International game 2 years ago, what did you think of New York City and what were your lasting memories from that event?
Frank Ntilikina: If I have a lasting memory it would be the game. It was great to play with and against the players. A great level in our age so it was pleasant to be able to be a part of that experience.
NBADraft.net: What sets you apart from other prospects? What does a team get when they take Frank Ntilikina?
Frank Ntilikina: The team who would choose me, would have a player with a lot of passion and love for the game, very focused and committed to do everything in order to improve, and become the best player possible, to help the team win.