Long time NBA scout, Michael VandeGarde spent 17 years scouting for the Philadelphia 76ers. Before that he starred at Illinois State University and went on to have a pro career and later became a Division 1 college coach. This is the 10th time that he has attended the Hoop Summit, and first time representing NBADraft.net. He is currently running a scouting service for NBA teams.
Nico Mannion PG Italy/Pinnacle HS (AZ) 3/14/2001
6'3 in shoes, 179 lbs, 6'2.5 wingspan, 8'1.5 standing reach
28 Pts, 5 Reb, 5 Asst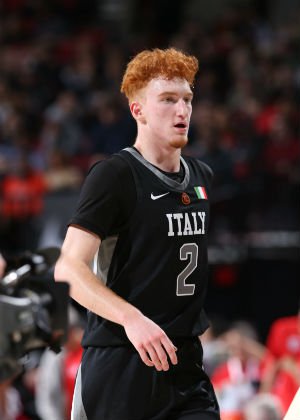 He was the leader for the World Team throughout the week of practices leading up to the game against a talented and athletic USA squad. His intensity and passion showed every time he stepped on the floor. He wanted to prove to the world that he should be the #1 ranked PG in the 2019 class and is almost a year younger than Cole Anthony who is ranked as the #1 PG in the 2019 class and played for the USA team in this contest. His performance in the game did not disappoint anyone, including over 100+ NBA decision makers in attendance. His 28 points and 5 assists propelled the World team to within one minute of winning a game many believed would not be a close contest.
Offensively, he shows the toughness and grit you look for in someone who is considered an average to slightly above average athlete by NBA standards at the PG position. He handles the ball extremely well and uses change of speed to get where ever he wants on the offensive end. He passes it very well and his court vision is special for a player his age. He has a good stroke to the NBA 3pt line and is very comfortable shooting the basketball off both the dribble and the catch. His feel for the game and understanding of when to score and distribute is as good as anyone in this class. He kept the USA team off balance the entire night and got to the FT line 14 times (making 11). He pushes the ball in transition very fast and plays at maximum speed the entire game. He was slowed down during the 2nd half of the game while being guarded by a taller and longer more active defender (Scottie Lewis). His upside on this end is high and he should continue to improve in all areas of the game.
Defensively, his effort and urgency stood out during the practices and the game. His attitude and passion make up for his lack of elite quickness. He should be able to hold his own against most NBA PG's except the top tier athlete's which no seems to be able to guard in today's game. His size and length might hinder his upside on this end going forward. His projects to be average at best as a defender.
He seems to love the game of basketball and has little flaws in his game. He could be the first or second point guard drafted in next year's draft depending on how he progresses and his season plays out at Arizona next season. I think he should be considered a probable lottery pick for 2020.

size-full wp-image-369318 http://nbadraft.net/wp-content/uploads/2019/04/pachiuwa03.jpg 300 450 https://staging.nbadraft.net/wp-content/uploads/2019/04/pachiuwa03.jpg 300w, https://staging.nbadraft.net/wp-content/uploads/2019/04/pachiuwa03-200x300.jpg 200w (max-width: 300px) 100vw, 300px />Precious Achiuwa PF Nigeria/Montverde Academy (FL) 9/19/1999
6'9 in shoes, 223 lbs, 7'2.25 wingspan, 9'0 standing reach
15 Pts, 11 Reb, 4 Blocks
Achiuwa was a standout all week for the World squad. He is an older high school SR that played at Montverde Academy and led them to a 22-3 record on the year. In practices, and in the game, his elite athleticism showed and his ability to score the basketball effortlessly was impressive. He brings energy and excitement to the game. His upside is as high as anyone who played in this game, but you have to take the good with the bad.
Offensively, he loves to shoot the ball. I will repeat that again, he loves to shoot the ball. During the full week of practice and in the game itself, he showed he has the ability to get up shots. The big question mark is, if he can make those shots. Precious is a PF with SF skills that has great length and athleticism for either position. His handle is advanced for his size and his lateral quickness gives him a chance to play the SF in the future. He plays hard and aggressive especially on the offensive end. He has never seen a shot he doesn't like. He was by far the most athletic World team player on the floor. His offensive talent says he is an NBA player with massive upside. His decision making and team play are question marks going forward. He showed a great ability to score over defenders in the mid-range, but for every great play he would make one wild miss or one wild pass. Precious has easy three-point range, but the inconsistent misses make you pause. He makes just enough shots that you feel the upside and are so intrigued about what he can become. He wants to score. He needs to score. I didn't see one play all week that showed any interest in passing or creating offense for others.
Defensively, I think he can guard multiple positions. He should be very good in today's NBA game of switching defensively as much as possible. He rebounds well and is active on the boards. Good upside going forward.
Overall, he could be an elite multi-position player on both ends. He is undecided about where he will take his talents next year, and whoever gets him will have to maximize the good and minimize the bad to get the most out of his game. He should be a one and done player who has lottery pick potential in the 2020 draft.

N'Faly Dante C Mail/Sunrise Christian (KS) 10/19/2001
6'11 in shoes, 249lbs, 7'5.5 wingspan, 9'5 standing reach
2 Pts, 4 Reb
One of the few returning World team players from the 2018 Hoop Summit game. He is still only a Junior (2020) and should be considered a top prospect for every college program next year. His body and his skills have grown from a year ago, but he still has to continue to improve if he is going to be an NBA caliber player in a few years. He plays with passion and toughness and is much further along defensively then offensively at this time.
Offensively, he is limited with his skill set. He can shoot to 18' but his release is slow. He doesn't handle or pass. He scores best around the basket. This side of the ball is still a work in progress.
Defensively, is where he makes his impact. He guards the low post well. His length and size make him a shot blocker and rim protector. His feel on this end is much more advanced then on offense. He doesn't step out and guard the P/R like some athletic bigs need to do in the NBA, but his passion and effort are high level on this end.
Dante has lots of room to grow and although he didn't produce much during the Hoop Summit game, he showed enough talent in practice that he could be a first-round prospect in a few years.
Marcos Louzada Silva 2G Brazil/Franca, San Paulo 7/2/1999
6'5.5 in shoes, 203 lbs, 6'6.75 wingspan, 8'5 standing reach
5 Pts, 1 Reb, 6 Asst
"Didi" is one of the few truly international players at the 2019 Hoop Summit that hasn't spent time playing High School ball in the USA. Little was known from most NBA scouts about his game until he showed up in Portland this week. He plays lower level basketball in South America and this week was very important for his NBA future as he is draft eligible this year and some scouts are curious if he might enter.
He was impressive early on, during the practices, with his shooting ability and his ability to handle and pass. His skill level overall is NBA caliber. He plays under control and seems to consistently make the right read. He has easy 3pt NBA range, and his arc and rotation are very consistent. At times, his release can be a little mechanical, but he plays at his own pace and should adjust to the speed of the NBA in time. I was really impressed with his handle and feel for the game. He makes the right play and sacrifices some personal scoring opportunities for the success of the team. Defensively, he was able to guard multiple positions on the perimeter and brings a toughness to this end of the floor. He has a strong base and moves well laterally and could become a high-level defender in time. He cares on this end and that isn't always the case for international players, especially at his age.
I like his upside on both ends of the floor and I think he brings a quiet confidence to the court. He plays hard, the right way, and his versatility had me impressed all week. I am not sure he made enough of an impression to be a first-round draft pick this year, but the 2019 NBA draft isn't very exciting after the top 3 picks and maybe someone would take a chance on the unknown.
Josh Green 2G Australia/IMG Academy (FL) 11/16/2000
6'6 in shoes, 201 lbs, 6'10.25 wingspan, 8'7.5 standing reach
5 Pts, 6 Reb, 3 Asst
As a returning Hoops Summit player from 2018, Josh hoped to show scouts that he should be in the conversation as a lottery pick in 2020. He came to the Hoop Summit after winning a National Championship with IMG at the GEICO Nationals a week earlier.
Josh is a good athlete that has the size and skill to play the 2G or some SF in the NBA. He is a versatile player in the mold of Josh Hart that does a little of everything well, but nothing elite.
Offensively, he has a solid skill package. He handles the ball well and has a good feel for the game. He shoots it with consistency to the college three, but will need to expand his range to the NBA line going forward. All week, he never seemed to get in a grove scoring the ball in either the practices or the game. He is headed to Arizona next year to play with Nico Mannion and that pair should be as a good a back court as there is in college basketball. His upside is limited for the NBA, but he could carve out a role as a versatile jack of all trades type player.
His Hoop Summit game was a little of a let-down after posting better numbers in last year's contest. He has the ability to be an NBA player and a first-round selection in the 2020 draft, but he needs to produce more on a consistent basis next season like he did at IMG this past season.

Matthew Alexander-Moncrieffe SF Canada/Orangeville Prep (ONT) 3/22/2001
6'6 in shoes, 198 lbs, 7'0 wingspan, 8'8 standing reach
8 Pts, 3 Reb, 1 Asst
He is a year younger (2020) then most players at this event and shows signs he could develop into a quality High Major Div. I player with some NBA potential down the road. In the practice week leading up to the Hoop Summit game, he didn't draw the attention of the scouts with his play. He gave good effort and showed some slashing ability around the basket. His shooting range is limited, and his skill set handling and passing need to improve to be considered a legit NBA prospect. He showed average NBA athleticism for a SF and didn't stand out enough scoring the ball to gain much NBA attention. His body is long, and he is still maturing so the improvements in his overall game will be important going forward. He has a tough road ahead to be considered an NBA draft pick and his skill development in the next two years will determine his future.
Andre Curbelo PG Puerto Rico/Long Island Lutheran HS (NY) 10/13/2001
6'1 in shoes, 161 lbs, 6'3.5 wingspan, 8'1 standing reach
4 Pts, 2 Reb, 2 Asst
He is another younger (2020) prospect at the Hoop Summit this year. He showed the ability to run the team and seems to have a good understanding of his role and his talent. He is a smaller, thin PG, that can handle and pass well. He plays within himself and looks to be a pass first team player. He is tough and plays hard, but at his size he didn't show the NBA athleticism you would expect from an NBA PG. His scoring ability and shooting range are a work in progress. He is in the mold of a TJ McConnell and has a long way to go to be considered a legit NBA prospect. After another year developing in high school you should see him getting many high major Div. I offer's. He needs to become an impact player at that level before he turns his eyes toward the NBA.

Haowen Guo SF China/Bayi Military (Zhejiang) 1/31/2000
6'8 in shoes, 182 lbs, 6'7.5 wingspan, 8'6 standing reach
8 Pts, 2 Asst
Guo is one of the youngest players in the Chinese Basketball Association professional ranks. He came to the Hoop Summit as a shooter and he proved in practices all week that he can make an open shot. Guo, who was a standout performer at the 2018 FIBA U18 Asian Championships while averaging 18 pts, 6 reb, 5 asst, wasn't able to get much love from the NBA community at this event. His limited athleticism and strength hindered his game verses the competition. His game is very one dimensional at this time and he needs to expand his skill set to be considered a possible NBA draft pick. With some added strength, and if he can mature his game, maybe in a few years his name could pop up on the NBA radar again.
Marko Pecarski PF/C Serbia/KK Partizan (Belgrade) 2/12/2000
6'10 in shoes, 238 lbs, 6'10 wingspan, 9'0 standing reach
5 Pts, 1 Reb
Marko is one of the few World team players currently playing overseas in Europe (KK Partizan). He is a tough nosed skilled big who scores best around the basket. He has great footwork and a variety of posts moves to get the ball in the basket. He has a solid jumper to 22' and a good shooting stroke for his size. His lack of athleticism is a concern for playing the PF in the NBA. His body needs to mature, and he needs to show more scoring ability to be considered a real NBA prospect. If he could prove he has the toughness and ability to rebound, he might be considered as a center going forward. I would be surprised to ever here his named called on draft night from this week's evaluation.
Kofi Cockburn C Jamaica/Oak Hill Academy (VA) 9/1/1999
7'0 in shoes, 302 lbs, 7'6 wingspan, 9'3 standing reach
3 Pts, 6 Reb
Kofi was back for a second year with the World team in 2019. His size and bulk remind you of a middle-aged Shaquille O'Neil. He is all power around the basket and tries to play bully ball. That is his strength, and he tries to exploit anyone that gets in his way. He has surprising athleticism for his size. He can really run the court and shows good bounce off the floor when in space. He lacks a legit NBA skill to score the basketball unless he over powers his opponent. His shooting range is limited, and he struggles at times to react to the pace of play. He doesn't play off defenders, and he doesn't have the agility to alter his pre-determined moves in the post. He can be a massive force in the paint, and he can defend the low post because of his size but I wouldn't consider him a great rim protector. He will always be considered an NBA prospect because of his size and athleticism. He would have been a lottery pick 15-20 years ago, but it is hard to see how his game translates to the NBA in today's game of pace and space. I expect he will be a great Div. I player for multiple years, but his upside for the NBA is a big question mark. He should try to lose some of his bulk and improve his skill set as much as possible next year at Illinois. The fighting Illini are getting a heck of a college player who will dominate the day he steps on campus, but I just don't know how he fits in today's NBA.
Joshua Obiesie 2G/SF Germany/IBAM (Wurzburg) 5/23/2000
6'6 in shoes, 193 lbs, 6'6 wingspan, 8'7 standing reach
No Stats 6 min played
Joshua is a European prospect who really played well at the European Adidas Next Generation Tournament in 2018. He didn't show as well this week at the Hoop Summit as he did last year. He has good size and a good skill set. He handles well and could even provide some secondary ball handling. He didn't get much run during the game itself and showed little to no ability to score the basketball in practices. He is an average athlete by NBA standards and his left handed stroke is still a work in progress. He has some versatility, and after maturing a few more years in Europe he will once again be in the conversation as an NBA prospect.

Oscar Tshiebwe C Comgo/Kennedy Catholic (PA) 11/27/1999
6'8.5 in shoes, 252 lbs, 7'4.25 wingspan, 9'1 standing reach
4 Pts, 3 Reb
Oscar is a powerful athlete that has a great body and is a presence in the lane. His skill set is that of a Center and he shows limited ability to handle or pass. He is all power around the basket and wants to throw his size and bulk around as much as possible. Good feel and footwork inside the lane. He rebounds well and can be a rim runner from end to end. He lacks range on his jumper. He is going to a perfect program in college and playing for Bob Huggins at West Virginia who should get the most out of his talent. Maybe after a few more years he will be in the conversation as an NBA draft pick.