Team USA was once again chock full of future NBA talent across the board, and luckily for those watching the game it was a much closer match-up than 2016's record setting 34-point rout. By game's end, USA had claimed a 98-87 win, though the final score did not necessarily highlight just how hard fought the victory turned out to be. Blessed with fantastic size and athleticism, this team struggled from long range (5-22, 22.7% 3PT) and turned the ball over 19 times by game's end, just as many as the World Team. But the talent level was unmistakable. Here is a look at what the prospects bring to the table and some of the things that stood out during their time at the Hoop Summit.
Michael Porter SF/PF Missouri 1998 (6'10 (height in shoes), 216, 7'0 wingspan, 9'0 standing reach)
It only took a few possessions during practices for Porter to exert his dominance, whether it was grabbing defensive rebounds with his head at the rim, hammering blocked shots into the crowd (he even hit one poor women), throwing down monstrous lobs or his picture perfect shot. The shot itself is quite a weapon, as he has great balance and mechanics, not to mention the elevation with his size that help him get looks on a consistent basis. His touch around the basket is also excellent, as he had an array that included a beautiful hook/floater and was a major threat in transition.
No one in the class scores as easily, as he laid down a pretty quiet 19-points, albeit with a couple of monster finishes at the rim to cap off the USA victory. He has tremendous size at either forward spot, should be able to add strength moving forward and shows tremendous ability and potential as a shooter, with a reported 47% 3PT and 86% FT during his time at Nathan Hale. If there is anything for Porter to work on going forward, it would be his ball skills and decision making. His handle is still a little high and loose, not to mention right hand dominant. If he can tighten it up and work on his off-hand, it should make him that much more dangerous and develop as a possible distributor.
He has shown the ability to move on the perimeter, which makes him versatile. He will likely be a dominant college four, with the athleticism and shooting that should make him a plug and play at either forward position in the NBA. Most scouts we spoke to this week felt that Porter will not only be the top pick in 2018, but he would be the top pick in this year's draft if he were available. He has the tools to be an eventual franchise cornerstone and what you look for in a top scoring forward, and he displayed them in front of a great deal of NBA decision makers this week.
Mohamed Bamba C Undecided 1998 (7'0, 216, 7'9 wingspan, 9'6 standing reach)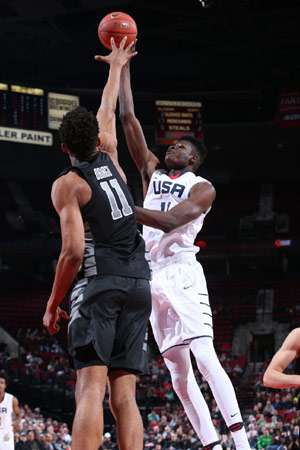 What is more amazing than his length, which would give him the longest wingspan ever measured at the NBA Draft combine, is that he has fantastic fluidity running the floor. Even if his long arms are maybe more prominent than his vertical leap, he gets off the floor quickly, reacts well and sprints the floor at an elite level. He had a number of impressive defensive sequences during practice and finished the game with four blocked shots, along with a couple of steals. He was someone the World had to constantly be aware of around the basket and had one incredible close out where he sprinted out to contest a shooter. That is to say, even the perimeter is not safe with Bamba in the game.
Defense is still absolutely his calling card, though as a big man that is a plus. If you take into account that he is likely 6'11 without shoes, that would give him a +10" wingspan, while maintaining the fluidity one would hope for in a next level big. His strength is still coming along, though he is a force as a rebounder off of his length and activity level alone. His offense is still very much a work in progress, as he gets most of his points close to the basket or off of lobs. Still, his mechanics are not bad and while his shot has little arc, he finished 3-4 FT and showed some signs of a shot out to mid-range during practice sessions. As his body fills out, we could be looking at a possible post defensive anchor down the road, and that is a highly valued commodity in the NBA. He should be deciding between Duke, Kentucky, Michigan and Texas very soon.
Jarred Vanderbilt SF Kentucky 1999 (6'9, 213, 7'1 wingspan, 8'10 standing reach)
Vanderbilt and Porter were usually right across from each other as the USA went through ball handling drills in practices, and it showed that Vanderbilt was more comfortable in terms of ball skills. Vanderbilt can put the ball on the floor and showed some solid vision. Plus, while his lone basket in the McDonald's All-American game came off of an awkward dunk that seemed to point to possible injury, he had some finishes above the rim and was locked in during the Hoop Summit contest. Michael Porter even referred to Vanderbilt as the MVP in the post-game presser, as Vanderbilt tied him with a game high 19 points to go along with 10 rebounds and 3 assists in only 19 minutes. His shot seems to have a slight hitch, though he seems to have more confidence in it and showed some ability out to three-point range. Vanderbilt works well as a slasher and is a pesky defender as well. His athleticism is not on the level of a Porter or even Kevin Knox, though he provides ball skills and vision that should have him in the discussion among the top 2018 NBA Draft draft eligible forwards.
Collin Sexton PG Alabama 1999 (6'2, 183.5, 6'6.5 wingspan, 8'0 standing reach)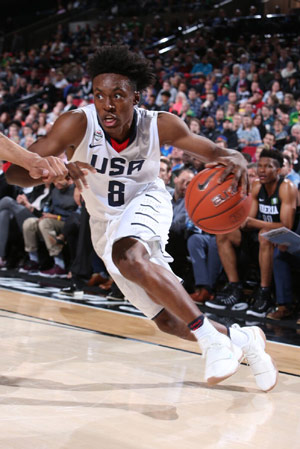 With infectious energy and undeniable grit, Sexton was someone who stood out in a big way during his time in Portland. Whether it was in practice leading four-on-four group in drills to cutthroat victories, showing his acumen in the pick-and-roll or flashing his potential as a shooter, he did it with supreme confidence and showed rare leadership qualities for a player at this stage. Even as he struggled with his shot in the game (0-5 3PT), he managed to make his impact felt with a game-high 8 assists and 4 steals. His finishes were rather acrobatic and he has ridiculous quickness and bouncy athleticism, which make up for his lack of great length.
Designated by some recruiting services as a two-guard and known for his scoring ability, Sexton showed that he has some of the makings of a point. While he is ultra aggressive on offense and has the ability to get to the hoop at a high rate, he really did try to keep his teammates involved and was a willing passer. Sexton can definitely be prone to making the occasional flashy play over what may be safer, though he also showed an understanding of how to run a team. He also showed a willingness to play tough on-ball defense and his shot seems like it could be a real threat in time. While he may not be your classic lead guard and some may worry about him being an undersized scoring guard, Sexton did a lot to show that he should be considered the top overall guard in his class.
Wendell Carter PF/C Duke 1999 (6'10, 257, 7'3 wingspan, 9'0 standing reach)
With good size and some shooting touch, Carter has strength and post ability that make him a very tough match-up. He has a solid court sense and can make passes out of the post, with good size for a big man and foot work close to the hoop. On a team that was more about running in transition, Carter was not really heavily relied upon, as he is much more effective in the half court. He still managed to finish with 7 points and 7 rebounds in only 17 minutes. He has shown some ability to shoot out to the college three-point line, though it is still kind of a work in progress as opposed to a consistent threat. He is not an overly quick or explosive athlete, though he reads the game well and his length helps him make some impact on defense. He did not necessarily assert his dominance over the week, but he still displayed skills that have him among the top players in the class.
Jaren Jackson Jr. PF Michigan St. 1999 (6'10, 225, 7'4 wingspan, 9'1 standing reach)
Jackson has an impresive combination of athleticism and length and also plays with solid energy, as he was one of the most consistent contributors throughout the week. He was relentless on the boards, moved pretty well on defense and while his shot is a little flat, he was a threat from the three-point line. He had 13 points and 10 rebounds (7 offensive) during the game, though he did foul out in 25 minutes and had 4 turnovers. Jackson is sort of growing into his body, though with his NBA pedigree and activity level, he could be the third Michigan St. one-and-done in the last three years. He was one of the youngest kids, and has one of the highest upsides. If he can consistently stretch the floor, which he seemed to do for Dick's National High School Tournament champions La Lumiere, than his cutting and rebounding will make him a very sought after prospect.
Trevon Duval PG Undecided 1998 (6'2.5, 195, 6'9.5 wingspan, 8'3 standing reach)
It was not the best week for Duval, as he seemed to lack energy at times and then compounded it by hurting his ankle in the game. His shooting also is a bit of a concern, and while he hit his only 3-point attempt in the game, he seems to shoot from the side of his head with his elbow extended out too far. He has solid athleticism and a nice first step, plus a very smooth handle. Duval's modus operandi is his ability to get into the paint and to run out in transition, but his shooting will be something to monitor going forward. He does seem to try to get his teammates involved, though his decision-making can also be a bit erratic. He has great size at the point, a plus 7" wingspan from his height in shoes, and he also showed some ability to move his feet on defense. Duke, Arizona, Baylor, Kansas and Seton Hall are the finalists for his college services, though there are indications that he may be following in Terrence Ferguson's footsteps and playing in Australia next season.
Kevin Knox SF/PF Undecided 1999 (6'9, 206, 6'11.5 wingspan, 8'10 standing reach)
Knox is a great athlete, a former quarterback prospect and flashed his metal on both sides of the court. His jumper is not bad, though was fairly inconsistent but he was best as a cutter and excellent in transition. Defensively he has some tools to guard either forward spot, though he could certainly stand to gain some strength. His ball skills also kind of relegate him to playing best as a 4 right now, though he has at least been working on his other skills as he attempts to move down a position. He struggled in the game, finishing with only 4 points (2-8 FG) and 2 rebounds in 14 minutes. He was prone to taking some bad shots and being caught in awkward positions, as his overall basketball IQ is still a work in progress. On the bright side, he was team USA's youngest player and his best days are likely ahead of him, as his size, athleticism and agility give him a lot to work with. Knox looks to be down to Duke, Florida St., Kentucky and North Carolina, though he recently took a trip to Missouri, where Michael Porter recently committed, and is actively recruiting him.
Gary Trent Jr. SG Duke 1999 (6'6, 215, 6'8.5 wingspan)
Trent has a powerful body, a smooth shot and of course the NBA pedigree from his father, NBA veteran Gary Trent. Always known for his scoring ability as one of the EYBL's leading scorers in both 2015 and 2016, Trent showed an ability to knock down from long range, though he also has to be taken into account at the other levels of the court. He is not an explosive athlete and seems to lack ideal quickness to guard the perimeter, though he is certainly strong and showed a good work ethic. In the game he struggled shooting, as he was only 4-11 FG for 9 points, but he chipped in with 3 rebounds and 5 assists. Further developing his all around game will be what allows him to become a standout college player and potential one and done pick.
Troy Brown SG Oregon 1999 (6'6, 210, 6'11 wingspan, 8'9 standing reach)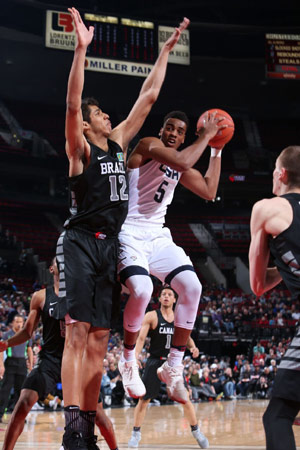 With Duval injuring his ankle early and Quade Green out of the game with a concussion, Brown was tasked with running some point. As he started out as a lead guard, he has transitioned to a multidimensional wing, though his ability to handle and pass made him the logical choice to run point when the USA wanted to run big. Brown's shot has really improved, though it is still a tad inconsistent. He also is not overly athletic, though his size and ball skills as a guard help to make up for it. He should be a stand out immediately in Dana Altman's positionless system at Oregon, as he can guard 1-4 at the college level. He should see time both on and off the ball, providing versatility on both ends of the floor. He finished with 5 points and 3 assists in 17 minutes of play as the second youngest player on Team USA.
MJ Walker SG/SF Undecided 1998 (6'6, 205, 6'8 wingspan)
A strong wing with some solid athleticism, Walker was one of four uncommitted prospects and is choosing between a number of high majors. On a team full of top players, Walker sort of took a back seat, as his ball handling and shooting seemed to be a bit behind that of the other wings. He still should be able to slash and scored his two-points off a nice lob lay-up at the hoop. His finalists for college are Florida St., Georgia Tech, Kansas, Maryland, UCLA and Virginia Tech.
Quade Green PG Kentucky 1998 (6'0, 180, 6'1.25 wingspan, 7'9.5 standing reach)
Mister Cool, Green showed some ball skills and ability to run a team during his limited practice time before succumbing to a concussion. Perhaps the shades were necessary to shield his eyes after the concussion, or perhaps Quade Green has more swag than anyone is ready for. He is a small, quick point guard, but was doing his best to stay competitive with the two point guards rated ahead of him in Duval and Sexton. He has the look of a multi-year college player, but with his great confidence and leadership, he should be an important factor in helping keep Kentucky's offensive train rolling next season.
Follow Michael on Twitter @NBADraftMikeyV. For any comments or questions feel free to e-mail him at [email protected]
*Photos credited to Sam Forencich/USA Basketball