Following the defeat of the Warriors in the finals to the Toronto Raptors, a loss that saw Golden State's roster get completely depleted by injuries and proved that any team is in fact fallible, GM's in the Western Conference clearly got the bright-idea that now is their chance. So while the Eastern Conference saw no shortage of action during the free agent melee that was this offseason, the Western Conference offered no safe spaces if you were a GM hoping to just stay pat. The entire power structure of the West was reshaped this offseason, leaving the conference primed to have the most openly competitive battle for finals representation that we've seen in 5 years. And while not every team did what it needed to put themselves in the hunt, every team did make moves that went a long ways to reshaping what was offered from last year.
Here is the second half of our offseason Win, Lose, or Draw for this summer's Western Conference teams.
Denver Nuggets – Draw
Compared to most of their Western Conference playoff counterparts, the Denver Nuggets had an offseason with relatively scant action, but for a franchise whose focus appears to be on continuity through youthful development, that's not necessarily a bad thing. The additions of Jerami Grant and the trade with Miami for Bol Bol are good moves that aren't terribly costly if the Nuggets don't get much value out of either. The Grant trade especially could be a great move if the versatile big man provides the type of physical perimeter defense Denver will need to compete with the Western Conference's top tier teams this year. Denver is also hoping to finally get production from Michael Porter Jr. and fellow second-year player Jarred Vanderbilt. But one of the issues I have with Denver's offseason decision is that perhaps they are too happy with their current roster. The decision to re-sign Jamal Murray to a max deal so early forced Denver to take an unnecessary 16 million dollar cap hit, and Denver's decision to not use their med-level exemption felt chintzy and a bit short-sighted. The Nuggets have a roster that can be competitive now and, at times, it feels like their long-term vision may be too myopic.

Best Move: Trading their 2020 first-round pick for Jerami Grant
The Grant deal has the potential to be one of those under the radar trades that invigorates a team. Grant's ability to finish above the rim, and what the Nuggets hope is continued improvement in his perimeter shooting, make him a perfect fit for playing alongside Nikola Jokic. But even if Grant is a no-show on that side of the floor, he is a solid rebounder and is the prototype physically for defending all the great players playing on the perimeter in the Western Conference.
Worst Move – Not using the midlevel exemption
Denver may prove to be too content with their young roster, and while the Nuggets are undoubtedly deep, the team could still use some perimeter scoring and guys like Garrett Temple could have been a perfect fit for this Nuggets roster.

Los Angeles Clippers – Win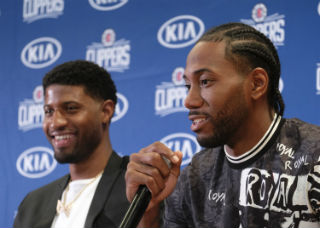 The Clippers didn't just win the offseason, they put a stranglehold on the league narrative leading up to next season, a move that matters more in LA than in any other market. And, while there are some questions about rim protection in the frontcourt, and distribution in the backcourt, those issues don't matter enough to detract from just how league-shifting an offseason the Clippers had.
Best Move – Trading for Kawhi Leonard and Paul George
This was a packaged move and should be treated as such, thusly there has been way too much made out of the "overpay" for Paul George. The Clippers managed to get 2 of the top 15 players in the league and nearly as importantly did so without killing their supporting cast. And, while there is always the potential that the Clippers could underachieve and see Leonard and George level off after 2 seasons and be left with few options for future assets, the possibility of that bleak future is well worth the risk when you position yourself to be a contender in the immediate. And Los Angeles is definitely that now.
Worst Move – Re-Signing Patrick Beverly (3 yrs, $40 million)
I love Patrick Beverly and he could potentially combine with PG and Kwahi for the most impenetrable perimeter defense in league history, and because of that I fully understand the Clippers re-signing Beverley. But signing an injury-prone 31 year-old point guard, who isn't the creator this roster so desperately needs, to a contract, albeit in an inflated point guard market, that pays him $13.3 million a year for 3 years is the type of deal that could come back to really hurt Los Angeles at a time where they can't afford to miss on contracts.
Phoenix Suns – Lose
In the annals of the past decade of Suns ineptitude, this offseason ranks as a relatively meek expression of Phoenix foibles. And sadly this summer once again did little to give the impression that the Suns organization will be changing directions anytime soon. The Kelly Oubre and Ricky Rubio deals both make some sense, but Phoenix now has a perimeter rotation of Rubio, Oubre, Booker, and Tyler Johnson making an average of $19.25 million a year. That's just bad deals and poor cap management, compounded by the jettisoning of TJ Warren, a player on a cap-friendly deal with 3 years remaining and who had shown significant improvement before injury last season for mere cash considerations. Add to all that the fact that Phoenix hasn't re-signed a lottery pick not named Devin Booker in ten drafts following the trade this summer of Josh Jackson, and their galling reach for Cameron Johnson in this year's draft, and it feels like Phoenix isn't deviating from their path of disappointment.
Best Move – Drafting Ty Jerome
While Jerome could end-up the second-coming of Grievous Vasquez, that style of player—big guard, with good vision, and balls skills—is a perfect complement to Devin Booker.
Worst Move – Trading the 6th pick for Dario Saric and Cameron Johnson
If you're the Phoenix Suns and you've decided you like Dario Saric, that's fine. If you're the Phoenix Suns and you've decided that no one at pick number 6 excites you, great. If you're the Suns and move to pick number 11 and draft a guy who wasn't even in New York because there was no expectation that he was going to be taken in the lottery, a player whose age projects minimal further development, whose skill set is not particularly unique, who has hips issues, and you do all this while a player like Sekou Doumbouya is there for the taking, well that's how you become the Phoenix Suns.
Houston Rockets – Lose
Let me just preface this by saying that the way you perceive Russ carries all the equity in this conversation. For me, that perception makes a deal where adding a guard whose inevitable physical degradation will sink his play far before enough value can be extracted for his remaining 4 year contact, for a guard who is older, but whose game can continue to be effective by means of grit and guile, a net loss. Furthermore, Houston's bench is paltry and the Rockets did nothing to stir any confidence in the group going into next season.
Best Move – Not trading for Jimmy Butler
I know Daryl Morey is a star-chaser, but the Rockets just came off a disappointing playoff run that saw it's two superstars apparently come to such an impasse over ball control and decision-making that one of those players was moved just in an effort to heal locker room wounds. Bringing Jimmy Butler into that fray would have been like trying to heal a cut with battery acid.
Worst Move – Trading Chris Paul and 2 first-round picks for Russell Westbrook
I understand that things with Chris Paul may have become untenable, so moving him was a necessity, and maybe for the next regular season Russ was the most dynamic player that could be added in a Paul deal. But, by all accounts, there was interest in Paul, and the cost of Russ, opposed to perhaps a package of players that could better compliment James Harden and help stock the Rockets bare cupboard of a bench, is far too steep for a player who perhaps makes the Rockets a worst team in the playoffs than they have been in the last 3 years.
Portland Trail Blazers – Draw
The Trail Blazers went through an offseason that saw the addition of 7 new faces to the team's 14-man roster and the early re-signing of CJ McCollum to a 3 yr., $100 million deal that locked the incendiary guard up until the 2024 offseason.  And while there are a lot of questions to ask about both fit and ability with players like Pau Gasol, Anthony Tolliver, Kent Bazemore, Hassan Whiteside, and Mario Hezonja, there will be no shortage of intrigue and nametags with this revamped Portland roster.
Best Move – Trading Meyers Leonard & Maurice Harkless for Hassan Whiteside
It is strange times indeed when adding the mercurial big man from Marshall on a huge cap hit is considered a smart decision, but with Whiteside starting in a contract year while Yusef Nurkic sits out most, if not all of the season, Portland should have a motivated version of the oft-lethargic, but very talented big man
Worst Move – Not getting a back-up point guard    
Somehow in the midst of all their postseason dealing, not a single one of Portland's additions was a point guard, which means as it stands now Damian Lilliard is the only true lead guard on the roster. So while it seems all but certain Portland will stagger Dame and CJ's minutes in an effort to keep a facilitator on the floor, that means you sacrifice minutes from your best lineups through the course of a game and really have an issue if injuries inevitably occur. Also, I'm not convinced that Anfernee Simmons, Mario Hezonja, or Rodney Hood can slide into a ball handlers role and not have the offense fall off a cliff.
New Orleans Pelicans – Win
Rare is it that the team that loses one of the 5 best players in the league somehow comes out of the whole process with such a promising future, but after winning the draft lottery, and then making a series of great offseason decision and moves, that is precisely where the New Orleans Pelicans find themselves. The drafting of Zion was a no-brainer, but trading the number 4 pick for numbers 8, 17, and 35 as well as the trade for Derrick Favors and the signing of JJ Reddick were great moves that not only helped further build what should be a surprisingly deep roster, but also stocked the team with a ton of young and intriguing talent. New Orleans is one of those franchises that should compete for a postseason berth this season, but are really projecting as being a Western Conference heavyweight in 2 to 3 years from now.
Best Move – Signing JJ Reddick (2yrs, $26.5 million)
Reddick's combination of space-creating shooting and veteran leadership is the absolute perfect fit for a young core that lacks both characteristics. Reddick's ability to give Zion room to work, as he did for Joel Embid in Philadelphia, will make him one of the most valuable (cost versus impact) free agent acquisitions this offseason.
Worst Move – N/A
Not really much to say in an offseason where you hired a great GM, drafted a potential superstar and 2 more players in Jaxson Hayes and Nickel Walker-Alexander that project to be very productive pros, signed a veteran in JJ Reddick that filled the team's most glaring void, and traded for a big man that is the perfect two-way compliment at a position of need. It'll be interesting to see how it all shakes out, but New Orleans is a team that clearly won the offseason.
San Antonio Spurs – Draw
The Spurs had a very Spursy offseason, with a series of unspectacular moves that will keep the team competitive, but probably nothing more than a 6-8 seed in the playoffs. The return of Dejonte Murray is an under-talked about addition for a team that could have the deepest backcourt in the league this season with Murray, Patty Mills, Derrick White, Bryn Forbes, and the addition of Lonnie Walker IV.  However, all of that backcourt depth may not be enough to compensate for a very pedestrian set of big men.
Best Move – Signing Trey Lyles
Lyles had a rough go of it last season, but 23 the year-old power forward is just 1 year removed from averaging 10 points on 49% shooting, has a skill set offensively that is well-suited to the Spurs style of play, and at just $5.5 million a year, he could be a bargain for a productive back-up power forward with room to grow.
Worst Move – Trading Davis Bertans
This is a bit convoluted as the Bertans deal was made in part because of the pending signing of Marcus Morris – which fell through – and the Spurs excitement over rookie Luka Samonic. But Bertans is such a great spacer, especially when playing the 5 with Demar Derozan, that I think even if Morris had signed, I would not have liked this decision. The Spurs are a team that are reliant on a deep bench that can shoot, and Berrtans, who was 6th in the league last season at 43% from the arc, was a lynch pin to that production and his absence will be felt this season
Utah Jazz – Win
The Jazz were the front-runners for the most exciting offseason in the Western Conference up until Kwahi shifted the entire power dynamic of the league. But despite the usurping, Utah's additions of Mike Conley Jr., Bojan Bogdanovic, Ed Davis, Jeff Green, and I guess Emmanuel Mudiay are the type off all-in moves that championships are birthed from. Adding a lights-out shooter in Bogie, and a player in Conley who has plus value both on and off the ball, are the perfect compliments to Utah's slashing star Donovan Mitchell and creates the requisite space for the paint-dwelling Rudy Gobert. Utah is also not a terribly young team  (made older by their offseason dealing) besides Mitchell and this offseason shows that the Jazz are in win now mode at just the right time as the Western Conference is as open as its been in 6 seasons.

Best Move – Trading for Mike Conley Jr.
While Utah gave-up a lot of depth –Grayson Allen. Kyle Korver, Jae Crowder, and the 23d pick in the draft– getting a player of Conley's caliber with 2 years left on his deal immediately elevates Utah into contender status.
Worst Move – Re-signing Dante Exum (3 yrs, $33 million)
I know that Exum is relatively young, has spent all 4 of his season with the franchise, and that Utah couldn't have offered the same money on the free agent market, but $11 million per year for a player who for his career has averaged 6 points per game, on 40% shooting, while only playing 51 games per season because of a lengthy injury history seems like a vast overpay, even in an inflated free agent point guard market.
Memphis Grizzlies – Win
The best thing the Memphis franchise did this offseason was finally recognize that it was time to move on from the last vestiges on grit and grid and move forward to a youthful rebuild; a  decision most prominently punctuated by the trade of franchise stalwart Mike Conley. The trading of Conley netted Memphis a haul, but the trade for Andre Iguodala –a move that came with a poorly protected 2024 first-round pick—as well as the trade and buyout of Dwight Howard, which netted Memphis $5 million, and the drafting of their future franchise point in Ja Morant and the trade to get Brandon Clarke, were all great decisions for a front office and franchise that seems to have a vision and focus for a future filled with youthful promise.
Best Move – Trading with OKC for Brandon Clarke
Clarke is an incredible athlete whose rebounding and defensive prowess will enable him to make an immediate impact, and if the former Gonzaga big man can continue to improve his shooting and run the lanes hard on the fast break, he will be the perfect complement to his youthful battery mates in Morant and Jaren Jackson Jr.
Worst Move – Re-signing Jonas Valanciunas (3 yrs, $45 million)
Valanciunas put up some big numbers down the stretch of last season, and his ability to step out and shoot makes him a good compliment for Jaren Jackson as both players can give the other room to operate, but $15 million a year for a big man that isn't a budding star is just too steep a pay for a team that is nowhere near ready for contention.
Los Angeles Lakers – Draw
The Lakers offseason may be the hardest amongst all 32 teams to qualify. Los Angeles began it's offseason with the departure of GM Magic Johnson, and never sought to find a replacement, rather allowing the much-maligned Rob Polinka to step into the role. The team followed that by signing Frank Vogel as their head coach, along with adding Jason Kidd, and Lionel Hollins to his staff, they traded for one of the top 5 players in the league in Anthony Davis and then signed a slew of veterans in an effort to add complementary players better-suited for playing with the King. Unfortunately, many of those signings came late into free agency as Los Angeles's flirtation with Kwahi Leonard forestalled the team's ability to sign any of the top-tier free agents as they awaited the Klaws eventual shunning. Oh, and Boogie tore his ACL, meaning the return of Dwight Howard to LA.
All of these headlines and drama seem on brand for the franchise, but the substantive stuff still leaves a lot of questions. This Lakers roster could galvanize and come out like gangbusters, or it could prove to be a roster full of soon-to-be washed-out veterans who find it hard to keep up with LeBron and AD. Either way, you can be sure the season will be full of its fair share of drama.
Best Move – Adding perimeter shooting
The trade for Anthony Davis is the easy answer, but that became a foregone conclusion once AD and his people made it clear that he wasn't interested in signing anywhere else next offseason. The Lakers best decision was addressing the dearth or perimeter shooting that plagued the roster last season. The additions of Danny Green, Avery Bradley, Jared Dudley and Troy Daniels were clear indications that the Lakers were attempting to address this problem, a decision that ideally should allow AD and LeBron to have the space necessary to create havoc offensively.
Worst Move – Signing Jason Kidd
Nothing about Jason Kidd's past leads one to believe that he is capable of being a passive presence. And with the additions of Kidd and Lionel Hollins to Frank Vogel's staff, the Lakers now have 4 (LeBron) very prominent voices all vying for the ear of the team. It'll be interesting to see whose voice wins out, but don't be surprised at all if a slow start foments a Kidd lead insurrection and more typical Lakers drama.
Oklahoma City Thunder – Win
From the fertile ashes of recent destruction something beautiful can be born anew. That may be too long for OKC to use as the team slogan for the 2019-20 season, but for the Thunder, that notion must be imbedded in their team message.
The reality is that OKC was a franchise that looked itself in the mirror and went anti-Pat: they weren't good enough, they weren't smart enough, and people didn't like them. And once Paul George decided it was time to move on, Sam Presti executed a master class in team rebuilding, netting a whopping 8 first round picks combined in the trades of Jerami Grant, Russell Westbrook and Paul George, plus adding productive players in Danilo Gallinari and Shea Gilgeous-Alexander. These are moves that completely reshaped this franchise from a paper tiger mired in cap misery to a team that has as great a chance as any franchise to be a title contender 5-10 years from now. All of that, and the roster that OKC will roll-out to start the season not only has their potential point guard of the future, but may be good enough to compete for an 8th seed if Chris Paul can stay healthy and doesn't get traded.
Best Move – Trading Russell Westbrook
While the Paul George trade could go down as one of the great fleecings in NBA history, the Thunder didn't have much choice once PG made known that he wanted to join Kwahi.  Trading the face of your franchise, a guy who has come to define the culture of your team for the last decade, was a move that takes gumption and foresight. There's no doubting that Russell Westbrook is a force of nature, but as with most forces of nature, he can be awe-inspiring in his grandeur, and morale-imploding in his destructiveness.
The Thunder had gotten the best of Westbrook and, with 4 years remaining on a huge deal with a player whose style of play surely won't age well, it was a smart move to say goodbye to Russ, even if it was for another ageing superstar in Chris Paul who is also on a onerous deal – a deal with one less year on it. Chris Paul will likely not finish out his tenor in Oklahoma, and don't be surprised if a team like the Lakers or the Heat comes calling for Paul around the trade deadline; meaning OKC could still see more assets coming its way from this deal.
Worst Move – Trading Brandon Clarke
This is just a matter of bad scouting to me. Clarke is the perfect type of player for a team in a rebuild and was vastly superior to the guys that were drafted below him and some before him. OKC should have just kept the pick and seen what Clarke could do as a great fit next to Steven Adams.
Golden State Warriors – Lose
I had a really hard time deciding where I fell on Golden State's offseason. On the one hand, in a star-driven league, the ability to get D'Angelo Russell out of the Kevin Durant departure was an impressive piece of dealing. On the other hand, D'Angelo Russell is an overrated stat-filler who is a poor fit for their system. The decision to go after him and sign him to a 4 yr, $117 million deal meant that Golden State had to trade Andre Igoudala (along with a first-round pick) and sacrifice much needed team depth in the pursuit of an asset that may lose value if Russell can't fit his game into the Warriors system. Now, the Warriors are probably smart enough to know all of this and may intentionally feature Russell in the first half of the season in hopes of moving him at the trade deadline before Klay returns and the backcourt is packed. But until that happens, I think this move was a poor use of resources that could have been better allocated to building depth around Steph and Draymond.
Best Move – Re-singing Kevon Looney (3 yrs, $15 million)
Anyone paying close attention knows that Kevon Looney's impact on the Warriors extends beyond any superficial stats. Watch Looney switch out onto James Harden in the playoffs and poke the ball away, watch Looney finish the not so spot–on passes at the high post from Draymond, watch Looney killing his man on the offensive boards, watch Looney alter shots from the help side, and you know that at $5 million a year the Warriors got an absolute bargain for one of the most underrated players in the league; and a guy that has been a vital part of their team's success over the last two seasons. Most importantly, the contract allows a team that barely had enough money left to spend on a churro, to sign a starting center.
Worst Move – Sign-and-trade for D'Angelo Russell to a max contract (4 yrs, $117 million)
Look, I know that the long-game could be being played here and that this could just be the move before the move, but Russell had a career-year on a middling team, had a lot of hollow stats, and was just plain bad in the playoffs. This could turn sideways quickly and Golden State could find themselves not able to even recoup appropriate value for Russell once the team figures out that he's really just a third-tier player at best.
Sacramento Kings – Win
While I certainly have some reservations about where they spent their money –most notably re-signing Harrison Barnes and giving Trevor Ariza $12.5 million a year– I won't fault a franchise for recognizing that they have a promising young core that flirted with the playoffs last year, and surrounding that group with proven veterans. They also added Dewayne Dedman, Richaun Holmes and Cory Joseph this offseason—on short term deals is definitely a great way to go for the playoffs now without leveraging too much of your future flexibility once some of these young guys are up for their big contracts.
Best Move – Hiring Luke Walton
Dave Joerger got a raw deal in terms of how he managed to get this young team to play way above expectations on the floor last season, but firing a coach who incited the ire of the team's young stars and replacing him with one of the most player-friendly coaches in the league is ultimately a sensible move; especially when you project how dynamic Sacramento's offense could look under Walton's schemes.
Worst Move – Re-signing Harrison Barnes (4 yrs, $85 million)
This is a tough one because, in theory, Barnes' shooting and defense make him a great fit for the Kings roster.  In reality, Barnes is a perennially overpaid and under-producing player who takes minutes away from Bogdan Bogdanovic and was conspicuously the biggest difference in the Kings roster from their hot start to cool finish last season. I like Barnes as a veteran leader who can get his own bucket when the offense bogs down, but I'm not sure that that reputation has been justifiably earned and $21.25 million a year is way too much for what you actually get from the swingman.
Minnesota Timberwolves – Lose
On the bright side with the hiring of Gerrson Rosas, the retaining of Ryan Saunders, and an overhaul of the front office that swept away the remaining cobwebs of the Tom Thibodeau era, it seems that the Timberwolves are finally modernizing the way they approach their basketball operations. Unfortunately the front office and organizational changes were the only moves that inspired any notions of a team understanding how and where to get better. Most of what Minnesota did this offseason was underwhelming or outright inauspicious. They let both Derrick Rose and Tyus Jones leave to other teams, despite the reasonable deals that both signed following productive seasons by each last year. The team then added Noah Vonleh, Jake Layman, and Jordan Bell, all to team-friendly contracts, but none of those players move the needle much.
Trading Dario Saric, who is bound to be overpaid following this season, and the 11th pick in the draft to Phoenix for the 6th pick was a solid move. Instead of drafting Coby White, a player that perfectly fits the teams needs going forward, they took a player in Jarrett Culver that I'm just not convinced is anything more than a rotation player in the league. Most importantly, the team did nothing to address its lack of perimeter shooting and when the inevitable injury to Jeff Teague happens, the point guard depth is painful.
Best Move – Hiring Gersson Rosas
I'm not quite sure that the Timberwolves franchise ever really recovered both emotionally and ideologically from the loss of Flip Saunders, and in the wake of that devastation they have seemed like a rudderless ghost ship just bumping from harbor to harbor. In Rosas I think that the franchise may have finally found a captain that could lead the team to a bright new horizon. Following 16 seasons with the Rockets that saw him do pretty much everything but mop the arena floor, Rosas has learned from one of the most creative and risk-inducing GM's in the league in Daryl Morey, and I think that that shot of ingenuity and modernization in terms of thought-processing is exactly what the T-Wolves need to get themselves headed in the right direction.
Worst Move – Trading Dario Saric and the 11th pick to move to #6 for Jarrett Culver
I feel badly for Jarrett Culver here, because it's not that he may not end-up a good player, but it's insane to me that Minnesota had him number 5 on their draft board, not only because I have serious questions about his shooting ability and athleticism at the next level, but because they need a young point guard or power forward much more than they need another defensive-minded shooting guard with a questionable jump shot—they already have Josh Okogie for that.

Dallas Mavericks – Draw
Somehow the Mavericks were both terribly active, and surprisingly inactive, based on all the murmurings this offseason. Dallas was implicated as a destination for Kemba Walker, Jimmy Butler, Al Horford, Danny Green, and Pat Beverly, but rather than go big game hunting, the Mavs signed Seth Curry and Boban Marjonovic, traded for Delon Wright, and then smartly (for the most part) retained some familiar faces in Dorian Finney-Smith, Dwight Powell, Maxi Kleber, and JJ Barea — who I believe is going on his 10th contact with the team– and signed Kristaps Porzingis to a 5-year max contract. Dallas was smart to stay away from the bigger names available, as the team really needs to foster an on-court bond with their two young superstars before it goes all-in on adding a third piece. The problem is too many of their deals were 4 year contracts, thusly hamstringing their ability to land a third star in a year or two when the team should be ready to ascend to the upper tier of the Western Conference.
Best Move:  Re-signing Maxi Kleber (4 yrs, $35 million)
Kleber is the type of versatile player that can be a great fit with Kristaps or provide strong reserve minutes at both the power forward and center positions. His ability to shoot and defend without needing many touches means he can play with both the first and second teams while having an impact on the floor. At $8.75 million a year, the 27 year-old big man is a solid pay and, following his inaugural season, he should grow into a steadying background presence for this Dallas team.
Worst Move – Re-signing Dwight Powell (3 yrs, $33 million)
I actually like Dwight Powell more than the average fan, I think he has continuously improved offensively, adding a jump shot that I'm not sure anyone could have foreseen when he entered the league, but Powell is a poor defender with bad instincts and no back-up center in the league should be making $11 million a year; hell most staring centers in the current version of the league shouldn't be making that much.