With just 4 NCAA sophomores drafted in the 2016 1st round, and 10 overall draftees, it still ended up doubling the output of last year's junior class. The sophomore class is usually highlighted by some players who had a legitimate chance to be one-and-done but for various reasons decided to come back, work on their games, and enhance their draft stock. This year there are a number of prospects at the top who did just that and should be in line to be more ready to contribute than they otherwise would have. Here are the top 15 sophomores for this year's NBA draft.

NCAA Sophomore Rankings – Class of 2019
1. Ivan Rabb 6-10 220 PF/C California
Choosing to return to school could not have been an easy decision for Ivan Rabb, who was seen as a likely lottery selection in the 2016 draft. His reasoning was very refreshing in that he did not just want to get drafted; he wanted to be ready to play once he was. His strength is a work in progress but continues to improve.
After missing the first two games due to injury, Rabb has struggled some to meet his gigantic expectations as a pre-season All-American. Though he seems to be hitting his stride as Conference play has begun, with a huge upset win over USC on their court. Even so, he does things one desires from a big and seems to fit well as a modern day center. He has good hands, with the ability to use either in the paint. He excels on offensive rebounds, finishing put backs and lobs above the rim. The other thing that stands out about Rabb is his ability to get to the line, he's aggressive and willing to sacrifice his body close to the basket.
He needs to improve his post defense, as he struggles at times when asked to defend in space. He does provide length and solid effort on that end, however. He is also aggressive close to the basket, even if he can become more efficient. Rabb has nice touch on his shot and while his athleticism is not out of this world, he still has good agility and leaps well for a big man. Without Jaylen Brown, his usage has increased and he has shown ability as a passer as well. He may indeed be best as a small ball center, with enough size and semblances of athleticism to possibly provide minutes at the 4 spot as well.
2. Luke Kennard 6-5 200 SG Duke
With a strong showing as a freshman, Kennard seemed to have trouble finding his outside shot during his first year at Duke. Fast forward to this season and not only is he at 44.7% 3PT, on four made 3s per game, he has also improved his efficiency as an overall scorer. The lefty is being asked to carry a large offensive load for the Blue Devils and has delivered. He also has displayed that he is not necessarily a one-trick pony, as he passes and rebounds very well for a guard as well. While not necessarily an explosive athlete, he has sneaky athleticism and with adept ball skills he needs a very small window to get his shot off. Even with a lack of ideal length and athleticism, he's become Duke's #1 option offensively and top overall player. If Duke cuts down the nets in Arizona, it will certainly help his stock.
3. Dwayne Bacon 6-7 220 SG/SF Florida St.
Bacon has great size for the wing to go along with solid athleticism, and he actually led the Seminoles in scoring as a freshman over 1st round pick Malik Beasley. However, the difference between he and Beasley came down to shooting and efficiency. Early on, he has shot better across the board and seems to be more fastidious in his decision-making. He is still prone to sloppy play on both ends, as he can lose focus, leading to bad passes, defensive lapses and forced shots. He is a very high usage player who excels in transition and even shows some promise in the pick-and-roll. His athleticism and size on the wing, along with his scoring ability, have Bacon firmly on the first round radar. Already 21-years old, it seems very likely he tests his luck this year.
4. PJ Dozier 6-6 205 SG/PG South Carolina
Though Dozier plays on the ball often at South Carolina, he appears to be more of a 2-guard with combo guard skills. Luckily, given his size and athleticism, this could ultimately work in his favor. He shows potential as a shooter off of the catch and has shown better efficiency in that aspect as opposed to creating off the dribble. Defense is one area where Dozier has shined as a sophomore, with a fantastic 5.4% steal percentage, plus the versatility to defend multiple positions. With nice vision and an ability to handle the ball in the open floor, this gives you an idea of where his value lies moving forward. He started the season slowly, though since South Carolina's win over (at the time) ranked Syracuse, Dozier seems to be gaining confidence and therefore drawing additional attention.
5. Tyler Lydon 6-9 220 PF/SF Syracuse
On last year's surprise Syracuse run to the Final Four, Lydon played the role of stretch four about as well as one could, spacing the floor with his outside stroke while also providing adept rim protection, as he blocked 20 shots (4 bpg) in the NCAA Tournament alone. With "3-and-D" usually being used to describe qualities one looks for in a wing, Lydon seems to be more of a PF, with some ability at times to switch onto the wing. Lydon has been a fantastic long-range shooter at Syracuse, where he is shooting 43.5% 3PT (on 2.5 makes per game) at this point in time. His body still could use more development, though he runs well and moves fairly well laterally. While he has not increased his usage as much as one might have expected, he has still shown flashes in just how adept he can be offensively. He has shown some ability as a passer, and he is adept in both the pick-and-roll, pick-and-pop. With advanced shooting with some defensive versatility, Lydon should remain in first round draft conversations.
6. Jawun Evans 6-0 190 PG Oklahoma St.
With flashes of brilliance as a freshman, including a 42-point game in a loss to eventual Final Four team Oklahoma and a 22-point, 8 assist outing in a win over Kansas, Evans' season ended in early December due to shoulder issues. So far this season Evans has upped the bar and shown qualities of a strong floor general. He is making a killing running the pick-and-roll, is dangerous in the open floor and has improved as a shooter both off the catch and bounce. He could stand to cut down on turnovers, though he has been down from last year and in producing at a high efficiency given his usage. He also has more steals than he did last year in half as many games, averaging 2.5 spg and showing improved instincts on that end of the floor. He is definitely on the small side, even with a 6'4 wingspan, but Evans shows a great feel and embodies a lot of the things teams look for when scouting point guards.
7. Edmond Sumner 6-5 185 PG/SG Xavier
With great size and athleticism at the lead guard spot for Xavier, Sumner has also shown major improvement in terms of strength that seems to have helped his efficiency inside the three-point arc. He has a quick first step, can create off of the dribble, showing potential in the open floor and in pick-and-roll. The major issue right now for Sumner is his inconsistencies as a shooter, where he has made only 10-36 (27.8%) 3PT, not surprisingly down from last year where he only shot 30%. His shot does seem workable, but he can also work on his decision-making and even finishing close to the basket. Sumner still provides combo-guard skills with nice size and athleticism, with ability that can certainly be developed given time.
8. OG Anunoby 6-8 235 PF/SF Indiana
Although his wingspan (coming from good sources) is closer to 7'2.5 as opposed to the 7'6 rumor that seems to be going around, his length is still impressive. His versatility as a defender is standout, with quick feet, plus length and instincts. He displays lateral quickness to go along with a meaty 235 lbs frame. Given his body and size, he should be able to log time at both forward spots, with the added bonus of his showing promise defending on the perimeter. He has also turned into a pretty solid shooter when he gets time to set his feet. He needs to become better at creating offense for himself as well as getting 3 point shots off. He is finishing well close to the basket, while having adapted well to a larger role. A couple of things to monitor going forward are his FT shooting, which is currently at 54.5% after shooting 47.6% as a freshman, and his 3-point shooting, which is currently a disappointing 33%. Anunoby has the physical tools and ability that should make him a sought after commodity to carve out an important NBA role.
9. Cam Oliver 6-8 235 PF Nevada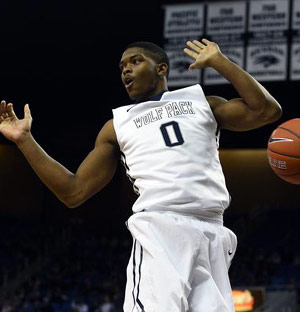 With great strength and some explosive leaping ability, Cam Oliver has become one of the more intriguing mid-major big men to keep an eye on from a draft perspective. The major positive step forward he has taken as a sophomore has been in his long-range shooting, as he has averaged 2 made three-point field goals per game, at a 39.5% clip. Surprisingly, his percentages inside the arc are down, along with his rebounding. What he does provide in terms of rim protection at the college level is promising, though no guarantee that it translates given his lack of ideal PF size, not to mention that he still has issues with foul trouble at times. Come conference season, if he shows some improvement in terms of his efficiency inside the arc, then he could pique the interest of teams.
10. Aaron Holiday 6-1 185 PG UCLA
The brother of two NBA players, Holiday has some nice top end speed and showed he could make outside shots as a freshmen. This year, with a couple strong freshmen additions, Holiday has played a vital role for a UCLA team that is among the top handful of teams in the nation. Playing on the ball on a consistent basis, he has become one of college's premier 6th men, plus he tends to be playing starters minutes and is in the game when it matters most. With the speed to beat a press and ability to create off the dribble, Holiday has shot lights out thus far at 30-61 (49%) 3PT. He is also a pesky on-ball defender and a threat to cause turnovers. He can still be a bit loose with the ball at times and his size is not ideal, but his improvement has been vital in the success of the undefeated Bruins.
11. Lagerald Vick 6-5 180 SG Kansas
After playing sparingly as a freshman, Vick has earned a firm spot in the Kansas rotation, even starting at times. Possessing solid speed, athleticism and length at the two-guard spot, Vick has also shot quite well off of the catch. He is 20-45 (44%) 3PT this year, while also providing strong rebounding for a guard as a sophomore. He has yet to show much of an ability to create for himself or others off of the dribble, but has shown flashes slashing to the hoop and with lateral quickness as a defender. His body also appears to be in a stage where it is still developing, though he has impressed scouts with his athleticism and shot. He certainly has made major strides as a sophomore and is someone who is already on the radar.
12. DJ Hogg 6-8 220 SF Texas A&M
After struggling efficiency wise as a college freshman, Hogg has come along quite well and shown quite a bit of promise as a sophomore. Known as a scorer, with some strong form on his jump shot, he has been a playmaker for a Texas A&M team in need of a creator. He is also at 37-86 (43.0%) 3PT, making 2.6 three pointers per game at this point of the season. He is not overly explosive and he is struggling at the foul line, while also not getting there very often. Defensively, he closes out fairly well and gives a good effort, even if he is not incredibly quick laterally. His playmaking ability as of right now is a major step in the right direction and since he has shown more than the ability to only create for himself, this only helps his cause.
13. Caleb Swanigan 6-9 265 PF/C Purdue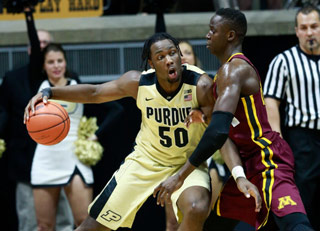 "Biggie" has been an absolute force in the Big 10 and is the likely Player of the Year in the Conference. He's a beast on the block giving incredible effort for rebounds as well as strong play defensively. While he lacks ideal speed and athleticism, he has an excellent feel for the game and a tireless motor. Swanigan has added a new wrinkle to his game with a very effective outside shot. While he may struggle some on switches defensively, he is a handful on the block due to his great strength and tremendous length, as he has been measured with a 7-foot-3 wingspan and a 9-foot standing reach. Swanigan is seen as a likely early second rounder who could creep into some first round conversations if he finishes as strong as he played the first half of the year.
14. Thomas Bryant 6-10 255 C Indiana
Bryant plays with his heart on his sleeve and brings a lot of energy, along with a 7'6 wingspan and 9'3.5 standing reach. Needless to say, size is not really an issue, and he uses that to help out on the boards. He keeps a lot of plays alive and gets a good deal of garbage buckets. While his size allows him to help with post defense, his lack of lateral quickness and slow reaction provide some major issues moving forward. He is not really creative in the post and has tried to offset this with his spot-up shooting, which has worked in spurts. He certainly plays hard and has legitimate center size, which likely gets him NBA looks. It just seems with the current speed and skill of the game and his at times erratic play, he may be much less valued than he would have been a few years ago.
15. Mikal Bridges 6-7 210 SF Villanova
Bridges was a role player for the surprise champion Villanova Wildcats, playing great defense and scoring off of the ball, sometimes at crucial junctures. At around 6'7 with an over 7-foot wingspan, he has lateral quickness to defend the perimeter and shows some potential as a shooter as well. He has upped his three-point percentage and has done an excellent job finishing at the hoop as well. He even flashes some ball skills, averaging 2.8 apg to only 0.8 topg. Still carrying a remarkably small usage percentage at 14.7%, one wonders whether he will ever put it together to be a more assertive offensive option. At this current point in time, he has some solid tools and plays his role to a tee on a team that is certainly accustomed to winning.
Follow Michael on Twitter @NBADraftMikeyV. For any comments or questions feel free to e-mail him at [email protected]