The Grind Session provides a league for prep schools and have had numerous NBA player come through the league in it's few years of existence. This year's World Championship provided plenty of talent over four days of competition.
The Grind Session Season Awards:
MVP
LaMelo Ball – Spire Institute 2019

Offensive Player of the Year
Terry Armstrong – Bella Vista Prep 2019 (Arizona)
Defensive Player of the Year
Jeron Artest – Bella Vista Prep 2020
Coach of the Year
Jermaine Jackson – Spire Institute
First Team
Nimari Burnett – Prolific Prep 2020
LaMelo Ball – Spire Institute 2019
Damion Baugh – Tennessee Prep 2019 (Memphis)
Terry Armstrong – Bella Vista Prep 2019 (Arizona)
Daishen Nix – Trinity International 2020
Second Team
Myron Gardner – Spire Institute 2019
Oscar Lopez – Hillcrest Prep 2019 (DePaul)
Zion Harmon – Bella Vista Prep 2021
Addison Patterson – Bella Vista Prep 2020
Isaiah Jackson – Spire Institute 2020
Third Team
Rocket Watts – Spire Institute 2019 (Michigan State)
Dashawn Davis – Our Saviour Lutheran 2019
Moussa Diabate – DME Academy 2021
Julian Newman – Downey Christian 2020
Prosper Obidiebube – Aspire Academy 2019

Champions
Zion Harmon 5'11 175 PG – Bella Vista Prep 2021
Harmon won championship game MVP with 23 points, nine rebounds, and six assists; playing well all weekend. He was creative off the dribble, scored well from midrange, and setup teammates to score. He does settle for contested step backs at times, but he hit a lot of difficult shots and controls his body very well. He showed shooting range from NBA three, getting into a zone as a scorer, handles the ball well under pressure, and drew numerous fouls. Originally ruled ineligible for Marshall County High School, Harmon transferred to play for Bella Vista and has been fantastic for them. He's strong as his body is mature and is physically developed for his age, he lacks great size/length, and he's not an explosive athlete. However, it's well documented that he's a hard worker, provides a strong basketball IQ, and has been very productive when given the opportunity. Harmon's weekend averages were 23.8 points (28-59, 47.5%), 10-27 (37%) 3PT, 29-37 (78.4%) FT, 4.8 rebounds, 3.3 assists, and 3.8 turnovers per game.
Terry Armstrong 6'5 170 SG – Bella Vista Prep 2019 (Arizona)
Armstrong played well as a scorer; in the first three games, Bella Vista was able to push the ball and score a lot in transition, where Armstrong thrives. The championship game against Spire was slowed down and both teams were forced to play at a slower pace than they're used to, which limited Armstrong offensively, but he was able to pick it up from the free throw line, where he scored ten of his 12 points. His run/jump ability are high-level but his handle is shaky, and he settles for a lot of contested fadeaways. Overall, he was too much for the opposition to handle but he has some areas of improvement when he steps on Arizona's campus in a few months. He's had a good season and was major to Bella Vista's success. Armstrong averaged 12.8 points (16-41, 39%), 19-24 (79.2%) free throws, and 6.3 rebounds per game.
Addison Patterson 6'6 190 SG/SF – Bella Vista Prep 2020
Patterson didn't get a lot of playing time in Bella Vista's first game and only scored two points, but he was big in their championship run. He's able to create scoring opportunities for himself, likes to play physical, and plays well in both transition and in the half court. His athleticism was on display and he defended well. He needs to improve his three-point shooting but knows how to play to his strengths to put points on the board. Patterson's toughness and competitive nature was big for Bella Vista and they couldn't have done it without him, finishing with 17 points and 12 rebounds in the championship game. Patterson averaged 10.8 points (15-35, 42.9%), 3-10 (30%) 3PT, 10-11 (90.9%) FT, 6.5 rebounds, three assists, and 2.5 turnovers per game.

Runner Up
LaMelo Ball 6'6 180 PG – Spire Institute 2019
Ball impressed in all four games. He was able to fill it up statistically while bringing excitement to the crowd. Although he doesn't hunt for his own shots, he had no problem scoring with an average of 25.8 points per game while shooting 47% from the floor over the four games. He has shooting range anywhere within the half court but at times he settles for shots deeper than necessary when a better shot could have been taken, shooting 12-34 from three (35.3%). He's a very good rebounder on both ends, for his position, averaging eight per game (3.3 offensive) over the tournament. His passing is top notch, throwing baseball outlet passes after rebounds and no look lead passing in the half court, with eight assists to 1.8 only turnovers per game. When he's committed, he defends very well, utilizing his length on the ball or double-teaming off his man to strip the ball handler, and he has a knack for jumping passes, recording 4.5 steals per game which resulted into instant offense. Ball is very smooth and has good body control, finishing with dunks at times. While he doesn't have elite explosive ability, especially off two feet or in the half court, his tip slams generally come from him sneaking in off a sprint.
Rocket Watts 6'2 175 PG – Spire Institute 2019 (Michigan State)
Like usual, Watts filled it up as a scorer. He scored well in transition as well as in isolation. He created well for himself, hitting pullups and step backs in the defender's face. He needs to improve as a point guard, so his nine assists in the game against Hillcrest Prep North was good to see. He's a high-volume shooter, letting it fly from three with 53 attempts (13.3 per game) in the four games. Watts plays hard on both ends of the court, showing strong defense on the ball. His averages (32-72, 44.4% FG), 20-53 (37.7%) 3PT, 4.5 assists to 2.8 turnovers, and 1.8 steals per game.
Myron Gardner 6'6 190 SF – Spire Institute 2019
Despite not getting the same attention as Spire's top three prospects, Gardner's been an asset this season. He's a good athlete and it translates well into game situations. He fits in with Spire's fast pace game, as he likes to run the floor to finish and full court trap on defense. He's versatile on both ends; scoring inside and out, also defending a few different positions. His production increased as the tournament progressed, and he was big in the championship game scoring 30 points and grabbing ten rebounds in the 96-94 loss to Bella Vista Prep. Gardner's averages over the four games were 18.3 points (28-49, 57.1 FG%), 5-10 (50%) 3PT, ten rebounds (three offensive), three assists, two steals, and one block per game.
Isaiah Jackson 6'9 180 PF – Spire Institute 2020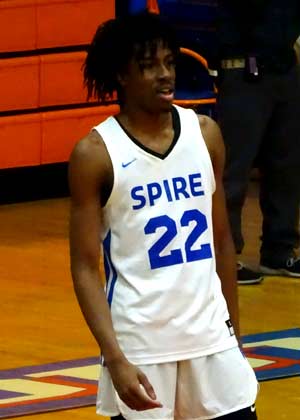 While Jackson had his moments, but he was limited with foul trouble every game. He tends to bite on pump fakes and tries to block some shots that he should look to contest. He flashed upside though, exploding off the ground very quickly without gathering, blocking shots and throwing down dunks in traffic. Some of his finishes he jumps from outside the paint and his aggression level/motor match his natural ability. He's shown improvement offensively, but he needs more in the half court. Jackson averaged 12 points (21-27, 77.8%), 7.8 rebounds, two assists, 2.5 blocks, and 4.3 fouls per game.
Semifinalists
Nimari Burnett 6'3 185 PG – Prolific Prep 2020
In Prolific Prep's first two games, Burnett was his usual self; creating off the dribble, knocking down threes with good arc, and drawing fouls at a high rate. He scored 21 points, going 4-7 from three and 7-8 from the free throw line, while also recording six rebounds and five assists in the 84-62 win over Potter's House Christian Academy. He followed up with 25 points, with another 4-7 3PT shooting night, and seven rebounds to beat Minnesota Prep 77-57. Prolific would eventually be eliminated by Bella Vista Prep 85-62 and Burnett couldn't connect like we're used to seeing, scoring 18 points but only shooting 1-8 behind the arc. Burnett's had a fantastic season and has been the core of the team's success. Over the weekend, Prolific Prep announced the big news of the addition of Jalen Green to join Burnett in the backcourt next year.

Quarterfinalists
Daishen Nix 6'2 195 PG – Trinity International 2020
Nix is a very impressive ballhandler and passer. He isn't fazed with defense in his grill and is so instinctive on the move; changing speed and direction with the ball to whip a pass to a teammate in stride when they don't even realize they're open. Spire has a lot of length and tries to full court trap, but Nix was able break the defensive pressure and handles contact well with his strong body to finish with a variety of layups. His outside shooting (1-7 3PT against Spire) can improve as he tends to drop his shot on his shoulder a bit and has a staggered stance at times which doesn't look like the most comfortable base. Nix was good on defense as well. Trinity International beat The Rock School 82-68 in the first round but lost 98-55 to Spire in the second round, where Nix posted 14 points, ten rebounds, five assists, and nine turnovers.

First Round Exits
Devan Cambridge 6'5 180 SG – Hillcrest Prep North 2019
Cambridge might have been the best athlete in the tournament. He put on a show in the open floor and covered a lot of ground with his strides to finish with authority, pulling off windmills and catching an oop off the backboard with his left hand. He also had some put back dunks and chase down blocks while making it look easy. He has a shaky handle, picking up his dribble with pressure and handing it off for someone to get. His ball skills and shooting aren't up to par with his athleticism, missing all eight of his three-pointers over the two games, but he was impactful on the floor. Cambridge finished with 37 points, 21 rebounds, and six turnovers in the 85-78 play-in win against Downey Christian and 12 points in the 102-67 loss to Spire Academy.
Moussa Diabate 6'9 190 PF – DME Academy 2021
In my opinion, Diabate is the best long-term prospect in the tournament, showing a resemblance of Pascal Siakam. He has face up skills with great coordination at his height. He runs the floor well and is a good athlete. With solid passing and court vision, he's effective in the high post where he can dump off/kick the open man, drive, or pull up for a shot. He can put the ball on the floor and even brought it up a few times. His jump shot isn't a finished product, but he shows solid form, scoring inside and out. DME had too many live ball turnovers that never allowed them to get back into the game and close the deficit, losing to Minnesota Prep 66-53.