This is a fortunate year for NBA scouts as most of the chalk teams advanced and are still alive. Meaning that a good number of the lottery picks and first rounders continue to be on display and will be facing stronger competition on the highest level, the Sweet Sixteen and beyond. This year's NCAA tournament has had a number of instant classics including Duke's escape against UCF. With rule changes coming, it's important to savor the opportunity to see players like Zion Williamson and RJ Barrett compete in the Big Dance. The one-year out of high school eligibility rule is expected to dissapear following the 2020 draft. Scout's jobs will become a lot more difficult in two years when half of the lottery will likely be drafted out of high school… Here's a look at the prospects that stood out, both positive and negative, after the first weekend of tourney games.
Rising
Ja Morant 6-3 175 PG Murray St. So.
Morant proved what he had already proven all season, that he's a dynamic, next level athlete with standout point guard skills, who excels in making those around him better and impacting games. The difference being, he was able to do it on a much greater stage, against high level competition. And it was clear that he was head and shoulders above the competition, talent wise.
As we wrote in late December, Morant figures to be the "other" player that a team will have to consider taking with the number one pick, outside of the obvious, Zion Williamson. That article was put out at a time when nobody else had Morant in the top 10 of their draft projections.
Ja was absolutely sensational in both of Murray State's tournament games. They ran into a buzz saw, in the form of the Florida State Seminoles, who went on an offensive run that could have knocked out any team of the tournament that night. Morant helped Murray State build an insurmountable lead against Marquette, and after the game Marquette coach Steve Wojciechowski gave him incredibly high praise saying, "Ja Morant makes a lot of players look bad. I've been in this for a while. He's as good as any guard that I've coached against, or played against, and I've coached against and played against some outstanding ones."
Morant's delayed ascent into elite level player has been a true blessing, as he learned the benefit of hard work and paying attention to details. Morant put his stamp on the NCAA tournament, spearheading a 12 seeded team to a blowout win over Marquette. he has drawn a lot of comparisons to Russell Westbrook and while the level of intensity, and hyper athletic profile fit, his measured approach to the game is on another level. Morant appears to understand how to slow the game down and be more of an emotional leader for his teammates. While it will be extremely difficult for any GM to go against the wave of hype around Zion Williamson and select Ja Morant over him, there are signs that Morant will ultimately end up the better NBA player. At the very least, Morant has made it a discussion, which should add further intrigue to this year's draft.
Unlike two recent number one picks, Ben Simmons and Markelle Fultz, Morant was able to carry his (undermanned) college team into the NCAA tournament and win a game. From an impact stand point, he has seemingly had a greater team impact than those aforementioned number one picks.
Zion Williamson 6-6 280 PF Duke Fr.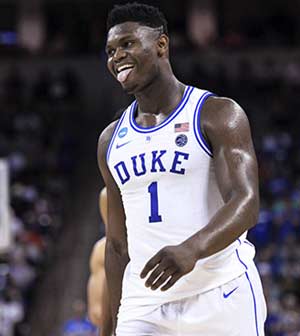 Williamson has proven that he's ready to step up to any challenge and his competitiveness is undeniable. He's got a wow factor in that we really have not seen a player quite like him. His agility, speed and explosiveness for a player with his dimensions seems to defy physics. He's an absolute physical marvel and his anticipation and ability to beat opponents to the punch is truly at an elite level. He's shown excellent maturity and growth in his season at Duke, developing from a raw physical specimen into a disciplined player on both ends. His jump shot has even developed to the point where if he gets an open look from 3, he can knock it down. He still isn't able to shoot it off the dribble or in rhythm, and still has a ways to go with his face up ability, but there's encouraging signs related to his ability to expand upon his current offensive skill set. The Barkley comparison is starting to gain more traction. The similarities being size, dimensions and playing style as well as their ability to emotionally knock out opponents, and their ability to make plays in the open floor.
Zion's vision and passing skills are underrated, and his full court bounce pass to Tre Jones towards the end of the first half against UCF was a thing of beauty. Zion figures to be the number one pick, and deservedly so, and if he's able to stay injury free throughout his NBA career, he'll have a legitimate chance to be be among the top players of his era. The main concern being, similar to Derrick Rose, his incredibly explosive style may take it's toll on his body and limit him from having a lengthy career. But it's difficult to project injuries and a team would face a great deal of fan pressure if they opted not to select Zion. NCAA fans, enjoy Zion while he's here, because with the new rule changes, kids with this level of talent are soon to be bypassing college like the era between (KG '95 and LeBron '03) 1995 and 2005.
Nassir Little 6-6 220 SF North Carolina Fr.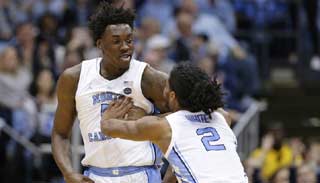 Some contend that Coach Roy Williams holds back certain freshmen from fully displaying their abilities. Others would argue that it's more the system that inhibits freshmen or certain positions to stand out. Regardless, Little has been trending in the right direction in the latter part of the season. He's a bit of an x-factor for the Tar Heels, as he's coming off the bench for them and giving them a nice spark with athleticism and length utilized on both ends of the floor. Little didn't stand out and struggled to produce up to expectations for a lot of the year. But he's producing in the tournament and showing some ability to not only make easy baskets, but create offense for himself with legitimate moves. He has hit some mid-range turnarounds jumpers and obviously is a standout from a run jump athleticism standpoint. Little is now questionable to play against Auburn in the Sweet Sixteen, so we'll hope that we haven't seen the last of Little in a college uniform.
Brandon Clarke 6-8 215 PF Gonzaga Jr.
Clarke has been terrific all season but chose a great time to have his best game of the year. Against Baylor, Clarke exploded for 36 points and 8 rebounds, and a phenominal 15-of-18 from the floor. Clark is a bouncy athlete who scores and rebounds a lot of his production due to his incredible leaping ability. he transformed his jumpshot over the summer and it has certainly improved as he looks a lot more comfortable shooting mid range jumpers. While Clarks lacks ideal size for a post player at 6;8 and just 215 lbs, he will have a chance to sneak into the late first round due to his tremendous play this season. Also working against him is the fact that he'll turn 23 in September. He is best advised to enter this year's draft and continue to work on his offensive skills and body at the next level.
Dylan Windler 6-7 200 SG/SF Belmont Sr.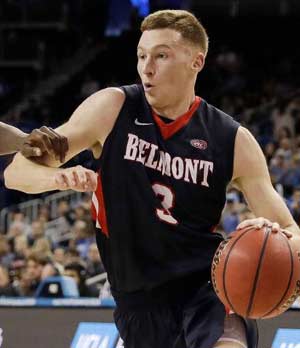 The Belmont senior has been on scout's radar all season as a potential draft pick and could in fact sneak into the late first round, according to contacts, following such an impressive shooting display in the tourney. Playing in the Ohio Valley Conference, Windler struggled to some degree to gain the notoriety that he deserved. He will turn 23 in September, and players his age rarely are able to entice teams into drafting them in the first round. However, Windler has a highly sought after commodity being such an elite level outside shooter. Windler has hit at a high clip from three over his entire career, and was at 43% as a senior with 100 makes on the year. He also averaged 10 rebounds per game. Whether or not he has the necessary strength and defensive ability will be areas of his game that will dissected. He showed off his wet shooting stroke in the team's first round loss to Maryland. But he carried Belmont to the near upset with 35 points, knocking down 7-of-14 threes in the process. While his "play in" opening round game against Temple was a throwaway, as he scored just 5 points, his performance against Maryland had scouts buzzing following the first round of games.
Mfiondu Kabengele 6-10 250 PF/C Florida St. So.
Kabengele, Coming off the bench for the Seminoles, has been their ace in the hole. He has been extremely productive and efficient for the Seminoles in each of their tournament games. Just a red-shirt sophomore, he's beginning to draw interest as a first round prospect. He's one of the more versatile prospects in college with his ability to defend, as well as score in a variety of ways. He's got a huge 7'2 wingspan and can knock down mid-range and even 3 point shots, as well as operate in the post. Kabengele was able to put up two 20 point games for the Seminoles as they got past Vermont (21 and 10) and then blew out Murray State (22 and 7), hitting 2-2 from three against the Racers.
Aubrey Dawkins 6-6 200 SG Central Florida Sr.
Despite missing a potential game winning tip in shot that will likely haunt him for the rest of his life, Dawkins performed admirably on the biggest stage showing why he should be considered for the next level. Coach K described his play after the game being "magnificent". Playing for his father Johnny Dawkins and with all of the history, with him being so instrumental in the career path of Coach K, as the player that really put Duke on the map, it was understandable why things became so emotional on both sides following the game. Aubrey hit 5-for-7 from three, 12-18 overall, finishing with 32 points, matching Zion Williamson's output. And it wasn't only the scoring output, but the magnitude of some of the shots he hit. Dawkins is a long, athletic wing who will have a chance to catch on with an NBA team. He may lack the upside of other prospects, as he turns 24 in just over a month, but he has excellent perspective and maturity. He's been on the radar for a number of years, having starting his career at Michigan. The performance against Duke puts him back in the discussion for being a draft pick, assuming he leaves this year, and he'll have a shot to make a roster as a draft pick or undrafted free agent.
Falling
Caleb Martin, Cody Martin 6-6 200 SF Nevada Sr.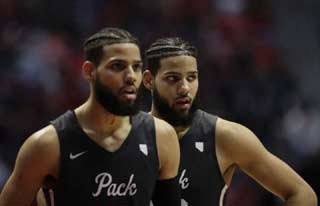 The Martin Twins were unable to draw enough interest in the predraft process last year and decided it was in the best interest to return for their senior years. Nevada came into the season rated extremely high on many preseason lists. But the Wolfpack struggled to live up to their preseason expectations and had a rough showing in the tournament. Caleb is the scoring twin, while Cody is more versatile and able to play some point guard and handle and pass a bit better. What's crazy is that Cody seems to have the better looking shot, while Caleb seems to have developed a hitch in his shooting motion. He doesn't have a smooth delivery and sort of sling shots the ball on his release. While it's somewhat effective at the college level, those unorthodox shooting forms generally get exposed further at the NBA level. Caleb put up an impressive 19 ppg on the season, and shows a solid ability to create baskets for himself on the perimeter. On the negative side, both twins will be 24 in six months and they're coming off a season in which they didn't appear to improve much. Martin's 2-11 3 point and 5-22 overall from the field was difficult for Nevada to overcome against Florida, despite a valiant comeback.
Miye Oni 6-6 210 SG Yale Jr.
Oni is rumored to be a strong candidate to declare for the draft and leave Yale this season. He has the option to return for his senior year, but had an excellent season and is considered a likely draft pick by NBA scouts. He had a rough showing in the NCAA tournament, scoring just 5 points on a miserable 2-16 shooting. He did have one strong drive and dunk late, but the overall impression was not positive in their loss to LSU. While he struggled in Yale's only tournament game, his performance on the season has scouts convinced that he can play at the next level. He's considered a likely 2nd round pick, and the shooting woes in the Big Dance shouldn't affect his stock too much.