By Aran Smith
2/22/08
Rising
Russell Westbrook 6-4 187 SG UCLA So.
No player has seen their stock take a greater jump this season than Russell Westbrook. Despite being projected by NBADraft.net as a top 20 pick in 2009 prior to the season, few scouts were tracking or mentioning Westbrook.
He averaged just 3.4 points as a freshman and was seen as a tweener who was expected to serve in a back up role.
Westbrook is now one of the hottest names among NBA scouting circles and is considered likely to be the first UCLA's player taken (over both Collison and Love) in the 2008 draft.
Before the season began, the assumption was that Westbrook would be a key complimentary player and Howland would have him back for his junior season.
t's common for coaches to "hide" a talented but raw player or limit their minutes in an effort to keep them around, and that appeared to be the gameplan for Westbrook. But he's just been too good. With as well as he has played and the amount of interest that NBA teams are showing in him, that now appears to be a moot point.
Despite a recent shooting slump from 3 point range, Westbrook has shown the ability to score in a variety of ways, and appears to have broken out of his drought, hitting 2-3 Thursday night against OSU.
His ability to pass, creating baskets for teammates and run the point guard position gives him great versatility at the next level. His phenomenal speed and quickness make him a nightmare to match up against.
Westbrook held OJ Mayo, a player who some "experts" projected as the #1 pick coming into the season to 2-8 shooting and 4 points with 10 turnovers. Thus making a loud statement that despite all the hype surrounding Mayo, he is a better pro prospect.
Kevin Love receives most of the accolades with analysts putting him in the National Player of the Year conversation, but Westbrook has quietly been the Bruins MVP with his brilliance at both ends of the floor. His ability to lock down the opposing team's top guard, combined with a team that has made two straight final four runs (plus the addition of Love) has the Bruins looking like the team to beat in this year's NCAA tourney.
Scouts are absolutely gushing over Westbrook. With his defensive excellence and potential to become a go to scorer, he's being discussed as a possible top 10 pick for the 2008 NBA draft.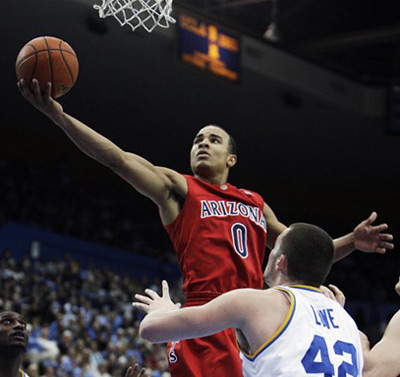 Jerryd Bayless 6-3 182 PG Arizona Fr.
Since coming back from injury, Jerryd Bayless has been a man on a mission with four 30 point games including a 39 point effort against Arizona State in which he shot 12-18 from the field and 9-9 from the line.
He single handedly kept the Wildcats in the ball game as the rest of the team shot 11-29 as the Sun Devils held off Arizona for the 5 point victory.
Bayless' early season injury came at a most inopportune time as it robbed college fans and NBA scouts of a Derrick Rose vs Bayless match up.
Arizona's lack of depth has really made things difficult and the injury to Nik Wise has put added pressure on Bayless to both score and run the point guard position.
Despite the team's collapse, Bayless continues to battle every game. His 21.1 ppg is third after Beasley and Gordon among freshmen scorers in the country.
Though Bayless is not a pure point guard, he can surely play the position as so many NBA points nowadays have score first mentalities.
Bayless' talent is unmistakable even to the untrained eye. His ability to score and create shots is on an elite level and though he's just a freshman he's probably the most NBA ready guard in college basketball.
Bayless has put himself among the top handful of NBA draft prospects. He has leapfrogged Eric Gordon on most teams boards, with better size for his position and is considered unlikely to return for his sophomore season. Look for Bayless to end up a top 5 pick on draft day.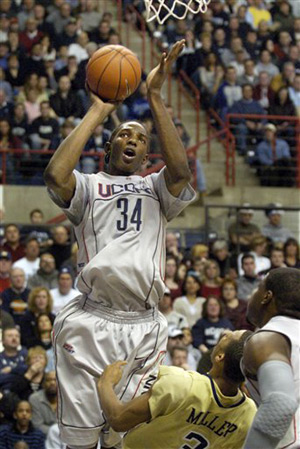 Hasheem Thabeet 7-3 265 C UConn So.
Thabeet's evolution as a basketball player has been one of the most intriguing story lines of this year's college basketball season. Watching his development on the court over the past two seasons is comparable to watching a baby learn to walk.
As Coach Jim Calhoun put it, when Thabeet showed up, he couldn't shoot and could barely even catch the ball. The progression he's made from then to now has been phenomenal.
Thabeet's decision to return to UConn was a gamble. He was a consensus first rounder among scouts, showing a great deal of upside. But what if he had an injury? What if he didn't show any improvement? The risks were great. But the decision to return to school for another year of improvement under Coach Calhoun and staff is turning out to be a tremendous decision.
His second season at UConn has been huge for Thabeet's long term NBA success as he has enhanced his confidence and skills to the point where he has become a game changer and quite possibly the most dominant shot blocker in the country.
Along with AJ Price, Thabeet has been the catalyst of the Huskies' 10 game winning streak upsetting teams such as Indiana, and Louisville along the way. He has stepped up huge at the end of games, showing great desire and determination.
Against Georgia Tech on February 9th, Thabeet had his career best performance with 24 points, 15 boards and 6 blocks.
For some reason, Thabeet has a number of detractors. One draft pundit went so far as to call him a "bust" earlier in the season. This is not John Ramos, a big stiff who had never proven himself at a high level.
Thabeet has excelled at the college level. His 10.9 ppg, 7.9 rpg and 4.4 bpg show that he has improved on both ends of the floor. And his numbers don't even tell the full story as he alters numerous shots affecting the shot selection and percentage of the opposition every night. He is even being mentioned as possible Big East player of the year.
Another rumor that has floated around is that Thabeet has a questionable work ethic. Which is far from the truth. The fact that Thabeet plays 30 minutes per game and hustles down the floor every possession shows what great condition he's in, which for a 7-3 guy takes a great deal of discipline and work.
He's shown huge improvement in his ability to gather the ball and put up shots around the basket or dunk the ball. His touch seems to improve with every game out. These factors really give him hope for being a solid offensive contributor at the next level.
NBA scouts are projecting Thabeet as top 10 pick for this year's draft.<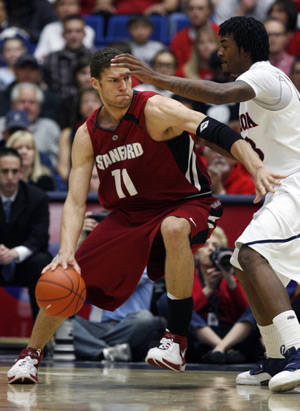 Brook Lopez 7-0 260 C Stanford So.
Since returning from his nine game suspension, Stanford's Brook Lopez has been hands down the top center prospect in the country.
Averaging 19.1 ppg 7.9 rpg and 2.1 blocks per game, Brook has the numbers to back up that claim.
His ability to score on the low block and knock down mid-range shots makes him an extremely intriguing bigman prospect for the next level.
While he still has holes to his game: Scouts question his foot speed defensively, plus he's shooting under 50% from the field (low for a post player).
But in cruchtime of close ball games, Lopez has been nearly automatic for Stanford, providing a legitimate low post go-to player who either scores or draws a foul. His 76% free throw shooting further enhances his offensive effectiveness.
Comparisons have been made about the similarities between Lopez and Tim Duncan which certainly helps his cause, as Lopez shows some of the same smoothness in the post and a similar unflappable, level headed court demeanor.
He's a player who will be able to make an immediate impact as he has the size, strength and post skills to score at the NBA level right now. His ability to score as well as block shots and defend at 7-feet make him the most sought after center in college. Scouts consider Lopez as a likely top 5 pick in this year's draft.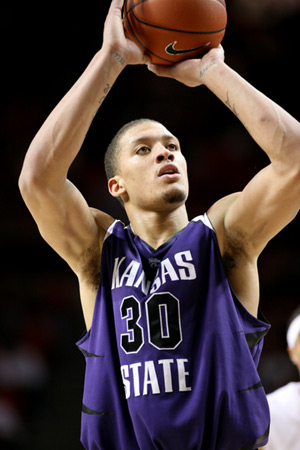 Michael Beasley 6-9 235 SF K.St. Fr.
Mr. Beasley continues to distance himself from the pack as the lead dog for the first pick in this year's draft. He's making a serious run for National Player of the Year, with only Tyler Hansbrough giving him serious competition.
Beasley has better numbers, lesser teammates, more all around skills, and if you switched both guys, it's hard to argue that Beasley wouldn't bring more to UNC than vice versa.
Prior to the Kansas game, there was still some question as to who the top pick in the draft would be. Maybe if a team needed a point guard they would opt for Derrick Rose was the thinking. Beasley slammed the door on that notion by carrying K-State to a huge win over Kansas.
Almost as great as Beasley's performance, leading K-State to the upset win over the Jayhawks for the first time in 25 years on their home floor, was his preseason quote about KU, "We're going to beat Kansas at home. We're going to beat them in their house. We're going to beat them in Africa, Wherever we play, we're going to beat them."
Give him credit, it aint bragging if you can back it up, as they say, and by scoring 25 (9-18 fg) and coming up with clutch basket after clutch basket, Beasley surely walked the walk.
Beasley is having a monster season and would likely be receiving more hype if not for Kevin Durant doing the same thing last year. Be sure just because of the rule change, this is not an every year occurrence. Beasley currently ranks first in the nation in rebounding 12.5 rpg and fifth in scoring at 25.4.
The comparisons with Durant are sure to continue as the season winds down. Is he as deadly a shooter? Obviously not, but Beasley's versatility to score inside and out plus his strength and defensive advantage gives him just as much NBA potential.
The wildcard seems to be his intangibles. Does he have the heart to maximize his immense talent? It's the million dollar question and the team that lands the top pick is destined to find out.
After a lackluster sophomore season coming off of two lost seasons with his legal (laptop) troubles and brain abnormality condition, Price has elevated his game to where he was projected coming into UConn.
Coach Calhoun saw greatness in Price and stuck with him through the legal mess and even after last season when it was beginning to appear that Price was a bust and would never live up to the expectations, Calhoun stuck with him saying the Price was right.
His patience is beginning to pay off considerably as Price has led the Huskies to a 10 game win streak and is playing the best basketball of his college career. His 15 ppg, 6.2 apg and 2.6 a/to ratio matches up with virtually any point guard in the counrty in terms of efficiency.
His confidence is sky high and he's scoring and setting up teammates for baskets and the team is winning. They're now ranked 13th in the nation and they're a Roy Hibbert 3 pointer from being first in the conference. He's become hands down the top point guard in the Big East, and one of the top points in the country.
While there is some discussion that he could land a spot in the first round this year. It seems only right that Price would repay Calhoun for sticking with him by returning for his senior season and continuing to develop and elevate his abilities.
Price is seen as a likely mid-to-late first rounder in the 2009 draft.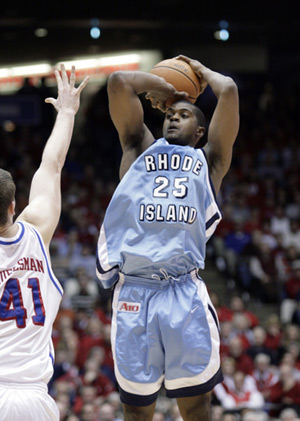 Will Daniels 6-8 225 SF Rhode Island Sr.
Daniels has really developed this season as one of the top seniors in the country. He can do a little bit of everything, and his sheer specimen type strength and athleticism make him extremely intriguing.
Daniels is averaging 18.6 ppg (50.1 fg%) and 6.8 rpg on the year, which is especially impressive when you consider he averages just 28 mpg. And though he's shooting just 34% from 3 point, he showed solid ability to hit the 3 ball going for 42% last year on a high volume of shots (51-122). He appears to be a strong candidate for A-10 player of the year.
While he has a bit of a funky release (as seen in the photo) as his guide hand rests on top of the ball instead of on the side, he gets good lift on his shot and has shown the ability to knock down big shots.
He's a physical small forward, who plays with a high level of intensity giving strong effort on both ends of the floor. He has an NBA body, even drawing comparisons to Ron Artest, and should only get stronger over the next few years.
Celtics GM Danny Ainge was on hand when Rhode Island traveled to Massachusetts. Without question he was there to watch Daniels and there's a real chance Daniels ends up going somewhere near the late first round pick the Celtics possess.
Patrick Patterson 6-8 232 PF Kentucky Fr.
Patterson has been one of the few bright spots for a Kentucky team trying to find itself late in the college season. The Wildcats still are not completely out of the NCAA tournament picture with 10 losses on the year, however their margin for error is shrinking. With just 3 losses in SEC play and a big win over Tennessee, they still have hope, but must finish strong.
Patterson is an absolute beast. In his match up with Tyler Hansbrough, he manhandled Hansbrough, pushing him around like he was a third grader. His physical strength and athleticism combined with his post skills make him a very intriguing freshman prospect.
What he lacks in height, he makes up for in heart, determination, length and athleticism. His wingspan is very good for a 6-8 player, and he is extremely explosive, getting off the ground quickly with a great vertical.
Patterson is a good defender, blocking shots at a solid clip (1.3 rpg). He's an even better rebounder (7.7 rpg), with great hands and a tremendous body. And his scoring ability in the post and shooting from midrange (16.6 ppg) makes him very interesting.
It's unclear if Patterson will return for his sophomore year, but scouts are very intrigued with his potential and see him as a mid to late first rounder should he enter the draft this year.
Falling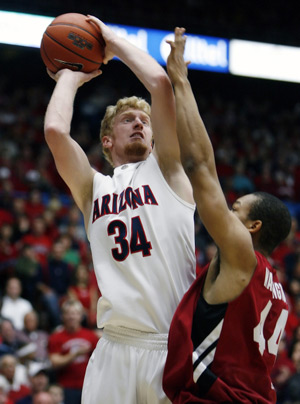 Chase Budinger 6-7 215 SG Arizona So.
Budinger has really struggled with his confidence this season, and especially of late. While he's had a number of big scoring outputs and solid games, too often he follows up a good game with an average or bad one.
To start February, in back to back losses to UCLA and Arizona State, Budinger shot a combined 5-24 with 9 points and 4 points in the two games. Matching up against Russell Westbrook and James Harden was a wake up call for Budinger as the two Pac-Ten standouts decisively outperformed the sophomore.
Chase bounced back with 23 in a one point loss to Stanford being a little more involved offensively. But Budinger's all around game seems to suffer when he's not clicking offensively.
Budinger finished off January with four straight 20 point games with Arizona winning all four. The month of February hasn't been so kind to Chase as he has shot a frigid 31% (19-61) from the field. His free throw percentage has also taken a nosedive (20-31) 64%.
It's become obvious to scouts that Budinger is still not ready and has areas of his game yet to develop before taking his game to the next level.
Budinger is not having a great season as it appears Bayless has stolen his thunder. As great a scorer as Bayless is, he can be a detriment to a player such as Budinger as he dominates the ball and is not great at creating good looks for teammates.
Budinger has shown some progress defensively and in his ability to create off the dribble, but both areas still need a lot of work. Returning next season and playing with Brandon Jennings, who has better ability to make those around him better than Bayless would be useful to Budinger's draft stock and NBA career.
CJ Giles 6-10 235 PF/C Oregon St. Jr.
CJ Giles hit rock bottom after getting kicked off the Oregon State team in January. He played in 10 of the Beavers first 18 games seeing limited minutes and scoring just 6.3 ppg on 42% shooting.
Beavers former coach Jay John had a lot riding on Giles as CJ had been brought in as the team's savior and failed miserably.
After sitting out a transfer year from Kansas, Giles was expected to come in and be one of the better bigmen in the Pac-Ten this year. But for what ever reason, presumably off court distractions and a lack of discipline, his career at Oregon State was cut short.
For a player that showed so much athleticism and potential in his freshman season at Kansas three years ago, the Seattle native has fallen far.
If he decides to declare himself eligible for this year's NBA draft, there's little hope that he will get drafted. He still has basketball talent, but lacks the focus and discipline necessary to tap into it.
Hopefully this will be the wake up call that he needs and he'll be given another chance to pursue his professional dreams in basketball.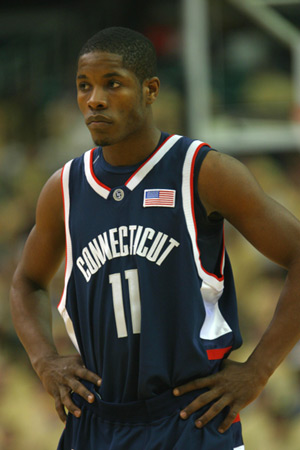 Jerome Dyson 6-3 185 SG UConn So.  
Dyson didn't get kicked off his team like Giles, but he did get suspended for 30 days and the worst part is that the team has been better without him.
UConn has reeled off 8 straight wins in his absence giving credence to those that say Dyson disrupts team chemistry. Granted, Dyson came up huge in some close wins early in the season providing an offensive spark when the team was in need of one.
Failing the drug test (marijuana) hurt Dyson's stock as it took him off the court for a full month and also gives him a reputation as a suspect character guy. He'll need to keep his nose clean over the rest of his career to avoid further damage to his image.
Obviously, testing positive for weed doesn't ruin a players career. Sean Williams went 17th in last year's draft after missing most of the college season due to being kicked off the team. But for a player like Dyson who doesn't have nearly the talent of Williams, this is the sort of thing that can be the difference between being a bubble first rounder and going undrafted.
Dyson is a great competitor and a freakish type athlete, but this suspension puts him on thin ice and he likely will not be granted many more chances, by the school or NBA scouts.
Dyson is expected to be reinstated over the weekend, granted he passes a drug test and is expected to rejoin the team for Tuesday's game against Rutgers.