"Situational Analysis" is a series of articles that seeks to examine the circumstances that most often influence an NBA prospect's success. Each player will be scored on a scale from 1-10 in four different categories: NBA-specific skill(s), fatal flaw(s), collegiate/overseas/pre-NBA environment, and ideal NBA ecosystem.
Michael Porter Jr. is a 19-year-old forward from Columbia, Missouri, who averaged 10 points and 6.7 rebounds in three games for the Missouri Tigers. Porter missed the majority of his freshman season due to a lower back injury he suffered in Missouri's season opener against Iowa State. Porter declared for the NBA Draft on March 29 and is expected to be selected in the top-10. NBADraft.net currently has him projected to go No. 6.

NBA-Specific Skills
When healthy (we'll come back to this later), Michael Porter's game is the total package. Basketball seems to come so easy for him.
Very few players with his height/frame have his blend of athleticism and coordination. Teenage defenders had no shot at slowing him down.
Worried about Porter blowing by you with his strong first step? He'll bury a jumper in your face. Decide to play up on him to give him an obstructed view of the rim? He'll jab-step and rise above you with his high release point. He combines 3-point range with absurd length and finesse around the rim. He projects as a top-tier midrange shooter who can puncture defenses that try to snuff out analytics-approved shot attempts.
He gets to the free-throw line as frequently as anyone his age and knocks those shots down at 80-plus percent. He sees the floor and knows when to shift between scorer and playmaker modes. He can even play off the ball and make things happen with backcuts and pin-downs.
Defensively, the tools are there. Like anyone else this young, he needs to hone his attention to detail on the nuances of high-level NBA schemes, but his length/quickness give him a leg up on many prospects.
What's not to like? We'll get to that in a minute. On potential alone, though, Porter is in rarified air. On a scale from 1 (that dude who shows up to every pick-up game with a t-shirt under a replica jersey and calls a foul every 20 seconds) to 10 (Kevin Durant showing off moments of brilliance at Texas), Porter's potential rates at an 8.5.
Fatal Flaws
Back surgery is no joke.
This isn't a standard-issue injury concern. Back problems at age 19 are terrifying.
Barely two minutes into his freshman season, Porter injured his hip and spent the rest of the game on the bench. On Nov. 22, Porter underwent surgery on a pair of spinal discs. He didn't see the floor again until March 8.
Prior to joining Missouri, Porter was either at or near the top of every 2017 recruiting list. College basketball fans never got to see what put him there. In Missouri's final two games — both losses — Porter made only 9 of 29 shot attempts. It's unfair to judge him based on a pair of games after back surgery, but it's all most fans have.
This is a loaded draft at the top. While Porter's talent is in a class of its own, this back injury — and the fear that it might be a recurring issue — could be enough to cause more cautious teams to seek a safer bet.
It also makes it impossible to judge his potential to create his own shot against NBA-level defenders. His handle is only average, and concerns about his ability to create his own shot against Al-Farouq Aminu-style defenders are real.
Will Porter require an elite playmaker to create opportunities for him? Will back surgery take away just enough of his quickness to limit his ability to separate from world-class defenders? We won't know for sure until we see him on the court against players he can't simply overwhelm with his talent, as he did so often in high school.
On a scale from 1 (Sam Bowie) to 10 (Joel Embiid), concern surrounding Porter's injury history (and his ability to overcome it) rests at a 7.
Pre-NBA Setting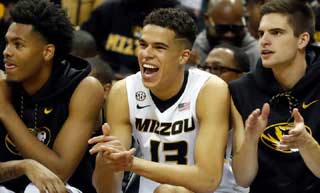 Porter essentially didn't have a college career. There was no real reason for him to endure an unpaid internship at Missouri, anyway, but it still put a damper on what appeared to be a fun Tigers team on paper.
After completing his stellar high school career, Porter originally committed to the University of Washington, but once the Huskies bid farewell to Lorenzo Romar, Porter moved back closer to home with his father, who landed a job on Mizzou's coaching staff.
There is basically nothing on which to judge Porter. He spent more time in doctors' offices than the hardwood this past year.
On a scale from 1 (Ben Simmons at LSU) to 10 (Gordon Hayward going from a lightly recruited 3-star guard to nearly hitting the greatest shot in college basketball history as a sophomore playing under Brad Stevens), Porter's pre-NBA performance rates at an 8 against other high schoolers, but a N/A for college.
Ideal NBA Ecosystem
Porter has a lot in common with Boston Celtics' standout Jayson Tatum. Both players possess smooth, refined-beyond-their-years offensive games, complete with range and touch from all angles. Tatum didn't enter the NBA after rehabilitating a serious back injury, however.
Porter's best bet for success is a team with a sound medical staff who won't rush him beyond what his body can handle. If he commits to a core-strengthening weights/Pilates regimen and adds some bulk to his wiry frame, his chances for success will increase exponentially.
While I am no fan of what the Phoenix Suns have done to a once-promising roster, their renowned medical staff and reasonable proximity to P3's Santa Barbara facility could give his body the edge it needs to fully recover. They will not take him No. 1, however. If Porter's back issues scare off teams in the top 10, the Charlotte Hornets, desperate for a go-to scorer, would leap at the opportunity to take him at 11. He could also provide a much-needed youth/talent boost to the Cleveland Cavaliers at No. 8.
On a scale from 1 (Harry Giles in 2017-18) to 10 (Donovan Mitchell landing in Utah and immediately becoming the face of the franchise), Porter's situational dependence is a 7. He needs a coaching/medical staff that has his long-term best interest at heart.