"Situational Analysis" is a series of articles that seeks to examine the circumstances that most often influence an NBA prospect's success. Each player will be scored on a scale from 1-10 in four different categories: NBA-specific skill(s), fatal flaw(s), collegiate/overseas/pre-NBA environment, and ideal NBA ecosystem.

Darius Garland is a 19-year-old point guard from Gary, Indiana, who averaged 16.2 points, 3.8 rebounds, and 2.6 assists during his five-game freshman season at Vanderbilt University. He is expected to be drafted in the mid-to-late lottery, and as high as No. 4 overall. NBADraft.net currently has him projected at No. 5.
NBA-Specific Skills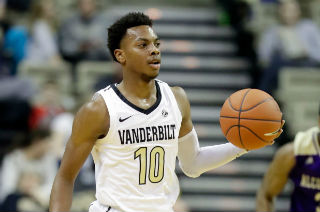 A healthy Darius Garland is among the most creative and electrifying ball handlers in this draft class.
Quick, ball-dominant guards have benefitted from the pro game's elimination of hand checking and expansion of shooting space. Players who can alternately blow by defenders off the dribble and pull up for 3s on sloppy switches are nearly impossible to defend.
Garland's yo-yo-esque dribbling ability and quick shooting release make it easy to envision him as one of the league's next defense-warping lead playmakers.
It's a golden age for players with Garland's talents and physical makeup. Many of them are successful enough to be identified by one name: Steph, Dame, Kyrie, Kemba, CJ – even up-and-comers like Trae. They're shifty, skilled, and thrilling to watch.
Garland needs only a sliver of space to either slither into the teeth of a defense or rise for a 25-foot bomb. His combination of balance and intuition make it extremely difficult for any defender to square up on him. Garland often forces the defense into bad angles.
Although Garland has spent much of his career in a score-first mode, he has exhibited strong playmaking ability when surrounded by players equal to his talent level, as shown by his 11-assist performance in the McDonald's All-American Game.
On a scale from 1-10, Garland's ability to dribble himself open rates at a 9.
Fatal Flaws
I wish we could have seen Garland, you know, actually play.
Garland tore his meniscus two minutes into the fifth game of his freshman season, prematurely ending what was likely to be an All-SEC-level campaign. Injury concerns will obviously be a red flag for any team scouting Garland.
It would have been instructive to see Garland square off against other top-level talent as a way to evaluate whether his lack of bulk would act as a hindrance at the next level. The most generous scouting sites list his weight around 175 pounds, which is rail-thin compared to some of the league's more physically imposing guards, such as Jrue Holiday or Russell Westbrook.
Garland's ability to finish at the rim against elite NBA athletes will also come into question. This is what separates Curry/Irving/Lillard from Rubio/Monk/Lonzo. Finishing at the rim is what allows the rest of a guard's game to flourish.
His slight frame will also partially dictate his defensive impact. Garland competes on that end of the floor with quick hands and a high IQ, but he'll have a hard time hanging against bigger guards and wings if he gets caught on a switch.
It will be interesting to track Garland's development as a playmaker, as well. He has spent his entire basketball life in a score-first mindset. He can make the obvious pass when defenses swarm him. Can he make visionary passes to create openings that don't previously exist?
On a scale from 1-10, Garland's lack of high-level experience and physical strength rate at an 8.
Pre-NBA Setting
Garland's talent became apparent at a very early age. He and his family moved from Indiana to Tennessee when he was in middle school to pursue these opportunities.
It's hard to imagine Garland having a better high school career. He was named Tennessee's Mr. Basketball three times – and that was before a small growth spurt took his height to 6-3.
After shooting up the recruiting rankings, he quickly committed to Bryce Drew and Vanderbilt, becoming one of the school's best hoops recruits. Hopes were high for Garland and the Commodores as he was the only freshman named to the SEC's preseason All-Conference team.
He mostly delivered on that hype in his first four games before that aforementioned knee injury robbed him of a full campaign. Garland and Drew were clearly heartbroken by that development, but it was wise for his long-term development not to rush him back into action.
On a scale from 1-10, Garland's amateur career rates at a 9 prior to his meniscus tear, and an incomplete from Thanksgiving 2018 onward.
Ideal NBA Ecosystem
Garland's best bet for success will be with a team that leans heavily on slash-and-kick basketball and values dribble penetration.
Garland is a good enough shooter to thrive in a half-court offensive attack, but he won't achieve his full potential on a team who seeks to play at a slower pace.
It would also be to his benefit – particularly early in his career – to play alongside strong/physical backcourt mates to help manage some of that day-to-day 82-game grind. While it might be fantastically entertaining to see the Atlanta Hawks try to replicate the Lillard/McCollum attack with Garland and Trae Young, that backcourt could be the worst defensive tandem in NBA history.
With John Wall's injury concerns, it would make a great deal of sense to see the Washington Wizards pair him with Bradley Beal. It's also hard to envision the Chicago Bulls passing on him at No. 7, given their lack of dynamic playmaking in the backcourt.
On a scale from 1-10, Garland's need for the right fit rates at an 8.