The Nike EYBL made its second stop of the spring during the Indianapolis session as many of the nation's top high school prospects took the floor in nearby Westfield. In the 10th year of the EYBL, the league is as strong as ever when it comes to producing high-end talent as a number of talented prospects showed out over the three-day event. Here's a look at how 10 Class of 2020 prospects played in Indianapolis.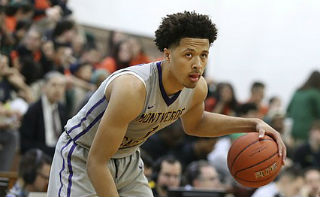 Cade Cunningham, Texas Titans — The Texas native continues to be one of the talks of the grassroots scene with his outstanding play this spring. Following up a strong season at Montverde, the 6-foot-7 Cunningham is making a push as the top overall player in the Class of 2020. Continuing his transition to being a tall point guard, Cunningham is a natural fit for the position thanks to his pacing, his size and his high basketball IQ.
A terror in transition, Cunningham is equally dangerous in the halfcourt as his size enables him to see over opposing defenders and make passes off of live-dribble scenarios. Also good at attacking the rack for his own looks, Cunningham uses his change-of-pace moves to get his shoulders around defenders getting to the basket. His natural size and strength allows him to finish through contact if challenged at the rim. Also a capable perimeter shooter, Cunningham needs to be defended in all areas of the court with the ball in his hands. The next step for Cunningham is continuing to tighten his handle in pressure and trap situations, but it's something he's more than capable of improving over time. Cunningham is putting up 23.2 points, 6.5 rebounds and 5.8 assists per game so far in EYBL play this spring while shooting 55 percent from the floor and 38 percent from three-point range.
Greg Brown III, Texas Titans — A run-and-jump athlete who continues to expand his overall skill level, the 6-foot-9 Brown had some impressive moments during the weekend. Becoming more of a wing forward than just a lob threat, Brown's ball handling in traffic and straight-line driving abilities are getting better as he continues to gain confidence attacking the basket.
While Brown's perimeter jumper (1-for-7 from three in EYBL play) is still very much a work-in-progress, he also deserves credit for sticking with what works and not forcing bad shots despite his lofty five-star status. There's a lot to like about Brown's game overall because he can be a double-double threat and productive on offense without having any sets run for him. Brown is effective at rebounding in traffic because he simply out-leaps opponents and he has great natural timing with his leaping ability. Defensively is where Brown becomes very intriguing for the future. Not many players can pin a shot at the top of the square and just as easily switch on a point guard and defend them in isolation situations on the perimeter, but Brown is looking like a capable switch defender who can cover nearly everyone at the next levels. Although Brown still needs to add more weight to bang with bigger players in the post, his leaping ability makes post players think twice about putting up shots over him. Brown is averaging 14.5 points, 7.1 rebounds and 1.3 blocks per game this spring while shooting 66 percent from the field.
Ziare Williams — Playing on a shoe company circuit for the first time has not slowed down this five-star 6-foot-9 wing. A gifted scorer who is a natural at putting up points in a variety of ways, Williams has been one of the toughest players to stop in the EYBL so far this spring.
Williams is a three-level scorer who is able to get to the rim, knock down mid-range jumpers and also is improving his three-point shooting (35 percent) — particularly his three-point shooting off the bounce. Also nearly automatic from the free-throw line (94 percent: 49-for-52), Williams gets a healthy amount of three-point plays when finishing through contact. Besides for his scoring acumen, Williams is an improving all-around player as he rebounds and pushes, handles in the open floor and is improving as a passer to open shooters. Williams also has intriguing size to be able to play multiple spots at higher levels thanks to his athleticism and playmaking abilities. Williams has been one of the spring's most productive players with the Oakland Soldiers as he's averaging 26.5 points, 7.0 rebounds and 4.4 assists per game.
Sharife Cooper — An agent of chaos at 6-foot-1, Cooper is one of the more electrifying lead guards in the class. After an undefeated state title run in Georgia as a junior, Cooper is continuing to put up big numbers playing with the AOT Running Rebels in the EYBL.
Not afraid to play very fast, Cooper constantly puts pressure on opposing defenses with his ability to penetrate off the dribble and look-ahead passes. One of the most aggressive passers I've seen in recent years, Cooper throws some darts in tight windows as his teammates deserve credit for knowing that the ball could always be arriving at any point. Cooper can create his own shot on most possessions thanks to his quickness and tight handles as he's capable of getting to the rim or pulling up in the mid range. While three-point shooting (25 percent) has been sluggish this spring, that is partly a byproduct of Cooper having to force a fair amount of end-of-shot clock looks. Despite being on the smaller side, Cooper is also a contributor on the glass as he has a lot of Westbrook-like rebounds where he pushes to make a play on the other end. Cooper is averaging 28.1 points, 8.2 assists and 5.8 rebounds per game so far this spring.
Cameron Thomas — The 6-foot-4 Thomas has been one of the EYBL's leading scorers through two sessions as the five-star guard has been on a tear this spring. Naturally wired to put up looks from all over the floor, Thomas plays with a natural smoothness.
Capable of getting buckets from all three levels, Thomas can knock down pull-up jumpers (including threes) and he's also capable of playing above the rim off of two feet. Comfortable operating on the weak side of the floor, Thomas likes to float left into jumpers off the dribble as it's a tough move for opposing defenses to stop. There are times when Thomas can get a bit shot happy and he doesn't look for teammates but he's been so dialed in this spring that it is tough to fault him for consistently hunting his own looks. So far this spring with Boo Williams, Thomas has put up 27.5 points and 4.0 rebounds per game while shooting 48 percent from the floor and 41 percent from three-point range.
Nimari Burnett — The Chicago native is continuing to become a more well-balanced guard as he runs with Team WhyNot this spring. The 6-foot-3 Burnett hasn't shot the ball as well as he's capable of (27 percent from three, 41 percent from the field) but he's playing solid ball with a talented team.
Burnett is known for his three-point prowess as opposing teams are doing a good job of chasing him off the line and closing out strong. But Burnett has shown more as a scorer in the middle ground and going to the basket as he's still scoring a healthy amount of points despite his lackluster spring perimeter shooting. A bit mechanical at times with his moves, Burnett is intelligent when it comes to finding his scoring spots as he's rarely rushed into a bad play. With solid natural strength, Burnett also contributes on the glass and he's also willing to take on some bigger wings on the defensive end as his Chicago roots show through despite playing his high school ball in California. Burnett will probably never be a go-to scorer at the next levels, but he has a chance to be an elite system player who can put up double figures and play both guard spots. Burnett is averaging 19.9 points, 4.1 rebounds and 2.8 assists per game this spring.
Adam Miller — After a blistering high school season with Chicago Public League powerhouse Morgan Park it's been interesting to see the 6-foot-4 lefty guard go to work in the Nike EYBL. While Miller has struggled a bit finding his shot during the spring (35 percent from the floor and 30 percent from three-point range) it's been nice to see him adjust to having loads of talent around him.
During the high school season, Miller often had to create insane looks for himself using stepbacks and Harden-like lefty moves on the perimeter. But with a real five-star post in Michael Foster and a floor leader in Marcus Watson who is playing with a ton of confidence, Miller is playing more of the natural role he'll play at the next levels. While Miller still tends to hunt three-pointers a bit too often, there is no doubt that he's one of the best tough-shot makers on the circuit. Miller's driving ability is also becoming more of a focus as he's using double staggers and other screen scenarios to hunt the rim and either kick to an open shooter or take a floater. Miller's right hand (his off hand) still needs work, but he's a lethal weapon with the ball in his hands that can never be left unguarded. On the defensive end, Miller has the size to check multiple perimeter spots as he still needs to improve at reading ball screen scenarios. A capable rebounder, Miller can also help haul in defensive rebounds that allows him to push the ball himself up the floor. Although he's been cold this spring, Miller is still a dangerous scorer who is becoming a more well-rounded perimeter player. So far this spring with the Mac Irvin Fire, Miller is putting up 16.0 points, 4.1 rebounds and 2.1 assists per game.
Hunter Dickinson — It's getting more and more difficult for true big men to crack the highest levels of basketball but there is still a lot to like about this 7-foot-2 big man from DeMatha and Team Takeover.
Dickinson is never going to be laterally quick enough to play heavy minutes in some modern settings but his back-to-basket prowess and solid skill level mean he still has some great tools to work with. A monster in terms of sheer size and weight, Dickinson isn't afraid to play bully ball with smaller players and weaker big men as physicality is a weapon for his game. A double-double threat and true space eater, Dickinson's imposing size also makes him a tough player to finish over at the rim. While Dickinson's offense is mostly limited to post touches with some mid-post faceups, he doesn't force things and is also gifted as a passer to cutters or cross-court shooters. Dickinson even said that he's been monitoring the progress of Denver Nuggets big man Nikola Jokic — which is the right move for him considering his frame and passing ability. Dickinson is putting up 12.0 points, 8.2 rebounds, 2.0 assists and 1.1 blocks per game this spring while shooting 57 percent from the field.
DJ Steward — One of the bigger surprises this spring in the EYBL in terms of raw production, the Whitney Young product has been a dynamic scorer and improving playmaker on the ball. A 6-foot-3 guard who is hovering around the top 75 of current class rankings, Steward's basketball IQ and natural ability are showing through in the big way with Meanstreets this spring.
Although Steward isn't the most gifted leaper, he makes up for it with long strides, good change-of-direction and an intelligent approach to attacking the basket. Steward's skill level as a scorer is high as he's adept at taking small spaces and getting through traffic to draw fouls or score at the rim. Improving as a jump shooter (36 percent from three), Steward practices solid shot selection most of the time, only truly taking lots of shots if he's feeling hot — like the 46-point performance against Vegas Elite. Working to develop as a lead guard, Steward has played more with the ball in his hands this spring as he's trying to get more comfortable running an offense and finding teammates. While Steward's lead guard skills are still a work-in-progress, it's beneficial to his future development to learn how to play comfortably with the ball given his size and slight frame. Steward is putting up 25.9 points, 5.0 rebounds and 3.5 assists per game this spring as he'll likely shoot up national rankings later this spring.
Mark Williams — A promising 7-foot-1 big man who snagged a scholarship offer from Duke after the April Live Evaluation Period, there is a lot to like about Williams and his development. In terms of long-term potential, there aren't many big men in the class currently as intriguing as Williams.
With good straight-line speed, Williams can snag a defensive rebound at rim level and push the break with the dribble as he's a gifted passer who isn't afraid to throw tough looks on the move. In the post, Williams also showed that he can go from a move to a pass to a cutter seamlessly — which isn't an easy thing to do for a player his size. With a long wingspan and wirey frame, Williams also has room to add natural weight to his frame while still keeping his coordination, which will be fascinating to see play out over time. Although Williams is weak right now physically, particularly in his upper body, he still has some natural shot-blocking skills around the basket. Offensively, Williams can score on the block thanks to developing footwork and more shimmy in his shoulders than anticipated. Williams had one move in particular where he went baseline and used the rim as a shield while finishing in traffic on the other side of the rim that was advanced and impressive. There is a long way to go to see how Williams maximizes his frame, but there's a lot to like about what he brings to the table and he's improved a lot over the last year. Williams is averaging 13.2 points 6.9 rebounds and 2.2 blocks per game while shooting 63 percent from the floor for Boo Williams.