The Nike EYBL resumed in Atlanta for Session 3. A little over halfway through the season and teams are starting to hit their stride. There's one more session to determine who makes Peach Jam.
Cole Anthony 6'3 175 PG – PSA Cardinals 2019
Currently leading the EYBL in scoring with 25.6 points per game, Anthony and PSA Cardinals went 1-3 in Atlanta. Their one win came in a highly anticipated game against Renaissance, the matchup of the top two point guards in the class, and Anthony separated himself if there was any doubt. PSA got an early lead and wouldn't take their foot off the pedal, winning 76-40, with Anthony scoring just ten less points than the Rens as a team with 30. He changes his speed incredibly well and slows the game down better than anyone else in the class. He stays poised and handles the ball well under pressure. He can cut through the defense at will, shooting floaters off one or two feet as well as combinations with either hand, and challenges anyone at the rim. Anthony scored 28.8 points on 21.8 shots per game and averaged 3.5 assists to 2.5 turnovers per game. Despite shooting 92.1% (35-38) as a free throw shooter, he only shot 18.8% (6-32) from three. While his numbers may not always be efficient, Anthony provides a near complete arsenal to go along with his natural ability.
DJ Jeffries 6'6 205 SF – Bluff City Legends 2019 (Kentucky)
Jeffries had a slow start with only eight points and three rebounds in the loss to Woodz Elite but would turn it around to follow up with three strong performances, notably the 25 points against Brad Beal Elite while shooting 10-14. He was great from midrange, catching rhythm, and showing good arc on his floater. He flashes his athleticism in the open floor with a few dunks but would like to see his half court game improve. He spins into the defense at times and hasn't shot well from three, going 5-18 (27.8%) over the first three sessions. Jeffries averaged 17.5 points and 7.3 rebounds per game.
James Wiseman 7'0 225 C – Bluff City Legends 2019
Bluff City finished with a 2-2 record in Atlanta. Wiseman was effective on both sides of the ball, showing a fadeaway in the post as well as midrange shooting and blocked 1.5 shots per game. A few of his blocks came from closing out and blocking perimeter jump shooters. He does need to stay on his feet more when defending in the post, biting on pump fakes and trying to block everything led to a few fouls. Offensively, he's finding more opportunities to use his length to dunk it over defenders with minimal or no gather, including a big jam over the top of Roman Wilson. He's been unselfish, not forcing up shots if he goes through a stretch without getting the ball, passing out of the post to hit cutters and open shooters. Wiseman averaged 12.3 points and 1.5 blocks per game.
Malik Hall 6'7 205 SF – MoKan Elite 2019
Hall's picked up his game and has noticeably progressed as the EYBL season has gone on. He's amped up his scoring, after averaging ten points per game in his first session, he averaged 17.8 points per game in session three. In addition to scoring, he contributes in a variety of ways with passing ability and shows hunger for rebounds. He doesn't take a ton of threes, but his jump shot is smooth and he's creative as a finisher, jumping off either foot and using either hand at different angles.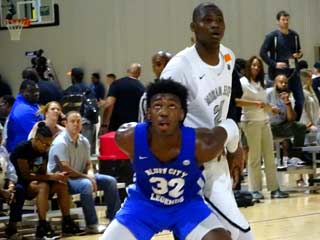 N'Faly Dante 6'11 240 C – MoKan Elite 2020 Dante wasn't used too much on offense but consistently outhustled his opponents and was efficient with his touches, scoring 12.3 points per game on 75% shooting and only missed seven shots in his four games. He hit a few shots in the low post when matched up with James Wiseman, showing flashes of an inside offensive presence. He has a good set of hands and caught some back-door lobs higher than the defense could deflect to finish off alley oops a few times each game. MoKan Elite went 3-1 in Atlanta.
Zion Harmon 5'11 170 PG – Brad Beal Elite 2021
Only finishing up his freshman year but on his third season on the EYBL, Harmon is coming off the bench and hasn't been able to match his stats in previous years, although he plays well when he's on the floor. His skillset is advanced with tremendous ballhandling ability to breakdown the defense and court vision to match his ability to pocket pass with either hand. He's a pest on defense and has great hands on that end to get clean strips and blocks when the offense comes his way. He had three blocks against Bluff City Legends to go along with ten points and five assists. Harmon averaged seven points and four assists to 1.5 turnovers per game in Atlanta in his limited action as Brad Beal Elite finished 2-2.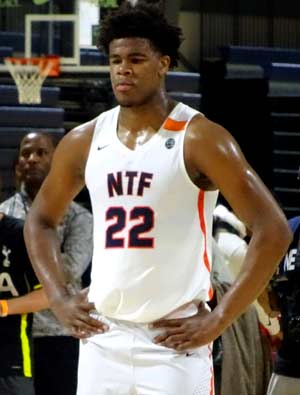 Vernon Carey 6'10 265 PF – Nike Team Florida 2019 Team Florida only won one game over the weekend, with Carey averaging 19.8 points per game on 66% shooting and 8.8 (2.5 offensive) rebounds per game. He has an effective jab step and can drive in iso situations but favors going to his left, getting into the paint to use his jump hook/floater which is usually on point. He was impressive passing the ball and sees the court very well to go along with his outside shooting at 46.2% from three-point range. He has the talent and versality to be an inside-out threat at the NBA level. However, he could be more involved as he doesn't move much off the ball or show much activity until it's in his hands. He's often the last one up the court and isn't much of a help defender. There's no denying Carey's tools or talent but I would like to see stronger leadership and intangibles if he wants to reach his potential and live up to the number one spot some have pegged him at. Carey finished with 21 points and 15 rebounds in their win against the Oakland Soldiers.
Brycen Goodine 6'4 170 SG – BABC 2019 (Syracuse)
Goodine was on a scoring tear with 24.5 points and taking 16.8 shots per game. He has a good release point on his shot and gets it off quickly. He shot it very well from outside at 46.4% as well as the free throw line at 86.2%, showing no hesitation off the catch and stepping into it off the dribble. He played with aggression and consistently attacked. He showed high-level athleticism in both the open floor and in the half court, dunking at every opportunity. Although his foul count is a bit high, he's committed on the defensive end and averaged 2.3 steals per game. He does a good job distributing as well, showing some hope to play point guard full-time moving forward as he's more of a scorer right now. Although BABC hasn't had much success at 4-8, Goodine has looked like one of this summer's breakout performers, outplaying his current ranking and averaging 18.8 points over the first three sessions of the EYBL.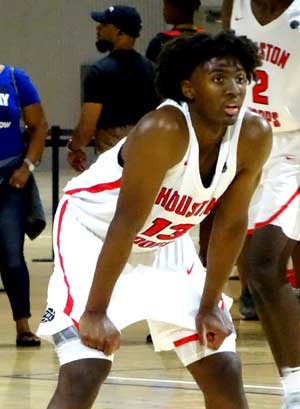 Tyrese Maxey 6'3 185 PG – Houston Hoops 2019 (Kentucky)
Maxey continues to light up the scoreboard with 22.5 points per game in Atlanta. His three-point shooting took a hit with a 2-12 and 2-7 game, shooting 29% over the four games, which is down quite a bit as he shot 46.7% from three in session two. Despite his shooting being down, he's still the one you want taking shots and it didn't affect his confidence in any way. He plays off the ball but showed more half court distributing than usual with 4.8 assists to 0.8 turnovers per game. His instincts are one of the highest in the class, doing a good job of reading and reacting to take what the defense gives him when choosing if he's going to pull up or take it all the way to the rim. He was active jumping the passing lanes with three steals per game, usually leading to a fast break layup. Maxey and Houston Hoops went 3-1 over the weekend with their only loss coming against Mac Irvin Fire.
Jalen Johnson 6'7 200 SG – Phenom University 16U 2020
Johnson stands out with his passing ability and instincts at his size. He sees the floor very well and creates many opportunities in the half court even when his teammates don't know they're open. He's a very good athlete, showing strong takes to the basket, finishing dunks in traffic. He has a lot of potential in transition as a leader and finisher. I would like to see him shoot more, he doesn't have a bad shot but passes up too many open looks. As he improves his jumper and develops more of a scoring mentality, Johnson's going to be an even more dynamic offensive player.
Patrick Baldwin 6'8 175 SF – Phenom University 16U 2021
Baldwin shows a lot of potential just finishing up his freshman year. He has good size on the wing and moves well off the ball. He shot well from outside with proper form and was ready to go into his shot before he caught the ball. He used his size to battle underneath after offensive rebounds. In addition to his scoring, he made a lot of unselfish plays with good court vision and passing. Baldwin's a solid athlete and has a mature game, helping Phenom University to a 12-2 record.