It's the midway point for The Nike EYBL, with its second stop in Indianapolis at the Pacers Athletic Center. With Atlanta coming up next, here's a report on some of the top prospects.
James Wiseman 7'0 225 C – Bluff City Legends 2019
Wiseman had a strong weekend, backing up his #1 ranking. The only game he didn't bring it was against Renaissance; scoring just eight points with five rebounds while playing limited minutes in the second half after four first half fouls. He apparently didn't want to bang with Kofi Cockburn and he didn't shoot a single free throw in the game, which is eye opening considering he shot a total of 29 in the other three games. Aside from that, he showed good footwork in the paint to make some adept moves in traffic with an array of fadeaways and jump hooks. He had a few authoritative jams but has more to his repertoire than dunks with good technique utilizing glass from various angles. He also showed his ability to face up, hitting a step back jump shot on one play. He eats up space on defense and blocked 1.5 shots per game. Despite only shooting 43.8% (7-16) from the foul line in the first session, he shot 79.3% (23-29) this weekend. He consistently boxes out and grabbed 6.8 rebounds per game. He also consistently goes into the post on offensive possessions, but the ball doesn't get fed to him often enough, which was a common theme with other top big men as well – N'Faly Dante and Kofi Cockburn. Wiseman averaged 19.8 points per game to help the Legends to go 3-1 and 5-3 overall.
DJ Jeffries 6'6 205 SF – Bluff City Legends 2019 (Kentucky)
Jeffries displayed translatable bounce, outjumping opponents in the paint and grabbing rebounds (seven per game). I would like to see him add more to his perimeter game, since catching the ball at the free throw line, turning, and skying over the defense for a floater won't be as easy to pull off at the next level, and seems to be his bread and butter as an offensive move right now. He averaged 15.5 points per game, but only hit two three-pointers over the course of four games. He shot 4.8 free throws per game but only shot 63.2% from the line. Jeffries has dropped in rankings over the past year but still provides intriguing talent moving forward.
Carl Lewis 6'9 260 C – The Truth 2019
I caught one of The Truth's games where Lewis scored 14 points and grabbed seven rebounds in the loss to AOT Running Rebels. He's very explosive for his size at 6'9 260, attacking the basket with aggression where the defense gets out of the way, including a tip slam in traffic on one play. He does tend to go over the back and picks up unnecessary fouls at times. He had five fouls in three of his four games. He has some ability to shoot but was too quick with the trigger, shooting 2-6 from three against AOT. There aren't many players who can match his size or jump with him so utilizing his mismatches will be important moving forward. He had a rough game against Team United scoring two points (1-8) and only one rebound. Lewis averaged 9.3 points and 4.5 rebounds per game over the four games in Indianapolis.
Josh Christopher 6'4 200 SG – The Truth 2020
Christopher has shown a consistent ability to score, putting up 17.5 points per game. He's a high-volume shooter at 13.8 shots per game but he hasn't failed to put points on the board. He shows instincts as a scorer; getting to the rim and scoring in bunches late in the game. His shot needs some work and he doesn't look properly aligned to the basket when he squares up, although he hit a few and only needs a little bit of space to get his shot off, he can improve in this area as he's more of a rhythm shooter than knockdown right now. He can improve his range, shooting 29.4% from three in Indianapolis. He can change direction with the ball at a high speed and got into the lane at a good rate. He also showed some passing instincts but finished with twice as many turnovers (18) as assists (9). Overall, Christopher is one of the top prospects in the 2020 class. The Truth lost all four games and sit at a 1-7 record halfway through the EYBL.
Isaac Okoro 6'5 205 SF – AOT Running Rebels 2019
Okoro's explosive athleticism has been noted in the past, as he maneuvers and finds his way to the rim with impressive body control. He shows similarities to Miles Bridges at the same age; undersized for a forward, needing to improve his perimeter and half court game. He didn't make any of his five three-point attempts over his four games and is shooting 3-15 over both sessions. He does have a solid assist count with 4.8 per game but still has a ways to go as a perimeter player. Okoro averaged 14.5 points per game while shooting 52.6% from the floor. He's proven to play bigger than his height suggests with 8.8 rebounds per game, including 14 against Houston Hoops. He has the tools defensively, averaging 1.3 for both blocks and steals per game. AOT almost escaped Indianapolis with four wins but lost in overtime to Houston Hoops, giving them their second loss of the year.
N'Faly Dante 6'11 240 C – MoKan Elite 2020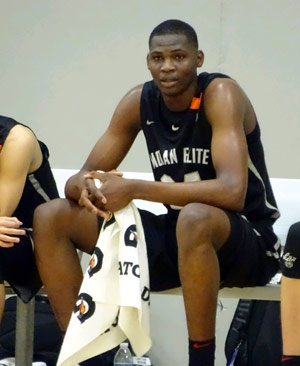 Dante's a fantastic prospect. His development is still in its infancy, but he could end up being the best player on the circuit down the road. As mentioned with James Wiseman, touches for big men were limited, but Dante continues to play hard, sets screens, and stay active when he's not getting the ball. He makes impressive moves in iso but doesn't always finish them yet. He flashes a running hook, fadeaway, low post offensive skills and never shies away from contact. Something else that shouldn't be overlooked is his ability to pass out of the post, consistently hitting cutters and open shooters. In addition to his offensive potential, Dante is tremendous on the defensive end, with an average of 2.5 blocks per game. He averaged 14.3 points per game while shooting 52.1% and 11 rebounds (three offensive) per game.
Paolo Banchero 6'8 215 SF/PF – Seattle Rotary Style 2021
Banchero has grown seven inches in two years and has a physically developed body for a freshman. He's stepped up and is already contributing for Seattle Rotary with 12.5 points and 7.3 rebounds per game. He has a nice stroke from outside, making the defense pay when they sagged off or failed to rotate and demonstrated some finesse finishes when getting to the basket. He's a good athlete with defensive tools and hasn't had any trouble with the speed of the 17U level. Banchero looks and plays like a senior and will be interesting to track over the next few years. Seattle Rotary Style had a 2-2 weekend and 5-3 for the first two sessions.
Jalen Lecque 6'4 180 PG/SG – NY Renaissance 2019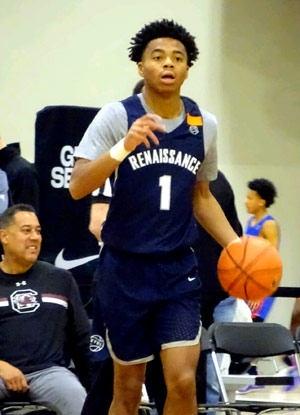 From unranked to top ten, Lecque was last year's EYBL breakout player. Renaissance may have the most talent of any team in the league, but they still haven't put it all together. While Lecque's a top-level athlete, he's still a long way from a being a perimeter shooting threat and isn't where he needs to be as a lead guard. He shot 38.9% from the floor in Indianapolis and is only 1-19 (5.3%) from three over eight games. He also averaged 2.5 assists to 3.8 turnovers per game. On the positive side, he's far from a finished product with translatable talent that's going to elevate his game at future levels. He had a dunk over James Wiseman and has tremendous body control to match his hops and first step. Renaissance received their only win against Bluff City Legends and sit 4-4.
Kofi Cockburn 6'11 285 C – NY Renaissance 2019
Cockburn has elevated his stock over the past year as well. He constantly wears defenders out as he consistently runs the floor and bangs down low. In addition to his activity level, he's alert with a good pair of hands. He rarely, if ever, is matched up against another player with his strength and even high-profile prospects like James Wiseman aren't comfortable with his physicality. He has soft touch but also finishes most dunks with authority to leave the rims shaking. Cockburn finished averaging 18.8 points and 8.8 rebounds (three offensive) per game while shooting 66% from the floor.
Jaden McDaniels 6'9 200 SF/PF – Seattle Rotary Style 2019
McDaniels has a sound jump shot with no wasted motion and quick release. He has good size with perimeter skills and impressive athleticism where he looks to attack the rim after he puts it on the floor. He's skilled enough to be a 6'9 wing rather than a stretch four. He had a tip slam attempt against MoKan Elite where he caught the rebound below the net and almost put it in over a defender. McDaniels scored 15.5 points and grabbed 7.8 rebounds per game. He showed his ability to pass the ball against Brad Beal Elite with eight assists.
Tyrese Maxey 6-2 185 PG – Houston Hoops 2019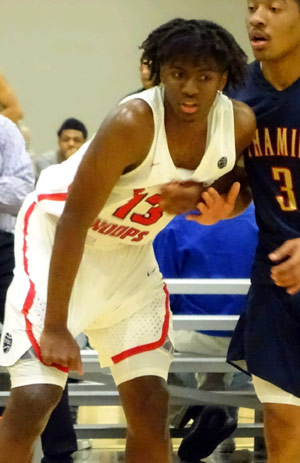 Maxey had a tremendous set of games with his new team, Houston Hoops. He's leading the EYBL in scoring, along with Cole Anthony, at 24 points per game. He's an efficient shooter with a quick release off the catch but can also shoot off the dribble as well. He's selective when driving, he doesn't attack set defenses but can get to the rim once the ball gets moving and he can find that angle. Maxey scored in bunches and hit the game winner against Nike Phamily to win all four games in Session 2. His stats included 25 points per game, 3.5 assists to 0.8 turnovers per game, 1.5 blocks, and 2.2 steals per game while shooting 53% from the floor, 46.7% from three, and 88.9% from the free throw line.
Terry Armstrong 6'5 170 SG – Nike Phamily 2019
Armstrong is also playing with a new team and filled up the scoring column with 20.8 points per game. He can get hot and light it up from outside but also can improve as a shot creator and in his half-court offense, but with the right development, he can be an even more dynamic scorer. His run and jump athleticism translates well, especially when the game picks up and his team looks to push the ball. Once he gets going, he can score on his own a little more. Armstrong and Nike Phamily leave Indianapolis going 1-3.
Sharife Cooper 5'11 150 PG – AOT Running Rebels 2020
Cooper always plays under control and brings a calm demeanor, even late in close games. He's never in a hurry and with all the talent on AOT, Cooper was the go-to scorer late in close games. He put up 22.5 points per game but with that comes 18.8 shots per game. Although he puts up a ton of shots, he's a very good facilitator and allows his teammates to play their game, not hindering any of them or putting them in a box, with 7.8 assists per game, including 12 in the win over Pro Skills. He can control his defender with his dribble and excels at drawing fouls as he shot just under ten free throws per game. Cooper lacks ideal size, but he had a productive season at McEachern that's carried right over to the EYBL.
Cole Anthony 6'3 175 PG – PSA Cardinals 2019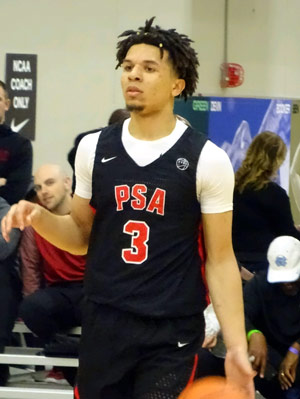 Anthony's on his third EYBL season and currently (tied) on top of the scoring list at 24 points per game. He didn't have a good shooting weekend, especially the game against Woodz Elite (3-15 from the field and 0-5 from three), going 4-19 (21.1%) from three but is still shooting 42.9% from deep over the two sessions. His overall field goal percentage wasn't great either going 21-56 (37.5%) over four games. However, he's been money from the free throw line as an 89.7% free throw shooter and he excels at drawing fouls, making all 14 and 13 attempts in PSA's final two games respectively. The game's slowing down for him and he's becoming more of a lead guard compared to his underclassman years, distributing well in both the half court and transition. He is however, turnover prone, with 3.8 assists to 3.5 turnovers, with seven alone against Expressions Elite. Anthony's athleticism and body control are top notch as both translate incredibly well. He finds opportunities to attack and explodes to the rim with aggression and shows a good midrange game with floaters and pull ups. Another area that shouldn't be overlooked is his ability to rebound for his position with 8.5 per game. Anthony and PSA Cardinals finish the weekend with a 3-1 record and are 5-8 on the season.
Malik Hall 6'7 205 SF – MoKan Elite 2019
Hall has good body control, attacking at angles to finish at the rim with either hand. He found N'Faly Dante under the basket and in the post better than his teammates throughout the event. He's an effective half court player, both scoring and distributing, creating without having plays run for him. His ability to dribble drive allowed him to get to the basket with solid athleticism to finish over the top, maneuver around the defense with hop steps, and pass out of drives when appropriate. He hit a few shots from outside and midrange, showing an all-around offensive game. Hall averaged 14.8 points per game while shooting 55% from the field and averaged 1.5 steals per game on the defensive end. MoKan Elite went 2-2 and sit 5-3 on the season.
Scottie Barnes 6'7 200 SF – Nike Team Florida 2020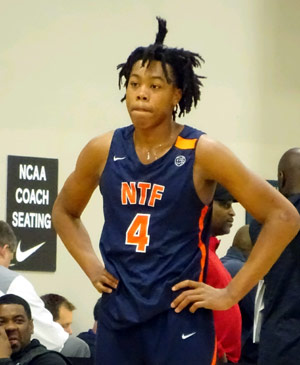 Barnes is a versatile forward who fits in with the current trend of positionless basketball, as he can play anywhere on the court. His hands are big and when he has the size advantage, he consistently takes advantage, posting up and banging with smaller players or taking others off the dribble if he has the edge in speed. He's an explosive athlete with a good motor, which is good to see from a player of his caliber. He's very unselfish, finding the open man out of the post or out of his drive, showing ability to read and react to situations appropriately. He's a selective shooter but has shown great results so far, going 3-4 in Indianapolis and 5-8 over the EYBL from three and 54.8% from the floor. He can improve as a free throw shooter, as he only shot 58.8%. He doesn't have a bad release, but his stance is much wider than it needs to be. He grabbed 8.8 rebounds per game with 2.3 coming on offense. Going back to his unselfishness and ability to pass the ball, Barnes passed out 5.8 assists per game, including seven a piece in the last two games of the event. Nike Team Florida finished going 2-2 and 5-3 midway through the EYBL.
Brandon Boston 6'5 165 SG – AOT Running Rebels 2020
Boston can score in different ways and has a diversity of skills to his game with his shooting, ballhandling, and athleticism. He's smooth and instinctive with the ball, not predetermining any of his moves. He's a team player but can score for himself as well, averaging 15.5 points per game. He was very reliable as free throw shooter at 88.9% with 4.5 attempts per game. He's been good on the boards with 7.3 per game and has a knack for cleaning the offensive glass. He provides defensive versatility, as you can imagine by getting a quick glance at his size and length, he can switch onto any perimeter player at this level and averaged 1.8 steals per game in Indianapolis.