The Nike Elite 100 featured the highest collection of talent in the four years I've attended the event. This year, there were NBA scouts in attendance and players displayed their ability over a few days of drills and scrimmages.
Jonathan Kuminga 6'7 217.2, 6'11 wingspan SF/PF – 2021
As always, Kuminga was on another level athletically, and he impressed as a ball handler as well, at times running the point and making solid reads with the ball. If his floor game continues to expand, that will just add another dimension to an already big-time prospect. His jumper can still use some work, but he's becoming solid shooting from distance and has shown some instincts as a scorer. He hit shots around the rim, using good body control and finishing with either hand. His half-court game has noticeably grown, and his skills are catching up to his superior body/natural explosive athleticism. In addition to his offense, Kuminga defended and rebounded well too.
Khristian Lander 6'2 168.8, 6'5.5 wingspan PG – 2021
Lander was the quickest players in the camp, putting pressure on the ball defensively and creating space offensively. He got his shot off with no problem and most of his points came off the dribble. He got hot in one game and knocked down a handful of threes after freezing his defender. This was Lander's first Nike event and he doesn't play a national schedule during the high school season, with each position of the help defense being bigger than he's used to, he didn't get to the rim much in the half-court, but he has the quickness and creativity to when he's further along the learning curve. Lander was the best rebounding point guard in the camp and stood out athletically for his position, even blocking shots occasionally.
JD Davison 6'0.5 172.2, 6'4.5 wingspan PG – 2021
Davison played hard and showed his athleticism throughout the camp. He was solid as a ball handler and passer, flashing some pick and roll ability. He was consistently aggressive and fearlessly attacked the rim, getting up well off one or both feet. Right now, he more of a slasher than he shows perimeter skills, but he looked solid shooting the ball.
Devin Askew 6'3.5 191, 6'5 wingspan PG/SG – 2021
Askew played well and wasn't afraid to get physical. He can shoot from midrange and three off the dribble and is a good ball handler in pick and roll situations. He handles the ball well in crowded areas and rewarded big men for being in the right spot when he baited their man to help. As mentioned earlier, the ball stuck to Emoni Bates, which hinders Askew's ability to run the offense to a degree, but he still played well. He's got a very effective crossover that he used to get to the rim numerous times.
Jordan Hawkins 6'4 170, 6'6 wingspan SG – 2021
Hawkins is a high-level athlete, getting to the rim in the half-court and landed a poster dunk on one play. He also scored well with a nice three-point shot and got into the paint as well. He scored from all three levels and was smooth with the ball. He was electric on the floor and used the event to break out, as he hasn't made his way onto the mainstream sites yet. Hawkins showcased his game against some of the best in his class and helped himself at the camp.
Terrence Clarke 6'7 185 SG – 2021
Clarke created well off the dribble and has a shifty handle. As a jump shooter, the ball was coming out of his hand smoother in the drills than it did in the games as he's still looking to add consistency. His wiggle allows him to find his way to the basket no matter the size of the defense. He hit some shots at difficult angles and his passing is really progressing. He stood out as an athlete and finisher, scoring above the rim throughout the event.
Adama Sanogo 6'8 234.6, 7'2 wingspan C – 2021
Sanogo was a beast on the boards and while his post-game is raw, he flashed a solid jump hook when he couldn't dunk his way to two points. He's strong, holding position in the post and finished above the rim with ease. Sanogo has a consistent motor, doesn't let anyone outwork him, and was effective on both ends
Chet Holmgren 6'11.5 183, 7'3.5 wingspan C – 2021
Holmgren blocked shots, contested everything, and wasn't afraid of getting dunked on. Offensively, he's very coordinated, shooting well from midrange and three, also dunking anything within close. He's still incredibly thin and gets bumped out of position but he's skilled and effective on both ends. He's smart, playing within himself and the flow of the game. He's a nice 3&D prospect and shows a resemblance to Isaiah Austin with his build, style, and skillset.
Frank Anselem 6'8.25 203.4, 7'4.5 wingspan C – 2021
Anselem thrived as a finisher in the paint, getting off the ground quickly, and attacking with aggression. He did a nice job crashing the glass, securing the ball with both hands. He's flashed some face up and pick & pop ability, with solid ability to hit open jump shots. He was active and played well with the guards, he can however improve his awareness with the ball, sometimes missing cutters and not reading double teams.
Moussa Cisse 6'10 208.2, 7'2.5 wingspan C – 2021
Nobody has played harder than Cisse. He's currently second on the Nike EYBL in both rebounds and blocks, displaying the ability to do both at the camp as well. He attempts to block everything, and nothing comes easy in the paint when going up against him. He hasn't had much luck knocking down jumpers and doesn't have much ability to put it on the floor yet but he's a work in progress in those areas. He's a nice athlete and has been a great finisher when dunking on opponents, but his footwork and post offense can continue to develop. Cisse was one of the most impactful players in the camp and possibly made the most improvement since last year.
John Butler 6'11.5 166.4, 7'0 wingspan PF/C – 2021
Butler showed some offensive ability, scoring in the paint off a few dribbles. He has a nice shot from outside, but he needs to speed it up as his release can be quicker. His shot blocking has improved and he's quicker as a help defender than he was last year, showing some potential as a 3&D big man. He's still very thin and isn't the most physical player but helped his team as the camp progressed when he got into his shooting rhythm.
Paolo Banchero 6'9 242.4, 6'10 wingspan PF – 2021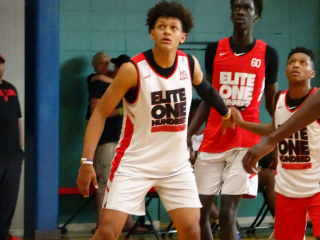 Banchero impressed with his scoring, passing, and rebounding. He reads double teams and help defense well, consistently making lead passes and finding open teammates at the right time. He's one of the more polished players in the camp and operates well from midrange. He did settle for a lot of step backs and fadeaways, seeming to be bothered by length of some of the defenders at times but he's very well-rounded and impressed over the camp.
Mac Etienne 6'9 226.8, 7'2.5 wingspan C – 2021
Etienne was very aggressive, trying to dunk everything and he gets off the ground quick without a gather. He also pops quickly when going for rebounds and blocked many shots over the course of the camp. He was a nice anchor for his team, keeping opponents out of the paint and even blocking shots on their midrange attempts. Etienne also showed some ability to face up, catching the ball and knocking down shots with his feet set.
Richard Isaacs 6'1 175, 5'11 wingspan PG – 2022
Isaacs is patient and plays under control. He's good about not over-dribbling and making the extra/right pass. He's selective as a driver, getting into the lane at times to finish for himself or kick to the open man. He also has a nice jump shot that he doesn't force, as he has a good feel of when to score and when to move the ball. Although he's not an explosive athlete and doesn't have great measurements, he creates a lot of space with his step back and plays with a lot of maturity.
Emoni Bates 6'8.5 165, 6'9 wingspan SF/PF – 2022
Bates arrived to the event late but was ready to play as soon as he laced up. He created off the dribble and pulls up from NBA three, showing no hesitation to let it fly and knock down difficult shots. He doesn't settle for contested threes though; he also got to the rim to display his athleticism and showed a soft floater to avoid the defense. He never quit on his missed shots and battled, cleaning up offensive boards. Bates was able to display his scoring and was one of the best prospects in camp. He doesn't move much without the ball and it's not an exaggeration to say that he only passed it a handful of times, but with that said, he didn't need triple threat to create; he got what he wanted mid-dribble and they weren't able to stop him even with the defense knowing he's going to be the one to take the shot.
Chris Livingston 6'4.5 190, 6'10 wingspan SG – 2022
Livingston has good athleticism and scoring instincts for a player his age. He made a number of threes but also thrived as a slasher. He also showed his skills passing the ball. His high-level athleticism was displayed in the open floor and in half-court situations as a rebounder and shot blocker. His length is great for his position and helps him on both ends. He has a good variety to his game and his effort was great as well.
Dariq Whitehead 6'4.5 195.6, 6'9 SG/SF – 2022
Whitehead's one of or possibly the youngest player in the camp, as he doesn't turn 15 until August 1st, but he played with the best of them. Despite his age, provides natural strength and willed his way to the basket, showing he's not afraid of contact. He scored from outside as well and hit some shots off the dribble. He's a natural athlete and it's going to be interesting to track Whitehead as he matures over the years.
Ty Rogers 6'5 188, 6'7 wingspan SG/SF – 2022
Rogers knows how to move his man with his dribble, getting shifty and creating. He used good body control at the rim and showed some scoring instincts. He provides an aggressive mindset and isn't afraid to attack the rim, on one play he rose up and missed a left-handed dunk attempt that would've posterized the defender. He's got an advanced set of skills for his age and showed to have no problem scoring from the perimeter.
Jaxon Kohler 6'6.5 212.6, 6'10 wingspan PF – 2022
Kohler consistently brought intensity, as he loves to bang underneath and he never gave up on plays. He's only 6'6.5 but his 6'10 wingspan allows him to play bigger. There's hope he grows more as he's only going into his sophomore year and he looks immature from a physical standpoint. Although not explosive, he scored well inside, showing some footwork and a nice low-post offensive game. He was also very active on the boards.
Jalen Washington 6'7 204.8, 7'2.5 wingspan PF – 2022
Washington displayed his mobility and was smooth around the rim, making shots at various angles. He displayed his jumper and connected well over the course of the camp, flashing an inside and out offensive game. His measurement showed that his length is great and he has some versatility as a defender with his mobility and ability to block shots. Going into his sophomore year and after making noticeable strides since last year, Washington has great potential.
Gregg Glenn 6'6 218.8, 6'10 wingspan SF/PF – 2022
Glenn played on the wing offensively but defended big men. He brought tenacity and a good motor. He attacked the rim and finished everything with a dunk, showing off his length and high-level athleticism. Most of his offense came as a slasher and he didn't show a lot of jump shooting in the games I saw of him, but he has solid skills overall.