The East came up three points short. Despite having more talent than the West, 26 turnovers and shooting 6-22 (27.3%) from three isn't enough to get the job done. Here's a breakdown of the East.
RJ Barrett 6'7 200 SG – Duke
Barrett led the East with 26 points while making ten of his 14 shots. He brought a "no nonsense" approach and didn't try to play it too cool as many players do in an all-star setting. He finished with a few big jams and aggressive drives, attacking any gap and finishing with his right hand in traffic at times. He led the game in free throws attempted with five and made all of them. Barrett's ability to score in a variety of ways and create offense in the half court has made him an effective threat throughout his high school career as he's stepped it up in all of the high-profile events he's played in.
Nazreon Reid 6'11 250 C – LSU
Reid moves so well with the ball, making moves I haven't seen from other big men of his age since I've been following, reminding some of players like Anthony Mason. He took a few rebounds coast to coast, split the defense on a play, and put Reggie Perry in a blender to shake him for an easy left-handed layup. He has good strength to play through contact but soft touch and uses the glass to finish with finesse when getting inside. Reid couldn't get any of his threes to fall but scored 15 points and grabbed 11 rebounds (four offensive) in the loss.
David McCormack 6'10 255 C – Kansas
McCormack played a very effective and efficient game around the rim. He has good size and gets off the ground quickly, making his mark with multiple dunks, including a windmill and a tip slam. He doesn't have much game outside the paint right now, throwing up an air ball from midrange. McCormack made the most of his 15 minutes with 14 points (shooting 7-11) and ten rebounds (five offensive).
EJ Montgomery 6'11 225 PF – Auburn
Montgomery also brought efficient scoring, shooting 6-8 to score 12 points. He had a lot of simple catch and finishes while running the floor. He made a nice shot with his right hand kissing it off the glass. Montgomery's done an excellent job of playing closer to the basket in his senior year, as he used to settle too often out on the perimeter and fell in love with the three early in his high school career. He was one of the few players who didn't attempt a three but was a handful in the paint.
Jalen Smith 6'10 205 PF – Maryland
Smith didn't have any big-time highlights and didn't try to steal the show but impressed all week with his consistent play. Scoring 12 points on 6-9 shooting, displaying a very fluid jump shot knocking it down from midrange on two soccasions. He's good in the paint as well, with accurate touch and understanding of positioning. He also played well on the defensive end with two blocks. Smith holds extra value with the skill set of a modern day big man.
Moses Brown 7'2 260 C – UCLA
The lone seven-footer, Brown was the biggest player on the court. He finished with 11 points scoring on simple layups. He was effective on the offensive glass, grabbing four of his five rebounds on that end. Brown ran the floor well and also blocked two shots in his 13 minutes of play.
Zion Williamson 6'7 250 PF – Duke
With all eyes on Williamson, it was unfortunate to see him go down with a thumb injury, failing to score in double figures with eight points. He made a few layups that the crowd wanted to see him dunk but he displayed very good body control and touch at the rim. He missed a big right-handed dunk attempt that would have been one of the top plays if it would've landed. Williamson finished with five rebounds and three steals as well.
Romeo Langford 6'6 200 SG – Undecided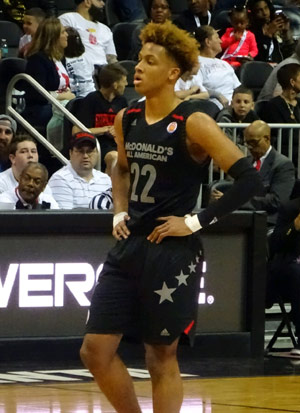 Langford brought the high-volume shooting he's knwn for, going 7-14 from the floor and 3-8 from three to finish with 19 points. He played well throughout the game, most notably early in the second half getting into a zone offensively; creating for himself, scoring from multiple spots, and showing limitless range. He had multiple big dunks over the two days of practice and got to show it off in the game with a big finish down the middle of the floor. Langford also finished with six boards and three assists.
Coby White 6'4 182 SG/CG – North Carolina
White didn't have much luck converting any of his layups. He connected on two threes to score six points going 2-8 from the floor. With his role as a scorer, he didn't bring much else to the game.
Immanuel Quickley 6'3 185 PG – Kentucky
Quickley played full court defense the entire game. Although he didn't make a field goal he finished with three points on free throws. He dished out an impressive eight assists to four turnovers as well.
Darius Garland 6'2 175 PG – Vanderbilt
Garland also failed to make a shot from the floor going 0-7, getting his only two points on a pair of free throws. He led the game in assists with 11 to his five turnovers. Garland was surrounded with scorers and was able to be effective without carrying any of the scoring weight.