Marshall County Hoop Fest once again featured top teams and exciting matchups. Here's a rundown of some of the top players and their performances.
Bol Bol 7-2 225 PF/C – Findlay Prep 2018 (Oregon)
Bol started the game against Orangeville by blocking one of Ignas Brazdeikis' threes. It didn't take long for opponents to realize they needed more offensive space than usual. However, for the most part, Bol looks to contest shots and avoid fouls rather than block them, and redirected the offense out of the paint. His lack of intensity is a concern as he goes at his own pace, which is where Charles Bassey had a massive edge in their matchup. He can contest shots on the perimeter but gets consistently beat off the dribble because he doesn't get in a ready stance and once he gets out of position, it's too late as he doesn't recover and is slow changing direction. Offensively, he hit some impressive shots off the dribble with his ability to alter his body in the air. One area of his game that he needs to address is that his shot has a low release point making it ineffective when he tries to shoot off a turnaround in the post because the defense gets a hand on it on the way up. His obvious lack of strength is another weakness as he gets bumped out of position often. Bol earned MVP with 20 points on 9-13 shooting to beat Orangeville Prep and score 14 in the win over Aspire Academy. I'm not sure how much it affected him but Bol was playing with a broken pinky.
Keldon Johnson 6'6 215 SG – Oak Hill Academy 2018 (Kentucky)
Johnson didn't do much outside shooting. Neither of Oak Hill's games were close and most of his points came from full court trapping to lead to easy jams. He's an impressive athlete and got the Kentucky crowd involved with his high-flying finishes. He stayed aggressive and finished over the top of defenders. Johnson posted 16 points and seven rebounds over Hamilton Heights Christian Academy and 15 points over Tennessee Prep Academy to help Oak Hill win both games of the event.
Keyontae Johnson 6'5 185 SG – Oak Hill Academy 2018 (Florida)
Johnson's a powerful athlete with a strong build and big hands. His perimeter game isn't quite on par with his body yet but he's continuing to improve. He's got very good body control and knows how to get to the paint to elevate and utilize floaters or shoot from midrange. He played intense defense with four steals against Hamilton Heights, finishing above the rim with authority. He had 24 points against Hamilton Heights while shooting 11-14 and 18 points against Tennessee Prep while shooting 8-11 from the floor.
David McCormack 6'9 290 C – Oak Hill Academy 2018 (Kansas)
McCormack came up with 20 points and eight rebounds (five offensive) in the win over Hamilton Heights. He gets up good vertically with his size but isn't a quick leaper. His offense game still has a way to go. His lack of footwork and low post polish is masked by Oak Hill's full court pressure and minimal half court possessions. His low post touch is developing but at this stage he has the strength to establish position against the majority of his competition for an easy layup or dunk. He shot an efficient 7-9 to score 15 points defeating Tennessee Prep.
Ignas Brazdeikis 6'7 225 SG – Orangeville Prep 2018 (Michigan)
In the game against Findlay Prep, Brazdeikis didn't knock down some of the shots he usually makes on a routine but still managed to score 28 points and grab 12 rebounds. He stayed aggressive as a high-volume shooter going 11-26 from the floor and 2-10 from three. The lefty wasn't hesitant to go to his right hand and although the defense was tight in the paint, he continued to attack. He had the luxury to take turns guarding the 7'0+ pair of Bol Bol and Connor Vanover but stayed low and used his strength to hold position. He has good athleticism and threw down tip slam in traffic that many didn't see coming. Brazdeikis was named MVP in Orangeville's second game against Believe Prep with 30 points, four rebounds, and four steals.
James Wiseman 7'0 225 C – Memphis East 2019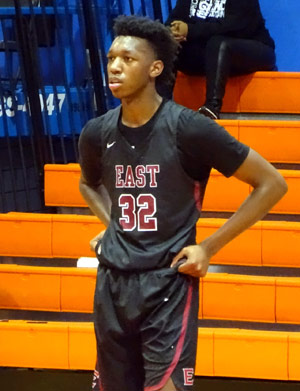 Wiseman brought his A-game against Aspire Academy to score 21 points, grab ten rebounds, and block three shots in the win. He takes up a lot of space in the paint with his length and elite defensive presence. His jump hook wasn't working for him but with his elite fluidity and coordination, he made a few turnaround jump shots in the post. Anytime a miss came off the rim and a few players were within range to get a hand on it, Wiseman was consistently the one to come away with it. With his combination of tools, skillset, and competitiveness; Wiseman can be a star at the highest level.
Jordan Brown 6'11 205 C – Prolific Prep 2018
Brown had two good games as Prolific Prep went 1-1 at Hoop Fest. He's athletic with quick feet and slashes well. I would like to see him develop his perimeter skills and extend his range, if he could play his game from the perimeter like he does from the free throw line in, he could develop into a versatile wing with great size. He has a reliable floater he can put over the top of any big man. He's not afraid to go into the post but he doesn't handle contact well and gets bumped off direction. He passes very well for his size and moves the ball out of the post to consistently hit the cutter. He does need to protect the ball better when driving as it gets knocked away, including back to back turnovers at the end of the close game against Huntington Prep. Overall, he played well with 30 (9-13 shooting) points, 11 rebounds, and two blocks in the win over Tennessee Prep. Also, 24 points and 13 rebounds in the loss to Huntington Prep. Brown did an excellent job getting to the free throw line, shooting a total 28 free throws over Prolific Prep's two games.
Antavion Collum 6'6 200 SF – Tennessee Prep Academy 2019
Collum's a big offensive talent scoring 21 and 20 points against both Prolific Prep and Oak Hill Academy respectively. He's a high-volume shooter, taking an average of 20 shots in the two games but has confidence in his game and can score against the best. He caught fire in the comeback against Prolific Prep, but it wasn't enough to get the win. He shot 3-4 and 3-6 from deep in his two games. His shot kept the defense tense and he took advantage to get to the rim. He was good defensively but had his hands full with the talent on both opposing rosters. Although Tennessee Prep lost both games, Collum didn't fail to compete.
Precious Achiuwa 6'9 185 PF – St. Benedict's 2019
Achiuwa is a big-time talent and athlete. He has a lightning first step combined with a strong build and explosive hops. He has great slashing ability at 6'9 and finished with multiple dunks that nearly shut the gym down. He does need to add some creativity off the dribble as he lacks technique when his path to the basket gets cut off and he can't finish over the top. At times he settled for contested shots and needs to add consistency from outside but got hot in the game against Hillcrest, going 5-8 from three. St. Benedict's won both games with Achiuwa finishing with 16 points against Huntington Prep and 38 points and ten rebounds against Hillcrest.
Lester Quinones 6'5 200 SG – St. Benedict's 2019
Quinones was unknown to me coming into the event, but he can fill it up from outside and plays with great confidence. He has a low but quick release and lets it fly with just a little bit of space. He has good range as well, and the ability to shoot off the catch or dribble. There were a few times he took it to the rim and adjusted in the air to the defense. Quinones was lights out all weekend and was big in both of his team's wins with 38 points (8-16 from three) to defeat Huntington Prep. He followed up with 13 points in the win against Hillcrest.
Jaemyn Brakefield 6'9 210 PF – Huntington Prep 2020
Brakefield's coming along and stepping into a much bigger role than he had last year. He's developing as a shooter but his ability to react mid drive separates him from most players his age. He's instinctive on the fly and a natural athlete. He finished with 14 points and ten rebounds in the loss to St. Benedict's. Brakefield came up big in the win against Prolific Prep with 25 points.
Jonathan Kuminga 6'7 210 SF/PF – Huntington Prep 2021
Kuminga wasn't the most impressive in the box scores but he impressed in spurts. He picks his dribble up a bit often and the games a bit fast for him right now, but he has the tools and versatility to be a big-time prospect. He stayed aggressive on both ends and uses his athleticism in the right opportunities. On one play, he came over to block a jump hook as a help defender but unfortunately was barely on the way down.
Kyree Walker 6'5 205 SG – Hillcrest 2020 (Arizona State)
Walker put up 26 points in his first game against Victory Rock Prep. He's quick with the ball when changing directions. He would beat the perimeter defense to challenge the big men in the paint to adjust his body for a layup. He does flop a lot on his drives, falling to the ground trying to get a foul called after each drive. He could be more productive if he played through the contact and focused on finishing the basket, which he did in the second game against St. Benedict's. When he stays in control he can make big plays. He can get slopping with his ball handling but he's only a sophomore and still improving. He shot much better in the second game, knocking down five of his eight three-point attempts finishing with 32 points.
Robert Woodard 6'6 225 SG – Columbus 2018 (Mississippi State)
Woodard has good size and strength on the wing. He's not the most fluid athlete but he elevates well on his jump shot, and rebounds well. His shooting and perimeter skills will need to improve moving forward, as he doesn't break down the defense off the dribble and he won't be able to finish through defenders at the next level. He also doesn't have a "bread and butter" offensively, he tends to find opportunities to get his points in the flow of things resorting to his superior tools. Woodard earned MVP of his game against Chicago Curie with 22 points, eight rebounds, and three blocks.
Charles Bassey 6'10 230 PF/C – Aspire Academy 2019
Aspire Academy lost both games but they' had the toughest schedule and are willing to play anybody, which you can't say about every team, even some of the best. Bassey's intensity made it difficult for Bol Bol to do anything offensively. He was too strong, getting low and putting constant pressure on him in the post, then to beat him down the floor when possessions changed. Bassey struggled shooting the ball, most of his points came from rim running and athletic finishing. He finished with 16 points and 13 rebounds against Findlay Prep. In the anticipated matchup against Memphis East, Bassey would go scoreless in the first half but scored ten points in the third quarter to help Aspire erase a double-digit deficit. He missed a few within close, it seemed James Wiseman's presence may have been in the back of his mind on some of his finishes. Bassey's consistent motor helped him finish with 12 points, 12 rebounds, and four blocks but couldn't get the comeback win.
DJ Jeffries 6'6 205 SF – Olive Branch 2019
Jeffries is a natural talent who caught rhythm in the second half and turned it on against Adair County. His feel for the game is developing but he's an effortless athlete with a quick jump. His outside shooting wasn't going for him shooting 1-6 from three but he connected from midrange, going 14-17 inside the arc. He's a scorer by nature and his game is going to go as far as his shooting will take him. Adair didn't have anyone to match his size and he was able to get position for easy baskets often. Jeffries finished with 35 points and 11 rebounds in the win.
Zion Harmon 5'11 170 PG – Adair County 2021
It's not often you see a sub 6'0 freshman face guarded full court literally every time he steps past half court. Harmon is incredibly skilled and so far ahead of his age. He never got a clean look for an open shot but scored 17 points in the first quarter. He scored in a variety of ways showing an excellent floater and range out to the NBA three. He's also an advanced ball handler; selling his dribble moves, controlling his defender and the help, and driving equally well going to his right or left. He consistently made the right reads with his great vision and instincts, nothing about his game is predetermined. He broke the full court press by himself and never failed to find the open man. He excels at drawing fouls, even on jump shots. The defense stays tense on him with his limitless range and ability to shoot off step backs and contested pullups. Harmon couldn't lead Adair County to beat Olive Branch but was as impressive as anyone to play over the weekend finishing with 33 points (5-12 from three), five rebounds, four assists, and five turnovers.