Marshall County Hoop Fest has had some prestigious names come through over the years and is one of the premier events to start the high school season. Here were some of the top prospects from this year's event.
John Petty 6'6 185 SG/SF – Jemison 2017 (Alabama)
Petty helped Jemison to win both games at Hoop Fest while earning MVP in each. He kicked off the game against University Heights throwing down a dunk off of a backdoor oop. He stands out with his size for his position and natural athleticism but he didn't overwhelm in any area. There's no questioning his talent but Petty needs to polish his skills as a shooter and ball handler as his career progresses as he won't be able to coast and stand out at higher levels. He would pick up his dribble at times and then figure out where he wants to pass after holding it for a few seconds. He can impress with his court vision, making a pass immediately after catching it to find an open teammate, usually for an easy basket. Petty did take charge as a defender switching onto Laurence Dunbar's Taveion Hollingsworth after he scored nine quick points early in the first quarter, after the adjustment he finished with 12 at the half. Overall, he got the job done while finishing with a double-double in both games; posting 12 points and ten rebounds to beat University Heights and 25 points, 12 rebounds, five assists, two blocks, and two steals in the win over Paul Laurence Dunbar.
Gary Trent Jr. 6'5 210 SG – Prolific Prep 2017 (Duke)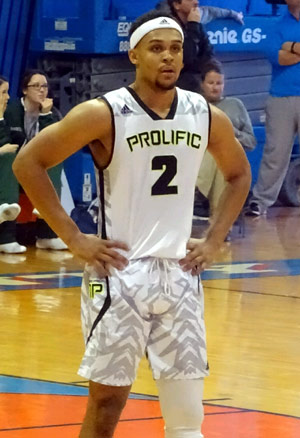 Trent had the best individual performance of the event, dropping 36 of his team's 61 points while shooting 50% (14-28) in the win over Hamilton Heights. He scored from everywhere on the floor, showing his range as well as getting all the way to the rim. He played aggressive through contact and looked for post up opportunities to use his fade away. He shot it nearly every time he touched the ball but he had the hot hand and was always squared up to score while utilizing pivots and advanced footwork. Trent isn't explosive but a solid athlete, however he positions himself well on both ends of the floor. He never gets caught letting his man get an easy basket or letting a pass get through that he should have deflected. He finished with only seven points against Hillcrest after going down with an injury.
Paul Scruggs 6'3 190 PG/SG – Prolific Prep 2017 (Xavier)
Scruggs played well in both games. He knocked down jump shots on occasions but gets to the rim very well off the dribble. He favors going to his left when driving and got where he wanted each time. He did a nice job of dumping off to the open man under the basket when the help would come. Scruggs finished with 12 points, nine rebounds, and five assists to beat Hamilton Heights. He stepped up big when Trent went down against Hillcrest, finishing with 20 points and ten rebounds to earn MVP.
Nickeil Alexander-Walker 6'5 185 PG/SG – Hamilton Heights 2017 (Virginia Tech)
Alexander-Walker scored 23 points in Hamilton Heights' only game of Hoop Fest. He knocks down big shots even with the defense giving him no space. His shooting opens up his drive; his quick pull up keeps the defense tense and gets them off their feet allowing him to get to the rim. He shifts well using minimal dribble moves to free himself for a shot. Fatigue set in and Hamilton Heights fell to Prolific Prep 72-62.
Shai Alexander 6'5 175 PG – Hamilton Heights 2017 (Kentucky)
Alexander finished with 21 points, playing very well with and without the ball. He shoots well from midrange and three, as well as getting to the rim. He excels off the dribble and doesn't favor a side when driving, going both left and right when appropriate. The Kentucky commit played well in front of many fans of his future team and grabbed six rebounds in the game.
Billy Preston 6'10 240 PF – Oak Hill Academy 2017 (Kansas)
Preston looks improved from a physical and athletic stand point since I last saw him at the Nike Basketball Academy in July. Many of his 15 points against Tennessee Prep Academy came from cutting and dunking. He was able to keep it simple, less settling for jump shots and drifting to the perimeter than times in the past. He showed some frustration with physical play and Aspire Academy kept it closer than many expected with a two point Oak Hill lead going into the fourth quarter, but Oak Hill would extend the lead and win by 16. Preston earned MVP with 16 points and 17 rebounds (7 offensive).
Lindell Wigginton 6'2 180 PG – Oak Hill Academy 2017 (Iowa State)
Wigginton had a solid pair of games, contributing to Oak Hill's 2-0 weekend. He utilizes his step back jumper to create space from three and midrange. He changes direction and speed well when penetrating and only needs a little bit of space to finish around the rim. He played well within the flow but can get his own points when he needs to. Wigginton earned MVP against Tennessee Prep Academy with 19 points, five rebounds, and four steals.
Zion Harmon 5'8 150 PG – Bowling Green 2021
Despite being the youngest player to participate in Hoop Fest, Harmon is a top talent with the ability to contribute at the U17 Nike EYBL and high school varsity level. He got hot early, knocking down threes and getting to the rim even finishing through contact. He beats the defense with his crossover and is very under control with the ball in his hands. He more than held his own defensively and finished with 22 points in the win against McCracken County. He scored around 18 points at halftime and could've added more but wasn't too worried about his own statistics.
Taveion Hollingsworth 6'3 170 PG/SG – Paul Laurence Dunbar 2017 (Western Kentucky)
After having an impressive 33 point outing at last year's Hoop Fest in the win over Josh Langford's Madison Academy, Hollingsworth couldn't quite match that performance but finished with 18 point and five rebounds in the loss to Jemison. He had nine points midway through the first quarter until John Petty switched onto him. His ability to control his defender off the dribble and get to the rim going either direction make him tough to contain, also accounting for his jump shot. Last year, his only offer was from Eastern Kentucky, a year later he's joining a recruiting class with Mitchell Robinson and Josh Anderson.
Jordan Goodwin 6'3 220 SG – Althoff Catholic 2017 (St. Louis)
Goodwin stepped up big in Hoop Fest's most exciting and competitive game, finishing with 30 points and 11 rebounds (six offensive) in the win over Chicago Curie. He's a straight line driver and favors going to his right but his strength allows him to get into the paint. He shoots well from the floor and has a between the legs step back to create space. Overall, Goodwin shot 9-17 and took control when he needed to. He did an excellent job drawing 12 fouls in the game but struggled to convert from the free throw line, shooting 10/21.