The Les Schwab Invitational has been around for 21 years, featuring a large number of NBA alums in it's history. The list includes the likes of Tyson Chandler, Carmelo Anthony, Kevin Durant, Brandon Jennings, Ty Lawson and Greg Monroe who have come from out-of-state. The talent from Oregon has produced Kevin Love, Kyle Singler, Terrence Jones, Terrence Ross and Kyle Wiltjer, to name a few. Since 2012, Aaron Gordon, Jahlil Okafor, Jaylen Brown and Ben Simmons have been top 5 picks, with last years tournament MVP, Markelle Fultz, almost certain to join them.
As for this year's tournament, most who went to Liberty High School waited in anticipation for a marquee match-up that featured two of the most talented high school players in the nation. Not only did the final between Nathan Hale and Sierra Canyon come to fruition, the match-up between Michael Porter and Marvin Bagley did not disappoint. Here is a recap of the final showdown, player recaps and the stories that made this a tournament to remember.

Michael Porter vs. Marvin Bagley
With both of these players considered to be at or near the top of their respective classes, it is safe to say they rarely get to face-off against someone similar to their talent level. Not only did the opportunity present itself as both teams did their job in making the finals, but the match-up also lived up to the hype. Here's a look at how they played the tournament, the individual match-up and a glimpse into what the future may hold.

The Tournament
With Michael Porter Sr. taking a job as a University of Washington assistant coach, Michael Porter made the move to Seattle and decided to go to Nathan Hale, a high school that had a 3-18 record the year before. With a new coach, Trail Blazer legend and former NBA All-Star Brandon Roy, plus help from his brother, Jontay, and other key transfers, Michael has turned this team into a national powerhouse this year. At around 6'10 and 215-220 lbs, Porter scores at an incredibly high level, with an effortless jump shot and high level athleticism in transition. The Washington commit also has great body control, making it difficult to knock him off balance as a he finishes through contact.
As Hale employs a full court press, Michael tends to do a very nice job as a front man and in guarding the perimeter. He was a threat to block shots off of the glass, while also proving to have a great nose for rebounds. The thing that was most surprising regarding Porter was his willingness and vision as a passer, as he trusted his teammates and even made some nice reads while on the move. His final tournament statistics were 32 ppg (51-94 54.2% FG, 18-23 78.3% FT, 8-31 25.8% 3PT) , 16.8 (6.3 orpg) rpg, 4.8 apg, 2.3 spg, 1 bpg and 2.3 topg.
Marvin Bagley also is playing his first year at his high school, as he sat out last year as a transfer to Sierra Canyon (Chatsworth, CA). The 6'11, 225 pound junior showed jaw-dropping athleticism, ball skills and a first step that puts him among rare air at his size. Absolutely deadly outside of the triple threat, he has excellent ball skills and even showed a deadly hook shot at times. He is typically much too fast for larger defenders to keep in front of them and punishes smaller defenders with his size and leaping ability close to the hoop.
Even with the impressive athleticism of Porter, Bagley made even more plays with his head at or near rim level. He could grab rebounds at their highest point, push the break or even more dangerously, run out in transition. He showed good timing as a shot blocker and moved his feet quite well, with developing strength. He even displayed some solid court vision, with potential to become more of a distributor out of the post. The lefty certainly shows solid form as a shooter, even if he was much more inclined to drive to the hoop at this level. Coaches voted Bagley as tournament MVP as his final numbers were 23 ppg (42-65 64.6% FG, 7-11 63.6% FT), 10 (3.5 orpg) rpg, 1.8 apg, 1.5 bpg and 2.5 topg.
The Match-Up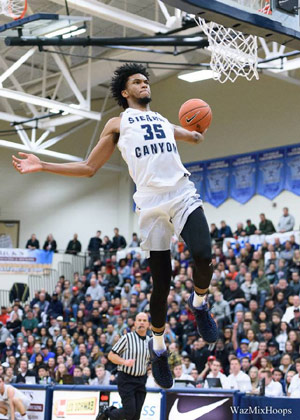 While many were hoping it would be a heads up match-up, they did not start the game defending each other and the advantage quickly went to Bagley. Sierra Canyon got off to a 12-2 start, with Bagley blazing up the court and finishing with authoritative dunks. It seemed that Porter also had issues with Canyon's physical play, with Bagley even knocking him out of the way at one point for yet another strong finish. Nonetheless, Porter managed to score 11 and grab 7 rebounds at the half to Bagley's 16 and 5, though Nathan Hale claimed a 36-32 lead.
The third quarter was where Canyon's strength and size really seemed to play into their favor, as they outscored Hale 18-5, taking a commanding 50-41 lead into the final quarter. Steadily and with Porter taking the lead, Hale managed to come back, with Porter making some crucial baskets and streaking down the floor for the game-clinching basket. He was also instrumental in forcing Bagley into the turnover that ended up sealing the 67-65 win for Nathan Hale to claim the Les Schwab title.
Michael Porter had his only sub-30 point game of the tournament, finishing with 27 points, 15 rebounds (5 offensive), 3 assists and 4 steals. Even as his outside shot struggled to fall (he finished 2-11 3PT), he was 8-11 inside the arc and made some difficult finishes with the game on the line. His handle is at times very shaky under pressure, as with most players at this stage he is very strong hand dominant. Physical defense and fronting did bother him, but he was able to come into his own and finish off the game for his team.
Bagley started the game off incredibly strong, though struggled with double-teams as the pressure ramped up. He finished with 22 points (10-18 FG, 2-2 FT) and 10 rebounds, though he and Canyon struggled once the game slowed in half-court. It certainly seemed like he lacked a bit of confidence in his shot and can work on moving without the ball. His center of gravity also could be high at times, knocking him off balance moving towards the hoop. He was still a complete match-up nightmare and very much a force on the game, the team just came up a bit short in a game where role players very much settled the difference.
The Future
Both Porter and Bagley have some similarities. They both have great size for position, despite just average length by NBA standards (around 7-foot wingspans for both) and both are top-notch athletes. Porter is the superior shooter, who showed more agility and greater instincts as a scorer. Bagley was quicker off of the floor, displayed a more advanced handle and is the stronger of the two.
While Bagley seems to be a possibility to fill either big man position (4/5), Porter seems more likely to play the coveted wing role, which currently has more separation at the top than any other in the NBA. They both have things to work on, despite their obvious strengths at this point in time.
Bagley can improve his decision-making and his outside shot, while even when Porter struggled to shoot; his ability to read the game was a pleasant surprise. Bagley was the MVP of the tournament, but it is going to be hard to forget that this Les Schwab Invitational was the year that Michael Porter had one of the most dominant showings in this tournament's history.
All-Tournament Team
PF Cody Riley 6-9 255 Sierra Canyon 2017 *UCLA
Tournament Stats: 18.3 ppg (58.7% FG, 66.7% FT), 12 rpg (2.8 orpg), 1.3 apg, 1.5 bpg, 2.5 topg
Using his size and brute strength, the other lefty big man on Sierra Canyon made his presence felt around the paint. He finished, often through contact, got to the line 27 times in 4 games and can even put the ball on the floor in space. Even if he is not the most explosive player, he still has decent athleticism and he was able to absolutely punish smaller defenders. When Marvin Bagley was faced with foul trouble in a close semi-final with Gonzaga, Riley was able to help Canyon to a healthy half time lead, while finishing the game with 32 points, 14 rebounds, 4 assists and 4 blocks. His frame is similar to Julius Randle, expect him to use it to get some immediate playing time at UCLA at both the 4/5 spot.
PF J'Raan Brooks 6-7 215 Garfield 2018 *Undecided
Tournament Stats: 19.5 ppg (60.4% FG, 86.4% FT), 10.3 rpg (4.3 orpg), 2.3 topg
It is said that Brooks was a strong baseball-pitching prospect who chose basketball, and his hand-eye coordination is certainly apparent. He has a soft touch from the mid-range and has potential to stretch the floor. Running the court pretty well, it still usually came down to Brooks using his size to score close to the basket. While this worked incredibly well in most games, he ran into a very tough opponent in Jontay Porter, who held him to 3-13 FG, limiting his effect on the game until it was well out of reach. Listed at 6'9, he is much closer to 6'7 and with his future appearing to be as a big man at the next level, this will be something to monitor. Even so, he showed some good signs and proved to have some ability as a rebounder on both ends and was getting looks from Pac-12 coaches.
PG Chris Lykes 5-6 160 Gonzaga 2017 *Miami
Tournament Stats: 17.5 ppg(40.4% FG, 95.2% FT, 34.8% 3PT), 2.5 rpg, 4.3 apg, 1.8 spg, 1.8 topg
Although he certainly stands out as the smallest player on the court, Lykes has an athletic build and some explosive ability. He pressures the ball all the way up the floor and will make the ballhandler pay if they lose their handle. While he is very tough to keep in front of at this level, he still struggled finishing close to the basket and will certainly have similar issues once he gets to college. He is very tough and has a strong court sense, both of which give him a chance to be a contributor at well under his listed 5'8.
PG Elijah Gonzales 5-7 150 Clackamas *Portland St.
Tournament Stats: 27.3 ppg (55.7% FG, 59.5% FT, 40.9% 3PT), 5 rpg, 5.8 apg, 3 spg, 5.8 topg
The lone Oregonian on the team was both fun and highly effective in leading Clackamas to a 2-2 record. His knowledge of spacing on both ends showed through, and he was played strong defense on and off the ball. Teams had a very difficult time denying his shot and he did not have a single game where he shot under 50% FG. He had excellent touch on his marquee shot, which was a teardrop floater. His lack of size will of course be an obstacle and he did at times force things that led to high turnover numbers. Still, he finished only behind Michael Porter in scoring and posted 29 points against eventual champion Nathan Hale. He followed that with 38 points in an upset win over West Linn and garnered his well-deserved spot on the All-Tournament team.
Other Standouts
SG PJ Fuller 6-3 160 Nathan Hale 2019 *Undecided
Playing a bench role on Garfield last year as a freshman, Fuller played a critical scoring role for the tournament champs. The winner of the Les Schwab dunk contest, he brings high level athleticism with some ball skills to attack the basket. He still has yet to grow into his body and is much better as a scoring guard, though with his size he will be set as a combo. He scored in double figures in every game except the final, with a pair of back-to-back 18-point performances in the quarters and semifinals. He was a big get for Nathan Hale and will be one to watch over the next two years.
PG Prentiss Hubb 6-3 170 Gonzaga 2018 *Undecided
While his diminutive backcourt mate gets a lot of press, Hubb was every bit as good and showed why he is considered among the top lead guards in his class. He was the dunk contest runner-up, finishing with some nice throw downs in transition along with ability to create off of the dribble. His shooting was a bit streaky and he can work on his decision-making, though the lefty has tools that are quite workable into translating into a strong college point guard. Expect the top schools to come calling, if they haven't already.
PG Remy Martin 6-0 170 Sierra Canyon 2017 *Arizona St.
Martin did a good job of running the show for Sierra Canyon, in particular with his 29 assists to just 9 turnovers over 4 games (3.2-1 assist-to-turnover ratio). He is quick and even has some pop in transition that should help him once he gets to college. His shooting was inconsistent and will be the area that will need to be addressed if he wants to be more of a scoring threat. Even so, he competes and is a pesky on-ball defender who had a nice run in Hillsboro.
SG Jaylen Nowell 6-4 190 Garfield 2017 *Washington
Nowell may not have been at his best during his time at Les Schwab, but he still showed why Washington fans will be excited for him to join the team next year. He can score from all three levels, attacks off of the bounce and when Garfield desperately needed him in their match-up with West Linn, he responded with 32-points in the 74-72 victory. Without his backcourt mate and future college teammate, Daejon Davis, he struggled against Nathan Hale in the semi-final and sat out the last game. His touch and body control when attacking the basket will give Washington a lot of hope, as he has tools to contribute immediately.
PF/C Jontay Porter 6-10 245 Nathan Hale 2018 *Washington
The younger Porter sibling (well, middle if you count his other brother Coban, a freshman who also plays for Hale) is very impressive in his own right and is probably someone Lorenzo Romar would love to get on campus sooner than 2018. While Michael works quite a bit on the perimeter, Jontay can also step out and shoot, but thrived as a post defender. He finished second to Michael in rebounding for the tournament at 13.5 rpg (3.5 orpg) and led in blocked shots at 3.3 bpg. He recorded 10 of his 13 blocks in the semi-finals and final game, causing serious issues to the smaller J'Raan Brooks and Cody Riley. While he struggled with the speed of Marvin Bagley, he also had a crucial block on him at the hoop near the end of the championship game. He lacks elite burst or bounce, but he is quite technically sound and has a sweet lefty stroke. Another Porter brother to keep a very close eye on.
SG Adam Seiko 6-3 215 Sierra Canyon 2017 *San Diego St.
Seiko is not flashy, as he did a lot of the dirty work for Sierra Canyon while finishing the tournament at an impressive 11-22 (50% 3PT) from three. More impressive than anything was the way he played defense off of the ball against Michael Porter in the title game, he truly gave a master class in throwing off possibly the most dangerous scorer in the nation. Seiko does not do much off of the bounce and is just an average athlete, but he provides the 3-and-D role that has become so highly coveted among coaches at any level.
PG/SG Geno West 6-3 170 Jefferson 2017 *Undecided
He may not be a highly coveted recruit, even with some underclassmen getting high major looks on Jefferson. With that being said, West has been the standout every time I have seen his team play and had a really strong tournament that deserved notice. He led the LSI in FT's made, going 23-25 (92% FT) and averaged 20.5 ppg. He may not be a pure point guard, he lacks ideal SG size, though he competes hard, is aggressive and his effort has led to production. Certainly someone could use what Geno brings to the table.
Notes
Kamaka Hepa, a consensus top 50 player in the Class of 2018, went down in the third quarter of Jefferson's opener against Churchill. He was running the floor well, making his presence felt close to the basket and blocking shots (4 to be exact) before leaving the game with a high ankle sprain. Hepa was a two-time player of the year in Alaska and will play a major role on a Jefferson team that is expected to compete for the Oregon 6A High School State title.
Last year, Daejon Davis was a Les Schwab All-Tournament selection, showing high level athleticism while providing a very high activity level. This year, we got to see one game before an injured wrist kept him out for the remainder of the tournament. If we saw one major difference, it was that he played on the ball a majority of the game, something that the Washington coaching staff is apparently pushing for. He had 5 assists to 7 turnovers in his lone game, so the experiment is still a work in progress. It is worth a try, though the best thing Davis brings to the table may be as an energy scoring guard.
With Geno West, Kamaka Hepa and 2019 Pac-12 target Marcus Tsohonis running the show, Jefferson is considered the 6A favorite. They did claim 5th place, but if the Hepa injury persists, it could be pretty wide open. Clackamas, Grant and transfer-heavy West Linn all brought quite a bit to the table. West Linn has won the last four in a row, and returnee Braden Olsen did a really nice job running the show, leading the LSI with 8 apg.
There were some impressive underclassmen in the tournament, but Gonzaga's Terrance Williams was likely the most fearless freshman. Part of the class of 2020, when he came in the game he brought aggression and a boost on the boards. With plenty of time to grow, he is kind of an undersized PF right now by NCAA standards, though he has a really good frame and showed a nice feel, while his activity level as a rebounder should see good things happen for him down the road.
Making what was apparently his season debut, MarJon Beauchamp is another freshman to keep an eye on. He was returning from a broken foot, but he moves well, has some noticeable ball skills and has impressive length. He appears to be around 6'4 and scored 13-points (in a lot of garbage time). In due time, it looks like Brandon Roy will have yet another weapon at his disposal with Beauchamp.
Churchill lost to Jefferson on the first day in a close game, and Lucas Wilson really stood out with a lot of college coaches at courtside. Wilson is incredibly strong, has some bounce and finished with 28, 9 and 3 in a 63-61 loss. Another player who certainly could be developed at the college level to pay large dividends.
Big thank you to Prime Time Sports for putting on another great Les Schwab Invitational Tournament! There are also a lot of fantastic highlight videos available from the tournament, as Courtside Films, Al Ward Productions, BallisLife and In The Lab were all there, among others. Full game replays are available upon subscription to FloHoops, as well. For additional information on the tournament, go to: lesschwabinvitational.com
Follow Michael on Twitter @NBADraftMikeyV. For any comments or questions feel free to e-mail him at [email protected]