The USA Select Team lost 89-76 to the World Team, staying close for three quarters before a late push behind Canadian standout RJ Barrett and a more talented World squad. The USA Team was undermanned having suffered a number of injuries to key players such as Zion Williamson, Romeo Langford and Keldon Johnson. This is one of the weaker classes in quite a few seasons, so when you combine that with the injuries, it is no wonder this team fell short in the match up. There have been past USA Hoop Summit squads with as many as 5-6 one-and done lottery picks, but this year's team seems to have many more multi-year college players than one-and-dones. Here is a look at the USA Select team prospect's performances and outlooks.
Cameron Reddish SG/SF (6'7" in shoes, 6'6" barefoot, 211 lbs, 7'1" wingspan, 8'9" standing reach at USA Basketball October Minicamp) Westtown School, Norristown, PA
The most intriguing long term prospect on the team, Reddish has developed the reputation for being a bit of a tease. The makings are there for him to become an elite player, but he often leaves you wanting more. For a player with such a decided talent edge, he should be able to dominate the competition, though he often seems content to blend in instead of dominating. He has a body predisposed to play basketball. He is extremely personable and comes across as smart and focused. He has had some trouble delivering in front of scouts in the showcase events.
Scouts questioned his intensity and sense of urgency in the one practice that was open to them. He also seemed to be going through the motions in the other practices as well, not really stepping up in the absence of so many other top wings for Team USA. His game performance (7 points, 2-8 shooting) also fit the main complaint about his willingness to play in the background.
On a positive note he got along well with teammates showing a willingness to be coached, with positive body language and and was supportive teammate. He has above average ability to handle and pass for a wing and his unselfishness was apparent in the scrimmages. He has become very close with future teammate RJ Barrett, and said he welcomed the challenge of matching up with him in the game, despite being outplayed in the individual battle. Reddish is still a projected top 5-10 pick, by default, due to his potential and the lack of talent in his class. He will still need to begin to deliver on that talent in his season at Duke in order to maintain this current status.
Darius Bazley SF/PF (6'7.5" in shoes, 6'6" barefoot, 197 lbs, 6'11" wingspan, 8'10.5" standing reach at USA Basketball October Minicamp) Princeton HS, Cincinnati, OH
There was a lot of focus on Bazley after his decision to bypass college for the G-League, and he has an intriguing combination of size and ability. One scout said that he reminded them of former LSU and current Euroleague standout Anthony Randolph, though it is difficult to gauge whether that is necessarily a positive for his NBA prospects. He has an athletic build, some fluidity as a ball handler and athleticism in the open floor. Practice was a bit of a mixed bag, though he did seem to be closer to 6'8"-6'9" than what he was measured in October Minicamp. He played less than 13 minutes in the game, scoring 6 points and it seemed like he might have given the USA team a bit more of a boost with more playing time.
Bazley still has a lot of work to do regarding his offensive game, and some have questioned his decision to play in the G-League instead of following through with his commitment to Syracuse. He will be an interesting case of a Hoop Summit level talent heading straight to the G-League, though some wonder whether he'll receive the same level of coaching and development that he would have in college. As well as playing with a great number of other players going after NBA spots as well, it could be a more difficult path.
Bazley has some holes to his game, including an inconsistent and unorthodox form on his jumpshot. He does show above average agility and athleticism with some possible combo forward potential with further development. He still needs to add strength and seems best as a stretch 4, though he certainly has attributes that NBA teams look for in that position. Teams will monitor his progress closely in the G-League, and it seems like he will be a name that will be omnipresent when talking about the 2019 NBA Draft.
Bol Bol C/PF (7'2" in shoes, 7'1.5" barefoot, 226 lbs, 7'5" wingspan, 9'6" standing reach at USA Basketball October Minicamp) Findlay Prep, Santa Ana, CA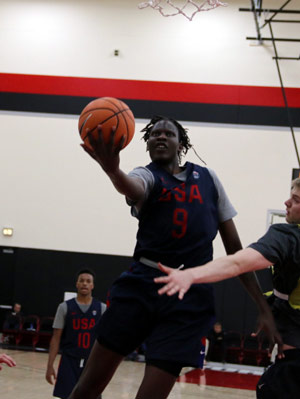 Bol has incredibly rare size and skill set. He had some impressive spurts in practices, though other stretches where it seemed like he was going through the motions. NBA scouts couldn't help but chuckle with the way he barely had to leave the ground for dunks, with his 9'6" standing reach. He had some impressive blocks and altered others playing against the "Portland Generals" (the team of former/current college players that scrimmage against Team USA in practice). He also had some impressive put backs using his length, and solid quickness to corral rebounds and go right back up over opponents for baskets.
His body strength likely will always be a struggle, but to his credit he has added some solid weight, in particular with his legs and shows decent mobility. He is able to impact the game with his length at the high school level. Whether he can have the same type of impact going against stronger and more athletic bigs on a nightly basis remains to be seen.
While he was not always going full speed during practices, at times seeming disinterested and at times avoiding physical contact, the game was a definite bright spot for Bol. He had 12 points, 14 rebounds and 6 blocks, although it seemed like he may have had more. Bol will be a fascinating case study as it seems like he is an almost sure one-and-done with his combination of rim protection and ability to stretch the floor. If he shows the focus he had in the Hoop Summit game on a consistent basis, it should do wonders for his draft stock. As of now, he still has questions to answer about adding strength to his frame and his willingness to play hard consistently that will have to be answered.

Jordan Brown PF (6'11" in shoes, 6'10" barefoot, 205 lbs, 7'0" wingspan, 8'11.5" standing reach at USA Basketball October Minicamp) Prolific Prep, Roseville, CA
Brown was a late addition (along with Cole Swider) with the rash of injuries affecting Team USA. He was one of the more fluid and athletic bigs in the class. Despite failing to stand out athletically in practices, he excelled in getting up down the floor and converting on baskets off of misses and in transition. His midrange game is a mixed bag right now and lacks great ability to create offense for himself. His body is still somewhat of a liability, as he doesn't seem to have the strength to battle or hold position against NBA level athletes.
Brown still provides an ability to rim run and rebound that should prove valuable at the college level. Despite being highly rated in the 2018 HS class and showing a strong energy level, scouts view Brown as a likely 3-4 year college guy. His chances to make the NBA will be about him gaining strength, showing some ability to switch on defense and working on expanding his offensive game away from the basket.

Darius Garland PG (6'2" in shoes, 6'0.5" barefoot, 175 lbs, 6'5" wingspan, 8'1" standing reach at USA Basketball October Minicamp) Brentwood Academy, Brentwood, TN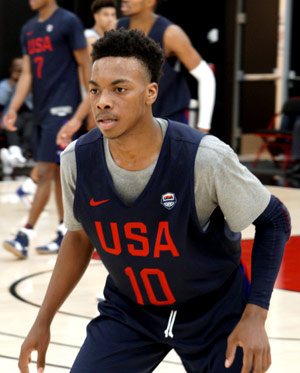 Garland was one of Team USA's bright spots. He's an extremely quick guard and was the most consistent shooter on the team. He showed the ability to stroke the 3 ball both off the dribble and spotting up. Coming into the event, there was some debate over who the better prospect/player was between he and Tre Jones. Coming out of the event, Garland had made it clear that he is the superior prospect and player with his great quickness and outside shooting ability.
He thrived in practice setting up teammates and pushing the ball up the floor. He is a quick decision maker and has improved in his ability to limit turnovers and make quality decisions with the ball. In the game, he led Team USA in scoring with 16 points, going on a third quarter shooting spree that had the USA out in front for a while. His 6'5" wingspan is a nice touch as well, though he still will need to develop his body to help him finish near the hoop. He should look to add more leadership and toughness over the next year, and he can potetially be a one-and-done prospect in a class lacking both overall talent and point guard prospects.

Quentin Grimes SG (6'4.5" in shoes, 6'3" barefoot, 204 lbs, 6'7" wingspan, 8'4" standing reach at USA Basketball October Minicamp) College Park HS, The Woodlands, TX
A replacement for Anfernee Simons, Grimes had a very solid showing in front of scouts in the open practice and the game. In fact, Grimes was likely the most consistent performer on Team USA throughout the week at Hoop Summit. He was aggressive in the practice scrimmages and showed one of the highest intensity and competitive levels throughout the week. He is good attacking the rim, with some creative finishes. He can push the ball up the floor and makes solid decisions passing the ball.
While not an elite level athlete and lacking some ideal length, he has good versatility to help out in a number of areas. For a 2-guard, his ball skills are solid and he seemed to show more confidence as a jump shooter as well. While the team was missing a number of players who were ranked around or ahead of Grimes, he certainly made the most of his opportunity and showed some skill that teams are looking for in a 2-guard with his scoring ability and energy. Grimes finished with 15 points, 6 rebounds and 4 assists in the game, capping off a week that put him firmly on the NBA radar.
Tyler Herro SG (6'5" in shoes, 6'4" barefoot, 193 lbs, 6'3.75" wingspan, 8'3.5" standing reach at USA Basketball October Minicamp) Whitnall HS, Greenfield, WI
Herro is a quality shooter and had his moments throughout the week of practices shooting from long range. While not the quickest or most athletic player, he has a sturdy frame and a solid understanding of the game. It seems that the quickness of practice and the game made it difficult for him to make an impact. He finished with 2 points in just 7 minutes of game time, missing the only three ball that he took.
He is better in the half court and shows some knowledge of how to run defenders off screens to create open looks. His lack of length will be something to monitor on defense, though he does seem to have a semblance of ball skills and a good work ethic. Kentucky looks to have a crowded backcourt next year, though Herro should manage to fill a role and could develop into a strong rotation piece in time.

Keldon Johnson SG/SF (6'6" in shoes, 6'5" barefoot, 210 lbs, 6'8.5" wingspan, 8'8" standing reach at USA Basketball October Minicamp) Oak Hill Academy, South Hill, VA
Johnson unfortunately did not participate in the practice or the game. He was recovering from a sprained ankle he suffered in the GEICO High School Nationals, thus was relegated to shooting and warming up by himself during Wednesday practice and being a scratch from the game. He would have been a positive for the team with both his athleticism and leadership. Johnson would have come in handy helping out in defending RJ Barrett, as he had a few possessions of note doing so in the McDonald's All-American game.

Tre Jones PG (6'2.5" in shoes, 6'0.5" barefoot, 183 lbs, 6'4" wingspan, 8'0" standing reach at USA Basketball October Minicamp) Apple Valley HS, Saint Paul, MN
Jones was solid at times, but failed to stand out among his teammates. In a class lacking elite lead guards, he is among the best due to his consistency and court sense. He is pretty far along in his development both physically and skill wise. One Scout mentioned that people around the high school scene in Minnesota think he's better than older brother and NBA point guard, Tyus. Tre is bigger and stronger than Tyus, but similar to his older brother, he is below average from a speed and athleticism standpoint.
Tre didn't do much to stand out during the week, but was "steady", getting free for a few lay- ins and displaying his vision with some nice assists. He does a good job of protecting the ball and getting teammates involved, though lacks a great burst to get separation from defenders off the dribble. What he lacks for in flash, he makes up for in consistency. Based on his reputation coming into the game, his practices and game performance (4 points on 2/8 shooting) were a bit of a disappointment. Not surprisingly he ran the point efficiently with 5 assists to 0 turnovers. He seems to be the leader of Duke's talented incoming recruiting class and if he shows efficiency as a shooter, he should have an NBA future.

David McCormack C (6'11" in shoes, 6'10" barefoot, 263 lbs, 7'1"wingspan, 9'0" standing reach at Nike Hoop Summit) Oak Hill, Norfolk, VA
McCormack is a bruiser and while he's limited in terms of touch and offensive skills, he brings toughness and energy. McCormack battled with Bol Bol throughout the week in practice drills and used his girth to keep Bol away from the basket. At times, Bol converted some easy put backs with his sheer length and McCormack also struggled on switches due to a lack of ideal lateral quickness. McCormack's ability to play hard was on display throughout his three days at the Hoop Summit and his ability to carve space as a rebounder will be a skill he brings to Kansas. He is a likely four year player that will have a chance at a pro career, though he will need to show more of an ability on both sides of the floor in order to gain some NBA traction.

Cole Swider PF (6'9.5" in shoes, 6'8.5" barefoot, 211 lbs, 6'8.5" wingspan, 8'9 standing reach at Nike Hoop Summit) St. Andrew's School, Providence, RI
Swider is a stretch four who was the final, last minute addition to a USA Team ravaged by injury. He is a solid athlete with skills facing the basket and some ability to grab offensive rebounds, score close. He will join a Villanova squad with uncertainty in their frontcourt, as Omari Spellman has entered the draft and is testing the process. Swider figures to be a four-year player and his ability to face the basket and score will give them added depth in the frontcourt. A solid athlete, who is more smooth than explosive, he will need to focus on gaining a lot of strength in order to increase his pro chances.
Bonus Note
While NBA personnel and agents are allowed at every World Team practice, they are only allowed at one USA Team practice, usually the day before the game. Rather than scrimmage against each other, the USA players go up against a team that scouts have dubbed "the Portland Generals". Typically, this team is made up of some former and a few current college players, though every now and then, they have some high school players as well (including General legend, Payton Pritchard, who eventually played for Team USA in the Hoop Summit).
While Tres Tinkle and Bryce Canda were two college players of note on the scrimmage team this year, their were a couple high school prospects from the Washington area who came down and provided some intrigue. Kevin Porter is a USC commit, a lefty wing who showed he could score from all three levels. Porter did not show much in terms of passing (one Hoop Summit coach put it well in that the scrimmage team had "too many cooks"), he had some strong finishes through contact off the bounce and a few above the rim finishes. Porter certainly looked the part of a USA level athlete and was not shy about isolating and scoring in front of scouts.
The youngest "Portland General" was Jaden McDaniels, who showed really nice agility and mobility at around 6'9". The younger brother of San Diego St. freshman Jalen McDaniels, who is currently testing the NBA Draft waters, went on to have a great first two sessions of the Nike EYBL for Seattle Rotary. McDaniels might have given himself an opportunity to try-out for the USA U18 team this summer and could be on the short list of possible Hoop Summit invitees in 2019.
Hoop Summit Measurements
As a note, there seemed to be a number of height discrepancies between these measurements and the past USA measurements (2017 U19 the 2017 October Minicamp and others) in the 1-2 inch range. There were also some weight differences that seemed unusual as well. From past data we have collected on these players, the listed barefoot measurements are likely their actual heights in shoes.
Cameron Reddish SG/SF (6'9" in shoes, 6'7.5" barefoot, 205 lbs, 7'0" wingspan, 8'10" standing reach) Westtown School, Norristown, PA
Darius Bazley SF/PF (6'10" in shoes, 6'9" barefoot, 196 lbs, 7'0" wingspan, 8'11" standing reach)
Bol Bol C/PF (7'2" in shoes, 7'1" barefoot, 222 lbs, 7'6" wingspan, 9'6" standing reach)
Jordan Brown PF (6'11" in shoes, 6'10" barefoot, 193 lbs, 7'0" wingspan, 8'11" standing reach)

Darius Garland PG (6'3" in shoes, 6'2" barefoot, 173 lbs, 6'5" wingspan, 8'2" standing reach)

Quentin Grimes SG (6'5" in shoes, 6'4" barefoot, 205 lbs, 6'7" wingspan, 8'4" standing reach)
Tyler Herro SG (6'6.5" in shoes, 6'5" barefoot, 193 lbs, 6'4" wingspan, 8'4" standing reach)

Keldon Johnson SG/SF (6'6.5" in shoes, 6'5" barefoot, 210 lbs, 6'9" wingspan, 8'7" standing reach)

Tre Jones PG (6'3" in shoes, 6'2" barefoot, 187 lbs, 6'4" wingspan, 8'0" standing reach)

David McCormack C (6'11" in shoes, 6'10" barefoot, 263 lbs, 7'1"wingspan, 9'0" standing reach)

Cole Swider PF (6'9.5" in shoes, 6'8.5" barefoot, 211 lbs, 6'8.5" wingspan, 8'9 standing reach)
Romeo Langford SG (6'6.5"in shoes, 6'5" barefoot, 202 lbs, 6'11" wingspan, 8'8" standing reach)

Louis King SF (6'7" in shoes, 6'6" barefoot, 188 lbs, 7'0" wingspan, 8'8" standing reach)
*Michael Visenberg contributed to this report. Follow Michael Visenberg on Twitter: @NBADraftMikeyV or feel free to send him an e-mail at: [email protected]