While this year's returning college talent may be relatively weak, there's a lot to get excited about with the incoming freshman class. Freshmen made up 10 of the 30 1st round picks in the 2016 NBA Draft, with 4 more being selected in the 2nd round, falling two short of the record 12 first rounders taken in 2015 (14 altogether in the 2015 draft). We look for this year's group to possibly tie or set a new mark, with as many as 12-15 freshmen going in the first round. This crop has a great deal of depth and a lot of top players who should make a large impact during the 2016-17 NCAA season. Here is our pre-season top 20 freshmen, a majority of whom are sure to be hearing their names called by Commissioner Adam Silver in the near future.
1. Josh Jackson 6-8 205 SG/SF Kansas
When recently asked to name his "favorite athlete of all-time" during KU's Traditions Night, Bill Self named his current star freshman over the likes of recent graduates such as Ben McLemore, Joel Embiid and Andrew Wiggins. He possesses great size for a wing to go along with elite quick twitch athleticism. Beyond his superior athletic profile, he has developed his ball skills and play making instincts which give him a chance to make a mark at a position that currently is lacking at the next level. He has the lateral quickness and a competitive fire that should immediately help him to make a major impact on both ends of the floor.
Jackson is an absolute terror in the open floor and incredibly explosive. His ability to get teammates involved is what really sets him apart from other high level athletes, as he has shown an ability to make plays even while closely defended. He has also exhibited the ability to take the ball end-to-end and finish. He has size and a blazing first step that should make him a match-up nightmare. He also has an ability to be an incredibly versatile defender, as he has speed, instincts and an aggressive demeanor that should make him a serious factor. A well spoken, mature, charismatic kid, he's got an inner confidence, swagger even that few develop at the HS level.
His jump shot remains inconsistent, as he can be pretty streaky as he currently does not possess a fluid form. If he can show an ability to make long range shots at a higher rate, it will truly turn him into an offensive force. At 19-years old, some may point to the fact that he's older than many of his classmates, but his readiness will also be seen as a positive. He spent his final two HS seasons away from his native Michigan at Prolific Prep in Napa, California, and the maturity that he gained both on and off the floor has been invaluable. It is rare to find an athlete of this caliber who has the understanding of the game that Jackson exhibits, and that puts him at the top of a very talented freshman crop and draft class.
2. Dennis Smith 6-2 195 PG NC State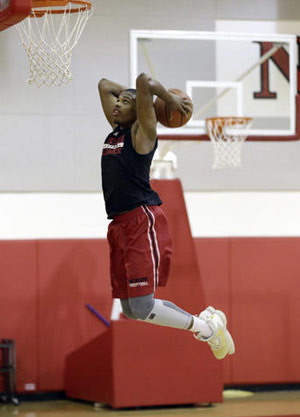 When he was on the prep circuit during the summer of 2015, Smith developed a reputation of taking over games. He's among a rare class of athletes who plays far above the rim. His great court vision and leadership can easily be overlooked. It was when he was in the midst of dominating his peers during a game at adidas Nations in the summer of 2015 that he tore his ACL, forcing him to miss the entire 2015-16 senior high school season. After enrolling early at NC State and rehabbing from his injury, he showed a great deal of grit returning to play in summer events, including three college sessions at adidas Nations.
Although this was obviously a small sample size, Smith showed that he was back to his explosive self and showing the same dominant traits against college level talent that he displayed against his peers in high school. He is adept at creating for himself and others, using his athleticism and change of speed in transition. The pick-and-roll should be incredibly dangerous with Smith running the show, as he takes advantage of mismatches with his speed and shiftiness. He also contributes as a rebounder, and shows aggression attacking the basket and getting to the FT stripe.
His shot is something that is seen as a work in progress, but he certainly seems to have potential in terms of both mid and long range. He has near prototype PG size, at over 6'2 with a reported 6'5 wingspan. While this may not be ideal height, he truly does play beyond his size and when he is engaged, his activity level is incredibly impressive. He absolutely thrives in space and is someone who surely will have NBA teams dreaming about putting the ball in his hands. The injury will be in the back of team's minds, though it certainly appears that he is back to his former self and should be better than ever during a short stay in college.
3. Markelle Fultz 6-5 190 SG/PG Washington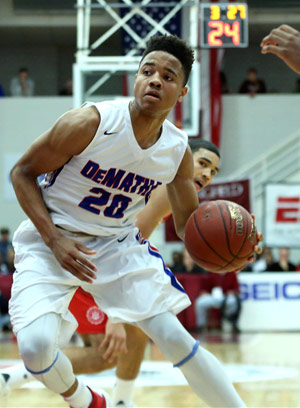 A bit of a late bloomer, Fultz's emergence and skill set is reminiscent of Dwyane Wade's. Fultz is a combo guard who combines legitimate SG size with fluid hips, a lightning quick first step along with long arms and great hands. His arrival on the national radar may have been late, though by the time his senior year was finished, many considered him the top guard prospect in the HS Class of 2016.
One of the first things that you notice about Fultz is that he is extremely creative, with unique body control and a natural ability to finish around the basket. His imagination with the angles he takes and English he puts on the ball to finish drives makes him incredibly fun to watch and equally difficult to defend. He plays with great energy, he seems to be in constant motion and is remarkably shifty with the ball in his hands. He also seems to possess defensive instincts and quick feet that could make him a strong two-way guard. His body strength is still a work in progress, though he seems to have added the strength to play through contact.
He is still is a streaky shooter at this point and his form could use some tinkering. He could stand to work on his mid-range game and timing, moving without the ball. During the FIBA U18 Americas and UW's summer excursion, he showed a lot of promise in his development. Fultz is an intriguing prospect vast potential considering his great imagination and offensive skill set as a combo guard.
4. Lonzo Ball 6-6 190 PG UCLA
Among the best passers to come along in years, his court vision and ability to push the rock at 6'6 is special. He is a quarterback on the floor, having mastered the one handed outlet pass and his ability to drive and dish make him a joy to play with. But he's not without flaws. Ball is one of the most polarizing prospects, considering his ability to dominate games without scoring. But questions have been raised about how his main limitation, his shooting form, will hinder his transition to the NBA level. Jason Kidd entered the NBA as a poor jump shooter and retired as the third most prolific 3 point shooter of all time. So there's obviously hope.
His basketball IQ expands beyond his passing, as he also has a tremendous defensive presence. He averaged a triple double as a senior at Chino Hills and should absolutely stuff the stat sheet at the college level. He shows elite level defensive ability as well, as he can read passing lanes, even if his effort and awareness can definitely improve. His eyes are constantly up and he stretches the floor purely off of his ability to pass, run the break and even off of his confidence as a shooter. I mention confidence more so than ability, as this is what makes him truly polarizing.
Ball certainly had no issues launching long three-pointers, and even makes them. Still, his shooting form is a concern. In a word: ugly; as his elbow jets out too far and he shoots the ball across his body. His current form will make it very difficult to extend his shot further with any consistency and his release will make it difficult to get shots off. During UCLA's summer trip to Australia, he struggled shooting the ball and showed that he still needs work on his shot selection. While his percentages will be something to monitor, he does so many other things to affect the game beyond scoring that scouts are drooling over him. When you have a walking triple-double threat who excels in fast paced settings, chances are that people will end up seeing just how valuable Lonzo Ball can be as a 6'6 floor general.
5. Harry Giles 6-10 240 PF Duke
Mr. Personality, Giles has an infectious smile and attitude that uplifts everyone around him. It's impossible not to pull for him after you get to know him. His frame is excellent, he has been measured with a 7'3 wingspan and 9'1 standing reach. Simply put, he covers a ton of space, is a big time rebounder and even shows ball skills that allows him to face up bigs and get by them. After showing the level of impact he could have on the game during the 2015 U19 World Championships in Greece, he unfortunately tore the ACL in his right knee. He seemed to have fully recovered from the injury he had the summer after his freshman year of HS, where he had torn his ACL and MCL in his left knee.
Throughout most of his high school career, Giles was at the top of his class. He combined elite physical tools with a promising offensive repertoire. With some hoping he had made a full recovery from his latest ACL tear, news came out in early October that Giles had to have yet another knee surgery (left knee) that will likely force him to miss the first few games of the year. While Giles absolutely has some talent and gifts that put him among the elite big man prospects in recent memory, scouts have not seen him play for over a year. He still had questions as far as his ability as a mid-range shooter and could certainly stand to improve his ability in the post. While it may be tough to turn down this potential talent, injuries can derail a career and in his case, not seeing him face top competition for an incredibly prolonged period of time is definitely disconcerting.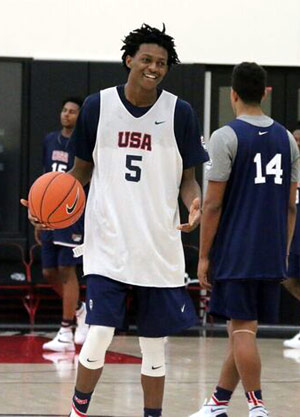 The real hope now is that Giles will be well enough to play by the time conference season rolls around. He should become a double-double machine if so. He can knock down mid-range shots, finish through contact and has wide shoulders that make him a load in the paint. His agility at his size also gives him a great deal of potential as a defender, with an ability to move his feet that is highly coveted in the NBA. While his talent is undeniable, it is still going to be tough to pick him without having seen what he can do. If he proves that he can stay healthy, and better yet shows that he is fully recovered, Giles can absolutely move back to the top of the board.
6. De'Aaron Fox 6-3 175 PG Kentucky
Taking over the reins as Kentucky's point guard, Fox possesses elite speed and athleticism beneficial on both sides of the ball. While he has a very quick first step and ability to attack as an offensive player, perhaps the even more enticing thing about him at this point is his on-ball defense. He moves his feet incredibly well, gets very low and provides pressure you do not see many guards bring. On offense, the lefty has a bevy of floaters and court vision; he has really made strides as a playmaker.
He can be a bit erratic as a shooter, though has certainly shown an ability to be a threat behind the arc as well as other areas on the floor. His frame is still rather slight, and he can be bumped off of his spots and made to force things when dealing with contact. His decision making on offense can also use a tune up, he forces plays that sometimes are just not there. He certainly has adequate size and high-level athleticism in terms of his NBA prospects. It will be about his consistency as a shooter and decision maker that really show where he should end up being chosen.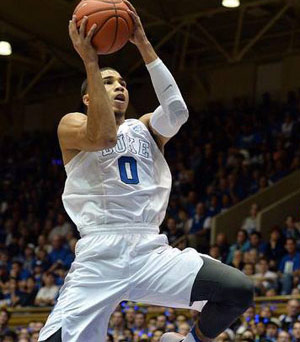 7. Jayson Tatum 6-8 205 SF Duke
Tatum brings a strong fundamental skill set along with size and body control to the wing. With an emphasis on footwork, he can create mid-range opportunities at a high volume, excelling in that facet of the game. He manages to get his offense consistently running out in transition and is a dangerous spot up shooter. He may not be a jump out of the gym athlete, or have elite speed and quickness, but he's a polished offensive player who manages to finish through contact and can attack if given open space.
One other thing that he brings is an ability to read passing lanes, he seems to create turnovers which lead into transition opportunities at a strong rate. He has built strength over time and while his body still is in development, this has helped him deal with physical play. His handle can still be loose at times and he does not have elite burst on his first step, which are slight areas for concern regarding his long term potential. Ultimately, he has great size to go with body control and footwork, which should make him a solid wing prospect even at the highest level.
8. Jonathan Isaac 6-10 210 SF/PF Florida St.
With an over 9-foot standing reach and a long, fluid stride, Isaac shows a great deal of potential as a combo forward. He has the ability to stretch the floor, can attack as a cutter and has ball skills that can be worked with. He certainly shows potential in becoming a long-range threat and he has excellent size at either forward position. In the mean time, he is probably best suited to being a mismatch stretch four, which is where he should find a great deal of his time at Florida St. He causes problems defensively with his length, is really quick off of the cut and his shooting stroke is very intriguing.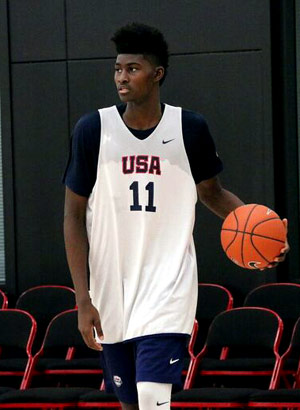 While he can put the ball on the floor, he still needs to show more of an ability to create shots off the dribble. He also has trouble defending the post and his feel for the game is still in the early stages. His guard like fluidity and athleticism should still make him a steady contributor out of the gate, though it will be important to see if he can adapt to a faster pace and develop consistency. Considering his length and offensive promise, he has one of the higher ceilings among the incoming freshman class.
9. Marques Bolden 6-11 245 C Duke
Even as a five-star prospect, Bolden's late selection of Duke was just supposed to bolster depth. Now, with Harry Giles status up in the air, he could be a vital necessity for a team with NCAA Championship aspirations. Possessing legitimate center size and a fantastic frame, Bolden has shown the ability to score through contact. His enormous wingspan (measured at 7'6 at the Hoop Summit) provides great rim protection, along with possessing big time strength at only 18-years of age. He has soft hands and displays some touch on his shot that has NBA teams taking notice even before stepping foot on a college floor.
His offensive ability is certainly in its raw stages at this point, though he can certainly carve out space near the basket and finish on dump offs near the hoop. His potential on both ends regarding the pick-and-roll are what give him high marks as a more "traditional" center. Though not overly quick, he is certainly mobile and can run the floor, cover some in space. He should excel as a rebounder on both ends and provide strong rim protection. While his production on the floor this year will likely be uneven, his physical attributes and potential are probably enough to get looks in the late lottery to mid-first round.
10. Bam Adebayo 6-10 255 PF/C Kentucky
Adebayo could be an absolute man amongst boys facing high school competition, with a professional body and exceptional leaping ability for a big man. He is an explosive leaper, expert rim runner and can affect the game as a rebounder. He has even flashed a semblance of mid-range ability, though he does most of his damage close to the hoop. He is a beast in transition, with ability to finish high above the rim and footwork that also translates to making plays on the defensive end. Even at the college level, his brute strength and athleticism should allow him to punish defenders on a nightly basis.
His post game is very raw at this point, if he can add a few moves and counters this would make him much more of a factor on offense. While he has adequate size for a PF, he is slightly undersized as a NBA C and will certainly need work on his skill set before playing the 4 at the next level. His consistency as a shooter and his awareness in the half court will both be things scout take notice of. The strength and athleticism he provides both are elite level, the key will be displaying the skill set necessary to show he can compete against high level big men night in and night out.
11. Rawle Alkins 6-4 225 SG Arizona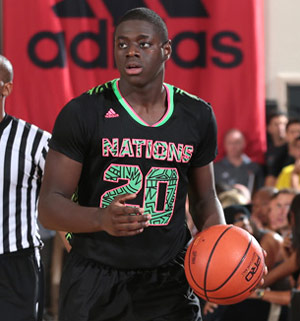 Alkins was the MVP of adidas Nations 2015, punishing opponents in transition with his brute strength and athleticism. He did not necessarily assert himself at the same level during his 2016 stint among his college peers, though he showed he could score and has a body that makes him ready to contribute. He is a streaky jump shooter who also shows some ability to handle in the pick-and-roll. He's a bright kid with a NYC toughness to him and thrives at creating off the dribble and getting to the rim. With a 6'8 wingspan and a strong base, he's an explosive leaper with nice body control and contributes as more than just a scorer. He has a grown man's body and game that should help him make a big impact on college and despite being short for an NBA 2, his powerful frame and skill level will allow him to use his physical gifts against NBA guards.
12. Malik Monk 6-3 200 SG Kentucky
In a class chock full of stud athletes, Monk may indeed be the most explosive. He is definitely a threat to finish with authority at the rim and is someone you need to take account for off the cut. He also can score in bunches, with a quick burst that gives him an ability to create his own shot. The concern with him moving forward will be his lack of size for the SG position. While there are some that view him as a combo-guard, he has not necessarily shown the ability to create for others that would make NBA teams comfortable putting the ball in his hands. Still, if he shows the ability to defend either guard position, and some ability to play the point, he'll be a sought after prospect in the first round in 2017.
13. Jarrett Allen 6-10 235 C Texas
Perhaps the most important recruit during Shaka Smart's tenure at Texas, Allen is a talented center prospect who has a great deal of potential on both ends of the floor. Anyone who plays for Smart is going to be expected to defend, and certainly these principles will help Allen, who displays some mobility to go with his impressive length. He also has some tools as a post player, with a hook shot over either shoulder and some flashes of a jump shot out to mid-range. He still needs to work on his body, though with a 7'5+ wingspan and a good nose for the ball, he is an effective rebounder and rim protector. Developing more consistency, as a post scorer and ability to carve out positioning will be the key. His athleticism may not be elite, though he moves well for a big man, has good hands and certainly has a lot to work with to become one of college basketball's top center prospects over the next couple seasons.
14. Wenyen Gabriel 6-9 200 SF/PF Kentucky
Gabriel is a player that skyrocketed up the rankings during the summer leading into his senior year as a forward with boundless energy, even possessing some ability on the wing. He shows some potential to stretch the floor, providing length and defensive versatility, plus he is very aggressive on the glass. He still seems to be at the point of having some wing ability rather than being a true wing. His game off of the bounce is still pretty limited and his lateral quickness and fluidity is not on an elite level. His frame still kind of limits him in terms of choices of where he will end up on the court, and adding strength will be a necessity in terms of his future readiness for the next level. On the bright side he has become a fairly reliable mid-range shooter. Playing hard is still a very sought after skill and Gabriel absolutely provides maximum effort with some translatable ability, all of which will be under the watchful eye of scouts. Figuring out what position he is will be another key for him moving forward.
15. Robert Williams 6-9 235 PF Texas A&M
Possessing an absurd 7'4 wingspan, Williams also is a strong run and jump athlete who really impressed when matched up with peers at the 2015 Nike Skills Academy. At the EYBL level, rim protection was his calling card, as he proved to be one of the most dangerous shot blockers in his class. He also shows a lot of potential as a rebounder and is going to be a dangerous rim-runner who will be a threat to catch lobs. His ball skills and shooting are still raw, though his frame and ability to run the floor should both stand out right away. Williams is a prospect brimming with potential that possesses elite physical tools that could make him impactful in doing the dirty work many teams desire out of their PF. Showing further versatility on offense will likely take time, but he is one of the major sleepers in this incoming freshman group, with lottery talent down the road.
16. Frank Jackson 6-3 215 SG/PG Duke
This is a very strong group of incoming freshmen guard prospects, and Jackson certainly can put himself in the conversation. He is incredibly strong and also has sneaky athleticism, in terms of reaction and straight-line speed. He has a frame and bounce that can allow him to finish through contact and ball skills that allow him to create opportunities. His jump shooting is streaky, though he has solid mechanics that leave a lot of hope for the future as far as that is concerned. He shows promise in the pick-and-roll, plus can certainly push the ball in transition. At times he can be a bit too trigger happy and force some bad shots, make poor decisions. He still is seen as more of a scoring guard right now, though he has flashed ability to possibly convert to the point and he certainly has tools that could make him a possible NBA fit down the line. he may struggle this year to truly master the PG position and there is already speculation that he will be a more than one-and-done Dukie.
17. Miles Bridges 6-7 230 PF/SF Michigan St.
Bridges is an explosive leaper who has been getting early rave reviews at Michigan St. He possesses strength and athleticism that make him a tough match-up right out of the box, and he has shown some ability out to his outside shots, granted his release is very low. There are still concerns regarding his height and lack of length, along with some wondering whether he has the skills necessary to translate to the wing moving forward. The key for him will be to show an ability to defend multiple positions, which could be a challenge for him. It will be something he will have to be forced into, however, given MSU's injury and lack of depth up front. If Bridges proves himself on defense, he has offensive ability and athleticism that are very workable. Given the NBA's proclivity for smaller line-ups, this could also play into his favor as a possible combo forward, even given his lack of ideal size.
18. Lauri Markkanen 7-0 230 PF Arizona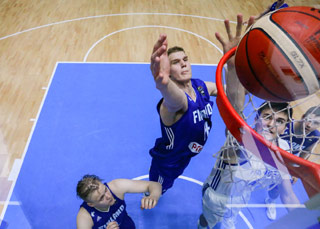 The much ballyhooed big man from Finland was absolutely dominant during this past summer's European U20 Championship, where he averaged 24.9 ppg and 8.6 rpg in only 26.5 mpg. He has fluidity to run the floor and beat his man, along with an adept outside stroke. He even shows flashes of ball skills and is incredibly light on his feet. He still has some real work to do on his core strength, showing very little semblance of a post game. He will have to show a dedication to rebounding and defense if he wants to make a mark at the NBA level. Becoming more vocal and aggressive will be key factors for his development. He still brings a great deal of intrigue due to the shooting consistency he has displayed as a fluid 7-footer, who at the very least should be counted on as a spot-up shooter.
19. Sasha Killeya Jones 6-10 220 PF Kentucky
Kentucky usually has a forgotten McDonald's All-American and Killeya-Jones sort of fits the bill for that this year. He is all of 6'10 with length and an ability to move and get off of the floor. He shows some nice mechanics as a shooter and while he is still rather skinny at this point in time, he only turned 18 in August and should be able to add to his frame. His feel at this point is still a work in progress and he will need to become a better fundamental rebounder and improve his awareness defensively. He still has ability to run the floor and some burgeoning offensive ability that could eventually turn him into another big man gem at UK in time.
20. VJ King 6-6 195 SF/SG Louisville
King has the tools to become a very good two-way wing for Louisville and certainly should be in contention for minutes right away. He has good length and solid run/jump athleticism, with some ball skills and flashes of mid-range ability. His outside stroke is still streaky and his frame is strong, though can still use some work. He is going to be 20 in January, and his handle still seems to be much of a work in progress. Talent has never been his issue as staying focused and assertive are the keys to him realizing his tremendous upside.
Follow Michael on Twitter @NBADraftMikeyV. For any comments or questions feel free to e-mail him at [email protected]