Team USA dominated in Crete in FIBA's U19 World Championship, returning to the throne. After taking a look at the Top-10 International prospects of the event, now it's time to breakdown Team USA.
Cade Cunningham (2001, 6-6, SG/SF)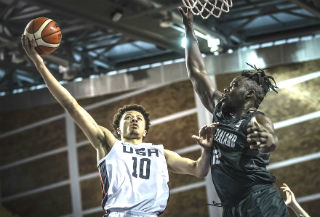 Being the second youngest player of Team USA didn't prevent Cunningham from being one of the best players of this team in the tournament, averaging 11.7 points, 4.9 rebounds and 5.7 assists per game in 23.5 minutes. Blessed with a great body and good athletic ability, Cunningham was able to demonstrate his talent as an all around guard. Cunningham is great in the open floor and when he receives the ball on the move, as his court vision and ability to play the Pick and Roll are at really high level. There is still an obvious flaw to his game though: His shooting, as he shot just 1/14 3's in the tournament. If he finds a way to improve as a shooter, then his ceiling increases considerably.
Tyrese Haliburton (2000, 6-5, PG) Iowa St. So.
At first glance, Tyrese Haliburton doesn't really stand out, despite his great size for a point guard. He doesn't do anything flashy. But when someone takes a really good look at him, they realize that Haliburton can impact the game in so many ways. The Iowa State guard was a real floor general. On offense, he made sure everyone was in position, he had a ridiculous 7-to-1 assist/turnover ratio and he shot the ball really well, despite his weird shooting release. On defense he made life for opposing point guards miserable with his ball pressure, good wingspan and great defensive instincts. Haliburton might not look like it at first glance, but he is a very good prospect.
Jalen Suggs (2001, 6-4, PG)
One of the most vocal players on the team, despite being one of the youngest ones. Jalen Suggs doesn't really jump off the page with a specific skill. But he makes winning plays. He can do a little bit of everything on offense, as he tried to create his own shot, he attacked closeouts and had some impressive finishes around the basket, while he was great on on the defensive end, with 2.4 steals per game. Shooting just 25% from beyond the arc and just 29.7% in general is worrisome, but not a red flag, at least just yet.
Scottie Barnes (2001, 6-8, PF/SF)
Playing mostly as a power forward, Scottie Barnes was able to demostrate a part of his skillset, with his ability to pass the ball (2.7 assists per game – 3rd on USA Team) being one that stood out. Barnes played physical, he attacked the boards on both ends of the floor and was one of the main reasons that USA's defense was that strong, thanks to his ability to switch on the perimeter when necessary. His shooting is a concern (he took just 2 3's in 7 games), with his slow release being one of his problems, but he definitely has an interesting skillset, mainly thanks to his versatility on defense and passing instincts.
Jalen Green (2001, 6-5, SG/SF)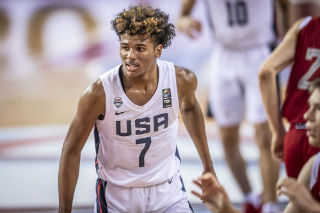 He was the youngest player on Team USA, and still found ways to be effective, averaging 10.1 points (4th in his team), 2.1 rebounds and 1.3 assists per game in 21.5 minutes. Green is an explosive guard with a thin frame who excels in transition and has his way when the tempo slows down, thanks to his ability to create his shot. For now can be considered a streaky shooter and can't really play off the ball, but the talent is there.
Reggie Perry (2000, 6-9, C/PF) Mississippi St. So.
There is a reason Perry was MVP of the tournament: He just was too big, and too strong for opponents to handle. Playing mostly at center, Perry looked like a man amongst boys with his well developed body, physicality, rebounding instincts and solid footwork in the post. At the same time, though, he had problems with his perimeter defense and also didn't shoot it particularly well, which could be problematic at the next level. Considering the fact that Perry has nearly reached his peak physically, he should look to improve his skillset further to be able to play as a power forward at the next level.
Trevion Williams (2000, 6-9, C) Purdue Fr.
Productive. That's probably the word best suited to describe Trevion Williams' showing in Crete. Coming mostly off the bench, Williams took advantage of the fact that opponent's second units weren't that strong and averaged an impressive 8.7 points and 6.6 rebounds per game in just 13.8 minutes. Purdue's center has a nice strong body, a solid footwork in the post and nice passing instincts. He isn't really athletic though, can't be considered a rim protector and isn't quick enough to slide down to the power forward position, with his lack of versatility being probably his biggest problem.
Ziarie Williams (2001, 6-7, SF)
He played sparingly (just 53 minutes total in 7 games) and mostly in blowouts, but that didn't prevent him from showing some interesting things. Ziarie Williams looked realy comfortable with the ball in his hands, creating his own shot, while he showed some flashes moving without the ball and was probably one of the best athletes of Team USA. He is incosistent for now and has to fill up his body, but there is a lot of potential there.
Isaac Likelele (2000, 6-4, PG/SG) Oklahoma St. So.
Oklahoma State's guard is intimidating on defense. Built like a tank and with an impressive body, Likelele was the best defender of Team USA. He was able to check opposing guards and even some small forwards thanks to his size and athleticism, which combined with his fearless approach made him a.. beast on defense. On the other end of the floor things are quite different though, since he did most of his damage in transition and cutting to the basket, because he is a bad shooter and needs to work on his decision making. As long as he defends the way he does though, good things will come for him.
Kira Lewis (2001, 6-3, PG) Oklahmoa So.
Playing behind players like Haliburton, Suggs and Likelele, Kira Lewis didn't have that many chances to show his talent, playing just 10 minutes per game. Still, he showed some flashes of the player he can be. Lewis had a conservative approach, preffering to do just the right thing. Nothing flashy, nothing out of the ordinady, he made sure he took the right decision. He sure looked good when he ran the floor and showed potential as a shooter, while at the same time he is a good athlete with a great first step. He needs to fill up his body though and learn how to take over a game when he has to.
Jeremiah Robinson-Earl (2000, 6-9, PF)
He was the second leading scorer and third leading rebounder of Team USA with 12.7 points and 6.3 rebounds per game, which says a lot. Jeremiah Robinson-Earl played mostly as a power forward, showing his versatility on defense, which is a product of his athleticism and length. He did most of his damage in the paint, but at the same time he showed potential with the ball in his hands, even converting an occasional coast to coast. His shooting mechanics are nice and although he had just 1/9 3's, he shot 75% from the free through line, which is always a good sign. He has long ways to go in just about every aspect of his game, offensively and defensively, but he ticks a number of boxes with his athleticism, length and skillset.
Evan Mobley (2001, 7-0, F/C)
There was a lot of hype around Evan Mobley before the tournament. When someone watches him for the fist time can understand why. Mobley has a nice body, with great length and is really mobile for his size. It would be nice to watch all these things in a game, but with Mobley playing just 2 games (7 minutes in total) because of back spams, it wasn't meant to be. That doesn't change the fact though that Mobley's upside is as high as anyone's on this team.