1. Kansas Jayhawks
Head Coach- Bill Self
2016-2017 Season: 33-5 overall, 15-3 in Big 12
Key Players Lost: Frank Mason III, Josh Jackson, Landen Lucas
Key Additions: Billy Preston, Marcus Garrett
Kansas has been by far the most dominant team in the Big 12 in recent memory. They have won every regular season championship since 2005 and seven of the past twelve Big 12 Tournament championships. Bill Self will face the same high expectations he does every year, but he might not have as easy a ride as usual.
Self, going into his 15th season as Kansas' head coach, lost his senior leader Frank Mason III and freshman standout Josh Jackson to the draft and will rely heavily on Devonte Graham to lead the offense this season.
The Jayhawks will also be without a ESPN 100 Top 10 recruit for the first time since 2012. Billy Preston, ranked 18th, is the higher of the two-incoming freshman for Kansas. Preston hails from legendary high school, Oak Hill Academy which is known for producing NBA-caliber players.
Billy Preston is a 6'10" 230-pound power forward with great size and athleticism. Preston is a modern day stretch-4 who can handle the ball well in the open court and can score from all three levels on the court. He could play a valuable for the Jayhawks as the leading rebounder a year ago, Landen Lucas, graduated.
Lagerald Vick and Sviatoslav Mykhailuk should join together in efforts to make up for the hole in the offense left by Josh Jackson. Vick is yet another athletic wing for Bill Self. He is a scorer by nature whether it's catch and shoot, slashing, or creating his own shot.
Mykhailuk decided to return to Kansas after testing the waters in the NBA combine. He is a deadeye who relies heavily on his deep ball to be productive. Last season 63% of Mykhailuk's shots were from behind the arc while shooting a 40% clip.
However, the majority of the workload will be on Graham's shoulders. The senior guard spent last season learning from Frank Mason III how to be a team leader as a point guard. From returning players he is the leader in points and assists per game and will likely lead the team in both categories this season.
The team's X-factor this will likely be Udoka Azubuike. The 7-foot sophomore suffered a season ending wrist injury early last season but was effective in those games especially on defense, posting 1.6 BPG in just 13 minutes.
Bill Self will have to work with what is most likely his least talented roster in a number of years but nonetheless, Kansas should stay atop the Big 12 throughout the season heading into March Madness.

2. West Virginia Mountaineers
Head Coach: Bob Huggins
2016-2017 Season: 28-9 overall, 12-6 in Big 12
Key Players Lost: Nathan Adrian, Tarik Phillip,
Key Additions: Brandon Knapper
Bob Huggins and the Mountaineers are the biggest threat to dethrone Kansas from the top of the Big 12 this season. West Virginia has been steadily improving since they joined the Big 12 in 2012 and will look to continue that trend this upcoming season.
Since the Mountaineers adopted the "Press Virginia" moniker, they have focused primarily on defense which leads to some misleading stats. It is rare that a team with 25+ wins leading scorer posts only 13.5 PPG and only has one other play scoring in double digits, but that is exactly what West Virginia did last season.
Huggins is losing one of the premier 6th men in the country in Tarik Phillip who was a consistent three-point shooter and spark plug off the bench.
Jevon Carter is the reigning Big 12 Defensive Player of the Year and unquestioned leader for the West Virginia team. He was the team's leading scorer a season ago while also posting a team-high 3.7 APG. Carter is a do-it-all guard as he also was able to grab 5 boards and 2.5 steals per game.
With the backcourt depth not as deep as in recent years and with Esa Ahmad, the second-best scorer, suspended for the first half of the season, the offense will run through Carter to a larger extent. He should thrive in Huggins system as his defensive motor is as good as anyone in the country.
Daxter Miles Jr. should be the number two option for West Virginia as he has shown flashes of greatness in the past. Miles has the ability to point up 20+ any night and then follow it up with 2 points the next game. Consistency is key for Dax this year and if he is able to limit is poor performances, the Mountaineers will have a greater upside.
Huggins has his work cut out for him this season, with one of his stars suspended for half the year and lack of depth, the style of relentless defense may be tough to figure out. However, if players can stay out of foul trouble, West Virginia has the potential to be one of the elite teams in the nation.
3. TCU Horned Frogs
Head Coach: Jamie Dixon
2016-2017 Season: 24-15 overall, 6-12 in Big 12
Key Players Lost: Brandon Parrish
Key Additions: Ahmed Hamdy, Kevin Samuel, RJ Nembhard
Jamie Dixon and TCU return all their starters but lose four role players. They reload their bench with three freshmen and two transfers which will need to pick up the slack left by seniors Brandon Parrish, Kaviar Shepherd, Chris Washburn, and Michael Williams.
Ahmed Hamdy is the most notable of the incoming players, a transfer from VCU, he will provide a big body with experience that is the kind of player essential to making a late season run. Kevin Samuel and RJ Nembhard are two four-star recruits that should contribute this season as role players.
Vladimir Brodziansky and Kenrich Williams will be the primary weapons on offense for the Horned Frogs. The two seniors led the team in scoring last season and will look to do the same this season. Brodziansky is a skilled low post scorer and elite shot blocker that will be used heavily in back to basket situations. Williams is an athletic wing with a great ability to grab rebounds. He is a do-it-all 6-7 forward with NBA potential.
Jaylen Fisher and Alex Robinson will do most of the ball handling and distribution for TCU. The Horned Frogs ranked first in the conference last year in assists per game and if they can move the ball like they did a season ago, they should make their first NCAA Tournament appearance in 20 years.
TCU has a nice blend of skilled guards, wings, and bigs. On paper, TCU has not only the ability to make a run at the Big 12 title, but a national title as well. The bench play will be the biggest factor as to how far the Horned Frogs can go when post season play rolls around.
4. Texas Longhorns
Head Coach: Shaka Smart
2016-2017 Season: 11-22 overall, 4-14 in Big 12
Key Players Lost: Jarrett Allen, Tevin Mack, Shaq Cleare, Kendal Yancy
Key Additions: Mohamed Bamba, Matt Coleman, Jericho Sims, Royce Hamm
Shaka Smart will look for a sizable turnaround from a disappointing 11-22 record last season. Texas loses standout center Jarrett Allen and leading scorer Tevin Mack. They also lose starter Shaq Cleare and vital role player Kendal Yancy to graduation.
Top 5 recruit Mohamed Bamba is the standout recruit Shaka Smart is bringing in this year. Bamba is an absolute physical freak. He stands 7 feet tall and has a 7'9" wingspan which would tie Rudy Gobert for the longest in the NBA. Bamba is a projected top 5 pick in the upcoming NBA draft and he should provide an instant impact on both ends of the floor for Texas.
Matt Coleman is another important freshman for Texas. Coleman is a true point guard which the Longhorn program has been missing for a few years. Coleman should start at the point guard position and provide some stabilization in the lineup.
Andrew Jones should be a reliable offensive weapon for Smart. Jones was a top 30 recruit a year ago and will be one of, if not, the main scorer for this Texas squad. Jones will be pressured to improve his efficiency from behind the arc this season shooting just 32% last year.
Kerwin Roach Jr. will fill out the backcourt along with Coleman. Roach is a super athletic guard who can jump out of the gym. He is a pest on defense but will need to make smarter decisions on the offensive end. Look for Roach to become a more effective player as Coleman will do a majority of the ball handling.
The Longhorns are entering this season with some decently high expectations as Shaka Smart and Mo Bamba are poised to turnaround this Texas program. In order to make a real push to the top of the Big 12, Smart will need to find a way to improve team chemistry and efficiency. The Longhorns additions should help them improve on what was the worst scoring offense in the Big 12. Texas hopes to make the NCAA Tournament but talent alone can only get you so far.
5. Baylor Bears
Head Coach: Scott Drew
2016-2017 Season: 22-4 overall, 9-4 in Big 12
Key Players Lost: Johnathan Motley, Ishmail Wainwright, Alerik Freeman
Key Additions: Tristan Clark
They Baylor roster has undergone some significant changes since last year. They lose star forward Johnathan Motley to the draft and Ishmail Wainwright was a versatile player who graduated. Baylor also loses Al Freeman, the team's 3rd leading scorer, who transferred to NC State after being given a reduced role.
Manu Lecomte should be taking most of the workload as the senior guard was the team's second leading scorer a season ago. He is likely to lead the team in scoring and assists per game while continuing his trend of lights-out three-point shooting. He shot just under 41% from behind the arc and will need to keep it up to help make up for losing most of last year's starting lineup.
Jo Lual-Acuil should be the biggest part of picking up for what was lost with Motley. The 7-foot senior is an elite rim protector and contributed 9.1 PPG, 6.7 RPG, and 2.5 BPG last season. Lual-Acuil can also spread the floor a little bit as he is extremely coordinated for his size. Expect him to make a major jump and get some NBA looks with Motley's absence.
The Baylor team will rely very heavily on upperclassman this season. Tristan Clark will likely be the only true freshman to see minutes for this team as JUCO transfer Leonard Allen will have too many returning players in front of him to see significant minutes. Clark is a very athletic 6-8 big man who will learn from Lual-Acuil and will be a big part of Baylor in future years.
All in all, Baylor has a very strong starting 5 but will need bench production to make a serious run at Kansas or in the NCAA Tournament. The Bears might have some early season struggles but have the potential to be a solid contender and should hover around the bottom-half of the top 25 rankings most of the season.
6. Oklahoma Sooners
Head Coach: Lon Kruger
2016-2017 Season: 11-20 overall, 5-13 in Big 12
Key Players Lost: Jordan Woodard
Key Additions: Trae Young, Brady Menek, Ty Lazenby
After an extremely disappointing season, Lon Kruger and the Sooners will return 7 of their 8 leading scorers. Kruger had one of the youngest teams in the Big 12 last season and many of those inexperienced players are returning with more familiarity with NCAA basketball.
Incoming freshman Trae Young will be the starting point guard for Kruger and should be the team's most talented player. He is a natural scorer who averaged over 40 PPG in high school and can score in a variety of ways. As a top 25 prospect he should help avoid another abysmal season like the one a year ago.
Kameron McGusty should play second fiddle again this season after playing the same role to Jordan Woodard last year. McGusty was able to get valuable experience as a freshman after Woodard went down with an injury.
Rashard Odomes saw drastic improvement last year and is a solid all-around player who will look to even further improve this year. Khadeem Lattin is the only remaining starter from the Final Four team two years ago and will be the glue for the Sooner's this year.
After what turned out to be a rebuilding year for Oklahoma, they were able to gain valuable experience which should fare well for them this season. The Sooner's upside will be dependent on the ability of role players to draw some defensive attention away from Trae Young.
Oklahoma has the potential to be a legitimate contender but will need to limit the same mistakes they made last year which led them to a train wreck of a season. In the NCAA Tournament they should be able to go as far as Young can carry them.
7. Texas Tech Rad Raiders
Head Coach: Chris Beard
2016-2017 Season: 18-14 overall, 6-12 in Big 12
Key Players Lost: Anthony Livingston, Devon Thomas, Aaron Ross
Key Additions: Tommy Hamilton, Brandone Francis, Joshua Webster
Chris Beard will return his top 2 scorers from a season ago including All-Big 12 selection Keenan Evans. Evans was the Raider's leading scorer last season and should shoulder the majority of the workload this season as well. Evans led the team in three-point percentage by shooting over 43% and will have to keep his scoring averages high in order for the team to succeed.
The Raiders are losing some key contributors, Anthony Livingston finished his one and only season at Texas Tech after being the team's third scoring option while leading the team in made threes with 1.7 per game. Aaron Ross was fourth in scoring as a senior and Devon Thomas led the team in steals and was second in assists per game and Texas Tech will be without both of their talents this season.
Beard did bring in a plethora of recruits including four transfers and three freshmen. Tommy Hamilton will make the biggest impact this year as he is a transfer from DePaul where he averaged 8.6 PPG and 5.5 RPG. Brandone Francis is probably the most exciting and promising recruit. He will have three years of eligibility for Texas Tech after transferring from Florida.
Zach Smith will be the most influential player on the Raider's roster this season. After averaging 12 points and 7 rebounds per game last season he will look to stay as the secondary option on the offense. He also provides an anchor on defense as he posted 1.4 blocks per game. Smith is very athletic and with some polishing on his game could be a legitimate NBA draft prospect.
Texas Tech is one of the more intriguing teams in the conference as there are a lot of moving parts. Evans and Smith should be reliable as leaders but with so many incoming players, team chemistry will be a major question for Chris Beard to figure out. With the middle of the Big 12 being so tight, Texas Tech will need to limit early season mistakes. They have potential to make the NCAA Tournament but finding guys who work well together on the court might take too long for the Raiders to go dancing this year.
8. Iowa State Cyclones
Head Coach: Steve Prohm
2016-2017 Season: 24-11 overall, 12-6 in Big 12
Key Players Lost: Monte Morris, Deonte Burton, Matt Thomas, Naz Mitrou-Long
Key Additions: Lindell Wigginton, Jeff Beverly, Hans Brase, Zoran Talley, Terrence Lewis
Iowa State is undergoing one of the most drastic roster changes in the entire nation. Five of the top six scorers are gone and Steve Prohm will need to find a leader with Monte Morris no longer with the team. Morris was the unquestioned leader on and off the court for the Cyclones last year as he led the team in scoring and assists per game. Morris was s fantastic leader for Iowa State and played the game the right way. Throughout the duration of his career Morris set records with his assists to turnover ratio.
Deonte Burton, Matt Thomas, and Naz Mitrou-Long are all players who put up double digit scoring a game who also graduated with Morris. Burton and Mitrou-Long were both Big 12 Second Team selections who provided reliability to the offense. Burton was a versatile player who could do a little bit of everything. Mitrou-Long was a valuable player who could get hot at any moment. He led the Big 12 in three-pointers made per game. Matt Thomas was a pure sharpshooter who shot just under 45% from deep.
With so much experience lost from last year's team, Prohm will rely on transfers and freshman to pick up some slack. He beings in an intriguing recruit in Jeff Beverly, a former tight end for UTSA who walked onto the basketball team and was the team's highest scorer.
Hans Brace has only played a handful of games over the last two years for Princeton due to a number of knee injuries, but averaged 11.5 points and 7.5 rebounds his last healthy season. Zoran Talley, an Old Dominion transfer, won Conference USA Sixth Man of the Year. Between the three transfers they will be expected to use their experience to score and mentor younger players.
Also joining the team are freshmen Lindell Wigginton and Terrence Lewis. Wigginton is a top 40 recruit who will be expected to replace Monte Morris. While they are huge shoes to fill, Wigginton has the ability to eventually lead the team the same way Morris had. Lewis is a 6-5 athletic wing who will play a lesser role than Wigginton but will need to perform in order for the Cyclones to have success.
With an almost complete roster flip, Prohm has his work cut out for him. The Big 12 is too competitive to have inexperience with one another the way that Iowa State will this season. They may start to figure it out towards the end of the season, but with early season struggles expected, don't be surprised if Iowa State misses the NCAA Tournament.

9. Oklahoma State Cowboys
Head Coach: Mike Boynton Jr.
2016-2017 Season: 20-13 overall, 9-9 in Big 12
Key Players Lost: Jawun Evans, Phil Forte III, Leyton Hammonds
Key Additions: Kendall Smith, Yankuba Sima, Zack Dawson
Oklahoma State will be with a new head coach for the second time in as many years. Brad Underwood took the head coaching job at Illinois and Mike Boynton Jr. will take the reins. The transition may go smoothly as Boynton was the assistant coach for Underwood for the past four seasons.
Boynton will inherit a roster without Jawun Evans who averaged a team high 19.2 PPG, 6.4 APG, and 1.8 SPG and entered the NBA draft as a sophomore. Evans was the team leader on the court and was a dangerous and effective player.
The Cowboys also lose Phil Forte III and Leyton Hammonds. Forte III was a sharpshooter who spread the floor and who could not be left alone. Hammonds was a forward who could stretch the floor. These are two major three-point shooters for Oklahoma State and will be dearly missed by fans.
Kendall Smith transferred from Cal State Northridge where he averaged 16.7 points, 4.8 assists, 4.0 rebounds, and 1.3 steals. Smith could turn out to be a starter for Coach Boynton but at the least he can play off the ball and be another ball handler he can use in a variety of ways.
Yankuba Sima is another transfer from St. Johns who stands 6-11. Sima is a rim protector and a physical rebounder who should provide additional depth once he becomes eligible the in the second semester. Zack Dawson is a nationally ranked freshman point guard who is a bright talent. Dawson is likely to play minimal minutes this year but could be a star down the road.
Oklahoma State has a good mix of experience and talent but not the extent that Evans, Forte, and Hammond brought. They have an off-chance of making the tournament but will likely fall short strongly in part of the Big 12 being so loaded this year.
10. Kansas State Wildcats
Head Coach: Bruce Weber
2016-2017 Season: 21-14 overall, 8-10 in Big 12
Key Players Lost: Wesley Iwundu, D.J. Johnson
Key Additions: Madwo Sallah, Cartier Diarra
Essentially, half of Bruce Weber's players who got notable minutes last season are no longer with the team. Wesley Iwundu, the team's leading scorer and rebounder, graduated. Iwundu could score from all three levels and was a key defensive player for Coach Weber. D.J. Johnson is another starter lost for the Wildcats. Johnson was the second leading rebounder and best shot blocker.
Madwo Sallah, a graduate transfer from Mt. St. Mary's, is a big body who will be asked to do little on the offensive end but a lot as a rim protector. Cartier Diarra is a freshman who will play some valuable minute for the Wildcats and use his quickness to make plays on defense and create opportunities for his teammates.
Inexperience will ultimately be the downfall of this Kansas State team. The frontcourt is a huge liability for Bruce Weber who will rely on newcomers to fix the rebounding problems from a year ago. This is likely a team that will need players to play multiple positions while their young guys figure out their role.
With problems in the frontcourt Weber may try to play a smallball lineup and use speed and perimeter play to try to cause mismatch problems. However, with rebounding playing such a big part in college basketball and especially in the Big 12 it may not all pan out. Kansas State is likely a year or two away from being a serious threat to the top half of the Big 12 and will, in all likelihood, miss the NCAA Tournament.
Big 12 Top Five Draft Prospects
1. Mohamed Bamba, Center, Freshman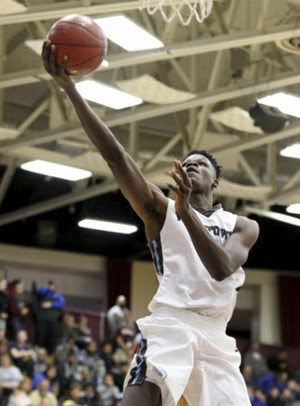 Bamba is one of the most hyped players in this year's season. He is a physical freak who is unanimously thought of as a top five pick. Bamba draws a lot of interest given is obvious physical features, he is a true 7-footer who is coordinated enough to run pick and rolls smoothly. His most notable feature is his length, he has a 7'9" wingspan which would be the longest in the NBA right now along with Utah Jazz center Rudy Gobert. Besides being an obvious low post threat, Bamba has shown the ability to knock down mid-range jumpers along with flashes of a decent three-point shot. Many believe Bamba is the most important Texas freshman since Kevin Durant. He should be able to showcase his talents throughout the year for Texas as Shaka Smart should feature him heavily game in and game out. Bamba will have a chance to be a top 5 pick if he develops as many expect.
2. Lagerald Vick, Shooting Guard, Junior
Vick is an athletic guard who can score in a variety of ways. He has shown the ability to catch and shoot reliably, but he can also be effective as a slasher or shot creator. There are many talented players on Kansas but only one ball. Although unlikely, Vick could turn out to be the forgotten man in the offense. Standing at 6'5" and with a near 7-foot wingspan, Vick has good size and athleticism to be an NBA shooting guard. He has first round potential if he is able to realize his potential and develop into more of a threat on the offensive end.
3. Billy Preston, Power Forward, Freshman
Preston is a versatile forward who should play a huge role for Bill Self and the Kansas Jayhawks. Preston is the top incoming freshman on the team. He is very athletic and coordinated for being a 6'10" power forward. He can handle the ball in the open court, attack the basket as well as stretch the floor by knocking down threes. Preston fits the modern NBA perfectly as he can play on the block but also be used as an offense facilitaor. If he proves focused and consistent, Preston could raise his draft stock with a good season and could turn into a first-round draft pick.
4. Devonte Graham, Point Guard, Senior
Devonte Graham will be the senior leader for the Jayhawks this season. He spent last season watching Frank Mason III play the role he will fill into this season. Graham plays the game the right way, with maximum effort and heart. Graham's upside in the NBA is limited due to his average athleticism. Nonetheless, he is a very talented player who could develop into a reliable backup point guard in the NBA. Graham projects to be selected late in the second round of the draft, but by being the leader of a top caliber team in the country, he has the potential of raising his draft stock.
5. Trae Young, Point Guard, Freshman
Trae Young is one of the more intriguing prospects in the Big 12. Young is a 6'2" point guard who absolutely lit up his high school playing days. He averaged over 40 points per game and will try to bring a spark to the Oklahoma offense that they lacked after Buddy Hield left two years ago. Young is an extremely quick guard who can use his speed to get by most defenders. Off the dribble Young can create shots for himself and also for his teammates. Young should see the volume this year to prove himself as a college star and will look to lead Oklahoma deep into the NCAA Tournament. Young could prove to be an elite scorer and develop into a first rounder in the next few years, despite being small for the PG position.