The Underclassman All-American Game has been unofficially positioned as the Pre-McDonald's All-American Game, as it provides similar talent for younger prospects. This year was no different from the past, as there were a handful of five star prospects on display. The East took home a 107-90 victory over the West.

East
Michael Foster 6'8 220 PF – 2021
Foster's size, versatility and athleticism was too much in the paint and he also showed his ability to shoot from outside, even showing NBA range. He's alert and made some nice passes. He also displayed some moves as a ballhandler; using long strides with the ball to get to the rim. Foster's length and skillset give him intrigue as a versatile prospect on both ends. Foster earned Co-MVP with 13 points. On a few of his baskets, he made some moves the defense had no answer for.
Paolo Banchero 6'9 230 PF/C – 2021
Banchero brought good size and offensive polish. He kept it simple, being in the right place at the right time to put up points as the game progressed. He scored well from midrange and within close to finish with 14 points. Banchero was one of the top prospects in the game and while he didn't have any big highlights, his skillset at his height has made him effective at the highest level high school basketball has to offer.
Samuel Ayomide 7'0 C – 2021
Ayomide scored ten points and made a good impression. He's strong and athletic, displaying a nice vertical and thrives as a rim runner. He finished through contact and played aggressive throughout the game. He didn't show much outside shooting, but he displayed solid mechanics on his free throws.
Adama Sanogo 6'10 230 C – 2021
Sanogo needs more offensive technique but he has the tools to work with. He provides good strength and athleticism. He also has good timing as a shot blocker. Sanogo's motor helped him earn ten points and he might have had the play of the game with his dunk on Chet Holmgren.
Jaden Bradley 6'3 170 PG – 2022
Bradley used his scorer's mentality to fill it up in a variety of ways. He's a good ballhandler, scoring off the dribble and creating for himself. On one play, he split the defense and finished with a nice floater. Not only can he slow the game down and get to the rim, but his outside shooting was on point as well. Bradley scored 15 points in the win.
Khristian Lander 6'2 155 PG – 2021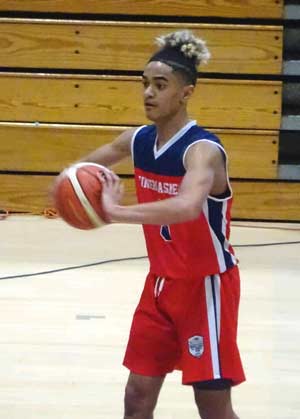 Lander had a very good showing to earn Co-MVP with 13 points and a number of rebounds he secured while rising up with the big men. He knocked down three three-pointers, utilizing his quick release and exhibiting his ability to shoot off the dribble. He pushed the ball at every opportunity and is tough to handle in transition. Lander made good reads with the ball, gathering assists and points at appropriate times.

West
Jonathan Kuminga 6'8 210 SF/PF – 2021
Our number one rated sophomore, Kuminga was the top prospect, leading the game in scoring with 21 points to earn MVP of the West. Although he settled for threes on his first few attempts, he got it going after a few shots and showed a much improved jumper since last year. He handled the ball a lot, with a few drives he used his high-level athleticism on some finishes the defense couldn't contest, including a windmill in the first quarter he threw down with ease.
Chet Holmgren 7'0 190 C – 2021
Holmgren was the best shooter in the game, with sound mechanics from outside. However, he's incredibly thin and doesn't have a strong base, as he fell to the ground after contact on a few drives. He's very coordinated and skilled at 7'0, using his left hand around the rim and showing he can defend multiple positions at this level. He moves very well for someone so young and still adjusting to his body, showing some solid ballhandling ability. Holmgren got hot in the fourth quarter, where he dropped 12 of his total 16 points.
Kijani Wright 6'8 210 SF – 2022
Wright was fundamentally sound; making some nice moves in the post to finish off with jump hooks, also looking good in catch and shoot situations to knock down threes. Wright never forced his scoring but had no problem dropping 14 points. At 6'8, he showed good size and versatile potential on both ends to work with moving forward.
Dior Johnson 6'1 160 PG – 2022
Johnson was aggressive and fearless with the ball. He played physical and embraced contact. His back to back pullup jumpers from three in the first half were indicators that you can't guard him tight enough, as he doesn't need much space to get his shot off and he's not shy to let it fly. Johnson also handled the ball well and was out to compete, scoring ten points for the West.