Underrated and overrated NBA Draft lists are always a little difficult because draft position is an important factor and at this point that is still just a projection. Carlos Boozer was seen as a potential lottery pick before the 2002 draft and was widely considered overrated. Boozer ultimately slid all the way to the second round, to the 35th pick, and at that point it was apparent that he had been underrated. These lists are probably easier to make after the draft has taken place, but without the benefit of seening which team they have landed with, here are our underrated prospects.
Also See: 2019 NBA Draft: Overrated Prospects
Rui Hachamura (Gonzaga) 6'8 230 SF Age: 21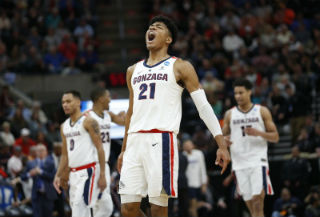 A sneaky athlete, Hachimura is one of the most NBA-ready players in terms of physicality in this draft. At 6-foot-9, he possesses one of the biggest wingspans in the entire draft at 7-foot-3. His size and stature allow him to get to the rim at will which is one of his best attributes. He has the versatility to play either forward position and the strength to overpower most opponents. He has the handles to keep defenders off balance and the strength to finish through contact, even against larger defenders. He is relentless in terms of hustle. He constantly wants to make the right play or dive on the floor for loose balls. He fights for boards as if he was a center and has the body type and frame to battle down low. Hachimura is a strong finisher around the rim whether it is battling through contact, finishing a lob, or even tapping into a finesse finish such as a floater. Hachimura has touch and has improved his shot over three years with Gonzaga. Despite only shooting one three-pointer a game, Hachimura hit at a 41% clip. There are some concerns about him on the defensive end as at times he can find himself lost. But that should be something Hachimura can pick up over time, especially since there is no question about his drive or determination. And the other main concern regarding Hachimura is how consistently he can hit the three-point shot. Currently he has a shot that is flat, and will need more arc in order to extend it deeper. In today's NBA, Hachimura will need to be able to extend his shooting range. he's a very consistent and steady shooter from 15 feet in, but to be a high level scorer at the next level, that range will need to be extended out another 5-8 feet. Hachimura comes from a culture that is extremely hard working, and he has an inner strength that will ensure future success.
Bruno Fernando (Maryland) 6'10 240 C Age: 20
Fernando is an athletic specimen in the mold of a Steven Adams or Tyson Chandler. This is based off of his run-jump approach to the game. For the most part Fernando is going to live on the block and where he is going to shine is getting rebounds and converting lobs. Throw it anywhere around the rim and he will put it down. Fernando had one of college basketball's best dunks this year, he is a freak at his size and plays with aggression. He's a natural leader who has a presence about him. Despite already weighing 240, Fernando has room to put on more muscle with his frame which will be key for him when he will be attempting to battle guys like Embiid or Jokic in the post. He has a limited jumper but has shown that he is capable. Fernando shot 10 three-pointers all season and his three, but he also shot 78% from the line. His shot does not look broke either, so he has room to improve his touch and shot without completely re-working it. Fernando should be able to contribute immediately as a rim protector and finishing lobs. He has a limited offensive skill set right now, but he has the makings of a player that can create baskets for himself with both his back to the basket and facing up.
KZ Okpala (Stanford) 6'9 210 SF Age: 20
Okpala is a good scorer off the dribble and can finish strong around the rim. He will need to add more to his frame, but it looks like has room to add weight and strength. He is tall for his position and it allows him to cheat around the basket with his height and 7'2 wingspan. Okpala is a decent playmaker where he averaged 1.9 assists at his time at Stanford, and he is solid on the defensive end where he can utilize his athleticism, quick feet, and long wingspan. His shot improved during his two years at Stanford but if he wants to excel at the next level, he will need to rely more on his jump shot. He shot 37% from beyond the arc but 46% from the field overall. Just like Huchimara, Okpala has the motor and competitiveness to excel and develop his game at the next level. But the biggest question will be whether he can find a consistent jump shot that will allow him to carve out a role with an NBA team. he also was unable to turn the Cardinal into a winner, so there are some concerns about his impact. He has the height to rebound around the rim, it is just about filling out his body, which will allow him to play more physical. Okpala has the athleticism, work ethic, and physical attributes to carve out a role with an NBA team and succeed.
Keldon Johnson (Kentucky) 6'6 215 SG/SF Age: 19
Keldon Johnson plays with so much heart and determination. The motor he plays with is undeniable and you can genuinely tell he is a competitor and loves the game of basketball. All his teammates mentioned him being a 'dog', which is a reputation he developed in high school. Even with all that passion, he does have quite the skillset. He is an explosive, aggressive athlete that can get to the rim and finish through contact. He has the frame to put on some serious muscle throughout his NBA career. Keldon can also launch it from deep where he hit 38% of his threes on roughly three attempts per game. He looks forward to the challenge on defense and can guard both wing positions. Johnson has plenty of room to grow on defense, but he has the length, wingspan, and tenacity to shine on that side of the ball. The kid has a great personality and will most likely be a great locker room guy in the NBA. But with all these positives, Keldon obviously has room to improve. Sometimes he can disappear from games if his jump shot is not falling. There were other options around him at Kentucky, but there were plenty of times where you would have liked him to take over a game offensively. But, on the other hand there were times when he could not miss like against Tennessee or Utah. Also, Johnson sometimes finds himself out of control when he tries to be over aggressive when his jumper is not falling. Overall, he is a great kid with a relentless motor that loves the game of basketball. He's prjected anywhere from late lottery to early 20s, and whoever takes him, will likely be getting great value at their pick.
Chuma Okeke (Auburn) 6'8 235 SF/PF Age: 20
It is a shame that Okeke went down with an injury in the Sweet 16 against North Carolina. Okeke was having the game of his career against top-tier competition and it was making his draft stock soar. Some felt that had Okeke stayed healthy, Auburn would have won the title. If he follows up that performance against Kentucky and then against Virginia or Texas Tech in Minnesota then we're probably talking about Okeke as a lottery pick. He fits today's NBA as a small-ball four with plenty of defensive potential. We will have to see how he responds to this injury, but if he remains the same player then that is exactly what he will be in the NBA. Okeke has an effortless shot and can really stroke it from deep where he hit 39%+ combined in his two years under Bruce Pearl. He's very active on the defensive end where he averaged over a steal and a block a game for the Tigers. Okeke also knows how to take advantage of smaller defenders and be able to post up on the block. He has a very versatile game that includes athleticism and decent playmaking ability. Where Okeke may struggle is potentially creating his own shot at the next level. Okeke benefitted from playing off two great guards like Bryce Brown and Jared Harper to get him open. But there are so many aspects of Okeke's game to like whether it is the three-point shooting, guarding multiple positions, or perfectly fitting in as a small-ball four. It all comes down to how he bounces back from injury, but in the late first round to early second round Okeke will likely reward a team for taking a chance on him, as his upside is among the top 10-15 players in this year's draft.