Some of the nation's best competed in the two days of the prestigious McDonald's All-American practices. The 2019 class provides a balance of talent at each position. Tomorrow's game tips off at State Farm Arena.
Bryan Antoine 6'5 180 SG – Villanova
Antoine was able to flash his athleticism and scoring ability. I would've liked to see him assert himself a bit more as he's one of the top guards in the class. He scored well from midrange with his elevated jumper and showed a running hook to put over the defense's reach. Antoine had a smooth showing but blended in a bit more than one would like.
Matthew Hurt 6'9 215 SF/PF – Undecided
Hurt scored inside and out. He has nice footwork in the paint and scored at various angles. He wasn't as athletic as some of the other bigs but he's polished and plays to his strengths. He looked strong offensively in the one on one post drills. He also stepped out to the perimeter, using his high release to connect on a few threes.
Tre Mann 6'4 180 PG – Florida
Mann did a nice job of breaking down the defense off the dribble. He showed good scoring ability and provided a combo guard skillset. With good quickness and ballhandling ability, he created well in the half court and displayed plenty of range on his jumper.
Nico Mannion 6'3 180 PG – Arizona
Mannion played with a good balance of being assertive but staying under control. He got to the rim off the dribble and utilized pivots in the one on one drills. The West doesn't have a lot of depth at the point guard position but Mannion is more than capable of the duty, knowing when to score and when to distribute. He used his sound outside shooting and deceptive athleticism when attacking to put up some points.
Jeremiah Robinson-Earl 6'9 235 PF – Villanova
Robinson-Earl played well inside and out. He doesn't have the size to score in the post against some of the big men, but he had the edge when he took them out to the perimeter, where he can drive past them. He's well-coordinated, with a good shot and face up game. He defended a few positions to match his offensive versatility.
James Wiseman 7'1 245 C – Memphis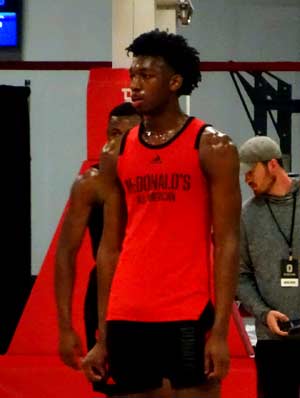 Wiseman definitely had his bright spots finishing in the paint and good defensive presence with his length. He needs some work on his post-game as a finisher, making some nice moves, only to miss the jump hook. Also, trying to score outside the paint; with a good foundation as a jump shooter, he didn't connect on many face up jumpers or fadeaways. He ran the floor well and had plenty of above the rim finishes. He made a big impact but would become much more dangerous with added offensive polish.
Oscar Tshiebwe 6'9 250 PF/C – West Virginia
Tschiebwe brought the effort, energy, and strength but lacks offensive technique and a finesse game. He struggled to be effective outside the paint and doesn't convert well in the post at certain angles. He lacks some upper body fluidity which hinders his shot and has a ways to go with his ball skills. He played hard and had plenty of authoritative dunks off dump offs and offensive rebounds but has plenty of room to expand his offense.
Tyrese Maxey 6'4 185 SG – Kentucky
Maxey was the best shooter for either team, using his quick release and letting it fly from deep. He scored well from midrange as well, displaying an effective floater. He passed well but at Maxey's size running the point is going to be a point of emphasis as he progresses to higher levels, as he's a scorer by nature. Maxey didn't only excel on offense as he was the best perimeter defender on the West.
Samuell Williamson 6'7 190 SF – Louisville
Williamson has good size for a wing, as he's not much shorter than some of the big men and he's fairly skilled. He shot well from midrange and has natural versatility. He played with good confidence and his size gives him intrigue on the defensive end as well.
Scottie Lewis 6'5 185 SG/SF – Florida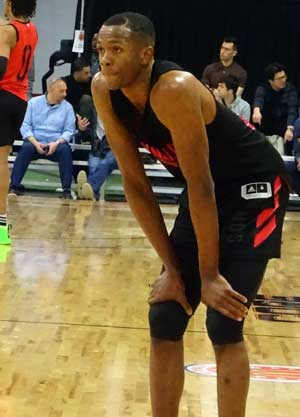 Lewis fails to go unnoticed as he gives his best effort each and every time he takes the floor. He shot it well and handled the ball in the half court. Offensively, he scored with no problem and exceptional athleticism. He's one of the more vocal players and played both ends of the floor, consistently defending with intensity on the ball.
Precious Achiuwa 6'9 215 SF/PF – Undecided
Achiuwa has always been a powerful athlete with a grown man's body but he displayed a much-improved jump shot, especially on day one, with good arc and shot rotation. He hit three after three in game situations. He had some nice drives to the basket but will need to work on finishing when he doesn't finish with a dunk. as he missed a few layups, especially when going left. Achiuwa intrigued on the defensive end as well, not much smaller than the biggest player on the court and is second to no one athletically.
Cole Anthony 6'3 185 PG – Undecided
Anthony effectively ran the point and scored well, playing with a good balance of both. His confidence stands out and his jump shot has been very consistent. Anthony has the athleticism to match his skillset and provides the makings of an all-around combo guard.
Anthony Edwards 6'4 210 SG – Georgia
Edwards provided combo guard skills with a strong body and high-level athleticism. He was effective as a ballhandler and shooter with a knack for scoring, getting his shot off with little space and getting to the rim when needed. He can get more movement off the ball but doesn't have to have the ball in his hands. Edwards stock has been on the rise in recent months and is a full year younger than a handful of the other participants.
Isaiah Stewart 6'9 245 PF/C – Washington
Stewart's offensive expansion was a pleasant surprise. Per usual, he battled inside but he also scored well outside the paint, even showing perimeter shooting with nice form. Many times, when a big man develops offensively, they fall in love with the three and fail play to their strengths, but Stewart continued to bang and brought the intensity. In addition to his offense, he defended the perimeter well with his quick feet and secured rebounds.
Jaden McDaniels 6'11 195 SF/PF – Undecided
McDaniels has the tools and talent but failed to separate himself and blended in both days. He didn't get much movement off the ball and wasn't too aggressive when he took possession. He's skilled at his size but wasn't able to put it all together in drills or five-one-five action.